Abstract
Comparison calibrations comprise by far the majority of all thermometer calibrations, and the improvement of the calibration speed and quality is of significant importance. In general, these calibrations are performed by comparing a thermometer under calibration with a reference thermometer, with both thermometers being placed in a zone of controlled temperature that is in thermal equilibrium. The time invariance of metrological characteristics of temperature regulated zones (gradients, stability, repeatability) adds a significant contribution to the total calibration uncertainty. To improve spatial thermal homogeneity and temporal stability of ordinary equalizing blocks (commonly used in combination with calibration baths and furnaces), a new concept is developed under the name multi-entrance fixed point (MEFP). With the MEFP, performances are improved by utilizing a phase transition of matter, similar to the fixed-point cells that are used for calibration of thermometers at the primary level. While fixed-point cells represent temperature standards alone, the MEFP concept requires the use of a standard thermometer as the calibration reference. This paper discusses the advantages, design possibilities, and performance of the concept and gives results of the investigation of the zinc-filled MEFP cell. The performance of the new MEFP cell was examined by calibrating a thermometer against a standard. Two calibrations were performed in the same furnace, first using an MEFP cell as an ordinary equalizing block (without a phase transition) and then at the melt plateau of zinc. The investigation results confirmed the usefulness of the MEFP concept, as the uncertainty contributions from temperature gradients and the stability of the furnace were decreased by an order of magnitude, in comparison to the ordinary equalizing block.
Access options
Buy single article
Instant access to the full article PDF.
US$ 39.95
Tax calculation will be finalised during checkout.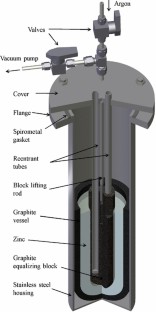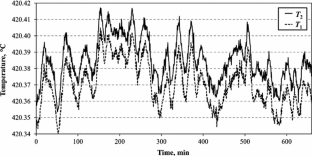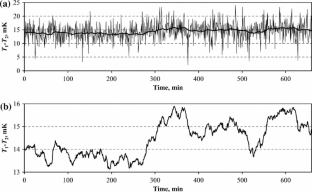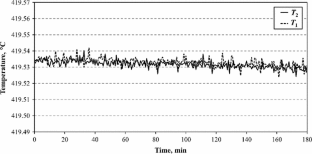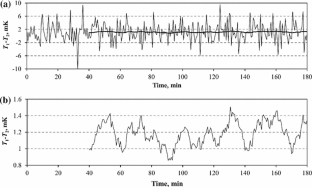 References
1.

D. Zvizdic, T. Veliki, L. Grgec-Bermanec, Int. J. Thermophys. 29, 3 (2008)

2.

Calibration and Measurement Capabilities (CMCs), http://kcdb.bipm.org/appendixC/default.asp. Accessed Mar 2013

3.

J.V. Nicholas, D.R. White, Traceable Temperatures: An Introduction to Temperature Measurement and Calibration, 2nd edn. (Wiley, New York, 2001), p. 203

4.

D. Zvizdic, T. Veliki, Int. J. Thermophys. 29, 5 (2008)

5.

D. Zvizdic, D. Sestan, in Proceedings of Ninth International Temperature Symposium (Los Angeles) Temperature: Its Measurement and Control in Science and Industry, vol. 8, ed. by C.W. Meyer, A.I.P. Conference Proceedings 1552 (AIP, Melville, NY, 2013), pp. 259–264

6.

EURAMET Calibration Guide, Calibration of Temperature Block Calibrators, Version 2.0 (03/2011), ISBN 978-3-942992-10-7

7.

ASTM International, ASTM B774-00(2014): "Standard Specification for Low Melting Point Alloys" (ASTM International, West Conshohocken, PA, 2014)

8.

ASTM International, ASTM B280-13: "Standard Specification for Solder Metal" (ASTM International, West Conshohocken, PA, 2013)

9.

ASM Handbook, Properties and Selection: Nonferrous Alloys and Special Purpose Materials, vol. 2 (ASM International, Materials Park, OH, 1990), pp. 3012, 3064, 2162–2164, 2178, ISBN 0-87170-378-5
About this article
Cite this article
Zvizdic, D., Sestan, D. Zinc-Filled Multi-entrance Fixed Point. Int J Thermophys 36, 336–346 (2015). https://doi.org/10.1007/s10765-015-1846-y
Received:

Accepted:

Published:

Issue Date:
Keywords
Comparison calibration

Equalizing block

Multi-entrance fixed point