Access options
Buy single article
Instant access to the full article PDF.
USD 39.95
Price includes VAT (USA)
Tax calculation will be finalised during checkout.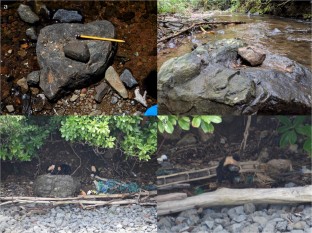 References
Barrett, B. J., Monteza-Moreno, C. M., Dogandžić, T., Zwyns, N., Ibañez, A., & Crofoot, M. C. (2018). Habitual stone-tool-aided extractive foraging in white-faced capuchins, Cebus capucinus. Royal Society Open Science, 5(8), 181002.

Malaivijitnond, S., Lekprayoon, C., Tandavanittj, N., Panha, S., Cheewatham, C., & Hamada, Y. (2007). Stone-tool usage by Thai long-tailed macaques (Macaca fascicularis). American Journal of Primatology, 69(2), 227–233.

Méndez-Carvajal, P. G., & Valdés-Díaz, S. (2017). Use of anvils and other feeding behaviors observed in Cebus imitator, Coiba Island, Panama. Tecnociencia, 19(1), 5–18.

Panger, M. A., Brooks, A. S., Richmond, B. G., & Wood, B. (2002). Older than the Oldowan? Rethinking the emergence of hominin tool use. Evolutionary Anthropology, 11(6), 235–245.

Tebbich, S., Taborsky, M., Fessl, B., & Dvorak, M. (2002). The ecology of tool-use in the woodpecker finch (Cactospiza pallida). Ecology Letters, 5(5), 656–664.
Acknowledgements
This research was funded by an L. S. B. Leakey Foundation grant awarded to BJB as well as funds from the Max Planck Institute. It was also supported by a Packard Foundation Fellowship (2016-65130), a grant from the National Science Foundation (NSF BCS 1514174), and the Alexander von Humboldt Foundation in the framework of the Alexander von Humboldt Professorship endowed by the Federal Ministry of Education and Research awarded to MCC. Support was also provided by the Center for the Advanced Study of Collective Behavior at the University of Konstanz, DFG Centre of Excellence 2117 (ID: 422037984). CMM is funded by SENACYT, scholarship program number BIDP-2017-2018. This research was conducted under Ministerio de Ambiente, Panamá, scientific permit no. SC/A-23-17 and corresponding renewals and addenda. We thank the editor and two anonymous reviewers for their feedback on this manuscript.
Additional information
Ethical Note
No animal care and use protocol was required for this study. The authors declare that they have no conflict of interest.
Handling Editor: Joanna M. Setchell.
About this article
Cite this article
Monteza-Moreno, C.M., Dogandžić, T., McLean, K.A. et al. White-Faced Capuchin, Cebus capucinus imitator, Hammerstone and Anvil Tool Use in Riparian Habitats on Coiba Island, Panama. Int J Primatol 41, 429–433 (2020). https://doi.org/10.1007/s10764-020-00156-5