The Maturation of Ethnoprimatology: Theoretical and Methodological Pluralism
Abstract
Most remaining populations of primates live in environments that have been influenced in some way by humans (e.g., protected forests bisected by major roads, forest–farm edges, and urban centers). The field of ethnoprimatology has made these environments where humans and other primates interface its primary concern, recognizing that to fully understand primate behavior, our research objectives and practice cannot be disengaged from the human dimension. During the field's initial years, scholars drew largely from theory and technique in primate ecology and sociocultural anthropology. The contributions to this Special Issue, which include empirical research and review papers, exemplify how the ethnoprimatologist's toolkit has since expanded to include concepts, frameworks, and methods from the natural sciences (evolutionary biology, conservation ecology, epidemiology), and the social sciences and humanities (anthropology, geography, philosophy, and science studies). Moreover, the settings in which to examine the human–primate interface have diversified to include rural, urban, mixed-landscape, and captive spaces. In this introduction, I review the emergence and scope of ethnoprimatology. I then challenge some of the critiques leveled against ethnoprimatology and highlight its broader conceptual contributions, key elements of the field's maturation, and recent trends in theoretically and methodologically integrative scholarship in ethnoprimatology. I conclude by offering a set of postulates to guide future ethnoprimatological work that is theoretically and methodological pluralistic and positioned to advance effective primate conservation efforts and facilitate sustainable human–primate coexistence.
Keywords
Anthropology 
Community ecology 
Conservation 
Human–animal studies 
Human–primate coexistence 
Mixed-methods 
Introduction
The field of ethnoprimatology takes the reality of the interface between humans and other primates seriously and aims to study the multifaceted ways the histories, ecologies, lives, and livelihoods of human and nonhuman primates (hereafter primates) intersect. Interest in the study of the human–primate interface has grown considerably in the last couple of decades (McLennan et al. 2017). Part of the draw of the ethnoprimatological approach has been pragmatic; it is becoming increasingly difficult to study primate populations not subject to some sort of human influence. Moreover, given recent estimates indicating that approximately 60% of the 504 primate species from 16 families are threatened with extinction, with the primary causal factor being unsustainable human practices (Estrada et al. 2017), the ethnoprimatological approach's attention to the human dimension makes it well suited for deciphering how humans and primates can sustainably coexist into the future (Dore et al. 2017; Setchell et al. 2017). Ethnoprimatology's conceptual significance is also part of its allure; it views the human–primate interface as a worthy and interesting context in which to examine key questions concerning ecological and behavioral plasticity, community ecology, and what it means to be human.
To highlight the use and value of specific theoretical perspectives and methodological tools for the study of the human–primate interface across diverse research settings, Sindhu Radhakrishna and I co-organized a symposium titled "Expanded Ecologies: Theoretical and Methodological Advancements in the Study of the Human–Primate Interface" at the 2016 joint meetings of the International Primatological Society and the American Society of Primatologists. In line with the meeting's stated objectives for symposia, our symposium was diverse across multiple dimensions—research scope, and the disciplinary background, source country, and level of seniority of presenting authors, from graduate students to more senior scholars. With the encouragement of Editor-in-Chief Joanna Setchell, much of the scholarship presented at that meeting is highlighted in this Special Issue on "Ethnoprimatology in the 21st Century."
This paper serves a dual purpose: as an introduction to this Special Issue and a retrospective and prospective review of ethnoprimatology as a field of study. I begin by providing a brief history of the study of the human–primate interface and the emergence of "ethnoprimatology" as a formalized field of study. In the next section, I review how scholars have contributed to our understanding of the cultural and ecological interconnections between humans and other primates, thereby defining the scope of ethnoprimatology. I then explore ethnoprimatology's maturation as a field, highlighting its broader conceptual and applied contributions and foreshadowing new developments in integrative theory and methodology exemplified by some of the articles in this Special Issue. I conclude with a set of postulates to guide future ethnoprimatological endeavors, arguing for theoretical and methodological pluralism to enable an expanded purpose for primatology in anthropology and to advance interdisciplinary dialogue and scholarship on the sustainable existence of human–animal–environment entanglements in the twenty-first century and beyond.
The Emergence of Ethnoprimatology
Ethnoprimatology is the study of the ecological and cultural interconnections between humans and other primates, and the implications of those interconnections for conservation (Riley 2007a). Although the term "ethnoprimatology" emerged in the late twentieth century, awareness of the influence of humans on primates extends back decades earlier to when scholars first began to recognize the importance of primate field studies for anthropology. During his 1955 trip to Africa, Sherwood Washburn, one of the founders of field primatology in the United States, observed how a tame group of baboons that frequented his hotel in Victoria Falls had adapted to the circumstances: "you could see that they there making all of these sensible and learned adjustments" (De Vore and Washburn 1992, p. 420). On embarking on field research with rhesus macaques (Macaca mulatta) in India, Charles Southwick et al. (1965, p. 158) determined that "It is, in fact, difficult to assess what the natural habitat of the rhesus [monkey] actually is. It has lived in close ecological contact with man for centuries, and in frequency and persistence this commensal relationship in villages, towns, temples, and roadsides represents a natural relationship." Also while conducting primate field research in India, Phyllis Jay (1963, p. 8) noted that "Man and monkey have shared the country of India for thousands of years." This awareness of the human–primate interface led to a scholarly interest in understanding how human activities influence the distribution, behavior, and ecology of primates, in both past (Baker 1992) and present contexts (Fa 1991; Strum and Western 1982; Wrangham 1974). Moreover, early field primatologists trained in sociocultural anthropology along with scholars trained in the Kyoto school of primatology set the stage for the methodology of ethnoprimatology by illustrating the value of anecdotes and descriptive data to better "see and know" individuals and their relationships with others (Asquith 1996; Jay 1963; Takasaki 2000).
The study of the human–primate interface became formalized when sociocultural and ecological anthropologist, Leslie Sponsel, coined the term "ethnoprimatology" in 1997. Sponsel (1997) recognized the mutually overlapping interests of primate ecologists and human ecologists and identified six areas in which the human–primate interface could be examined: the comparative ecology of primates and humans; predation ecology—human as primate predators; symbiotic ecology—other symbiotic relationships between humans and primates; cultural ecology—the cultural relevance of primates; ethnoecology—traditional knowledge about primates; and conservation ecology—the conservation implications of the human–primate interface.
Bruce Wheatley, a four-field trained anthropologist, was another pioneer of the ethnoprimatological approach. On arriving in Bali, Indonesia to conduct research on the long-tailed macaques (Macaca fasicularis), Wheatley found that he could not fully understand the behavior of the Bali macaques without considering the human cultural context. In 1999, Wheatley published his seminal text, The Sacred Monkeys of Bali, in which he explores the important role long-tailed macaques play in Balinese culture, illustrates the longevity and prevalence of the human–macaque interface in Bali, and addresses the conservation implications of human–macaque relationships.
Although their emphases differed slightly—i.e., Sponsel focused on more ecologically oriented themes while Wheatley focused more on cultural elements—both scholars called for reconceptualizing what is meant by "primates in nature." They emphasized the need to recognize humans as part of nature (rather than separate from it), and to interpret primate responses to anthropogenic influences not as aberrant behavior, but as integral and interesting parts of their ecological strategies. This alternative view of "primates in nature" became part of the foundation of the ethnoprimatological approach. Both Sponsel and Wheatley envisioned ethnoprimatology as a field of study that was theoretically and methodologically integrative across anthropology (i.e., primatology, sociocultural anthropology, ecological and environmental anthropology) and allied fields (e.g., ecology, conservation biology).
While Sponsel (1997) coined the field "ethnoprimatology," Wheatley (1999) proposed the term "cultural primatology" as a way to unite primatology and cultural anthropology in the study of the interactions between humans and other primates. Ethnoprimatology ultimately emerged as the preferred term because it distinguished the study of human–primate interface from the study of cultural traditions among primates (cf. McGrew 2007). The preference for "ethnoprimatology" was also likely due to the field's aligned interests with other areas of anthropology that utilize the ethno prefix. In sociocultural anthropology, the prefix ethno (e.g., ethnoscience, ethnobotany, ethnobiology) serves to distinguish traditional, indigenous ways of knowing from that of Western scientific understandings. That said, while some ethnoprimatological research explores local knowledge and perceptions about primates, the sections that follow demonstrate how the scope of ethnoprimatology extends beyond the traditional anthropological usage of ethno-prefix noted earlier. Namely, ethnoprimatology also encompasses a much more literal meaning, with the "ethno + primatology" signifying the study of how human and primate lives and livelihoods intersect across both time and space and the integration of multiple methodologies to do so (Fuentes 2012; Riley 2013).
The Scope of Ethnoprimatology
Since ethnoprimatology emerged as a formalized field of study, scholars have built on Sponsel's and Wheatley's foundational work by examining the cultural and ecological interconnections between people and primates across a diverse array of settings, from urban to rural, thereby defining the scope of ethnoprimatology (Dore et al. 2017; Fuentes and Hockings 2010; Fuentes and Wolfe 2002; Gumert et al. 2011; Paterson and Wallis 2005; Radhakrishna et al. 2013; Riley 2005; Waller 2017).
Cultural Interconnections
Much of the early ethnoprimatological work on the cultural dimensions of contemporary human–primate interfaces was conducted by scholars trained in sociocultural anthropology, in particular those interested in the ethnoecology and historical ecology of indigenous peoples of the Neotropics (Cormier 2003; Shepherd 2002). This work revealed how primates have both material importance—e.g., serving as food, with cultural factors, such as fear of contagion of negative characteristics (e.g., laziness) shaping prey choices—and social value via the symbolic roles they play as pets and kin for many indigenous peoples in the Neotropics (Cormier 2002; Cormier and Urbani 2008).
Primatologists also began paying attention to the value of the ethnographic lens in understanding primate populations and communities (Riley et al. 2011). For example, primatologist, Melissa Remis partnered with a sociocultural anthropologist, Rebecca Hardin, integrating ethnography of BaAka hunting camps with line transect, forest phenology, and gorilla socioecology data, to examine forest change and its effect on relationships between humans and primates in the Sangha Dense Forest Reserve, Central African Republic (Hardin and Remis 2006). Moreover, primatologists extended their interest in the human dimension beyond traditional, non-Western peoples to include any and all human communities whose lives and livelihoods intersect with their primate neighbors, exploring the nature and conservation implications of these intersections at multiple scales. For example, at the local level, researchers have explored how folklore and cultural taboos can translate into positive human–primate interfaces that contribute to primate conservation (Baker 2013; Lingomo and Kimura 2009; Riley 2010; Saj et al. 2006) and how conceptions of primate sacredness (e.g., in eastern religions such as Hinduism and Buddhism) can shift in relation to place (Peterson et al. 2015) and over time and across space, particularly if the nature of the interface between people and primates changes (e.g., from sympatry to competition and conflict due to crop feeding behavior; Anand et al. 2018). At the same time, taboos may not always positively contribute to conservation, particularly if, for example, primates are negatively linked to political histories, and hence, stigmatized (Richards 2000). Others have used the ethnoprimatological approach to explore the conservation implications of human–primate interconnections at a broader scale. For example, Nekaris et al. (2010) supplemented recorded international trade data with qualitative data garnered through interviews with individuals in source villages, trading posts, and wildlife markets to reveal the cultural factors driving the pet trade of Loris and Nycticebus in Sri Lanka, Cambodia, and Indonesia.
A recent special issue in Folia Primatologica devoted to "Ethnographic Approaches in Primatology" (Dore et al. 2018) along with a number of papers in this Special Issue further exemplify how a diverse array of scholars, from biological anthropologists, to primatologists, to conservation biologists, continue to find value in accessing the human perspective and exploring the cultural dimensions of human–primate interfaces, past and present. Using a case study integrating interview and hunter catchment survey data in relation to long-term primate abundance data, Hofner et al. (2018, this issue) illustrate the value of understanding emic conceptions of "hunter," why people hunt, and how the current structures of conservation (e.g., protected areas and concomitant regulations on access to resources within) constrain livelihood choices when developing future management strategies for the Critically Endangered Preuss' red colobus (Piliocolobus preuss) in Ikenge-Bakoko, Cameroon. Shaffer et al. (2018, this issue) similarly explore the cultural drivers of primate hunting practices, revealing how the hunting of primates is important to the Waiwai's diet but also to their identity relative to other indigenous groups in the area. They also further expand ethnoprimatolgy's applied dimension by integrating their ethnographic data with quantitative biodemographic modeling to promote a sustainable and co-managed approach to primate hunting in the Konashen Community-Owned Conservation Area (KCOCA), Guyana. Radhakrishna (2018, this issue) broadens the temporal and methodological reach of ethnoprimatology by accessing human perceptions of primates through the analysis of literary narratives. Using content analysis, Rahdhakrishna (2018) examined changes in the nature of human–primate relations as reflected in Tamil—a 2000-year-old, classical language of southern India—poetry from six periods in Tamil literary history (from the first century to the present). She found that while monkeys were clear co-habitants with people in the earliest period, during the subsequent period monkeys came to depict the forest and the natural world, which were viewed as separate from human spaces (i.e., towns and palaces). Moreover, she determined that the "sacredization" of monkeys that characterizes many contemporary human–primate intersections in India (but see Anand et al. 2018) did not emerge until an even later period (roughly the twelfth century), largely driven by the expanding popularity of Ramayana, a Hindu epic in which the monkey god, Hanuman, plays a prominent role.
Ecological Interconnections
Building on Sponsel's vision for the ecological dimension of ethnoprimatology, scholars recognized the ethnoprimatological salience of other, already established research areas, such as the provisioning of primates and human–wildlife conflict due to crop feeding, and incorporated them into ethnoprimatology's purview. In many areas of the world, people and primates have a long history of sympatry (Cormier and Urbani 2008; Mito and Sprague 2013; Tutin and Oslisly 1995). When some of the early pioneers of field primatology set out to study primates in the wild, they came to appreciate the potential longevity of the human–primate interface, questioned what counted as "natural behavior" and "natural habitats" (Southwick et al. 1965), and found that people were an integral part of the feeding ecology of wild primates. In northern India, for example, Siddiqi and Southwick (1988) found that only 7% of the diet of one of their rhesus macaque study groups (Macaca mulatta) comprised natural vegetation; the rest of the diet came from food handouts from people (83%) and cultivated foods (7%). Tourist and temple settings therefore became key sites to examine the effect of provisioning on primates, and early work focused on its frequency (O'Leary and Fa 1993), influence on activity budgets (Altmann and Muruthi 1988; Saj et al. 1999), and demographic consequences (Asquith 1989; Malik et al. 1984). The ethnoprimatological approach has informed subsequent research on the effect of provisioning on primate diets and foraging activities and the rates and types of human–primate interactions in tourist settings (Hsu et al. 2009; McKinney 2011, 2014). Ethnoprimatological research also builds on this work by examining the interconnectedness of human and primate behavior in these settings, and by considering how social, cultural, and economic factors shape why people engage in provisioning and the consequences of doing so (Fuentes et al. 2007; Fuentes 2010a; Riley and Wade 2016; Usui et al. 2014). For example, in this issue, Sengupta and Radhakrishna (2018) explore how humans and rhesus macaques (Macaca mulatta) behave together in provisioning contexts in West Bengal, India. They found that human behavior (i.e., provisioning) resulted in the macaques spending more time on the highways and a less diverse diet when provisioning occurred, and that macaque behavior (e.g., food "begging" and human-directed aggression) combined with cultural and religious factors explain why people provision the macaques.
A major form of ecological change occurring across the ranges of many primate taxa is the conversion of habitat to agricultural land. A number of primates can flexibly adapt to such habitat change by incorporating cultivated foods into their diet (e.g., Papio: Strum 1994; Macaca: Riley and Priston 2010; Pan: Hockings and McLennan 2012), a behavior commonly known as "crop raiding," or more recently, "crop foraging" or "crop feeding" (Hill 2015; Hockings et al. 2015). Similar to provisioning research, a rich body of work by natural and social scientists and conservation practitioners on human–wildlife conflict from crop feeding predates ethnoprimatology's emergence (e.g., Hill 2000; Naughton-Treves et al. 1998; Strum 1994). The ethnoprimatological approach contributes to this body of work by exploring both the human and primate perspective to understand patterns of primate ecological flexibility and how both perspectives intersect to affect human–primate coexistence. With both people and primates in mind, ethnoprimatology uses a mixed methodological approach, often integrating quantitative data (e.g., crop loss measurements; the frequency and duration of raiding events; the relationship between crop feeding and wild food availability) and qualitative data (e.g., perceptions of and folklore about primates; why farmers act the way they do).
Ethnoprimatological research conducted at the forest–farm edge has revealed how multifaceted and varied the human–primate interface is in such settings despite seemingly similar constraints at play. Scholars have uncovered why some farmers retaliate against primates that crop feed (Campbell-Smith et al. 2010), while others do not (e.g., folklore that prohibits retaliation; Riley 2010); how and why farmers' perceptions about the severity of conflict can align with but also depart from quantitative measures of crop feeding (Webber and Hill 2014; Zak and Riley 2017), and how co-use of cultivated foods need not always lead to competition and conflict. For example, Hockings and Sousa (2012) found that chimpanzees (Pan troglodytes verus) and humans consume different parts of cashew, an important cash crop, and that the manner by which the chimpanzees consume the fruit facilitates the harvesting of the nut by the farmers in Guinea-Bissau.
Human–primate disease transmission also became an important focus for ethnoprimatology (Fuentes 2006; Jones-Engel et al. 2001, 2005). Indeed, as is the case with human–wildlife conflict, a research interest in disease transmission is not unique to ethnoprimatology; researchers in the natural and health sciences (e.g., ecology, wildlife biology, conservation biology, veterinary medicine) have examined host–parasite ecology, how primate behavior and ecology affects the spread of disease, and the anthropogenic factors related to the emergence of infectious diseases across multiple scales (Chapman et al. 2005; Nunn and Altizer 2006; Wolfe et al. 2005). The ethnoprimatological approach enables a detailed analysis of the specifics and nuances of the human–primate context in which pathogens emerge and spread. For example, Loudon et al. (2006) were able to more fully appreciate the context for interspecies pathogen exchange in Beza Mahafaly Specical Reserve, Madagascar by using the ethnoprimatological approach. They found that while differences in socioecology and behavior (e.g., group size and the extent of terrestriality) accounted for why ring-tailed lemurs (Lemur catta) had a higher prevalence of gastrointestinal parasites than sympatric Verraux's sifakas (Propithecus verrauxi), human culture was also at play. Namely, the local Mahafaly tradition of using open-air latrines meant that ring-tailed lemurs with their more terrestrial behavior and generalist feeding strategy came into contact with and even consumed human feces when ranging through the camp area of the park. A behavioral ecological approach focused solely on the lemurs would have missed the important role human behavior and culture plays in primate parasite ecology.
Ethnoprimatology's Maturation
Description has been an important methodological element of ethnoprimatological research since the field first emerged. Because the study of the human–primate interface was at that time nascent, and for that matter, elements of it remain understudied across many settings, it is critical that studies begin by characterizing the nature of the interactions between humans and primates (e.g., Fuentes et al. 2008; Riley and Wade 2016; Sha et al. 2009). However, the use of a descriptive approach has become synonymous with "doing ethnoprimatology" and a key critique leveled against ethnoprimatology. Fuentes (2010b) relays, for example, how some of his early efforts to publish ethnoprimatological work were met with criticism such as: "There is a lack of theory and hypothesis testing here. Where is the science?" This critique is short-sighted for a few reasons. First, it ignores the fact that description is still necessary for good science (Altmann and Altmann 2003; Gordon 2011; Tinbergen 1963). In his classic paper, "On the Aims of Ethology," ethologist Niko Tinbergen (1963, p. 413) reminds us that "our science will always need naturalists and observers as well as experimenters." One of the pioneers of field primatology, Shirley Strum (2012, p. 7), notes that it was by carefully documenting the natural history of events and individuals that she was able to see "baboon complexity beyond social strategies." For example, Strum (2012, p. 6) found that "disagreement about foraging strategies" (i.e., some individuals "remained natural foragers," while others became "dedicated [crop] raiders") better explained why her main study group of baboons (Papio anubis) in Kenya fissioned than the socioecological prediction of group fission owing to large group size.
Secondly, the critique ignores the fact that ethnoprimatological research on the human–primate interface has also been theoretically rigorous, drawing from the theoretical frameworks of community ecology and behavioral ecology to examine, for example, the causes and consequences of human–nonhuman primate sympatry. In anthropogenic contexts where humans and primates interface, such as the forest–farm matrix or urban spaces, rapid environmental change is occurring, thereby making them methodologically robust in that they are serving as natural experiments for the study of ecological and evolutionary processes (Strier 2009). Some scholars have used a theoretically rigorous approach to assess the ecological conditions in such settings by considering the tradeoffs they present, and asking, under these conditions, how would well-adapted individuals behave? For example, Tonkean macaques (Macaca tonkeana) living in anthropogenically altered habitat adjust their activity budget to spend more time foraging, yet concentrate their movement within their core area where key resources remain; adjust their diet to include more alternative food items (e.g., fungus, insects); and, exploit human-propagated tree species (e.g., Arenga pinnata) and cultivated foods (Riley 2007a, b, 2008). Hockings et al. (2012) used a similar line of reasoning in terms of trade-offs to develop predictions about how they expected access to cultivated resources to affect fission–fusion dynamics and activity budgets among wild chimpanzees in Bossou, Guinea. Like "natural foods," cultivated foods exhibit properties that have socioecological importance: they typically occur in large, spatially clumped patches, with some available year round, and they are energy-rich and easily digestible (McLennan and Ganzhorn 2017). For chimpanzees at Bossou, access to these resources has resulted in concomitant changes in their activity budgets: on days when they fed on cultivated foods, time spent traveling, feeding, and socializing increased, whereas resting decreased. The Bossou chimpanzees also appear to be responding to the potential risk of human predation by increasing party cohesiveness when feeding on crops in guarded spaces.
Third, the claim of "a lack of theory" assumes that evolutionary theory is the only framework from which we can draw, thereby ignoring what other frameworks (e.g., from anthropology and human–animal studies) can offer primatological practice (see Dore et al. 2017; Fuentes 2012; Malone et al. 2014). The "recent trends" section in this article further attends to this issue by reviewing the expanding theoretical and methodological landscape of ethnoprimatology.
Conceptual Contributions: Rethinking Key Concepts
As ethnoprimatology has matured as a field, a major contribution has been the rethinking of key concepts. For example, "resources" is a central concept in primate behavioral ecology. The abundance and availability of resources are key factors that shape the behavior, diet, reproductive rates, and ultimately, the survival of primates (Terborgh and Janson 1986). "Resources" is generally taken to mean wild foods found in the "natural habitat" of the primate species in question (Carpenter 1964; Wrangham 1980). However, in various urban settings around the world, primates consume temple offerings, forage in human garbage dumps, and steal food from people's homes and shops (Sinha and Vijayakrishnan 2017). Moreover, in rural settings, the conversion of forests to agricultural land often results in the creation of new potential sources of food, and importantly, ones that are highly palatable and energy dense (Riley et al. 2013; Strum 2010). These foods, despite being anthropogenically-sourced (whether from a trash bin or from an agricultural plot), are not "natural" per se, but nonetheless represent important resources for primates with concomitant implications for nutrition, health, energetics, and population demography. Ethnoprimatological research has demonstrated that our notion of what counts as "resources" and as "natural" in behavioral ecological studies needs to be expanded.
Habitat Quality
It is generally assumed that anthropogenic habitat alteration results in lower quality habitat characterized by a diminished food supply (Struhsaker 1997). Although this assumption has been borne out by a number of studies (e.g., Balko and Brian Underwood 2005; Bolt et al. 2018), anthropogenic influence on habitat quality depend on the primate species in question along with the type of alteration and its spatial and temporal extent (Felton et al. 2010; Ganzhorn 1995). Secondary forests can often support higher densities of food resources than mature forests owing to the abundant and diverse fruit supply in the understorey (Chivers 1974; Corlett 1995), and may therefore support higher primate densities than expected (Plumptre and Reynolds 1994). Lightly logged forests in Malaysian Borneo, for example, can still support relatively high densities of orangutans, Pongo pygmaeus (Ancrenaz et al. 2010). Ethnoprimatological research has shown that habitat quality may also remain relatively high in forest–farm matrix habitat. For example, McLennan (2013) found that the disturbed environment in Bulindi, Uganda was not necessarily a food-impoverished habitat for chimpanzees because agricultural crops (e.g., cacao, Theobroma cacao) provide a year-round supply of food.
Besides the abundance and availability of food resources, habitat quality is also determined by the structure of the habitat. Generally, scholars are interested in documenting the composition and structure of primates' "natural" habitats (Richard 1985), but the composition and structure of matrix habitat may also be critical to primate survival. For example, Nekaris et al. (2017) determined that chayote frames—planted chayote gourds (Sechium edule) grown on bamboo frames—provide dense substrates for Javan slow lorises (Nycticebus javanicus) to travel on, socialize and feed within, and be secure from predators. Chayote is also an important cash crop for the local human population, thereby making it an anthropogenic resource that facilitates the coexistence of people and lorises in Java, Indonesia. The importance of cultivated plants and anthropogenic habitat features for the activity and ranging of primate populations indicates that our methods to assess habitat composition and structure should include all of the habitat types used by our study subjects, including anthropogenic habitats (e.g., Bryson-Morrison et al. 2017).
Community Ecology
Over the course of its development, the field of primatology has drawn heavily from conceptual frameworks in ecology, particularly community ecology. In ecology, "communities" represent a group of species living in a specified place and time (Vellend 2010, p. 187). Community ecology, then, is the study of the nature and consequences of the interactions among these species and their environment. Primatology has used this framework to explain primate–plant relationships and the nature of primate communities, such as the formation of polyspecific associations (Richard 1985). An increasingly important, yet largely ignored element of primate community ecology is people. The fossil record demonstrates that ecological sympatry characterized much of the primate and human evolutionary past (Ward 2003). Ecological sympatry with humans also characterizes the contemporary state of many extant primate populations, and yet, it was not until 2017 that any leading textbook on primate ecology recognized humans as important components of primate communities (see Strier 2017). Ethnoprimatology paved the way for this inclusion. Ethnoprimatology sees humans as integral components of primate community ecology, and has made the "human–nonhuman primate community" a central focus. This approach allows us to examine how primates and humans are co-shaping each other's ecology, sociality, and evolutionary trajectories. By doing so, it encourages primatologists to join other evolutionary scientists in appreciating the role of humans in effecting evolutionary change (Darimont et al. 2015; Sih 2013).
The ethnoprimatological approach also challenges primatologists to think more carefully about the terms we use to describe the ecological relationships formed between people and primates. For example, "commensalism" has become a popular term to refer to the human–primate interface. However, many applications of this term deviate from the classic definition proposed by ecologist Eugene Odum (1971): one species benefits while the other is unaffected. For example, some scholars use the term to denote primate populations that live in anthropogenic settings and interact with humans (Jones-Engel et al. 2006; McKinney 2011), other definitions focus on the flexibility of the primates, such as their ability to take advantage of human food, waste, and agricultural crops (Gautier and Biquand 1994; Southwick et al. 2005) or the conflict that derives from human–primate interactions (Paterson and Wallis 2005), while still others emphasize the positive benefits that people and primates accrue by interacting (Fuentes et al. 2007; Zhao 2005). Ethnoprimatology's contribution has been to examine the mutuality and complexity involved in human–primate relationships, and in doing so, revealing how rare it is for either humans or primates to be unaffected by their ecological overlap (sympatry). Primates that live in forest–farm matrix habitat and feed on palatable crops may simultaneously derive benefits (e.g., supplemental nutrition; Riley et al. 2013) and incur costs (e.g., risk of injury from retaliation by farmers; Hockings and Humle 2009) that have fitness consequences. In turn, farmers' livelihoods are often negatively influenced by crop feeding, but they may still tolerate the primates (Spagnoletti et al. 2017) or even benefit from this behavior (Hockings et al. 2017).
To better align ethnoprimatology with community ecology theory and to avoid confusion that may derive from inconsistencies in usage, I suggest that "sympatry" or "synanthropy" (i.e., organisms that cohabit with humans; Johnston 2001) be the term of choice to refer to settings where humans and primates coexist and interact and that the use of "commensalism" be limited to its traditional meaning (Odum 1971). Further, as reviewed by Parathian et al. (2018, this issue), we can invoke concepts from the social sciences and humanities that capture the humanism, dynamism, and ecological and evolutionary consequences of human–primate relationships (e.g., "natureculture contact zones," Fuentes 2010a, 2012; Haraway 2008; "multispecies landscapes" (Kirksey and Helmreich 2010).
Recent Trends
An Expanded Theoretical and Methodological Landscape
In the current decade, ethnoprimatology's theoretical landscape is expanding. While community ecology, behavioral ecology, and disease ecology remain integral to the ethnoprimatological approach, ethnoprimatologists have begun seeking additional theoretical and methodological guidance beyond these fields to facilitate new ways of exploring the human–primate interface. For example, borrowing from evolutionary biology, niche construction theory is a useful framework to explore how humans shape the ecology, sociality, and evolutionary trajectories of primates (Fuentes 2017). Niche construction refers to the process by which organisms select and modify their environment in ways that have ecological and evolutionary consequences (Odling-Smee et al. 2003). Niche construction is considered "an evolutionary process in its own right," rather than just a byproduct of natural selection, because organisms not only shape their environment but also the selection pressures that act on them, their descendants, and other species (Day et al. 2003, p. 81). Fuentes (2010a) has invoked this framework to describe the mutual co-shaping of the ecological and social spaces shared by people and long-tailed macaques (Macaca fascicularis) on the Indonesian island of Bali. Over the last several hundred years, Bali's agricultural system has become increasingly intensified, characterized by irrigated landscapes and a patchwork of shrines and temples constructed to regulate these systems. These structures, which are situated amidst mosaics of riverine forests, in turn, have shaped the ranging and dispersal patterns, population genetics, and disease ecology of co-autochthonous long-tailed macaques (Fuentes et al. 2005; Lane et al. 2010, 2011; Lansing 2009). Moreover, macaques that visit the temples become incorporated into the social niches constructed at these sites by participating in the ritual behavior at the temple sites (i.e., by feeding on food offerings) and by interacting with tourists (Fuentes 2010a).
The niche construction framework can also be used to examine flexible primate behavior in anthropogenic spaces. For example, in Bossou, Guinea, Hockings et al. (2017) documented the dispersal of an important cash crop, cacao (Theobroma cacao), by a chimpanzee community across it home range, and importantly, beyond plantation boundaries. The chimpanzees' flexible feeding on cultivated foods is creating new pockets of anthropogenically sourced, primate-planted resources, that in turn may be influencing the distribution and abundance of other tropical plants, and the other wildlife that feed on them (see also Sengupta et al. 2015). Moreover, the possibility that humans may benefit from this flexible feeding strategy and the resulting niche construction points to the importance of considering how humans and primates are co-niche constructors in their shared spaces (Fuentes 2010a).
The next step is to move beyond using niche construction to explain patterns post hoc and work toward testing predictions derived from the framework (Riley 2013). Ellwanger and Lambert (2018) address this matter in this Special Issue. They provide a useful review of the various methodologies used to examine how human niche construction affects primate populations and their habitats; they argue for the need to think beyond dyadic interspecies interfaces (e.g., human–primate) toward a broader approach focused on human–animal environmental interactions; and, they discuss the need to bridge the disparate ecological and evolutionary research time frames of the niche construction approach. Namely, they propose drawing from multigenerational cultural transmission, historical ecology, and genomic and phenomic analysis to assess the evolutionary consequences of niche construction.
Ethnoprimatologists are also recognizing that the theoretical guidance from which we can draw is not limited to the evolutionary sciences (cf. Servais 2013). For example, in this issue, Dore (2018) illustrates how political ecology—that is, how power relations mediate human–environment interactions (Bryant 1998) – helps explain why human-primate conflict exists and persists. In line with political ecology's focus on multiple scales, Dore attends to the broader power dynamics at play on the Caribbean island of St. Kitts; she shows how St. Kitts' colonial history and resulting patterns of land tenure and resource management shape how St. Kittians interact with their environment, including the vervet monkeys (Chlorocebus sabaeus) that were introduced to the island >300 years ago. She determined that farmers are less willing to invest in the protection of their gardens (from vervet crop foraging) because they do not own the land, and hence, have little security about whether future cultivation of the land is even a reality. Moreover, despite the fact that Kittian farmers hold negative perceptions of the monkeys, the growing tourism economy on the island has meant that those in positions of power have shifted their own perceptions of the monkeys from "pests" to "valuable resources." Dore's work exemplifies how overlapping resource between humans and other primates, and the conflict that ensues as a result, is as much about conflict between different groups of people about wildlife (i.e., "human–human conflict"; see Hill 2015; Madden 2004) as it is about human–wildlife conflict. As more and more primatologists become involved in conservation, integrating political ecology with ethnoprimatology, and primatology more generally, will enable the social and political implications of our conservation actions to become more visible.
Ethnprimatologists have also explored what recent theorizing on human–animal entanglements in the social sciences and humanities can offer primatological and conservation practice (Fuentes 2012; Malone et al. 2014; Remis and Jost Robinson 2017; Sousa et al. 2017; Waters et al. 2018). Contemporary human–animal approaches view animals not merely as objects on which humans act or derive economic benefit, but rather, as subjects and agents in their own right and as parts of human worlds rather than just symbols of it (Knight 2005; Noske 1993; Taylor 2013). This perspective, in turn, enables us to appreciate animals' subjectivities; that is, animals do not simply exhibit behavior in relation to their environment for us to observe and record, they are experiencing that environment themselves. Krief et al. (2006) explore the possibilities of this perspective in their research on self-medication behavior among Kanyawara chimpanzees in Uganda (Pan troglodytes) by considering how interpreting not only what chimpanzees are doing, but also what each chimpanzee can interpret about their environment can help us better understand, for example, intracommunity variation in the use of nonnutritional plants.
In this Special Issue, drawing from science studies and human–animal studies (Candea 2010; Hurn 2012) and integrating ethological and ethnographic data, Hanson and Riley (2018) explore how the habituation of primates—an important, yet understudied, first step in primate fieldwork—is a dynamic, intersubjective process during which humans and primates learn to understand one another, rather than a state to be achieved (see also Rees 2006, 2007; Smuts 2001; Strum 1987). They argue that embracing the intersubjectivity of habituation allows primatologists to appreciate how both quantitative indicators and our own subjective impressions contribute to understandings of habituation progress, and ultimately, enables us to be better attuned to the individuals we seek to study.
Further, several of the articles in this Special Issue offer insight on how to more fully integrate ethnoprimatology with multispecies ethnography, a human–animal studies approach that aims to understand the human as emergent through its relations with nonhuman beings (Kirksey and Helmreich 2010; Ogden et al. 2013, p. 6). Jost Robinson and Remis (2018, this issue) argue that the phenomological and grounded approach of Japanese primatology can serve as a useful framework through which primatologists can engage with multispecies ethnography. Breaking from the standard format of Western scientific writing, they use "thick description of a single ethnographic encounter" to illustrate how interpretations of primate abundance data from the Dzanga Sangha Procted Areas Complex, Central African Republic and the development of conservation measures necessitate an understanding of the "shifting relationships among humans, primates, and hunting technology in an increasingly globalized world." Borrowing from multispecies ethnography, they propose a conceptual shift from "interaction" to "intra-action" to better capture the mutual shaping and becomings that ensue from human–primate entanglements. Drawing from their research as an interdisciplinary team comprising primatologists and social scientists, Parathian et al. (2018, this issue) provide a case study on human–chimpanzee coexistence in Guinea–Bissou to illustrate how integrating elements from ethnoprimatology (i.e., mixed-methods approach) and multispecies ethnography (i.e., a "beyond human" perspective) enabled them to more fully appreciate how Nalu people and chimpanzees "are constituted in and by relations to each other where they meet and mingle" and to inform the development of locally appropriate conservation measures.
In terms of methodology, ethnoprimatology has promoted, since its inception, an integrative and interdisciplinary approach. In recent years, however, its methodological toolkit has expanded even further. Scholars have illustrated the value in using stable isotope analysis (Kwiatt 2017; Loudon et al. 2014; Schurr et al. 2012), spatial ecology/GIS (Klegarth et al. 2017), biodemographic modeling (Shaffer et al. 2018, this issue), camera trap technology (Zak and Riley 2017), nutritional ecology (Cancelliere et al. 2018; McLennan and Ganzhorn 2017; Riley et al. 2013), social network analysis (Beisner et al. 2016; Morrow 2018), and literary analysis (Radhakrishna 2013, 2018, this issue) to study human–primate relations and interconnections. While the interview has been a useful ethnographic method used in ethnoprimatological research, Knight (2017) reminds us to not conflate ethnography with interviews. A number of the articles in this issue exemplify how ethnoprimatological research can benefit from the use of a wider range of techniques that encompass ethnographic fieldwork, including participant observation (Hanson and Riley, this issue) and thick description (Jost Robinson and Remis, this issue).
Expanded Locales
To date, most ethnoprimatological research has focused on areas where humans and primate indigenously cohabitate. Ethnoprimatologists have recently extended this purview to include primate populations that live outside their native range due to the process of ethnophoresy, the dispersal of animals to other regions through introduction or translocation (often deliberate) by humans (Dore 2017; Gumert et al. 2011). These populations make excellent study subjects for ethnoprimatology given that their current geospatial location is the result of human behavior, which likely has had cascading effects on an entire suite of ecological and behavioral parameters of interest to primatologists. While introduced primate populations such as St. Kitts' vervet monkeys (Dore 2013, 2018, this issue) and the rhesus macaques of Florida's Silver River (Riley and Wade 2016) may not necessarily constitute priorities for conservation, examining their interface with humans provides important insights for understanding patterns of primate ecological and behavioral flexibility, for how "being human" means being with others, and for managing human–primate interfaces elsewhere.
Managed settings—e.g., laboratories, zoos, and sanctuaries—also represent worthwhile contexts in which to investigate the human–primate interface. Although not explicitly referenced as "ethnoprimatology," by analyzing recorded videos of captive chimpanzees and their human trainers at the Great Ape Research Institute in Japan, Takada (2013, p. 2) contributes to our understanding of how primate species can communicate with one another in mutually coordinated ways despite underlying differences in their "semiotic resources," thereby exposing the possibilities for interprimate species sociality. In an urban zoological garden setting, Palmer et al. (2015) examined orangutan (Pongo pygmaeus) relationships and keepers' interpretations of those relationships. In addition to presenting quantitative data on dyadic interactions between orangutans, they share anecdotes from keepers. These anecdotes enable a deeper understanding of how the keepers interpret orangutan social interactions and how these interpretations can then shape how they socially manage the orangutans. These management decisions can then affect the nature of interactions among the orangutans, demonstrating the mutual co-shaping of behavior at play in managed settings such as zoos. Building on this work, in this Special Issue, Palmer and Malone (2018) further explore the value of ethnoprimatology's mixed methodological approach in applied primatology situations, such as behavioral care management in captive settings and illustrate how doing ethnoprimatology in managed settings helps to connect primatology with primate/welfare approaches and to blur the captive/wild distinction toward appreciating the connectivity of primate populations across the myriad settings in which they live.
Ethnoprimatology in the Twenty-First Century and beyond: Moving Forward
Because ethnoprimatology's disciplinary parentage and the academic background of its practitioners are diverse, it is not surprising that perspectives about what ethnoprimatology constitutes vary. While Leblan (2013, p. 9) considers ethnoprimatology an "integration of field primatology within conservation biology," Jost Robinson and Remis (2018, this issue) argue that ethnoprimatology is not just a tool for effective conservation nor should it only expose the momentary elements of the human–primate interface; it is about understanding "the relational histories of humans and primates in their shared landscapes." Also in this issue, McKinney and Dore (2018) take a broader view of ethnoprimatology and define any research focused on the interface of human and primates as "ethnoprimatology." Interestingly, though, their systematic review of the literature published in the four primatology journals (American Journal of Primatology, Folia Primatologica, International Journal of Primatology, and Primates) from 2010 to 2016 revealed that not all primatologists choose to label their research on the human–primate interface as "ethnoprimatology." This finding could be because their interest in the human-primate interface predates ethnoprimatology's emergence. Another explanation could be that not all primatologists are anthropologists, and hence, they may not necessarily align their scholarship with the anthropological meaning of "ethno" fields. Further examination of how scholars choose to label their research on the human–primate interface would be illuminating.
I argue that what is needed moving forward is a clear distinction between research that can be informed by the ethnoprimatological approach and research that is, in of itself, "ethnoprimatology." McKinney and Dore (
2018
, this issue) thoroughly review how the ethnoprimatological approach can inform other research foci of primatology, including cognition, social behavior, behavioral ecology, life history and reproduction, community ecology, and disease ecology. However, moving forward, I envision "doing ethnoprimatology" as a distinct endeavor. It is not just about studying anthropogenic influences on primate bodies, behaviors, and ecologies; ethnoprimatology digs deeper than amorphous categories such as "anthropogenic impact" or "anthropogenic factors" to explore what the specific contexts are, how and why primates and people behave together, and the implications of the diverse and multifaceted interconnections that emerge at the human–primate interface. For ethnoprimatology, primates are no longer our ethological or even our ethnographic subjects; rather, ethnoprimatology's subjects are the relational spaces (cf. Jost Robinson and Remis
2018
, this issue) in which humans and primates are situated, from geospatial to figurative, and the human–primate communities and relationships that develop in those shared environments. Accessing and examining these spaces and relationships and truly getting at the complexity at play necessitates a theoretically and methodologically pluralistic approach (Fig. 
1
). As such, ethnoprimatology forges an expanded purpose for anthropological primatology—one that situates primatology not just within the subfield of biological anthropology to shed light on human biological evolution, but within the broader field of anthropology. Ethnoprimatology also makes important applied contributions regarding how to advance effective conservation and sustainable human–primate communities (Jones-Engel
et al
.
2011
).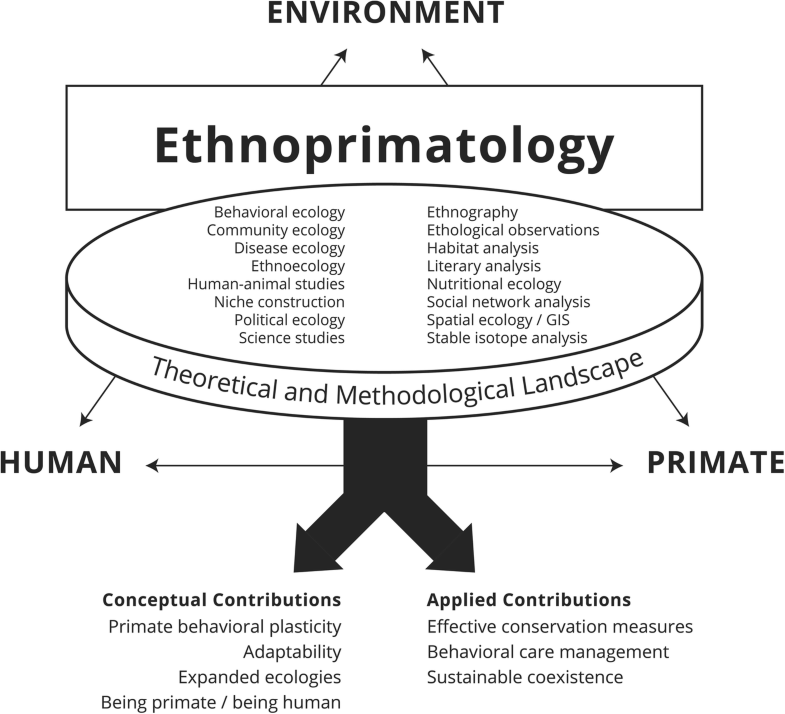 The articles in this Special Issue reveal that ethnoprimatology is coming of age. To inform other areas of primatology and to continue maturing as a field, we need a set of postulates to systematize ethnoprimatology's objective and approach moving forward. Building on the basal principles presented by Fuentes (
2012
), I offer an expanded set of guiding principles (Fig. 
2
).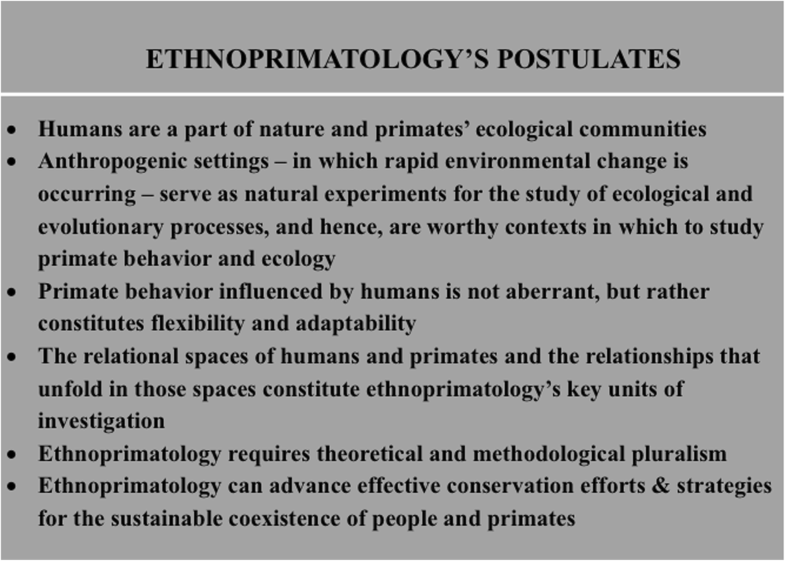 Another important component of advancing ethnoprimatology concerns its dissemination. While many ethnoprimatological projects have been integrative in approach, the scholarly reporting of findings is often done in more piecemeal, and disciplinary and epistemologically specific manner. This is largely because as mixed-methods researchers, ethnoprimatologists must be able to communicate across entrenched divides between quantitative and qualitative research paradigms. The communication tradition for primatology is the standardized scientific report, which has a clear linear structure with methods separate from the results and the results separate from interpretation. For qualitative research, there is little standardization in reporting, as the writing up of the research constitutes the "inquiry in the making" (Sandelowski 2003, p. 330). The papers in this Special Issue are testament to the fact that what qualifies as "appropriate" primatological scholarship is evolving, with editors and reviewers alike being more welcoming of mixed quantitative and qualitative research. That said, moving forward, ethnoprimatologists need to continue thinking about the best ways to communicate our findings to reach interdisciplinary audiences, such as using a mixed representational approach that incorporates different forms of writing and displaying our results (i.e., numerical, textual, and visual), as exemplified by a number of the papers in this Special Issue. Further, Parathian et al. (2018), in this issue, provide a helpful review of the common terminology of the key biological and social science fields that inform ethnoprimatology, which can assist with future dissemination, communication, and collaboration. Exploring how ethnoprimatology might contribute to theoretical advancements in the social sciences will also be important to advancing the integration of the natural and social sciences.
Conclusion
Ethnoprimatology derived in part from an early interest in human influences on primates and emerged as an interdisciplinary field of study aimed at exploring the interconnections between humans and other primates. As it matured as a field it has retained its interdisciplinarity, but its breadth of interest and sources of theoretical and methodological guidance have expanded beyond primatology and sociocultural anthropology to include disease ecology, spatial ecology, human–wildlife conflict, nutritional ecology, political ecology, human–animal studies, and science studies. Accordingly, ethnoprimatology's contributions are multifaceted. It enriches our understanding of primate behavioral flexibility and how human–primate interfaces shape selection pressures. Furthermore, by examining the ways that humans and other primates coexist in shared environments, ethnoprimatology sheds further light on what it means to be a primate, but also exposes other ways of being human. Ethnoprimatology recognizes that standard evolutionary models may not be sufficient for capturing and explaining the complexity that is generated when humans and other primates interface; its theoretical and methodological hybridity may serve as a model for future integration of fields from the natural and social sciences. These contributions not only enable an expanded scope for anthropological primatology beyond its original purpose, but also advance intra- and interdisciplinary dialogue, and scholarship on and action toward sustainable multispecies communities in the twenty-first century and beyond. A theoretically and methodologically pluralistic approach that can uncover the multispecies dimensions of human–primate communities and their shared ecological and social spaces will ensure a distinct vision and scope of inquiry for ethnoprimatology moving forward.
Data Availability
Data sharing not applicable to this article as no datasets were generated or analysed during the current study.
Ethical Note
The author declares that she has no conflict of interest.
Notes
Acknowledgments
I would like to thank Dr. Sindhu Radhakrishna, my co-organizer of the symposium on "Expanded Ecologies: Theoretical and Methodological Advancements in the Study of Human–Primate Interface" held at the 2016 joint IPS/ASP meetings that led to this special issue, all of the contributors to the issue, and Editor-in-Chief Dr. Joanna Setchell for her encouragement and patience. I am grateful to Supanon Kimpitak for her assistance with graphics. I also thank two anonymous reviewers and Joanna Setchell for their constructive comments on this paper.
Copyright information
© Springer Science+Business Media, LLC, part of Springer Nature 2018
corrected publication November/2018