Abstract
Investigating crop feeding patterns by primates is an increasingly important objective for primatologists and conservation practitioners alike. Although camera trap technology is used to study primates and other wildlife in numerous ways, i.e., activity patterns, social structure, species richness, abundance, density, diet, and demography, it is comparatively underused in the study of human–primate interactions. We compare photographic (N = 210) and video (N = 141) data of crop feeding moor macaques (Macaca maura) from remote sensor cameras, functioning for 231 trap days, with ethnographic data generated from semistructured interviews with local farmers. Our results indicate that camera traps can provide data on the following aspects of crop feeding behavior: species, crop type and phase targeted, harvesting technique used, and daily and seasonal patterns of crop feeding activity. We found camera traps less useful, however, in providing information on the individual identification and age/sex class of crop feeders, exact group size, and amount of crops consumed by the moor macaques. While farmer reports match camera trap data regarding crop feeding species and how wildlife access the gardens, they differ when addressing crop feeding event frequency and timing. Understanding the mismatches between camera trap data and farmer reports is valuable to conservation efforts that aim to mitigate the conflict between crop feeding wildlife and human livelihoods. For example, such information can influence changes in the way certain methods are used to deter crop feeding animals from damaging crops. Ultimately, we recommend using remote-sensing camera technology in conjunction with other methods to study crop feeding behavior.
This is a preview of subscription content, log in to check access.
Access options
Buy single article
Instant access to the full article PDF.
US$ 39.95
Price includes VAT for USA
Subscribe to journal
Immediate online access to all issues from 2019. Subscription will auto renew annually.
US$ 99
This is the net price. Taxes to be calculated in checkout.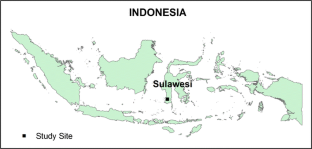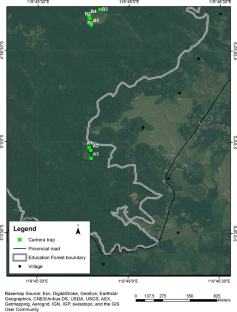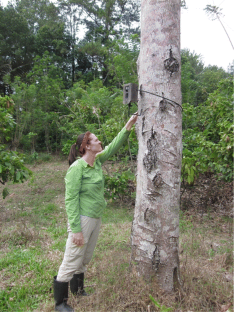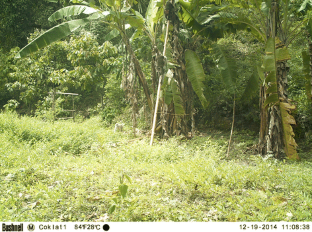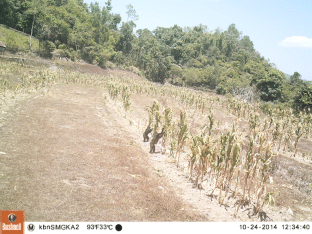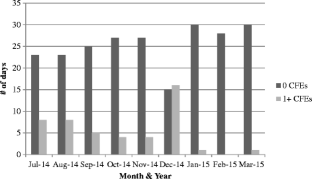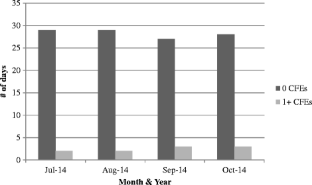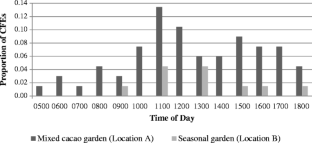 References
Acrenaz, M., Hearn, A., Ross, J., Sollmann, R., & Wilting, A. (2012). Handbook for wildlife monitoring using camera-traps. Kota Kinabalu, Sabah, Malaysia: BBEC II Secretariat.

Adesina, A., Johnson, D., & Heinrichs, E. (1994). Rice pests in the Ivory Coast, West Africa: farmers' perceptions and management strategies. International Journal of Pest Management, 40(4), 293–299.

Agustinus. (2011). Daerah jelajah and potensi jenis tumbuhan pakan M. maura pada kelompok 1 di Hutan Pendidikan. Universitas Hasanuddin.

Barber, C. H., Matthews, E., Brown, D., Brown, T. H., Currant, L., & Plume, C. (2002). State of the forest: Indonesia. Washington, DC: World Resources Institute.

Bessa, J., Sousa, C., & Hockings, K. J. (2015). Feeding ecology of chimpanzees (Pan troglodytes verus) inhabiting a forest–mangrove–savanna–agricultural matrix at Caiquene Cadique, Cantanhez National Park, Guinea–Bissau. American Journal of Primatology, 77(6), 651–665.

Bezerra, B. M., Bastos, M., Souto, A., Keasey, M. P., Eason, P., Schiel, N., et al. (2014). Camera trap observations of nonhabituated critically endangered wild blonde capuchins, Sapajus flavius (formerly Cebus flavius). International Journal of Primatology, 35(5), 895–907.

Boyer-Ontl, K. M., & Pruetz, J. D. (2014). Giving the forest eyes: the benefits of using camera traps to study unhabituated chimpanzees (Pan troglodytes verus) in southeastern Senegal. International Journal of Primatology, 35(5), 881–894.

Brotcorne, F., Maslarov, C., Wandia, I. N., Fuentes, A., Beudels‐Jamar, R. C., & Huynen, M. C. (2014). The role of anthropic, ecological, and social factors in sleeping site choice by long‐tailed macaques (Macaca fascicularis). American Journal of Primatology, 76(12), 1140–1150.

Farris, Z. J., Karpanty, S. M., Ratelolahy, F., & Kelly, M. J. (2014). Predator–primate distribution, activity, and co-occurrence in relation to habitat and human activity across fragmented and contiguous forests in northeastern Madagascar. International Journal of Primatology, 35(5), 859–880.

Fedigan, L. M. (2010). Ethical issues faced by field primatologists: asking the relevant questions. American Journal of Primatology, 72(9), 754–771.

Fooden, J. (1969). Taxonomy and evolution of the monkeys of Celebes. Basel: S. Karger.

Galvis, N., Link, A., & Di Fiore, A. (2014). A novel use of camera traps to study demography and life history in wild animals: a case study of spider monkeys (Ateles belzebuth). International Journal of Primatology, 35(5), 908–918.

Hill, C. M. (1997). Crop-raiding by wild vertebrates: the farmer's perspective in an agricultural community in western Uganda. International Journal of Pest Management, 43(1), 77–84.

Hill, C. M. (2015). Perspectives of "conflict" at the wildlife–agriculture boundary: 10 years on. Human Dimensions of Wildlife, 20(4), 296–301.

Hill, C. M., & Wallace, G. E. (2012). Crop protection and conflict mitigation: reducing the costs of living alongside non-human primates. Biodiversity and Conservation, 21, 2569–2587.

Hockings, K. J., & Humle, T. (2009). Best practice guidelines for the prevention and mitigation of conflict between human and great apes. Gland, Switzerland: IUCN/SSC Primate Specialist Group (PSG).

Hockings, K. J., Anderson, J., & Matsuzawa, T. (2009). Use of wild and cultivated foods by chimpanzees at Bossou, Republic of Guinea: feeding dynamics in a human-influenced environment. American Journal of Primatology, 71, 636–646.

Hockings, K. J., McLennan, M. R., Carvalho, S., Ancrenaz, M., Bobe, R., et al. (2015). Apes in the anthropocene: flexibility and survival. Trends in Ecology & Evolution, 30(4), 215–222.

ILO (International Labor Organization) (2012). Sectoral country profile—Indonesia. http://www.ilo.org/wcmsp5/groups/public/---ed_dialogue/sector/documents/publication/wcms_161281.pdf.

IUCN (2008). The IUCN red list of threatened species. Available at: http://www.primate-sg.org/threat_primate_habitat_country/.

Krief, S., Cibot, M., Bortolamiol, S., Seguya, A., Krief, J.-M., & Masi, S. (2014). Wild chimpanzees on the edge: nocturnal activities in croplands. PLoS ONE, 9(10), e109925.

LeCompte, M. D., & Schensul, J. J. (1999). Analyzing and interpreting ethnographic data. Walnut Creek, CA: Altamira Press.

Linkie, M., Dinata, Y., Nofriantao, A., & Leader-Williams, N. (2007). Patterns and perceptions of wildlife crop raiding in and around Kerinci Seblat National Park, Sumatra. Animal Conservation, 10, 127–135.

Matsumura, S. (1991). A preliminary report of the ecology and social behavior of moor macaques (Macaca maurus) in Sulawesi, Indonesia. Kyoto University Overseas Research Report of Studies on Asian Nonhuman Primates, 8, 27–41.

McKinney, T. (2011). The effects of provisioning and crop-raiding on the diet and foraging activities of human-commensal white-faced capuchins (Cebus capucinus). American Journal of Primatology, 73, 439–448.

McLennan, M. R. (2013). Diet and feeding ecology of chimpanzees (Pan troglodytes) in Bulindi, Uganda: foraging strategies at the forest-farm interface. International Journal of Primatology, 34, 585–614.

McLennan, M. R., & Hill, C. M. (2012). Troublesome neighbours: Changing attitudes towards chimpanzees (Pan troglodytes) in a human-dominated landscape in Uganda. Journal for Nature Conservation, 20(4), 219–227.

Naughton-Treves, L. (1997). Farming the forest edge: vulnerable places and people around Kibale National Park, Uganda. Geographical Review, 87(1), 27–46.

O'Connell, A. F., Nichols, J. D., & Karanth, K. U. (Eds.). (2011). Camera traps in animal ecology: methods and analyses. Tokyo: Springer.

Okamoto, K., Matsumura, S., & Watanabe, K. (2000). Life history and demography of wild moor macaques (Macaca maurus): summary of ten years of observations. American Journal of Primatology, 52, 1–11.

Osborn, F. V., & Hill, C. M. (2005). Technique to reduce crop loss: human and technical dimensions in Africa. In R. Woodroffe, S. Thirgood, & A. Rabinowitx (Eds.), People and wildlife: conflict or coexistence? (pp. 72–85). Cambridge: Cambridge University Press.

Pebsworth, P. A., & LaFleur, M. (2014). Advancing primate research and conservation through the use of camera traps: introduction to the special issue. International Journal of Primatology, 35(5), 825–840.

Priston, N. E., Wyper, R. M., & Lee, P. C. (2012). Buton macaques (Macaca ochreata brunnescens): crops, conflict, and behavior on farms. American Journal of Primatology, 74(1), 29–36.

Richard, A. F., Goldstein, S. J., & Dewar, R. E. (1989). Weed macaques: evolutionary implications of macaque feeding ecology. International Journal of Primatology, 10(6), 569–594.

Riley, E. P. (2007). The human-macaque interface: conservation implications of current and future overlap and conflict in Lore Lindu National park, Sulawesi, Indonesia. American Anthropologist, 109(3), 473–484.

Riley, E. P. (2010). The endemic seven: Four decades of research on the Sulawesi macaques. Evolutionary Anthropology, 19, 22–36.

Sagnotti, C. (2013). Diet preference and habitat use in relation to reproductive states in females of a wild group of Macaca maura inhabiting Karaenta forest in South Sulawesi. Master's dissertation, Hasanuddin University, Makassar, Sulawesi.

Seiler, N., & Robbins, M. M. (2016). Factors influencing ranging on community land and crop raiding by mountain gorillas. Animal Conservation, 19(2), 176–188.

Siex, K. S., & Struhsaker, T. T. (1999). Colobus monkeys and coconuts: a study of perceived human–wildlife conflicts. Journal of Applied Ecology, 36, 1009–1020.

Strum, S. C. (2010). The development of primate raiding: implications for management and conservation. International Journal of Primatology, 31, 133–156.

Supriatna, J., Froehlich, J. W., Erwin, J. M., & Southwick, C. H. (1992). Population, habitat and conservation status of Macaca maurus, Macaca tonkeana and their putative hybrids. Tropical Biodiversity, 1(1), 31–48.

Tan, C. L., Yang, Y., & Niu, K. (2013). Into the night: camera traps reveal nocturnal activity in a presumptive diurnal primate, Rhinopithecus brelichi. Primates, 54(1), 1–6.

Tobler, M. W., Carrillo-Percastegui, S. E., Leite Pitman, R., Mares, R., & Powell, G. (2008). An evaluation of camera traps for inventorying large- and medium-sized terrestrial rainforest mammals. Animal Conservation, 11(3), 169–178.

Treves, A., Mwima, P., Plumptre, A. J., & Isoke, S. (2010). Camera-trapping forest–woodland wildlife of western Uganda reveals how gregariousness biases estimates of relative abundance and distribution. Biological Conservation, 143(2), 521–528.

Watanabe, K., & Matsumura, S. (1996). Social organization of moor macaques, Macaca maurus, in the Karaente Nature Reserve, South Sulawesi, Indonesia. In T. Shotake & K. Wada (Eds.), Variations in the Asian macaques (pp. 147–162). Toyko: Tokai University Press.

Webber, A. D., & Hill, C. M. (2014). Using participatory risk mapping (PRM) to identify and understand people's perceptions of crop loss to animals in Uganda. PLoS ONE, 9(7), e102912.

Wegge, P., Chiranjibi, P. P., & Jnawali, S. R. (2004). Effects of trapping effort and trap shyness on estimates of tiger abundance from camera trap studies. Animal Conservation, 7, 251–256.

Woodroffe, R., Thirgood, S., & Rabinowitz, A. (Eds.). (2005). People and wildlife: conflict or co-existence? Cambridge: Cambridge University Press.
Acknowledgements
We thank the Kementerian Negara Riset dan Teknologi Republik Indonesia (RISTEK) for permission to conduct research in Indonesia, and Universitas Hasanuddin (UNHAS) for permission to work in the Education Forest. We are grateful for financial support provided by a Henry Luce Award from the American Institute for Indonesian Studies (PI: E. P. Riley) and San Diego State University's University Grant Program (PI: E. P. Riley). We are indebted to Dr. Ngakan Putu Oka and Pak Muhammad Restu for their sponsorship, and the UNHAS Forestry Faculty for providing GIS data for the Education Forest. We also thank Joanna Setchell, the guest editors, Kimberley Hockings, Matthew McLennan, Noemi Spagnoletti, and two anonymous reviewers for their helpful comments on the manuscript. Finally, we offer many thanks to our field assistants (Amir, Paisal, and Pak Pado), Cristina Sagnotti, and the farmers whose assistance and participation made this research possible.
Ethics declarations
Conflict of Interest
The authors have no conflict of interest or competing financial interest to declare.
Additional information
Handling Editor: Matthew McLennan
Electronic supplementary material
Below is the link to the electronic supplementary material.
Shows an adult moor macaque consuming an unripe cacao pod (MPG 22138 kb)
Demonstrates the cacao harvesting technique used by an adult male vmoor macaque. (MPG 23690 kb)
About this article
Cite this article
Zak, A.A., Riley, E.P. Comparing the Use of Camera Traps and Farmer Reports to Study Crop Feeding Behavior of Moor Macaques (Macaca maura). Int J Primatol 38, 224–242 (2017). https://doi.org/10.1007/s10764-016-9945-6
Received:

Accepted:

Published:

Issue Date:
Keywords
Behavioral flexibility

Crop raiding

Ethnoprimatology

Human–wildlife conflict

Macaca maura Methods