Abstract
The intestinal microbiota plays an important role in maintaining the health of its host, including human and nonhuman primates. Little is known about the intestinal bacterial composition of the Sichuan snub-nosed monkey (Rhinopithecus roxellana), which has been classified as Endangered on the International Union for Conservation of Nature Red List since 2003. We evaluated the fecal bacterial compositions of 11 Sichuan snub-nosed monkeys, including six young captive individuals (one sample from each), three adult captive individuals (four samples each), and two adult provisioned free-ranging individuals (four samples each). We also quantified fecal Bacteroides vulgatus, Bifidobacterium spp., and Lactobacillus spp., which are defined as probiotics in humans, using real-time polymerase chain reaction. We identified five major phyla in the collected samples, including Firmicutes (32.4 %), Bacteroidetes (14.7 %), Verrucomicrobia (8.8 %), Actinobacteria (4.4 %), and unclassified microbacteria (39.7 %). Fecal bacteria composition varied with age and different seasons. The fecal bacterial composition of the captive monkeys was less variable than that of provisioned free-ranging monkeys. B. vulgatus amounts were almost 100 times higher in the provisioned free-ranging monkeys (1012) than in the captive monkeys (1010). Our results provide an initial catalogue of gut microbiota in the Sichuan snub-nosed monkey, which helps to enrich our knowledge of gut microbiota in nonhuman primates.
Access options
Buy single article
Instant access to the full article PDF.
USD 39.95
Price excludes VAT (USA)
Tax calculation will be finalised during checkout.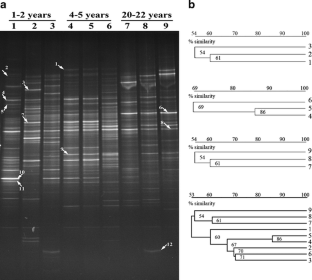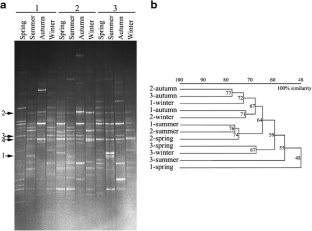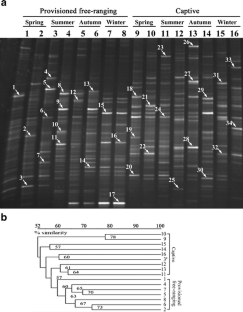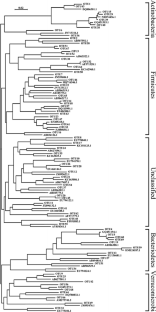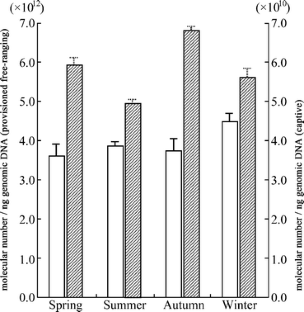 References
Amato, K. R., Yeoman, C. J., Kent, A., Righini, N., Carbonero, F., et al. (2013). Habitat degradation impacts black howler monkey (Alouatta pigra) gastrointestinal microbiomes. The ISME Journal, 7, 1344–1353.

Arumugam, M., Raes, J., Pelletier, E., Le Paslier, D., Yamada, T., et al. (2011). Enterotypes of the human gut microbiome. Nature, 473, 174–180.

Bello González, T., van Passel, M., Tims, S., Fuentes, S., De Vos, W., et al. (2014). Application of the human intestinal tract chip to the non-human primate gut microbiota. Beneficial Microbes, 6, 271–276.

Biagi, E., Nylund, L., Candela, M., Ostan, R., Bucci, L., et al. (2010). Through ageing, and beyond: gut microbiota and inflammatory status in seniors and centenarians. PLoS ONE, 5, e10667.

Bittar, F., Keita, M. B., Lagier, J. C., Peeters, M., Delaporte, E., Raoult, D. (2014). Gorilla gorilla gorilla gut: A potential reservoir of pathogenic bacteria as revealed using culturomics and molecular tools. Scientific Reports, 4.

Bo, X., Zunxi, H., Xiaoyan, W., Runchi, G., Xianghua, T., et al. (2010). Phylogenetic analysis of the fecal flora of the wild pygmy loris. American Journal of Primatology, 72, 699–706.

Brinkley, A., & Mott, G. (1978). Anaerobic fecal bacteria of the baboon. Applied and Environmental Microbiology, 36, 530.

Consortium, H. M. P. (2012). Structure, function and diversity of the healthy human microbiome. Nature, 486, 207–214.

Degnan, P. H., Pusey, A. E., Lonsdorf, E. V., Goodall, J., Wroblewski, E. E., et al. (2012). Factors associated with the diversification of the gut microbial communities within chimpanzees from Gombe National Park. Proceedings of the National Academy of Sciences of the USA, 109, 13034–13039.

Duncan, S., Louis, P., & Flint, H. (2007). Cultivable bacterial diversity from the human colon. Letters in Applied Microbiology, 44, 343–350.

Eckburg, P. B., Bik, E. M., Bernstein, C. N., Purdom, E., Dethlefsen, L., et al. (2005). Diversity of the human intestinal microbial flora. Science, 308, 1635–1638.

Fite, A., Macfarlane, S., Furrie, E., Bahrami, B., Cummings, J. H., et al. (2013). Longitudinal analyses of gut mucosal microbiotas in ulcerative colitis in relation to patient age and disease severity and duration. Journal of Clinical Microbiology, 51, 849–856.

Fogel, A. T. (2015). The gut microbiome of wild lemurs: a comparison of sympatric Lemur catta and Propithecus verreauxi. Folia Primatologica, 86, 85–95.

Frey, J. C., Rothman, J. M., Pell, A. N., Nizeyi, J. B., Cranfield, M. R., & Angert, E. R. (2006). Fecal bacterial diversity in a wild gorilla. Applied and Environmental Microbiology, 72, 3788–3792.

Gomez, A., Petrzelkova, K., Yeoman, C. J., Vlckova, K., Mrázek, J., et al. (2015). Gut microbiome composition and metabolomic profiles of wild western lowland gorillas (Gorilla gorilla gorilla) reflect host ecology. Molecular Ecology, 24, 2551–2565.

Good, I. J. (1953). The population frequencies of species and the estimation of population parameters. Biometrika, 40, 237–264.

Guo, S. G., Li, B. G., & Watanabe, K. (2007). Diet and activity budget of Rhinopithecus roxellana in the Qinling Mountains, China. Primates, 48(4), 268–276.

Kersters, K., & Vancanneyt, M. (2005). Bergey's manual of systematic bacteriology. New York: Springer Science+Business Media.

Kim, B. S., Kim, J. N., Cerniglia, C. E. (2011). In vitro culture conditions for maintaining a complex population of human gastrointestinal tract microbiota. BioMed Research International.

Kirkpatrick, R. C., & Grueter, C. C. (2010). Snub-nosed monkeys: multilevel societies across varied environments. Evolutionary Anthropology: Issues, News, and Reviews, 19, 98–113.

Leite, A., Mayo, B., Rachid, C., Peixoto, R., Silva, J., et al. (2012). Assessment of the microbial diversity of Brazilian kefir grains by PCR-DGGE and pyrosequencing analysis. Food Microbiology, 31, 215–221.

Ley, R. E., Lozupone, C. A., Hamady, M., Knight, R., & Gordon, J. I. (2008). Worlds within worlds: evolution of the vertebrate gut microbiota. Nature Reviews Microbiology, 6, 776–788.

Ley, R. E., Peterson, D. A., & Gordon, J. I. (2006). Ecological and evolutionary forces shaping microbial diversity in the human intestine. Cell, 124, 837–848.

Li, M., Liang, B., Feng, Z., & Tamate, H. B. (2001). Molecular phylogenetic relationships among Sichuan snub-nosed monkeys (Rhinopithecus roxellanae) inferred from mitochondrial cytochrome-b gene sequences. Primates, 42, 153–160.

Lozupone, C. A., Stombaugh, J. I., Gordon, J. I., Jansson, J. K., & Knight, R. (2012). Diversity, stability and resilience of the human gut microbiota. Nature, 489, 220–230.

Luo, M., Liu, Z., Pan, H., Zhao, L., & Li, M. (2012). Historical geographic dispersal of the golden snub-nosed monkey (Rhinopithecus roxellana) and the influence of climatic oscillations. American Journal of Primatology, 74, 91–101.

Ma, C., Wu, X., Nawaz, M., Li, J., Yu, P., et al. (2011). Molecular characterization of fecal microbiota in patients with viral diarrhea. Current Microbiology, 63, 259–266.

Mitsuoka, T., & Kaneuchi, C. (1977). Ecology of the bifidobacteria. The American Journal of Clinical Nutrition, 30, 1799–1810.

Moeller, A. H., Peeters, M., Ndjango, J. B., Li, Y., Hahn, B. H., & Ochman, H. (2013). Sympatric chimpanzees and gorillas harbor convergent gut microbial communities. Genome Research, 23, 1715–1720.

Muyzer, G., De Waal, E. C., & Uitterlinden, A. G. (1993). Profiling of complex microbial populations by denaturing gradient gel electrophoresis analysis of polymerase chain reaction-amplified genes coding for 16S rRNA. Applied and Environmental Microbiology, 59, 695–700.

Nadkarni, M. A., Martin, F. E., Jacques, N. A., & Hunter, N. (2002). Determination of bacterial load by real-time PCR using a broad-range (universal) probe and primers set. Microbiology, 148, 257–266.

Nakamura, N., Amato, K. R., Garber, P., Estrada, A., Mackie, R. I., & Gaskins, H. R. (2011). Analysis of the hydrogenotrophic microbiota of wild and captive black howler monkeys (Alouatta pigra) in Palenque National Park, Mexico. American Journal of Primatology, 73, 909–919.

Paul, E. A. (2014). Soil microbiology, ecology and biochemistry. San Diego: Academic.

Qin, J., Li, R., Raes, J., Arumugam, M., Burgdorf, K. S., et al. (2010). A human gut microbial gene catalogue established by metagenomic sequencing. Nature, 464, 59–65.

Saitou, N., & Nei, M. (1987). The neighbor-joining method: a new method for reconstructing phylogenetic trees. Molecular Biology and Evolution, 4(4), 406–425.

Szekely, B. A., Singh, J., Marsh, T. L., Hagedorn, C., Were, S. R., & Kaur, T. (2010). Fecal bacterial diversity of human-habituated wild chimpanzees (Pan troglodytes schweinfurthii) at Mahale Mountains National Park, Western Tanzania. American Journal of Primatology, 72, 566–574.

Tiihonen, K., Ouwehand, A. C., & Rautonen, N. (2010). Human intestinal microbiota and healthy ageing. Ageing Research Reviews, 9, 107–116.

Uenishi, G., Fujita, S., Ohashi, G., Kato, A., Yamauchi, S., et al. (2007). Molecular analyses of the intestinal microbiota of chimpanzees in the wild and in captivity. American Journal of Primatology, 69, 367.

Villers, L. M., Jang, S. S., Lent, C. L., Lewin-Koh, S. C., & Norosoarinaivo, J. A. (2008). Survey and comparison of major intestinal flora in captive and wild ring-tailed lemur (Lemur catta) populations. American Journal of Primatology, 70, 175–184.

Wang, T., Cai, G., Qiu, Y., Fei, N., Zhang, M., et al. (2012). Structural segregation of gut microbiota between colorectal cancer patients and healthy volunteers. The ISME Journal, 6, 320–329.

Wu, C., Yang, F., Gao, R., Huang, Z., Xu, B., et al. (2013). Study of fecal bacterial diversity in Yunnan snub-nosed monkey (Rhinopithecus bieti) using phylogenetic analysis of cloned 16S rRNA gene sequences. African Journal of Biotechnology, 9, 6278–6289.

Yap, I., & Nelson, R. (1996). WinBoot: A program for performing bootstrap analysis of binary data to determine the confidence limits of UPGMA-based dendrograms (pp. 1–22). Manila: International Rice Research Institute.

Yildirim, S., Yeoman, C. J., Sipos, M., Torralba, M., & Wilson, B. A. (2010). Characterization of the fecal microbiome from non-human wild primates reveals species specific microbial communities. PLoS ONE, 5, e13963.

Zhang, Z., Su, Y., Chan, R. C., & Reimann, G. (2008). A preliminary study of food transfer in sichuan snub-nosed monkeys (Rhinopithecus roxellana). American Journal of Primatology, 70, 148–152.
Acknowledgments
This work was supported by the Fundamental Research Funds for the Central Universities, China (Nos. GK200902030, GK201402023). The authors appreciate the great help of Dr. Joanna M. Setchell, the chief editor of International Journal of Primatology, and the reviewers for helpful suggestions and comments. The authors are also grateful to Professor Xinqing Zhao in the School of Life Science and Biotechnology, Shanghai Jiao Tong University, and Professor Jian Liang and Professor Huanjie Shao in the College of Life Sciences, Shaanxi Normal University for advice on academic writing.
Additional information
Handling Editor: Joanna M. Setchell
Electronic supplementary material
Below is the link to the electronic supplementary material.
About this article
Cite this article
Su, C., Zuo, R., Liu, W. et al. Fecal Bacterial Composition of Sichuan Snub-Nosed Monkeys (Rhinopithecus roxellana). Int J Primatol 37, 518–533 (2016). https://doi.org/10.1007/s10764-016-9918-9
Received:

Accepted:

Published:

Issue Date:

DOI: https://doi.org/10.1007/s10764-016-9918-9
Keywords
Captive

Denaturing gradient gel electrophoresis

Gut bacteria

Provisioning

Sichuan snub-nosed monkey