Abstract
A wide range of dimorphic species exhibit intraspecific differences in feeding ecology and habitat use; however, studies comparing resource partitioning between males and females and between age groups occur mainly at the community and species level. We here classified the main habitat of black-and-white snub-nosed monkeys (Rhinopithecus bieti) –fir tree crown– into six microhabitats; examined the lichen-load of the microhabitats; and investigated the microhabitat use of age–sex groups within one-male units (OMUs: an adult male, several females, and juveniles) of R. bieti using instantaneous scanning sampling methods to test whether there is resource niche partitioning in social units of this sexually dimorphic primate in a reserve in Yunnan, China. Our results showed that adult females and juveniles often foraged in the outer layer of the fir tree crown, whereas adult males often foraged in the inner layer, closer to the trunk where food abundance was highest. Adult females and juveniles, however, both shifted microhabitat-use patterns to the inner layer of the fir tree crown when the adult male was absent from the tree. We suggested that the preference for and benefit of the central layer of fir tree crown lies in food availability, but that adult male competitively excluded group members. Microhabitat segregation may serve to maximize the fitness of the group members by reducing intragroup competition, while also increasing interindividual distance, thereby reducing the possible effects of scramble competition.
Access options
Buy single article
Instant access to the full article PDF.
USD 39.95
Price excludes VAT (USA)
Tax calculation will be finalised during checkout.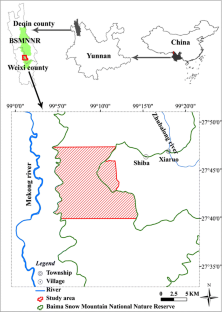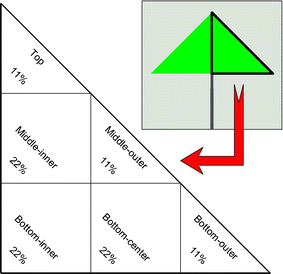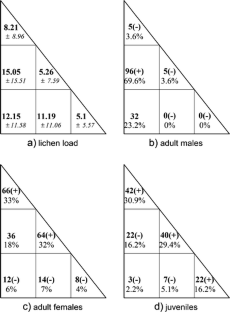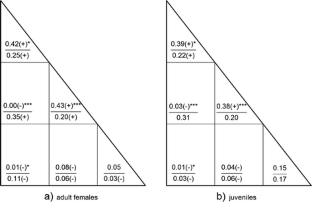 References
Bishop, N. H. (1979). Himalayan langurs: Temperate colobines. Journal of Human Evolution, 8(2), 251–281.

Breed, G. A., Bowen, W. D., McMillan, J. I., & Leonard, M. L. (2006). Sexual segregation of seasonal foraging habitats in a non-migratory marine mammal. Proceedings of the Royal Society B: Biological Sciences, 273(1599), 2319–2326.

Bull, E. L. (2006). Sexual differences in the ecology and habitat selection of western toads (Bufo boreas) in Northeastern Oregon. Herpetological Conservation and Biology, 1(1), 27–38.

Cui, L. W. (2003). A note on an interaction between Rhinopithecus bieti and a buzzard at Baima Snow Moutain. Folia Primatologica, 74(1), 51–53.

Cui, L. W., Huo, S., Zhong, T., Xiang, Z. F., Xiao, W., & Quan, R. C. (2008). Social organization of black-and-white snub-nosed monkeys (Rhinopithecus bieti) at Deqin, China. American Journal of Primatology, 70(2), 169–174.

Desrochers, A. (1989). Sex, dominance, and microhabitat use in wintering black-capped chickadees—a field experiment. Ecology, 70(3), 636–645.

Ding, W., & Zhao, Q. K. (2004). Rhinopithecus bieti at Tacheng, Yunnan: Diet and daytime activities. International Journal of Primatology, 25(3), 583–598.

Grueter, C. C., Li, D. Y., Ren, B. P., Wei, F. W., Xiang, Z. F., & van Schaik, C. P. (2009). Fallback foods of temperate-living primates: A case study on snub-nosed monkeys. American Journal of Physical Anthropology, 140(4), 700–715.

Grueter, C. C., Li, D. Y., Ren B. P., Li, M. (2012). Substrate use and postural behavior in free-ranging snub-nosed monkeys (Rhinopithecus bieti) in Yunnan. Integrative Zoology, doi: 10.1111/j.1749–4877.2012.12023.x.

Gustafsson, L. (1988). Foraging behavior of individual coal tits, Parus ater, in relation to their age, sex and morphology. Animal Behaviour, 36, 696–704.

Hanya, G. (2003). Age differences in food intake and dietary selection of wild male Japanese macaques. Primates, 44(4), 333–339.

Johnson, R. A. (1986). Intraspecific resource partitioning in the bumble bees Bombus ternarius and B. pennsylvanicus. Ecology, 67(1), 133–138.

Kirkpatrick, R. C. (1996). Ecology and behavior of the Yunnan snub-nosed langur (Rhinopithecus bieti, Colobinae). Ph.D. dissertation, University of California, Davis.

Kirkpatrick, R. C., & Grueter, C. C. (2010). Snub-nosed monkeys: Multilevel societies across varied environments. Evolutionary Anthropology: Issues, News, and Reviews, 19(3), 98–113.

Kirkpatrick, R. C., & Long, Y. C. (1994). Altitudinal ranging and terrestriality in the Yunnan snub-nosed monkey (Rhinopithecus bieti). Folia Primatologica, 63(2), 102–106.

Kirkpatrick, R. C., Long, Y. C., Zhong, T., & Xiao, L. (1998). Social organization and range use in the Yunnan snub-nosed monkey Rhinopithecus bieti. International Journal of Primatology, 19(1), 13–51.

Koivula, K., Lahti, K., Rytkonen, S., & Orell, M. (1994). Do subordinates expose themselves to predation: Field experiments on feeding site selection by willow tits. Journal of Avian Biology, 25(3), 178–183.

Le Boeuf, B., Crocker, D., Costa, D., Blackwell, S., Webb, P., & Houser, D. (2000). Foraging ecology of northern elephant seals. Ecological Monographs, 70(3), 353–382.

Liu, Z. H., Ding, W., & Grueter, C. C. (2007). Preliminary data on the social organization of black-and-white snub-nosed monkeys (Rhinopithecus bieti) at Tacheng, China. Acta Theriologica Sinica, 27(2), 120–122.

Morton, E. S. (1990). Habitat segregation by sex in the hooded warbler: Experiments on proximate causation and discussion of its evolution. American Naturalist, 135(3), 319–333.

Neu, C. W., Byers, C. R., & Peek, J. M. (1974). A technique for analysis of utilization-availability data. Journal of Wildlife Management, 38(3), 541–545.

Parrish, J. D., & Sherry, T. W. (1994). Sexual habitat segregation by American redstarts wintering in Jamaica: Importance of resource seasonality. Auk, 111(1), 38–49.

Peters, W. D., & Grubb, T. C. (1983). An experimental analysis of sex-specific foraging in the downy woodpecker, Picoides pubescens. Ecology, 64(6), 1437–1443.

Polis, G. A. (1984). Age structure component of niche width and intra-specific resource partitioning: Can age-groups function as ecological species. American Naturalist, 123(4), 541–564.

Schoener, T. W. (1967). Ecological significance of sexual dimorphism in size in lizard Anolis cospersus. Science, 155(3761), 474–477.

Schradin, C., & Pillay, N. (2005). Intraspecific variation in the spatial and social organization of the African striped mouse. Journal of Mammalogy, 86(1), 99–107.

Sherry, T. W., & Holmes, R. T. (1989). Age-specific social dominance affects habitat use by breeding American redstarts (Setophaga ruticilla): A removal experiment. Behavioral Ecology and Sociobiology, 25(5), 327–333.

Shine, R. (1986). Sexual differences in morphology and niche utilization in an aquatic snake, Acrochordus arafurae. Oecologia, 69(2), 260–267.

Shine, R. (1989). Ecological causes for the evolution of sexual dimorphism: A review of the evidence. Quarterly Review of Biology, 64(4), 419–461.

Shine, R. (1991). Intersexual dietary divergence and the evolution of sexual dimorphism in snakes. American Naturalist, 138(1), 103–122.

Shine, R., Reed, R. N., Shetty, S., & Cogger, H. G. (2002). Relationships between sexual dimorphism and niche partitioning within a clade of sea-snakes (Laticaudinae). Oecologia, 133(1), 45–53.

Simon, C. A., & Middendorf, G. A. (1976). Resource partitioning by an Iguanid lizard: Temporal and microhabitat aspects. Ecology, 57(6), 1317–1320.

Slatkin, M. (1984). Ecological causes of sexual dimorphism. Evolution, 38(3), 622–630.

Sol, D., Santos, D. M., & Cuadrado, M. (2000). Age-related feeding site selection in urban pigeons (Columba livia): Experimental evidence of the competition hypothesis. Canadian Journal of Zoology, 78(1), 144–149.

Temeles, E. J., Pan, I. L., Brennan, J. L., & Horwitt, J. N. (2000). Evidence for ecological causation of sexual dimorphism in a hummingbird. Science, 289(5478), 441–443.

Wunderle, J. M. (1991). Age specific foraging proficiency in birds. In D. M. Power (Ed.), Current ornithology (Vol. 8, pp. 273–324). New York: Plenum Press.

Xiang, Z. F., Huo, S., Xiao, W., Quan, R. C., & Grueter, C. C. (2007). Diet and feeding behavior of Rhinopithecus bieti at Xiaochangdu, Tibet: Adaptations to a marginal environment. American Journal of Primatology, 69(10), 1141–1158.
Acknowledgments
The study was supported by funds of the National Nature Science Foundation of China (31272327, 30770308), Committee for Research & Exploration, National Geographic Society of the USA (7962–05), The Nature Conservancy, and Kunming Institute of Zoology (Y106521131). We thank Mr. Tai Zhong, Mr. Lin Xiao, Mr. Shiqi Zha, Mr. Wenxiang Long, and Mr. Pinhong Gu of the Management Bureau of Baima Snow Mountain National Nature Reserve for their support of our field work, and our field assistants Mr. Sanbu An and Mr. Sanbu Lu. We are grateful to Prof. Qi-Kun Zhao (Kunming Institute of Zoology), Dr. Wen Xiao (Dali University), and Dr. Liangwei Cui (Southwest Forestry University) for suggestions to our fieldwork and to the earlier draft of this manuscript. We also thank Dr. Joanna Setchell and two anonymous reviewers for their helpful comments and suggestions.
Additional information
Yi Wan and Rui-Chang Quan contributed equally to this work.
About this article
Cite this article
Wan, Y., Quan, RC., Ren, GP. et al. Niche Divergence Among Sex and Age Classes in Black-and-White Snub-nosed Monkeys (Rhinopithecus bieti). Int J Primatol 34, 946–956 (2013). https://doi.org/10.1007/s10764-013-9712-x
Received:

Accepted:

Published:

Issue Date:

DOI: https://doi.org/10.1007/s10764-013-9712-x
Keywords