Abstract
Orangutans exhibit fur-rubbing possibly for medicinal use. I hypothesize that they use a species of Commelina, an uncommon herb in the peat-swamp forests of Central Kalimantan, Borneo, as either an antibacterial or anti-inflammatory agent. In Central Kalimantan, local indigenous people use the same species as an external medication to treat their arms after a stroke, for muscular pain, and for sore bones and swellings. Thus, the possible convergence of human and orangutan use of Commelina may indicate that orangutans are using it for a similar purpose.
This is a preview of subscription content, log in to check access.
Access options
Buy single article
Instant access to the full article PDF.
US$ 39.95
Price includes VAT for USA
Subscribe to journal
Immediate online access to all issues from 2019. Subscription will auto renew annually.
US$ 99
This is the net price. Taxes to be calculated in checkout.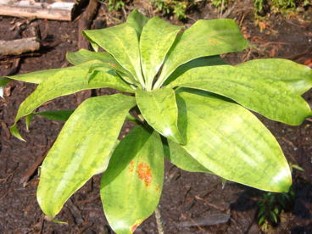 References
Ahmad, F. B., & Ismail, G. (2003). Medicinal plants used by Kadazandusun communities around the Crocker range. ASEAN Review of Biodiversity and Environmental Conservation (ARBEC). January-March.

Baker, M. (1996). Fur rubbing: Use of medicinal plants by capuchin monkeys (Cebus capucinus). American Journal of Primatology, 38, 263–270.

Birkinshaw, C. R. (1999). Use of millipedes by black lemurs to anoint their bodies. Folia Primatologica, 70, 170–171.

Campbell, C. J. (2000). Fur rubbing behaviour in free-ranging black-handed spider monkeys (Ateles geoffroyi) in Panama. American Journal of Primatology, 51, 205–208.

Clark, C. C., Clark, L., & Clark, L. (1990). "Anting" behavior by common grackles and starlings. Wilson Bulletin, 102, 167–169.

Clark, L., & Mason, J. R. (1985). Use of nest material as insecticidal and anti-pathogenic agents by the European starling. Oecologia, 67, 169–176.

Clark, L., & Mason, J. R. (1987). Olfactory discrimination of plant volatiles by the European starling. Animal Behavior, 35, 227–235.

Dejoseph, M., Taylor, R. S., Baker, M., & Aregullin, M. (2002). Fur-rubbing behaviour of capuchin monkeys. Journal of Academic Dermatology, 46, 924–925.

Duke, J. A., & Ayensu, E. S. (1985). Medicinal plants of China. Michigan: World Health Organisation, Algonac.

Fernald, M. (2007). Plants for a future: Edible, medicinal and useful plants for a healthier world. www.pfaf.org.

Foster, S., & Duke, J. A. (1990). Peterson field guide to medicinal plants. Eastern and central north America. Boston: Houghton Mifflin.

Hauser, D. C. (1964). Anting by gray squirrels. Mammalogy, 45, 136–138.

Huffman, M. A. (1997). Current evidence for self-medication in primates: A multidisciplinary perspective. Yearbook of Physical Anthropology, 40, 171–200.

Huffman, M. A. (2001). Self-medicative behaviour in the African great apes: An evolutionary perspective into the origins of human traditional medicine. BioScience, 51, 651–661.

Huffman, M. A. (2003). Animal self-medication and ethno-medicine: Exploration and exploitation of the medicinal properties of plants. Proceedings of the Nutrition Society, 62, 371–381.

Huffman, M. A. (2007a). Primates self medication. In C. Cambell, A. Fuentes, K. MacKinnon, M. Panger, & S. Bearder (Eds.), Primates in perspective (p. 677–690). Oxford: Oxford University Press.

Huffman, M. A. (2007b). Animal as a source of medicinal wisdom in indigenous societies. In M. Bekoff (Ed.), Encyclopaedia of human-animal relationships (p. 434–441). Westport, CT: Greenwood Publishing Group.

Huffman, M. A., & Hatoshi, S. (2004). An experimental study of leaf swallowing in captive chimpanzees: Insight into the origin of self-medicative behaviour and the role of social learning. Primates, 45, 113–118.

Huffmann, M. A., Page, J. E., Sukhdeo, M. V. K., Gotoh, S., Kalunde, M. S., Chandrasiri, T., et al. (1996a). Leaf-swallowing by chimpanzees, a behavioural adaptation for the control of strongyloide nematode infections. International Journal of Primatology, 72, 475–503.

Huffman, M. A., Koshimizu, K., & Ohigashi, H. (1996b). Ethnobotany and zoopharmacognosy of Vernonia amygdalina, a medicinal plant used by humans and chimpanzeea. In P. D. S. Caligari, & D. J. N. Hind (Eds.), Compositae: biology and utilization, Vol. 2 (p. 351–360). Kew: The Royal Botanical Gardens.

Huffman, M. A., & Seifu, M. (1989). Observations on the illness and consumption of a possible medicinal plant Vernonia amygdalina (Del), by chimpanzees in the Mahale Mountains National Park, Tanzania. Primates, 30, 51–63.

Lazano, G. L. (1998). Parasitic stress and self-medication in wild animals. Advances in the Study of Behaviour, 27, 291–317.

Leibal, K. (2007). Gestures in orangutans. In J. Call, & M. Tomasello (Eds.), The gestural communication of apes and monkeys (p. 69–98). Mahwah, NJ: Lawrence Erlbaum.

Longino, J. T. (1984). True anting by the capuchin, Cebus capucinus. Primates, 25, 243–245.

Moerman, D. (1998). Native american ethnobotany. Portland, OR: Timber Press.

Rodriguez, E., & Wrangham, R. W. (1993). Zoopharmacognosy: The use of medicinal plants by animals. In K. R. Downum, J. T. Romeo, & H. Stafford (Eds.), Recent advances in phytochemistry. Phytochemical potential of tropical plants, Vol. 27 (p. 89–105). New York: Plenum Press.

Russon, A., Ancrenaz, M., Kanamari, T., Knott, C., Kuze, N., Morrogh-Bernard, H., et al. (2008). Geographic variation in orangutan diet. In S. A. Wich, S. S. Utami Atmoko, T. Mitra Setia, & C. P. van Schaik (Eds.), Orangutans: Geographic variation in behaviour. Oxford: Oxford University Press.

Valderrama, X., Robinson, J. G., Attygalle, A. B., & Eisner, T. (2000). Seasonal anointment with millipedes in a wild primate: A chemicaldefense against insects? Journal of Chemical Ecology, 26, 2781–2790.

van Schaik, C. P., Ancrenaz, M., Borgen, G., Galdikas, B., Knott, C. D., Singleton, I., et al. (2003). Orang-utan culture and the evolution of material culture. Science, 299, 102–105.

Verderane, M. P., Falotico, T., Resende, B. D., Labruna, M. B., Izar, P., & Ottoni, E. B. (2007). Anting in semi free-ranging group of Cebus apella. International Journal of Primatology, 28, 47–53.

Walker, E. P. (1940). Grasshopper mouse uses tobacco as an insecticide. Journal of Mammalogy, 21, 221.

Weldon, P. J., Aldrich, J. R., Klun, J. A., Oliver, J. E., & Debboun, M. (2003). Benzoquinones from millipedes deter mosquitoes and elicit self-anointing in capuchin monkeys (Cebus spp.). Naturwissenchaften, 90, 301–304.

Westergaard, D., & Fragaszy, D. (1987). Self treatment of wounds by a capuchin monkey (Cebus apella). Human Evolution, 1, 557–562.

Zito, M., Evans, S., & Weldon, P. J. (2003). Owl monkeys (Aotus spp.) self-anoint with plants and millipedes. Folia Primatologica, 74, 159–161.
Acknowledgments
I thank Suwido Limin, Director of CIMTROP and the Rektor of University of Palangkaraya (UNPAR), for sponsoring the project; the Indonesian Institute of Sciences (LIPI) for permission to undertake research in Indonesia; Simon Husson, Carel van Schaik, Mike Huffman, Anne Russon, David Chivers, and Marina Kenyon for advice and comments; Zery Yeen and Erna Shinta for plant identification and information on how locals use the species; Carly Waterman, Ben Buckley, Kirsten Manduell, and Mark Harrison for supplying me with information from the field; and the U.S. Fish and Wildlife Service (Great Apes Conservation Fund), Orangutan Tropical Peatland Project, Wildlife Conservation Society, and LSB Leakey Foundation for financial support.
About this article
Cite this article
Morrogh-Bernard, H.C. Fur-Rubbing as a Form of Self-Medication in Pongo pygmaeus . Int J Primatol 29, 1059 (2008). https://doi.org/10.1007/s10764-008-9266-5
Received:

Accepted:

Published:
Keywords
Commelina

fur-rubbing

orangutan self-medication