On the basis of morphological, anatomical, and acoustic analyses, the tarsiers of the Gimpu region on Sulawesi belong to a previously undescribed species of the genus Tarsius Storr, 1780. We describe the new taxon as Tarsius lariang new species. In November 2001, S. Merker collected 8 specimens of Tarsius lariang near Gimpu, Central Sulawesi, Indonesia. Four of them were transferred to the Indonesian Institute of Sciences at Cibinong to be held in an enclosure, and after their deaths become part of the collection of the Museum Zoologicum Bogoriense, Bogor. The new species is distinctive in pelage, skull, and body proportions, and in vocalization. We describe the unique territorial duet song characteristic for them and place the taxon into a biogeographic framework developed in previous studies.
Access options
Buy single article
Instant access to the full article PDF.
USD 39.95
Price excludes VAT (USA)
Tax calculation will be finalised during checkout.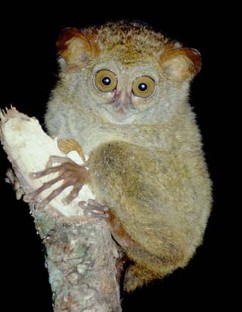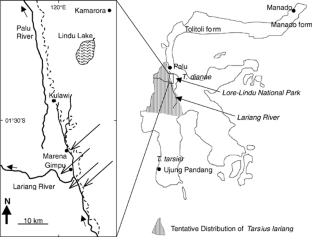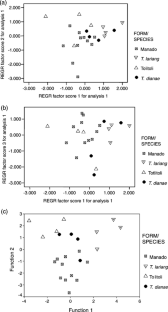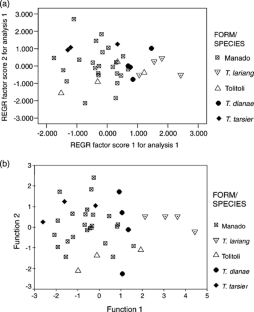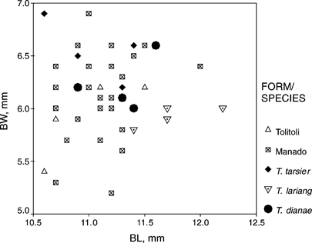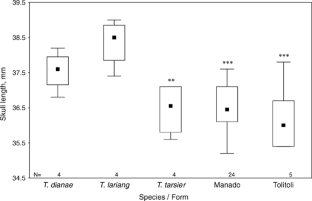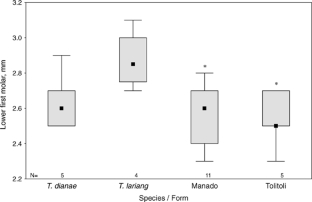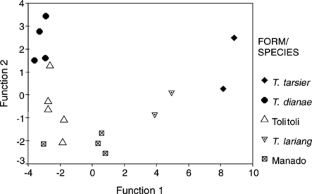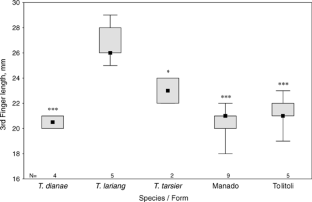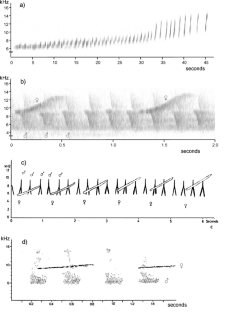 References
Bearder, S. K., Honess, P. E., and Ambrose, L. (1995). Species diversity among Galagos with special reference to mate recognition. In Alterman, L., Doyle, G., and Izard, M. (eds.), Creatures of the Dark: The Nocturnal Prosimians, Plenum Press, New York, pp. 331–352.

Brandon-Jones, D., Eudey, A. A., Geissmann, T., Groves, C. P., Melnick, D. J., Morales, J. C., Shekelle, M., and Stewart, C.-B. (2004). Asian primate classification. Int. J. Primatol. 25: 97–164.

Bynum, E. L. (1999). Biogeography and evolution of Sulawesi macaques. Trop. Biodiv. 6: 9–36.

Erxleben, J. C. P. (1777). Systema Regni Animalis per Classes, Ordines, Genera, Species, Varietates, cum Synonymia et Historia Animalium. Classis I. Mammalia. Weygand, Leipzig.

Evans, B. J., Supriatna, J., Andayani, N., Setiadi, M. I., Cannatella, D. C., and Melnick, D. J. (2003). Monkeys and toads define areas of endemism on Sulawesi. Evolution 57: 1436–1443.

Fooden, J. (1969). Taxonomy and evolution of the monkeys of Celebes. Biblioteca Primatol. 10: 1–148.

Groves, C. P. (1980). Speciation in Macaca: the View from Sulawesi. In Lindburg, D. G. (ed.), The Macaques: Studies in Ecology, Behavior and Evolution, Van Nostrand, New York, pp. 84–124.

Groves, C. P. (1998). Systematics of tarsiers and lorises. Primates 39: 13–27.

Hall, R. (2001). Cenozoic reconstructions of SE Asia and the SW Pacific: changing Patterns of Land and Sea. In Metcalfe, I., Smith, J. M. B., Morwood, M., and Davidson, I. D. (eds.), Faunal and Floral Migrations and Evolution in SE Asia-Australasia, Swets & Zeitlinger, Lisse, pp. 35–56.

MacKinnon, J., and MacKinnon, K. (1980). The behavior of wild spectral tarsiers. Int. J. Primatol. 1: 361–379.

Mercer, J. M., and Roth, V. L. (2003). The effects of Cenozoic global change on squirrel phylogeny. Science 299: 1568–1572.

Merker, S. (2003). Vom Aussterben bedroht oder anpassungsfähig? Der Koboldmaki Tarsius dianae in den Regenwäldern Sulawesis. PhD Dissertation, University of Göttingen, Germany.

Meyer, A. B. (1897). Säugethiere vom Celebes und Philippinen-Archipel, I. Abhandlungen und Berichte des Königlichen Zoologischen und Anthropologisch-Ethnographischen Museums zu Dresden 6: 1–36.

Miller, G. S., and Hollister, N. (1921). Twenty new mammals collected by H. C. Raven in Celebes. Proc. Biol. Soc. Wash. 34: 93–104.

Musser, G. G., and Dagosto, M. (1987). The identity of Tarsius pumilus, a pygmy species endemic to the Montane Mossy Forests of Central Sulawesi. Am. Mus. Novit. 2867: 1–53.

Niemitz, C. (1984a). Taxonomy and distribution of the genus Tarsius Storr, 1780. In Niemitz, C. (ed.), Biology of Tarsiers, Gustav Fischer, Stuttgart, New York, pp. 1–16.

Niemitz, C. (1984b). Vocal communication of two tarsier species (Tarsius bancanus and Tarsius spectrum). In Niemitz, C. (ed.), Biology of Tarsiers, Gustav Fischer, Stuttgart, New York, pp. 129–141.

Niemitz, C., Nietsch, A., Warter, S., and Rumpler, Y. (1991). Tarsius dianae: a new primate species from Central Sulawesi (Indonesia). Folia Primatol. 56: 105–116.

Nietsch, A. (1999). Duet vocalizations among different populations of Sulawesi Tarsiers. Int. J. Primatol. 20: 567–583.

Nietsch, A., and Kopp, M.-L. (1998). Role of vocalization in species differentiation of Sulawesi Tarsiers. Folia Primatol. 69(Suppl. 1): 371–378.

Pallas, P. S. (1778). Novae species Quadrupedum e Glirium ordine, cum illustrationibus variis complurium ex hoc ordine Animalium, Walther, Erlangen, p. 275.

Roos, C., Ziegler, T., Hodges, J. K., Zischler, H., and Abegg, C. (2003). Molecular phylogeny of Mentawai Macaques: taxonomic and biogeographic implications. Mol. Phylogenet. Evol. 29: 139–150.

Shekelle, M. (2003). Taxonomy and Biogeography of Eastern Tarsiers. PhD Dissertation, Washington University, Saint Louis, MO.

Shekelle, M., and Leksono, S. M. (2004). Strategi Konservasi di Pulau Sulawesi Dengan Menggunakan Tarsius Sebagai Flagship Species [Conservation Strategy in Sulawesi Island Using Tarsius as Flagship Species]. Biota 9(1): 1–10.

Shekelle, M., Leksono, S. M., Ichwan, L. L. S., and Masala, Y. (1997). The natural history of the tarsiers of North and Central Sulawesi. Sulawesi Primate Newsletter 4(2): 4–11.

Sody, H. J. V. (1949). Notes on some Primates, Carnivora and the Babirusa from the Indo-Malayan and Indo-Australian Regions. Treubia 20: 121–190.

Storr, G. L. C. (1780). Prodromus Methodi Mammalium, Wolffer, Tübingen.

Whitten, T., Henderson, G. S., and Mustafa, M. (2002). The Ecology of Sulawesi, Periplus, Singapore.

Zimmermann, E., Bearder, S. K., Doyle, G. A., and Andersson, A. B. (1988). Variations in vocal patterns of Senegal and South African lesser bushbabies and their implications for taxonomic relationships. Folia Primatol. 51: 87–105.
Acknowledgments
Our work was part of a long-term field study on Central Sulawesi tarsiers that received funding from the German Academic Exchange Service and the German National Scholarship Foundation (to S. Merker). We thank our Indonesian sponsors Jatna Supriatna and Noviar Andayani, Department of Biology and Center for Biodiversity and Conservation Studies at the University of Indonesia. Thanks are also due to LIPI, PHKA, and PHPA for granting research permits. Myron Shekelle assisted in capturing the tarsiers, transported the type series to Cibinong and to the MZB, Bogor, and continuously supported our work. Thanks go to Alexandra Nietsch for commenting on the acoustic data and to the villagers of Gimpu and Tomua as well as our assistants Yulisan, Leo, Thony, and Ecil for their help in the field. C. P. Groves thanks the curators of the collections in which tarsier material was studied: Ibnu Maryanto (Museum Zoologicum Bogoriense), Richard Thorington (U.S. National Museum), Guy Musser (American Museum of Natural History), Chris Smeenk (Naturalis, Leiden), and Paula Jenkins (British Museum, Natural History). Many thanks are also due to Marian Dagosto, who supplied further measurements from the American Museum of Natural History material.
About this article
Cite this article
Merker, S., Groves, C.P. Tarsius lariang: A New Primate Species from Western Central Sulawesi. Int J Primatol 27, 465–485 (2006). https://doi.org/10.1007/s10764-006-9038-z
Received:

Revised:

Accepted:

Published:

Issue Date:

DOI: https://doi.org/10.1007/s10764-006-9038-z
KEY WORDS: