Abstract
It is well established that teacher-student interactive talk is critically important in supporting students to reason and learn in science. Teachers' discursive moves in responding to student input are keys to developing and supporting a rich vein of interactive discussion. While initiation-response-evaluation (IRE) sequences have been shown to dominate science classroom discourse patterns worldwide, teacher 'prompts' are important for opening up opportunities for reasoning and higher level learning. This paper describes the analysis of video sequences for five expert elementary teachers across three countries to develop a coding scheme for these teachers' 'discursive moves' to guide and respond to student inputs, that unpacks more completely the strategies they use to develop interactive discussion. The analysis showed varied patterns of knowledge transaction, with teacher discursive moves serving three broad purposes: to elicit and acknowledge student responses, to clarify and to extend student ideas. The patterns of talk were also related to the dialogic-authoritative distinction in analysis of talk, to show that this distinction is only clear for particular types of expert practice. While the particular moves teachers use vary across parts of lessons we argue that they are revealing of teachers' particular beliefs and of systemic constraints, and that there exist patterns in the use of the discursive categories that capture how expert teachers build deeper level knowledge in classroom interactive talk. We describe ways in which the analysis can inform science teacher education and the professional learning of teachers of science.
Access options
Buy single article
Instant access to the full article PDF.
US$ 39.95
Tax calculation will be finalised during checkout.
Subscribe to journal
Immediate online access to all issues from 2019. Subscription will auto renew annually.
US$ 79
Tax calculation will be finalised during checkout.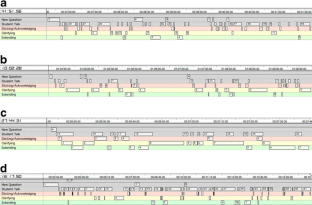 References
Alexander, R. (2006). Towards dialogic teaching: Rethinking classroom talk (3rd ed.). Cambridge, UK: Dialogos.

Anderson, R. (2002). Reforming science teaching: What research says about inquiry. Journal of Science Teacher Education, 13(1), 1–12.

Bakhtin, M.M. (1981). The dialogic imagination: Four essays (C. Emerso & M. Holquist., Trans.). Caryl Emerson & Michael Holquist. Austin,TX: University of Texas Press.

Barnes, D. & Todd, F. (1977). Communicating and learning in small groups. London, England: Routledge & Kegan Paul.

Driver, R., Asoko, H., Leach, J., Mortimer, E. & Scott, P. (1994). Constructing scientific knowledge in the classroom. Educational Researcher, 23(7), 5–12.

Edwards, D. & Mercer, N. (1987). Common knowledge: The development of understanding in the classroom. London, England: Methuen.

Johnstone, B. (2002). Discourse analysis. Oxford, England: Blackwell.

Landis, R. J. & Koch, G. G. (1977). The measurement of observer agreement for categorical data. Biometrics, 33(1), 154–174.

Lemke, J. L. (1990). Talking science: Language, learning and values. Norwood, NJ: Ablex Publishing.

Mercer, N. (2004). Sociocultural discourse analysis: Analysing classroom talk as a social mode of thinking. Journal of Applied Linguistics, 1(2), 137–168.

Mercer, N., Dawes, L., Wegerif, R. & Sams, C. (2004). Reasoning as a scientist: Ways of helping children to use language to learn science. British Educational Research Journal, 30(3), 359.

Mortimer, E. F. & Scott, P. H. (2003). Meaning making in secondary science classrooms. Maidenhead, UK: Open University Press.

Osborne, J. (2010). Arguing to learn in science: The role of collaborative, critical discourse. Science, 328, 463–466.

Scott, P. (1998). Teacher talk and meaning making in science classrooms: A Vygotskian analysis and review. Studies In Science Education, 32, 45–80.

Sinclair, J. & Coulthard, M. (1975). Towards an analysis of discourse: The English used by teachers and pupils. Oxford, England: Oxford University Press.

Vygotsky, L. (1981). Thought and language (Rev. ed). A. Kozulin(Ed.). Cambridge, MA: MIT Press.
About this article
Cite this article
Tytler, R., Aranda, G. Expert Teachers' Discursive Moves in Science Classroom Interactive Talk. Int J of Sci and Math Educ 13, 425–446 (2015). https://doi.org/10.1007/s10763-015-9617-6
Received:

Accepted:

Published:

Issue Date:
Keywords
Expert teachers of science

Video classroom analysis

Elementary school science classroom practice

Interactive classroom talk

Teacher discursive moves

Dialogic-authoritative discourse

Teacher response to student input