Abstract
Science fairs have been for many years a popular school activity in North America. They are a venue for the popularization of science and consequently an important encouragement for the pursuit of careers in science or engineering. However, little is known about students' perceived motives for participating in local or national science fairs and about the way in which their involvement mediates their interest in science learning and scientific careers. The present study investigates the motivational factors associated with the high school students' decision to participate in the 2008 Canada-Wide Science Fair, a thoroughly selected and highly motivated group. Our study examines 5 sources of motivation: (1) interest in science content, (2) sense of self-efficacy, (3) assurance of achievement through rewards or gratifications, (4) the social aspect of participating and (5) working strategies to gain scientific knowledge and methods. The understanding of the anticipated benefits participants seek through their involvement in science fairs may have the potential to help science teachers adapt instruction to appeal to a broader range of students in schools, thus nourishing the emergence of more interest in science.
Access options
Buy single article
Instant access to the full article PDF.
US$ 39.95
Tax calculation will be finalised during checkout.
Subscribe to journal
Immediate online access to all issues from 2019. Subscription will auto renew annually.
US$ 79
Tax calculation will be finalised during checkout.
R
eferences
Abernathy, V. T. & Vineyard, N. R. (2001). Academic competitions in science: What are the rewards for students? Clearing House, 74(5), 269–276.

Anderman, E. M. & Maehr, M. L. (1994). Motivation and schooling in the middle grades. Review of Educational Research, 64, 287–309.

Bandura, A. (1997). Self-efficacy: The exercise of control. New York: W.H. Freeman.

Brophy, J. (1998). Motivating students to learn. Madison: McGraw Hill.

Bryant, F. B. & Yarnold, P. R. (1995). Principal-components analysis and exploratory and confirmatory analysis. In L. G. Grimm & P. R. Yarnold (Eds.), Reading and understanding multivariate statistics (pp. 99–136). Washington, DC: American Psychological Association.

Craven, J. & Hogan, T. (2008). Rethinking the science fair. Phi Delta Kappan, 89(9), 679–680.

Czerniak, C. M. (1996). Predictors of success in a district science fair competition: An exploratory study. School Science and Mathematics, 96, 21–27.

Deci, E. L. & Ryan, R. M. (1985). Intrinsic motivation and self-determination in human behavior. New York: Academic.

Deci, E. L. & Ryan, R. M. (1991). A motivational approach to self: Integration in personality. In R. Dienstbier (Ed.), Nebraska Symposium on Motivation, vol. 38. Perspectives on motivation (pp. 237–288). Lincoln: University of Nebraska Press.

Deci, E. L. (1992). The relation of interest to the motivation of behaviour: A self-determination theory perspective. In K. A. Renninger, S. HiDi & A. Krapp (Eds.), The role of interest in learning and development. Hillsdale, NJ: Lawrence Erlbaum.

Dionne, L., Trudel, L. & Reis, G. (2009). La participation des élèves aux Expo-sciences: Une source de motivation inestimable! Paper presented at the 77e Congrès Annuel de L'Association Francophone pour le Savoir (ACFAS), Ottawa, ON Canada.

Ebi, B. D. (2005). An investigation of secondary school students' self-reported reasons for participation in extracurricular musical and athletic activities. Research and Issues in Music Education, 3(1), 1–11.

Eurobaromètre (2001). Les Européens, la science et la technologie. Commission Européenne. Retrieved 20 June 2010 from http://europa.eu.int/comm/research/press/2001/pr0612fr-report.pdf.

Feldman, A. F. & Matjasko, J. L. (2005). Role of school-based extracurricular activities in adolescent development: A comprehensive review and future directions. Review of Educational Research, 75(2), 159–210.

Glaser-Zikuda, M. & Fusz, S. (2008). Impact of teacher competencies on student emotions: A multi-method approach. International Journal of Education al Research, 47, 136–147.

Inoue, N. (2007). Why face a challenge? The reason behind intrinsically motivated students' spontaneous choice of challenging tasks. Learning and Individual Differences, 17(3), 251–259.

Lewis, C. C., Schapps, E. & Watson, M. (1995). Beyond the pendulum: Creating challenging and caring schools. Phi Delta Kappan, 76(7), 547–554.

Linh, C. (2007). [Your college here] wants to be your "friend". Campus Technology, 20(13), 44–52.

Marsh, P. (2004). Examining the elements of students' self-schemas. Masters Abstracts International, 43(02), 0629. Retrieved from http://gateway.proquest.com/openurl?url_ver=Z39.88-2004&rft_val_fmt=info:ofi/fmt:kev:mtx:dissertation&res_dat=xri:pqdiss&rft_dat=xri:pqdiss:MQ93567.

Petri, H. L. (1986). Motivation: Theory and research. Belmont, CA: Wadsworth.

Pintrich, P. R., Smith, D. A. F., Garcia, T., & McKeachie, W. J. (1991). A manual for the use of the Motivated Strategies for Learning questionnaire (MSLQ). Report No. NCRIPTAL-91-B-004. Ann Arbor, MI: National Center for Research to Improve Postsecondary Teaching and Learning (ERIC Document Reproduction Service No. ED 338 122).

Pintrich, P. R., Marx, R. W. & Boyle, R. A. (1993). Beyond cold conceptual change: The role of motivational beliefs and classroom contextual factors in the process of conceptual change. Review of Educational Research, 63(2), 167–199.

Pintrich, P. R. & Schunk, D. H. (1996). Motivation in education: Theory, research and applications (2 ed.). Englewood Cliffs, NJ: Merrill Company.

Riggs, I. M. & Enochs, L. G. (1990). Toward the development of an elementary teacher's science teaching efficacy belief instrument. Science Education, 74(6), 625–637.

Schunk, D. H. (1985). Self-efficacy and school learning. Psychology in the Schools, 22, 208–223.

Schunk, D. H. (1991). Self-efficacy and academic motivation. Educational Psychologist, 26(3/4), 207–231.

Simpson, R. D. & Oliver, J. S. (1990). A summary of major influences on attitude toward and achievement in science among adolescent students. Science Education, 74, 1–18.

Sinsel, J. (2008). The future scientists and engineers conference: Using community resources to enhance the science fair. Science Scope, 32(4), 14–19.

Society for Science & the Public (2010). Our history. Retrieved 20 June 2010 from http://www.societyforscience.org/history.

Tuan, H.-L., Chin, C.-C. & Shieh, S.-H. (2005a). The development of a questionnaire to measure students' motivation towards science learning. International Journal of Science Education, 27(6), 639–654.

Tuan, H.-L., Chin, C.-C., Tsai, C.-C. & Cheng, S.-F. (2005b). Investigating the effectiveness of inquiry instruction on the motivation of different learning styles students. International Journal of Science and Mathematics Education, 3, 541–566.

Watson, J. S. (2003). Examining perceptions of the science fair project: Content or process? School Library Media Research, 6(1), 1–10.

Weinstein, C. & Mayer, R. (1986). The teaching of learning strategies. In M. C. Wittrock (Ed.), Handbook of research on teaching (3rd ed., pp. 315–327). New York: Macmillan.

Yasar, S., & Baker, D. (2003). The impact of involvement in a science fair on seventh grade students. Paper presented at the Annual Meeting of the National Association for Research in Science Teaching, 23–26 March 2003, Philadelphia, PA. ERIC document: ED 478905.
Appendices
A
ppendix

1
A study of the Motivational Factors and Benefits of Students Participating in the Canada-Wide Science Fair 2008
Please circle the number that best describes your experience for each statement. Remember, there are no right or wrong answers.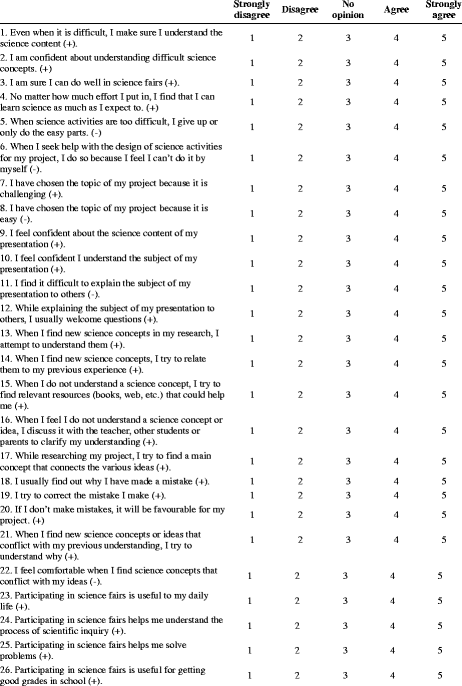 A
ppendix

2
Items Related to Motivational Factors in the Exploratory Survey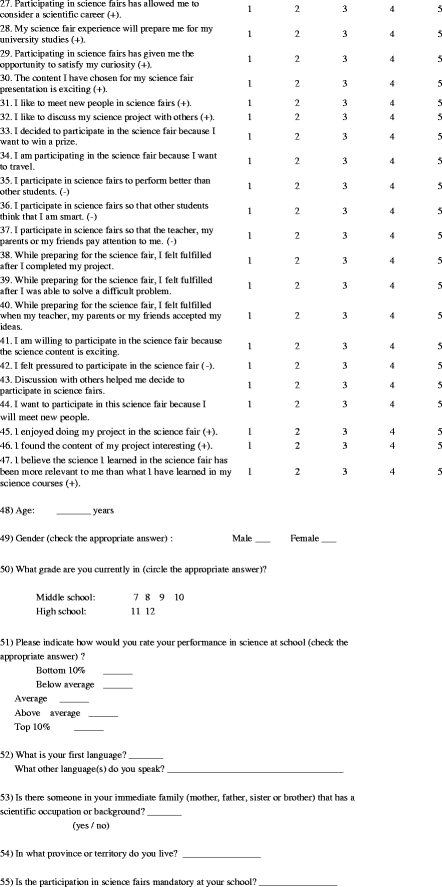 A
ppendix

3
SMTSL Questionnaire (Tuan et al., 2005a, b)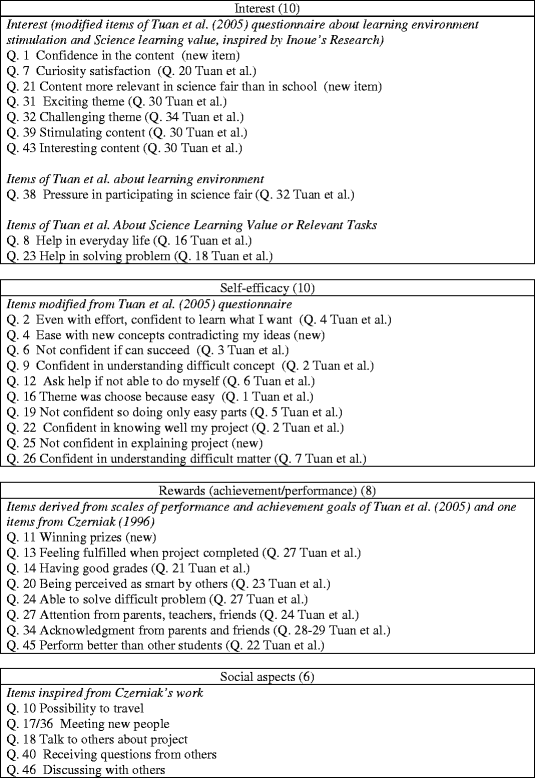 About this article
Cite this article
Dionne, L., Reis, G., Trudel, L. et al. STUDENTS' SOURCES OF MOTIVATION FOR PARTICIPATING IN SCIENCE FAIRS: AN EXPLORATORY STUDY WITHIN THE CANADA-WIDE SCIENCE FAIR 2008. Int J of Sci and Math Educ 10, 669–693 (2012). https://doi.org/10.1007/s10763-011-9318-8
Received:

Accepted:

Published:

Issue Date:
KEY WORDS
factors of motivation

interest and self-efficacy in science

science fairs

secondary school science

students