Abstract
The terahertz (THz) multivariate spectral characteristics and the molecular dynamics of three pyrethroid pesticides, including deltamethrin, fenvalerate, and beta-cypermethrin, were studied in this paper. THz spectra of the pesticides were measured in frequency range of 0.06–3.5 THz by using THz time-domain spectroscopy (THz-TDS). To improve the THz spectral quality, the wavelet threshold de-noising (WTD) method was used to remove spectral noise and the spectral baseline correction (SBC) method was used to remove baseline drift. Specific absorption peaks were observed in the processed THz spectra of the three pesticides. Deltamethrin showed three peaks at 0.90, 1.49, and 2.32 THz. Fenvalerate had five peaks at 1.13, 1.43, 1.61, 1.98, and 2.58 THz. Beta cypermethrin had four peaks at 1.27, 1.84, 2.12, and 2.92 THz. The density functional theory (DFT) was used to characterize the molecular dynamics and formation mechanism of the absorption peaks. Results showed that there was a good matching effect between the THz experimental spectra and the DFT quantum calculation spectra. Based on the characterized fingerprint absorption peaks, the linear addition model was used to simulate the THz spectra of mixed pesticides. The simulated spectra of multicomponent pesticides were demonstrated to be in good agreement with those obtained by THz-TDS. By analyzing the absorption peaks of THz spectra, the composition and concentration of multicomponent pesticides could be determined. The proposed strategy presented an analytical methodology for studying the THz spectral characteristics of pesticides. In addition, this work provided experimental and theoretical basis for the detection potential of pesticides in agricultural products based on THz technology.
Access options
Buy single article
Instant access to the full article PDF.
US$ 39.95
Tax calculation will be finalised during checkout.
Subscribe to journal
Immediate online access to all issues from 2019. Subscription will auto renew annually.
US$ 79
Tax calculation will be finalised during checkout.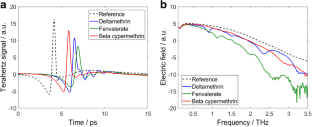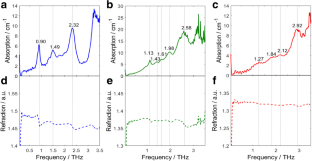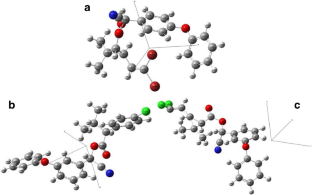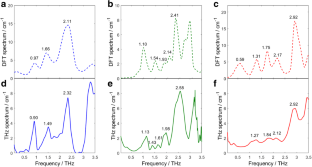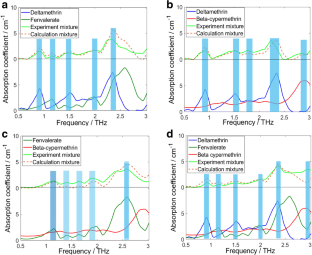 References
1.

European Food Safety Authority, Efsa Journal 12 (12), págs. 9 (2016).

2.

W. Dong, X. Zhang, X. Zhang, H. Wu, M. Zhang, E. Ma, and J. Zhang, Pesticide Biochemistry & Physiology 132 (3), 47 (2016).

3.

Z Xiaobo, H Xiaowei, and M Povey, The Analyst 141 (5), 1587 (2016).

4.

Fernando P Carvalho, Food & Energy Security 6 (2), 48 (2017).

5.

V Pashkov, O Batyhina, and M Trotska, Wiad Lek 70 (2 pt 2), 366 (2017).

6.

A. H. Rajput, R. J. Uitti, W Stern, W Laverty, K O'Donnell, D O'Donnell, W. K. Yuen, and A Dua, Canadian Journal of Neurological Sciences Le Journal Canadien Des Sciences Neurologiques 14 (3 Suppl), 414 (2016).

7.

Igor Kljujev, Vera Raicevic, Bojana Vujovic, Michael Rothballer, and Michael Schmid, Microbial Pathogenesis 115, 199 (2018).

8.

Yuefang Hua and Hongjian Zhang, IEEE Transactions on Microwave Theory & Techniques 58 (7), 2064 (2010).

9.

B. Jin, L. Xie, Y. Guo, and G. Pang, Food Res. Int. 46 (1), 399 (2012).

10.

Vijay Kumar, Niraj Upadhay, A. B. Wasit, and Simranjeet Singh, Current World Environment 8 (2), 313 (2013).

11.

Chu Zhang, Hao Jiang, Fei Liu, and Yong He, Food & Bioprocess Technology 10 (1), 1 (2016).

12.

H. Cen, H. Weng, J. Yao, M. He, J. Lv, S. Hua, H. Li, and Y. He, Frontiers in plant science 8, 1509 (2017).

13.

W. Kong, C. Zhang, W. Huang, F. Liu, and Y. He, Sensors 18 (1), 123 (2018).

14.

Federica Bianchi, Nicolò Riboni, Valentina Trolla, Giada Furlan, Giorgio Avantaggiato, Giuliano Iacobellis, and Maria Careri, Talanta 154, 467 (2016).

15.

Yuqiang Deng, Qing Sun, Jing Yu, Nan Xu, Yandong Lin, and Division Of Optics, Chinese Journal of Lasers 44 (3), 0314001 (2017).

16.

Joonas Kokkoniemi, Janne Lehtomäki, and Markku Juntti, Nano Communication Networks 8, 35 (2016).

17.

P. F. Neumaier, K Schmalz, J Borngräber, R Wylde, and H. W. Hübers, The Analyst 140 (1), 213 (2015).

18.

P. Nie, F. Qu, L. Lin, T. Dong, Y. He, Y. Shao, and Y. Zhang, Sensors 17 (12), 2830 (2017).

19.

Fangfang Qu, Lei Lin, Chengyong Cai, Tao Dong, Yong He, and Pengcheng Nie, Appl. Sci. 8(3), 420 (2018).

20.

Mikhail Yu. Glyavin, Toshitaka Idehara, and Svilen P. Sabchevski, IEEE Transactions on Terahertz Science & Technology 5 (5), 788 (2015).

21.

Leamon Viveros, Weidong Zhang, and Elliott R. Brown, Sensors (1–4), (2013).

22.

M Massaouti, C Daskalaki, A Gorodetsky, A. D. Koulouklidis, and S Tzortzakis, Appl. Spectrosc. 67 (11), 1264 (2013).

23.

I Maeng, S. H. Baek, H. Y. Kim, G. S. Ok, S. W. Choi, and H. S. Chun, J. Food Prot. 77 (12), 2081 (2014).

24.

Seung Hyun Baek, Hee Kang Ju, Yeun Hee Hwang, Min Ok Kang, Kyungwon Kwak, and Hyang Sook Chun, Journal of Infrared Millimeter & Terahertz Waves 37 (5), 486 (2016).

25.

F. Zhang, H. W. Wang, K Tominaga, M Hayashi, T Hasunuma, and A Kondo, Chemistry An Asian Journal 12 (3), 324 (2017).

26.

Junliang Dong, Alexandre Locquet, and D. S. Citrin, Journal of Infrared Millimeter & Terahertz Waves 37 (3), 289 (2016).

27.

Nico Vieweg, Mehmet Ali Celik, Sabine Zakel, Vineet Gupta, Gernot Frenking, and Martin Koch, Journal of Infrared Millimeter & Terahertz Waves 35 (5), 478 (2014).

28.

Xuequan Chen, Edward P. J. Parrott, S. Y. Ung, and Emma Pickwell-Macpherson, IEEE Transactions on Terahertz Science & Technology 1 (99), (2017).

29.

H Ito and T Ishibashi, Electron. Lett 56 (18), 1440 (2017).

30.

Rajesh Kumar, Amit Kumar, Vipin Deval, Archana Gupta, Poonam Tandon, P. S. Patil, Prathmesh Deshmukh, Deepika Chaturvedi, and J. G. Watve, J. Mol. Struct. 1129, 292 (2017).

31.

Arundhati Ray, B. Kartikeyan, and Sanjay Garg, International Journal of Computerences & Engineering 4 (10), 33 (2016).

32.

Shailendra Kumar and Bhagat Singh, Soft Computing 1 (2), (2018).

33.

Z. M. Zhang, S. Chen, and Y. Z. Liang, The Analyst 135 (5), 1138 (2010).

34.

Chao Pan, Ruifu Zhang, Hao Luo, and Hua Shen, Advances in Mechanical Engineering 8 (10), (2016).

35.

Alessandro Motta, And Giuseppe Lanza, Ignazio L. Fragalà, and Tobin J. Marks, Organometallics 23 (17), págs. 4097 (2016).

36.

H Chermette, J. Comput. Chem. 20 (1), 129 (2015).

37.

Yehao Ma, Pingjie Huang, Dibo Hou, Jinhui Cai, Qiang Wang, and Guangxin Zhang, Chemometrics & Intelligent Laboratory Systems 150, 65 (2016).

38.

Xin Zhang, Shaohua Lu, Yi Liao, and Zhuoyong Zhang, Chemometrics & Intelligent Laboratory Systems 164, 8 (2017).

39.

Silva Vh Da, F. S. Vieira, J. J. Rohwedder, C Pasquini, and C. F. Pereira, The Analyst 142 (9) (2017).
Acknowledgments
The authors acknowledge technical support and experimental guidance provided by Shenzhen Institute of Terahertz technology and Innovation.
Funding
The authors acknowledge the financial support of the National key point research and invention program of the thirteenth (2016YFD0700304) and National key research and development plan (2017YFD0700501).
About this article
Cite this article
Qu, F., Lin, L., He, Y. et al. Terahertz Multivariate Spectral Analysis and Molecular Dynamics Simulations of Three Pyrethroid Pesticides. J Infrared Milli Terahz Waves 39, 1148–1161 (2018). https://doi.org/10.1007/s10762-018-0519-x
Received:

Accepted:

Published:

Issue Date:
Keywords
Terahertz time-domain spectroscopy

Wavelet threshold de-noising

Spectral baseline correction

Density functional theory

Molecular dynamics simulations

Multicomponent pesticides