Abstract
We combine a THz time-domain spectroscopy system with a robotic arm. With this scheme, the THz emitter and receiver can be positioned perpendicular and at defined distance to the sample surface. Our system allows the acquisition of reflection THz tomographic images of samples with an arbitrarily shaped surface.
Access options
Buy single article
Instant access to the full article PDF.
USD 39.95
Price excludes VAT (USA)
Tax calculation will be finalised during checkout.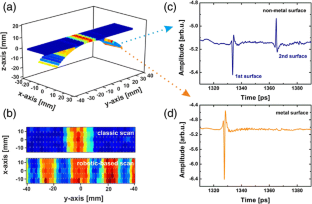 References
D. Grischkowsky, S. Keiding, M. van Exter, and C. Fattinger, Far-infrared time-domain spectroscopy with terahertz beams of dielectrics and semiconductors, J. Opt. Soc. Am. B, 7, 10, p. 2006, 1990.

I. Duling, and D. Zimdars, Terahertz Imaging: Revealing hidden defects, Nat. Photonics, 3, pp. 630–632, 2009.

A. Redo-Sanchez, N. Laman, B. Schulkin, and T. Tongue, Review of Terahertz Technology Readiness Assessment and Applications, J. Infrared, Millimeter, Terahertz Waves, 34, no. 9, pp. 500–518, 2013.

N. Vieweg, F. Rettich, A. Deninger, H. Roehle, R. Dietz, T. Göbel, and M. Schell, Terahertz-time domain spectrometer with 90 dB peak dynamic range, J. Infrared, Millimeter, Terahertz Waves, 35, no. 10, pp. 823–832, 2014.

D. Nüßler, S. Heinen, T. Sprenger, D. Hübsch, and T. Würschmidt, T-SENSE a millimeter wave scanner for letters, Proc. SPIE 8900, p. 89000M, 2013.

T. Yasui, T. Yasuda, K. Sawanaka, and T. Araki, Terahertz paintmeter for noncontact monitoring of thickness and drying progess in paint film, Appl. Opt., vol. 44, pp. 6849–6856, 2005.

C. Jördens, and M. Koch, Detection of foreign bodies in chocolate with pulsed terahertz spectroscopy, Opt. Eng., 47, 3, 2008.

C. Jansen, S. Wietzke, O. Peters, M. Scheller, N. Vieweg, M. Salhi, N. Krumbholz, C. Jördens, T. Hochrein, and M. Koch, Terahertz imaging: applications and perspectives, Appl. Opt., 49, no. 19, p. E48, 2010.

T. Hochrein, Markets, Availability, Notice, and Technical Performance of Terahertz Systems: Historic Development, Present, and Trends, J. Infrared, Millimeter, Terahertz Waves, 36, no. 3, pp. 235–254, 2015.

D. M. Mittleman, S. Hunsche, L. Boivin, and M. C. Nuss, "T-ray tomography," Opt. Lett., vol. 22, no. 12, p. 904, 1997.

S. Hunsche, D.M. Mittleman, M. Koch, and M.C. Nuss, New Dimensions in T-Ray Imaging, IEICE Trans. Electron., E81–C, no. 2, pp. 269–276, 1998.

M. Brucherseifer, P. Haring Bolivar, H. Klingenberg, and H. Kurz, Angle-dependent THz tomography – characterization of thin ceramic oxide films for fuel cell applications, Appl. Phys. B, 72, no. 3, pp. 361–366, 2001.

M. Haaser, K. C. Gordon, C. J. Strachan, and T. Rades, Terahertz pulsed imaging as an advanced characterisation tool for film coatings - A review, Int. J. Pharm., vol. 457, no. 2, pp. 510–520, 2013.

C. Rocchini, P. Cignoni, C. Montani, P. Pingi and R. Scopigno, A low cost 3D scanner based on structured light, Eurographics, vol. 20, no. 3, pp. 299–308, 2001.
Acknowledgements
We acknowledge funding through project DFG KO 1520/12-1.
About this article
Cite this article
Stübling, E., Bauckhage, Y., Jelli, E. et al. A THz Tomography System for Arbitrarily Shaped Samples. J Infrared Milli Terahz Waves 38, 1179–1182 (2017). https://doi.org/10.1007/s10762-017-0415-9
Received:

Accepted:

Published:

Issue Date:

DOI: https://doi.org/10.1007/s10762-017-0415-9
Keywords
THz tomography

THz-3D-imaging

Robotic-based THz system