Abstract
Art painting diagnostic is commonly performed using electromagnetic waves at wavelengths from terahertz to X-ray. These former techniques are essential in conservation and art history research, but they could be also very useful for restoring artwork. While most studies use time domain imaging technique, in this study, a painting has been investigated using both time domain imaging (TDI) and frequency-modulated continuous wave (FMCW) system in the millimeter frequency range. By applying these systems to a painting of the eighteenth century, we detect and analyze the structure of some defects. This study underlines the differences between FMCW and TDI. We present the advantages and disadvantages of each technique on a real artwork.
This is a preview of subscription content, log in to check access.
Access options
Buy single article
Instant access to the full article PDF.
US$ 39.95
Price includes VAT for USA
Subscribe to journal
Immediate online access to all issues from 2019. Subscription will auto renew annually.
US$ 99
This is the net price. Taxes to be calculated in checkout.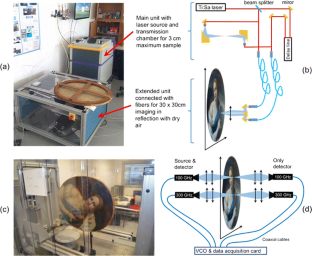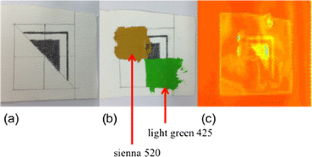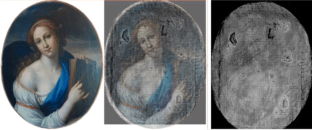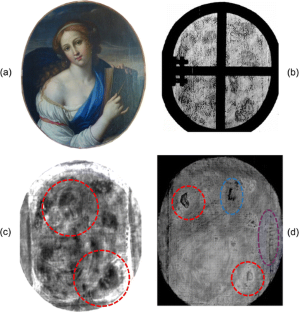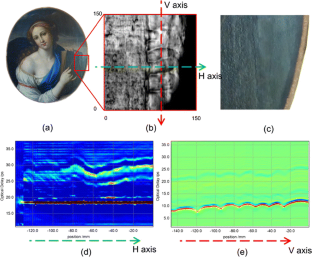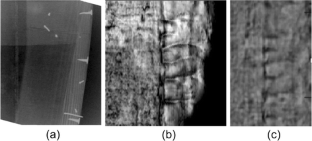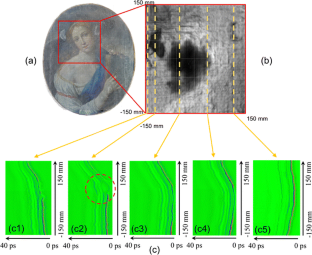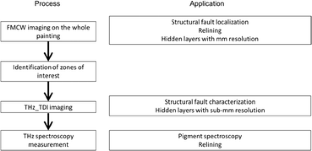 References
1.

F. Ospald, W. Zouaghi, R. Beigang, C. Matheis, J. Jonuscheit, B. Recur, J.-P. Guillet, P. Mounaix, W. Vleugels, P. V. Bosom, L. V. González, I. López, R. M. Edo, Y. Sternberg, et M. Vandewal, « Aeronautics composite material inspection with a terahertz time-domain spectroscopy system », Opt. Eng., vol. 53, no 3, 2014.

2.

C. Roman, O. Ichim, L. Sarger, V. Vigneras, et P. Mounaix, « Terahertz dielectric characterisation of polymethacrylimide rigid foam:: The perfect sheer plate? », Electron. Lett., vol. 40, no 19, p. 1, 2004.

3.

J. P. Guillet, B. Recur, L. Frederique, B. Bousquet, L. Canioni, I. Manek-Hönninger, P. Desbarats, et P. Mounaix, « Review of terahertz tomography techniques », J. Infrared, Millimeter, Terahertz Waves, vol. 35, no 4, p. 382‑411, 2014.

4.

J. B. Jackson, J. Bowen, G. Walker, J. Labaune, G. Mourou, M. Menu, et K. Fukunaga, « A survey of terahertz applications in cultural heritage conservation science », IEEE Trans. Terahertz Sci. Technol., vol. 1, no 1, p. 220‑231, 2011.

5.

K. Fukunaga et M. Picollo, « Characterisation of works of art », in Terahertz Spectroscopy and Imaging, Springer, 2012, p. 521‑538.

6.

J. Labaune, J. B. Jackson, S. Pagès-Camagna, I. N. Duling, M. Menu, et G. A. Mourou, « Papyrus imaging with terahertz time domain spectroscopy », Appl. Phys. A, vol. 100, no 3, p. 607‑612, 2010.

7.

E. Abraham, A. Younus, A. El Fatimy, J.-C. Delagnes, E. Nguéma, et P. Mounaix, « Broadband terahertz imaging of documents written with lead pencils », Opt. Commun., vol. 282, no 15, p. 3104‑3107, 2009.

8.

K. Fukunaga, Y. Ogawa, S. Hayashi, et I. Hosako, « Application of terahertz spectroscopy for character recognition in a medieval manuscript », IEICE Electron. Express, vol. 5, no 7, p. 223‑228, 2008.

9.

R. Durand, J. P. Guillet, B. Recur, P. Mounaix, M. Fabre, et S. Genot, « X-ray versus 3D terahertz imaging for sigillography science », in International Conference on Infrared, Millimeter, and Terahertz Waves, IRMMW-THz, 2013.

10.

D. Giovannacci, D. Martos-Levif, G. C. Walker, M. Menu, et V. Detalle, « Terahertz applications in cultural heritage: case studies », in Fundamentals of Laser Assisted Micro-and Nanotechnologies 2013, 2013, p. 906510.

11.

G. C. Walker, J. W. Bowen, W. Matthews, S. Roychowdhury, J. Labaune, G. Mourou, M. Menu, I. Hodder, et J. B. Jackson, « Sub-surface terahertz imaging through uneven surfaces: visualizing Neolithic wall paintings in Çatalhöyük », Opt. Express, vol. 21, no 7, p. 8126‑8134, 2013.

12.

K. Fukunaga, Y. Ogawa, S. Hayashi, et I. Hosako, « Terahertz spectroscopy for art conservation », IEICE Electron. Express, vol. 4, no 8, p. 258‑263, 2007.

13.

A. J. L. Adam, P. C. M. Planken, S. Meloni, et J. Dik, « TeraHertz imaging of hidden paint layers on canvas », Opt. Express, vol. 17, no 5, p. 3407‑3416, 2009.

14.

C. L. Koch-Dandolo, T. Filtenborg, K. Fukunaga, J. Skou-Hansen, et P. U. Jepsen, « Reflection terahertz time-domain imaging for analysis of an 18th century neoclassical easel painting », Appl. Opt., vol. 54, no 16, p. 5123‑5129, 2015.

15.

C. L. K. Dandolo et P. U. Jepsen, « Wall Painting Investigation by Means of Non-invasive Terahertz Time-Domain Imaging (THz-TDI): Inspection of Subsurface Structures Buried in Historical Plasters », J. Infrared, Millimeter, Terahertz Waves, vol. 37, no 2, p. 198‑208, 2016.

16.

Z. Zhang, K. Wang, Y. Lei, Z. Zhang, Y. Zhao, C. Li, A. Gu, N. Shi, K. Zhao, et H. Zhan, « Non-destructive detection of pigments in oil painting by using terahertz tomography », Sci China-Phys Mech As-tron, vol. 58, p. 124202, 2015.

17.

E. Cristofani, F. Friederich, S. Wohnsiedler, C. Matheis, J. Jonuscheit, M. Vandewal, et R. Beigang, « Nondestructive testing potential evaluation of a terahertz frequency-modulated continuous-wave imager for composite materials inspection », Opt. Eng., vol. 53, no 3, p. 31211, 2014.

18.

A. Redo-Sanchez, B. Heshmat, A. Aghasi, S. Naqvi, M. Zhang, J. Romberg, et R. Raskar, « Terahertz time-gated spectral imaging for content extraction through layered structures », Nat. Commun., vol. 7, p. 12665, sept. 2016.
Acknowledgements
The authors would like to thank the owner of that painting who agreed to make it available for research experiments at the IMS laboratory during the diagnostic before restoration.
About this article
Cite this article
Guillet, J., Roux, M., Wang, K. et al. Art Painting Diagnostic Before Restoration with Terahertz and Millimeter Waves. J Infrared Milli Terahz Waves 38, 369–379 (2017). https://doi.org/10.1007/s10762-017-0358-1
Received:

Accepted:

Published:

Issue Date:
Keywords
Terahertz imaging

Art restoration

Painting

Time domain imaging

Frequency-modulated continuous wave