Abstract
This paper deals with the use of terahertz spectroscopy for observing the kinetics of recrystallisation of polybutene-1 as a suitable material for manufacturing optical elements in the terahertz region of the electromagnetic spectrum. These materials were studied from the perspective of their optical properties – the refractive index and the absorption coefficient. The time dependencies of the refractive index and the absorption coefficient were measured, because polybutene-1 is a material which recrystallises for a number of days from the date of its manufacture. The coefficients describing the recrystallisation process were calculated from the fitting function derived from the Avrami equation. In this paper, the measurement results are presented and the possibilities of the use of the studied materials are discussed.
Access options
Buy single article
Instant access to the full article PDF.
US$ 39.95
Tax calculation will be finalised during checkout.
Subscribe to journal
Immediate online access to all issues from 2019. Subscription will auto renew annually.
US$ 79
Tax calculation will be finalised during checkout.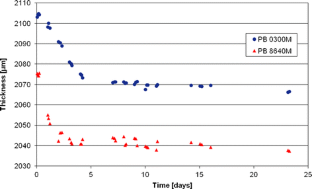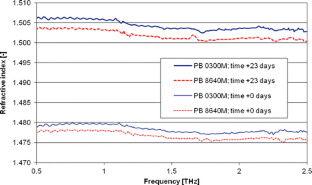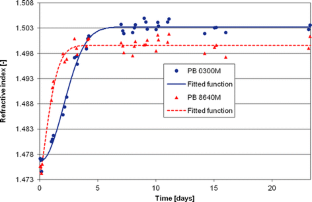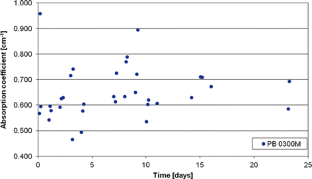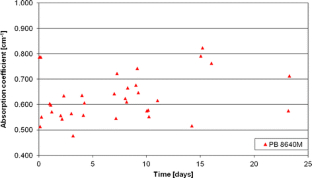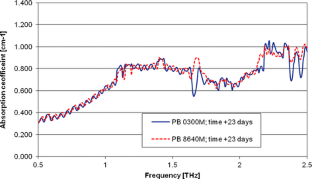 References
1.

B. Scherger et al., "Characterization of Micro-Powders for the Fabrication of Compression Molded THz Lenses" Journal of infrared, millimeter and terahertz waves, 32, 943-951 (2011).

2.

D. Chen, H. Chen, "A novel low-loss Terahertz waveguide: Polymer tube" Optics express 18, 3762-3767 (2010).

3.

Y. H. Lo, R. Leonhardt, "Aspheric lenses for terahertz imaging" Optics express 16, 15991-15998 (2008).

4.

Y.-S. Lee, Principles of Terahertz Science and Technology, (Springer, Oregon, 2009).

5.

D. W. Van Krevelen, Properties of Polymers, (Elsevier, Amsterdam, 1990).

6.

L. C. Sawyer et al., Polymer Microscopy, (Springer, New York, 2008).

7.

C. C. Hsu et al., "Structure and properties of polybutylene crystallized from the glassy state. I. X-ray scattering, DSC, and Torsion Pendulum" J. Macromol. Sci. / B – Physics 25, 433-466 (1986).

8.

Alexander Podzorov et al., "Low-loss polymers for terahertz applications" Applied optics 47, 3254-3257 (2008).

9.

S. Wietzke et al., "Terahertz spectroscopy on polymers: A review of morphological studies" Journal of Molecular Structure 1006, 41-51 (2011).

10.

S. Wietzke et al., "Analyzing Morphology and Thermal History of Polybutylene Terephthalate by THz Time-domain Spectroscopy" J Infrared Milli Terahz Waves 32, 952-959 (2011).

11.

D. R. Panse, P.J. Phillips, Polymer Data Handbook, (Oxford University Press, Oxford, 1999).

12.

C. Hadinata, Flow-induced crystallization of polybutene-1 and effect of molecular parameters, (RMIT University, Melbourne, 2007).

13.

René Androsch et al., "Mesophases in polyethylene, polypropylene, and poly(1-butene)" Polymer 51, 4639-4662 (2010).

14.

V. Křesálek, T. Gavenda, "Using the terahertz spectroscopy for observing the kinetics of recrystallisation of polybutenes", Proceedings of 3rd EOS Topical Meeting on Terahertz Science & Technology, Prague, ISBN 978-3-9815022-1-3 (2012).

15.

TPS spectra 3000 general information, Teraview Ltd., Cambridge, 2011.

16.

Y. Liu et al., "Growth rate modeling and identification in the crystallization of polymers" Inverse Problems 28, 095008 (2012).

17.

Yun-Sik Jin et al., Terahertz Dielectric Properties of Polymers, J. Korean Phys. Soc., 2006, 49, 513-517.
Acknowledgments
This research was supported by the European Regional Development Fund under the project CEBIA-Tech No. CZ.1.05/2.1.00/03.0089 and the Internal Grant Agency of Tomas Bata University in Zlin, under the project No. IGA/FAI/2012002.
About this article
Cite this article
Křesálek, V., Gavenda, T. Using Terahertz Spectroscopy for Observing the Kinetics of Recrystallisation of Polybutene-1. J Infrared Milli Terahz Waves 34, 187–193 (2013). https://doi.org/10.1007/s10762-013-9956-8
Received:

Accepted:

Published:

Issue Date:
Keywords
Terahertz spectroscopy

Polybutene-1

Refractive index

Absorption coefficient

Recrystallisation