Abstract
In the most recent years, wireless communication networks have been facing a rapidly increasing demand for mobile traffic along with the evolvement of applications that require data rates of several 10s of Gbit/s. In order to enable the transmission of such high data rates, two approaches are possible in principle. The first one is aiming at systems operating with moderate bandwidths at 60 GHz, for example, where 7 GHz spectrum is dedicated to mobile services worldwide. However, in order to reach the targeted date rates, systems with high spectral efficiencies beyond 10 bit/s/Hz have to be developed, which will be very challenging. A second approach adopts moderate spectral efficiencies and requires ultra high bandwidths beyond 20 GHz. Such an amount of unregulated spectrum can be identified only in the THz frequency range, i.e. beyond 300 GHz. Systems operated at those frequencies are referred to as THz communication systems. The technology enabling small integrated transceivers with highly directive, steerable antennas becomes the key challenges at THz frequencies in face of the very high path losses. This paper gives an overview over THz communications, summarizing current research projects, spectrum regulations and ongoing standardization activities.
This is a preview of subscription content, log in to check access.
Access options
Buy single article
Instant access to the full article PDF.
US$ 39.95
Price includes VAT for USA
Subscribe to journal
Immediate online access to all issues from 2019. Subscription will auto renew annually.
US$ 99
This is the net price. Taxes to be calculated in checkout.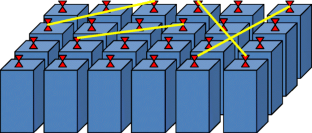 References
1.

T. Kürner, I. Kallfass, K. Ajito, A. Kasamatsu, D. Britz, S. Priebe: "What's next? Wireless Communication beyond 60 GHz (Tutorial IG THz)," IEEE 802 Plenary Session, IEEE 802.15 Document 15-12-0320-01-0thz, San Diego, July 2012, https://mentor.ieee.org/802.15/dcn/12/15-12-0320-01-0thz-what-s-next-wireless-communication-beyond-60-ghz-tutorial-ig-thz.pdf

2.

Cisco Visual Networking Index: Global Mobile Data Traffic Forecast Update, 2010–2015; http://newsroom.cisco.com/dlls/ekits/Cisco_VNI_Global_Mobile_Data_Traffic_ Forecast_ 2010_2015.pdf

3.

S. Cherry, "Edholm's Law of Bandwidth," IEEE Spectrum, vol. 41, no. 7, pp. 58–60, 2004.

4.

S. Priebe, Towards THz Communications: Propagation Studies, Indoor Channel Modeling and Interference Investigation, Dissertation, Technische Universität Braunschweig 2013, Shaker Verlag 2013

5.

R. Piesiewicz, T. Kleine-Ostmann, N. Krumbholz, D. Mittleman, M. Koch, J. Schoebel, T. Kürner: "Short-Range Ultra-Broadband Terahertz Communications: Concepts and Perspectives," IEEE Antennas and Propagation Magazine, vol. 49, no. 6, pp. 24–39, 2007.

6.

T. Kleine-Ostmann, T. Nagatsuma: "A Review on Terahertz Communications Research," Journal of Infrared, Millimeter and Terahertz Waves, vol. 32, no. 2, pp. 143–171, 2011.

7.

J. Federici, L. Moeller: "Review of Terahertz and Subterahertz Wireless Communications," Journal of Applied Physics, vol. 107, no. 11, 22 pages, 2010.

8.

Ho-Jin Song; Nagatsuma, T.: "Present and Future of Terahertz Communications," IEEE Transactions on Terahertz Science and Technology, vol.1, no.1, pp.256-263, September 2011

9.

T. Kürner, "THz Communications – Approaching Wireless 100 Gbit/s", in Proc. International Symposium on Future THz Technology FTT 2012, Nara, Japan, November 2012 (3 pages)

10.

T. Kürner, "Towards Future THz Communications", Terahertz Science and Technology, vol. 5, no. 1, pp. 11-17, March 2012

11.

T. Kürner.: "Launching a Study Group on THz," IEEE 802 Plenary Session, IEEE 802.15 Document 15-13-0130-01-0thz, Orlando, March 2013, https://mentor.ieee.org/802.15/dcn/13/15-13-0130-01-0thz-launching-a-study-group-on-thz.pdf

12.

Kaishun Wu, "Rethinking the architecture design of data center networks", Front. Comp. Science, Review Article, 9 pages, 2012

13.

Katayama Y, Takano K, Kohda Y, Ohba N, Nakano, "Wireless data center networking with steered-beam mmwave links", in: Proceeding of 2011 I.E. Wireless Communications and Networking Conference,, pp. 2179–2184, 2011

14.

R. Piesiewicz, T. Kleine-Ostmann, N. Krumbholz, D. Mittleman, M. Koch, T. Kürner: "Terahertz Characterisation of Building Materials," IEE Electronics Letters, vol. 41, no. 18, pp. 1002–1004, 2005

15.

R. Piesiewicz, C. Jansen, S. Wietzke, D. Mittleman, M. Koch, T. Kürner: "Properties of Building and Plastic Materials in the THz Range," International Journal of Infrared and Millimeter Waves, vol. 28, no. 5, pp. 363–371, 2007

16.

R. Piesiewicz, C. Jansen, D. Mittleman, T. Kleine-Ostmann, M. Koch, T. Kürner: "Scattering Analysis for the Modeling of THz Communication Systems," IEEE Transactions on Antennas and Propagation, vol. 55, no. 11, pp. 3002–3009, 2007

17.

C. Jansen, S. Priebe, C. Möller, M. Jacob, H. Dierke, M. Koch, T. Kürner: "Diffuse Scattering from Rough Surfaces in THz Communication Channels," IEEE Transactions on Terahertz Science and Technology, vol. 1, no. 2, pp. 462-472, November 2011

18.

C. Jansen, R. Piesiewicz, D. Mittleman, T. Kürner, M. Koch: "The Impact of Reflections from Stratified Building Materials on the Wave Propagation in Future Indoor Terahertz Communication Systems," IEEE Transactions on Antennas and Propagation, vol. 56, no. 5, pp. 1413–1419, 2008

19.

Jacob, M.; Priebe, S.; Dickhoff, R.; Kleine-Ostmann, T.; Schrader, T.; Kürner, T.: "Diffraction in mm and Sub-mm Wave Indoor Propagation Channels," IEEE Transactions on Microwave Theory and Techniques, vol.60, no.3, pp.833-844, March 2012

20.

S. Priebe, C. Jastrow, M. Jacob, T. Kleine-Ostmann, T. Schrader, T. Kürner: "Channel and Propagation Measurements at 300 GHz," IEEE Transactions on Antennas and Propagation, vol. 59, no. 5, pp. 1688–1698, 2011

21.

S. Priebe, M. Jacob, T. Kürner: "Calibrated Broadband Ray Tracing for the Simulation of Wave Propagation in mm and sub- mm Wave Indoor Communication Channels" in Proc. 18th European Wireless Conference (EW), 10 pages (electronic), Poznan, April 2012

22.

S. Priebe, M. Jacob, T. Kürner: "AoA, AoD and ToA Characteristics of Scattered Multipath Clusters for THz Indoor Channel Modeling," in Proc. 17th European Wireless Conference (EW), 9 pages (electronic), Vienna, April 2011

23.

L. Moeller, K. Su, R. B. Barat, J. Federici: "THz and IR Signaling through Fog Scintillations" in Proc. 18th European Wireless Conference (EW), 5 pages (electronic),Poznan, April 2012

24.

Schneider, T.; Wiatrek, A.; Preussler, S.; Grigat, M.; Braun, R.; , "Link Budget Analysis for Terahertz Fixed Wireless Links," IEEE Transactions on Terahertz Science and Technology, vol. 2, no. 2, pp.250-256, March 2012

25.

C. Jastrow, K. Münter, R. Piesiewicz, T. Kürner, M. Koch, T. Kleine-Ostmann: "300 GHz Transmission System," IET Electronics Letters, vol. 44, pp. 213–214, 2008

26.

C. Jastrow, S. Priebe, B. Spitschan, J. Hartmann, M. Jacob, T. Kürner, T. Kleine-Ostmann, T. Schrader: "Wireless Digital Data Transmission at 300 GHz," IET Electronics Letters, vol. 46, no. 9, pp. 661–663, 2010

27.

L. Moeller, J. Federici, K. Su, "THz Wireless Communications: 2.5 Gb/s Error-Free Transmission at 625 GHz Using a Narrow-Bandwidth 1 mW THz Source", 30th URSI General Assembly and Scientific Symposium (URSI GASS), 4 pages (electronic), Istanbul, August 2011

28.

G. Ducournau, P. Szriftgiser, D. Bacquet, A. Beck, T. Akalin, E. Peytavit, M. Zaknoune, and J. F. Lampin, "Optically power supplied Gbit/s wireless hotspot using 1.55 um THz photomixer and heterodyne detection at 200 GHz," Electron. Lett. 46, 1349-1351 (2010)

29.

T. Nagatsuma, H. Song, Y. Fujimoto, K. Miyake, A. Hirata, K. Ajito, A. Wakatsuki, T. Furuta, N. Kukutsu, Y. Kado: "Giga-Bit Wireless Link Using 300-400 GHz Bands," in Proc. International Topical Meeting on Microwave Photonics (MWP), 5 pages (electronic), Valencia, October 2009

30.

H.-J. Song, K. Ajito, A. Hirata, A. Wakatsuki, Y. Muramoto, T. Furuta, N. Kukutsu, T. Nagatsuma and Y. Kado, "8 Gbit/s wireless data transmission at 250 GHz," IEE Electron. Lett., vol. 45, no. 22, pp. 1121-1122, 2009

31.

R. Piesiewicz, M. Jacob, M. Koch, J. Schoebel, T. Kürner: "Performance Analysis of Future Multigigabit Wireless Communication Systems at THz Frequencies with Highly Directive Antennas in Realistic Indoor Environments," IEEE Journal of Selected Topics in Quantum Electronics, vol. 14, no. 2, pp. 421–430, 2008

32.

S. Priebe, M. Jacob, T. Kürner: "The Impact of Antenna Directivities on THz Indoor Channel Characteristics," Proc. 6th European Conference on Antennas and Propagation (EuCAP), 5 pages (electronic), Prague, April 2012

33.

S. Priebe, M. Jacob, T. Kürner: "Affection of THz Communication Links by Antenna Misalignment," Proc. 6th European Conference on Antennas and Propagation (EuCAP), 5 pages (electronic), Prague, April 2012

34.

M. Grigat et. al., Propagation Aspects of Terahertz Outdoor Fixed Wireless Links, IEEE 802.15 Document 15-13-0175-01-0thz, Atlanta, Orlando 2013, https://mentor.ieee.org/802.15/dcn/13/15-13-0175-01-0thz-propagation-aspects-of-terahertz-outdoor-fixed-wireless-links.pdf

35.

T. Nagatsuma: "Terahertz Communications Technologies Based on Photonic and Electronic Approaches" in Proc. 18th European Wireless Conference (EW), 4 pages (electronic), Poznan, April 2012

36.

I. Kallfass, J. Antes, D. Lopez-Diaz, S. Diebold, H. Massler, A. Leuther, A. Tessmann, "All Active MMIC Based Wireless Communication at 220 GHz," IEEE Transactions on Terahertz Science and Technology, vol. 1, no. 2, pp. 477-487, November 2011.

37.

I. Kallfass, J. Antes, D. Lopez-Diaz, S. Wagner, A. Tessmann, A. Leuther, "Broadband Active Integrated Circuits for Terahertz Communication," in Proc. 18th European Wireless Conference (EW), 5 pages (electronic), Poznan, April 2012

38.

E. Afshari, The Next Frontier for Circuit Designers: CMOS THz Systems, , IEEE 802.15 Document 15-12-0621-00-0thz, San Antonio, November 2012, https://mentor.ieee.org/802.15/dcn/12/15-12-0621-00-0thz-the-next-frontier-for-circuit-designers-cmos-thz-systems.pdf

39.

Int. Telecommunication Union, Geneva, Switzerland, "Radio regulations," 2012

40.

A. Clegg: "Sharing between radio astronomy and active services at THz frequencies;" IEEE 802 Plenary Session, IEEE 802.15 Document 15-10-0829-00-0thz, Dallas, November 2010, https://mentor.ieee.org//802.15/dcn/10/15-10-0829-00-0thz-sharing-between-active-and-passive-services-at-thz-frequencies.ppt

41.

A. Gasiewski: "Applications and Requirements for Environmental Remote Sensing," IEEE 802 Plenary Session, IEEE 802.15 Document 15-11-0765-00-0thz, Atlanta, November 2011, https://mentor.ieee.org/802.15/dcn/11/15-11-0765-00-0thz-remote-sensing-applications-of-thz-bands.pdf

42.

Priebe, S.; Britz, D. M.; Jacob, M.; Sarkozy, S.; Leong, K. M. K. H.; Logan, J. E.; Gorospe, B. S.; Kürner, T.; , "Interference Investigations of Active Communications and Passive Earth Exploration Services in the THz Frequency Range," IEEE Transactions on Terahertz Science and Technology, , vol. 2, no. , pp. 525-537, September 2012

44.

Kürner, T.: "Scenarios for the Applications of THz Communciations," IEEE 802 Plenary Session, IEEE 802.15 Document 15-11-0749-00-0thz, Atlanta, November 2011, https://mentor.ieee.org/802.15/dcn/11/15-11-0749-00-0thz-scenarios-for-the-application-of-thz-communications.pdf
About this article
Cite this article
Kürner, T., Priebe, S. Towards THz Communications - Status in Research, Standardization and Regulation. J Infrared Milli Terahz Waves 35, 53–62 (2014). https://doi.org/10.1007/s10762-013-0014-3
Received:

Accepted:

Published:

Issue Date:
Keywords
THz communications

THz channel modeling

regulation

standardization