Abstract
For the development of millimeter wave imaging systems, it is important to be able to simulate some representative scattering configurations. Typically, Gaussian beams are used in active imaging systems. Since these beams only illuminate a spatially limited region, many objects can be treated as infinitely long 2D (in)homogenous cylinders. However, the incident Gaussian beams have a 3D character. Therefore, a dedicated 2.5D scattering simulator was developed. In this paper, simulation results obtained with this simulator are compared to measurements obtained from a bi-static microwave set-up and from a W-band millimeter wave set-up. Comparison of simulations and measurements proves that the 2.5D algorithm is a good simulation tool to study scattering of long inhomogeneous cylinders, illuminated by 3D plane waves or 3D Gaussian beams under different elevation angles.
Access options
Buy single article
Instant access to the full article PDF.
US$ 39.95
Tax calculation will be finalised during checkout.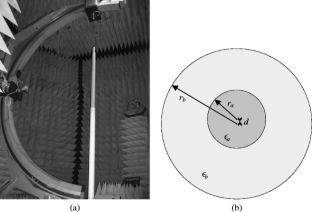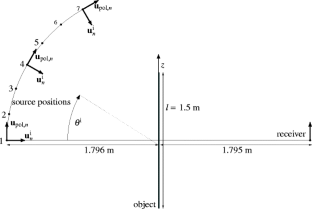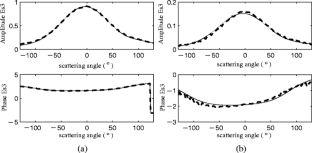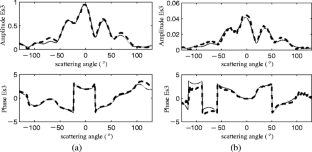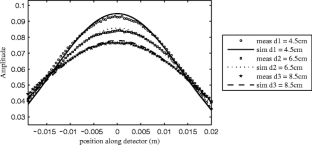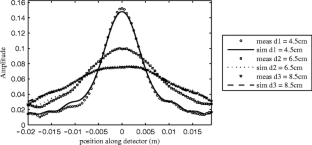 References
1.

L. Volkov and J. Stiens, US patent 6777684: Systems and methods for millimeter and sub-millimeter wave imaging (August, 2004).

2.

D. M. Sheen, D. L. Mc Makin and T. E. Hall, "Three-dimensional millimeter-wave imaging for concealed weapon detection," IEEE Trans. Microw. Theory Tech. 49, 1581–1592 (2001).

3.

K. J. Langenberg, K. Mayer, and C. Sklarczyk, in "Wave field imaging for homeland security," Proc. Int. URSI Comm. B Electromagnetic Theory Symposium (EMTS 2007), (July 26–28, 2007) Ottawa, Canada.

4.

P. Zwamborn and P. M. van den Berg, "The three-dimensional weak form of the conjugate gradient FFT method for solving scattering problems," IEEE Trans. Microw. Theory Tech. 40 (9), 1757–1766 (1992).

5.

J. De Zaeytijd, I. Bogaert and A. Franchois, "An efficient hybrid MLFMA-FFT solver for the volume integral equation in case of sparse 3-D inhomogeneous dielectric scatterers," J. Comput. Phys. 227 (14), 7052–7068 (2008).

6.

P. Zwamborn and P. M. van den Berg, "A weak form of the conjugate gradient FFT method for two-dimensional TE scattering problems," IEEE Trans. Microw. Theory Tech. 39 (6), 953–960 (1991).

7.

S. Van den Bulcke and A. Franchois, in Modelling 3D mm-wave scattering from human body under Gaussian beam illumination with a 2.5D VIE solver, The 24rd Annual Review of Progress in Applied Computational Electromagnetics (ACES 2008), pp. 63–67 (March 30 – April 4, 2008) Niagara Falls, Canada.

8.

C. F. Bohren and D. R. Huffman, Absorption and scattering of light by small particles (Wiley, 1983).

9.

G. Gouesbet, "Interaction between an infinite cylinder and an arbitrary-shaped beam," Appl. Opt. 36 (18), 4292–4304 (1997).

10.

J. De Zaeytijd, A. Franchois, C. Eyraud and J. M. Geffrin, "Full-wave three-dimensional microwave imaging with a regularized Gauss-Newton method - theory and experiment," IEEE Trans. Antennas Propag. 55 (11), 3279–3292 (2007).

11.

K. Belkebir and M. Saillard, "Testing inversion algorithms against experimental data: Inhomogeneous targets," Inverse Problems 21 (6), S1–S3 (2005).

12.

J. M. Geffrin, P. Sabouroux and C. Eyraud, "Free space experimental scattering database continuation: experimental set-up and measurement precision," Inverse Problems 21, S117–S130 (2005).

13.

R. F. Harrington, Field computations by moment methods, (Macmillan, New York, 1968).

14.

E. Heyman and L. B. Felsen, "Gaussian beam and pulsed beam dynamics: complex-source and complex-spectrum formulations within and beyond paraxial asymptotics," J. Opt. Soc. Am. A 18 (7), 1588–1611 (2001).

15.

I. V. Lindell, Advanced field theory, (Helsinki University of Technology, 2000), pp. 172–176.
Acknowledgements
Research at Ghent University (Ugent) and Vrije Universiteit Brussel (VUB) funded by the Institute for the Promotion of Innovation through Science and Technology in Flanders. (IWT-Vlaanderen).
About this article
Cite this article
Van den Bulcke, S., Zhang, L., Franchois, A. et al. Plane Wave and Gaussian Beam Scattering by Long Dielectric Cylinders: 2.5D Simulations versus Measurements. Int J Infrared Milli Waves 29, 1038–1047 (2008). https://doi.org/10.1007/s10762-008-9399-9
Received:

Accepted:

Published:

Issue Date:
Keywords
Scattering

Millimeter waves

Vectorial Gaussian beam

2.5D simulations and measurements