Abstract
The increasing cultural and spatial distance between the producers and consumers of household goods over the last few hundred years requires historical archaeologists to determine which attributes of objects were imbued with meaning by consumers. One method of interpreting the meanings an object was selected to represent is by contextualizing the artifact's physical attributes within the range of variation in similar objects circulating within particular spatial and temporal networks. Utilizing a data set of early nineteenth-century flat-stamped copper-alloy buttons from archaeological sites in Virginia this study examines how manufacturers and consumers evaluated the quality of these commodities.
Access options
Buy single article
Instant access to the full article PDF.
US$ 39.95
Tax calculation will be finalised during checkout.
Subscribe to journal
Immediate online access to all issues from 2019. Subscription will auto renew annually.
US$ 79
Tax calculation will be finalised during checkout.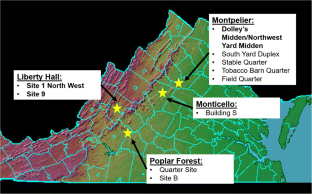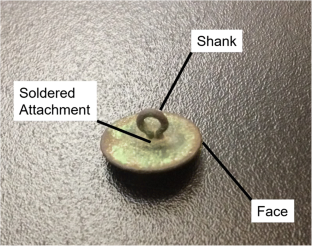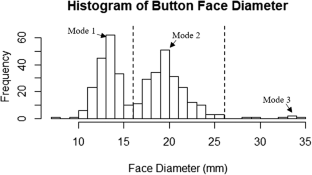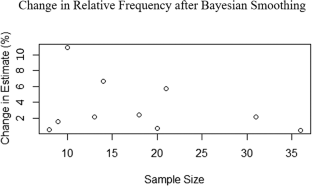 References
Appadurai, A. (1986). Introduction: commodities and the politics of value. In Appadurai, A., ed., The Social Life of Things: Commodities in Cultural Perspective, Cambridge University Press, Cambridge, pp. 3–63.

Beaudry, M., Cook, L., and Mrozowski, S. (1991). Artifacts and active voices: material culture as social discourse. In McGuire, R. H. and Paynter, R., eds., The Archaeology of Inequality, Blackwell, Cambridge, pp. 150–190.

Chambers, D. (2005). Murder at Montpelier: Igbo Africans in Virginia. University Press of Mississippi, Jackson.

Crook, P. (2016). "Home"-made: exploring the quality of British domestic goods in 19th-century urban assemblages. In Brooks, A., ed., The Importance of Material Culture to Historical Archaeologies of the Nineteenth Century, University of Nebraska Press, Lincoln, pp. 305–328.

Dickens, C. (1852). What there is in a button. Household Words 5: 106. <http://www.djo.org.uk/household-words/volume-v.html>, accessed November 2017.

Douglas, M. and Isherwood, B. (1979). The World of Goods: Towards Anthropology of Consumption. Basic, New York.

Hamilton, H. (1967). The English Brass and Copper Industries to 1800. A. M. Kelley, New York.

Hamilton, T. and Fry, B. (1971). A Survey of Louisbourg Gunflints. Parks Canada, Ottawa.

Heath, B. (2004). Engendering choice: slavery and consumerism in central Virginia. In Galle, J. E. and Young, A. L., eds., Engendering African American Archaeology: A Southern Perspective, University of Tennessee Press, Knoxville, pp. 19–38.

Hicks, D. (2010). The material-cultural turn: event and effect. In Hicks, D. and Beaudry, M., eds., The Oxford Handbook of Material Culture Studies, Oxford University Press, Oxford, pp. 25–98.

Hinks, S. (1988). A Structural and Functional Analysis of 18th Century Buttons. Master's thesis, College of William and Mary, Williamsburg, VA.

Hodder, I. (2012). Entangled: An Archaeology of the Relationships between Humans and Things. Wiley-Blackwell, Chichester.

Lindbergh, J. (1999). Buttoning down archaeology. Australasian Historical Archaeology 17: 51–57.

Marburg, T. (1942). Management Problems and Procedures of a Manufacturing Enterprise, 1802–1852: A Case Study of the Origin of the Scovill Manufacturing Company. Doctoral dissertation, Clark University, Worcester, MA.

Martin, A. S. (2008). Buying into the World of Goods, Early Consumers in Backcountry Virginia. Johns Hopkins University Press, Baltimore.

Miller, D. (1987). Material Culture and Mass Consumption. Basil Blackwell, Oxford.

Miller, D. (2001). Coca-Cola: a black sweet drink from Trinidad. In Buchli, V., ed., The Material Culture Reader, Berg, New York, pp. 237–264.

Miller, D. (2010). Stuff. Polity, Cambridge.

Morgan, P. and Nicholls, M. (1989). Slaves in piedmont Virginia, 1720–1790. William and Mary Quarterly 4: 211–251.

Noel Hume, I. (1970). A Guide to Artifacts of Colonial America. Knopf, New York.

Rainer, J. (2000). "Commercial Scythians" in the Great Valley of Virginia: Yankee peddlers' trade connections in antebellum Virginia. In Koons, K. and Hofstra, W., eds., After the Backcountry: Rural Life in the Great Valley of Virginia, 1800–1900, University of Tennessee Press, Knoxville, pp. 62–73.

Smith, M. (2007). Inconspicuous consumption: non-display goods and identity formation. Journal of Archaeological Method and Theory 14: 412–438.

Smith, H. (2017). Adorned Identities: An Archaeological Perspective on Race and Self-Presentation in 18th-Century Virginia. Doctoral dissertation, University of Tennessee, Knoxville.

Society for the Diffusion of Useful Knowledge (1844). A day at the Birmingham factories. The Penny Magazine of the Society for the Diffusion of Useful Knowledge 13: 465. <https://archive.org/details/ThePennyMagazineOfTheSocietyForTheDiffusionOfUsefulKnowledge>, accessed November 2017.

South, S. (1964). An analysis of the buttons from Brunswick town and fort Fischer. Florida Anthropologist 17: 113–133.

Trickett, M. (2012). "From Can See to Can't See": The Excavation of the Tobacco Barn Quarter at James Madison's Montpelier. Manuscript on file, Montpelier Archaeology Department, Montpelier, VA.

White, C. (2005). American Artifacts of Personal Adornment, 1680–1820: A Guide to Identification and Interpretation. AltaMira, Lanham.
Acknowledgments
I would like to thank Matt Reeves, Allison Bell, Jenn Ogborne, and Beatrix Arendt for providing me access to the collections of artifacts used in this article. I also would like to thank Barbara Heath and the anonymous reviewers who have greatly improved this article with their comments and critiques.
About this article
Cite this article
Schweickart, E.G. Contextualizing the Materiality of Commodities: Using Quantitative Methods to Interpret the Meaning of Variation in the Physical Attributes of Copper-Alloy Buttons. Int J Histor Archaeol 23, 496–512 (2019). https://doi.org/10.1007/s10761-018-0476-z
Keywords
Consumerism

Materiality

Trade

Slavery