Abstract
Comparing archaeological features from the various interventions at Nya Lödöse with incidents recorded in the historical sources from both Nya Lödöse and Gothenburg as points of departure we examine the tension between the idealized and the actual. Such incidences form the groundwork of our discussion regarding the perception, use, and understanding by contemporaries of the urban fabric in the transition from late medieval to early modern city. During this period, we see that despite international events, daily life was often characterized by petty struggles with neighbors and bureaucracy. The form of the town and how the citizens engaged with it is a key aspect of our work. In Nya Lödöse structure created when the town was first laid out locked the city to the past; Gothenburg which was intended to represent a peak of perfection and remaining unchanging proceeded to experience change almost immediately. Many typical features of early modern towns never occurred in Nya Lödöse despite abandonment and resettlement. Conservatism characterizes Nya Lödöse in a time of extreme political uncertainty. On the other hand, Gothenburg seems to be a more outward-looking city from its foundation, welcoming in immigrants from Germany, the Netherlands and the British Isles to become citizens of the city.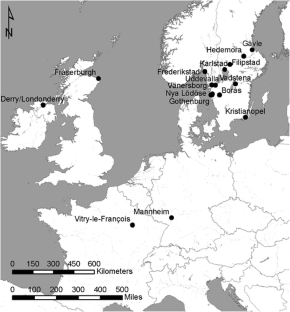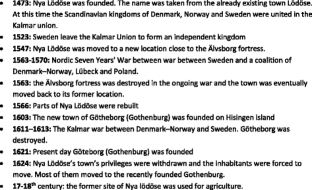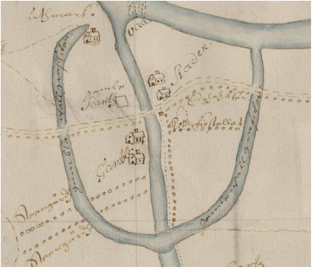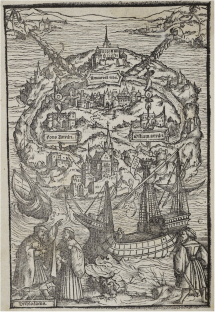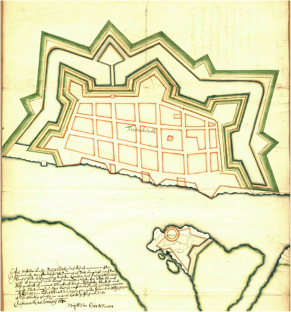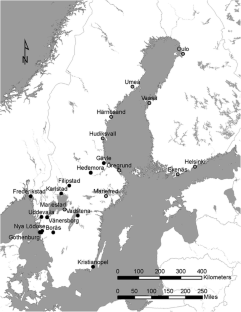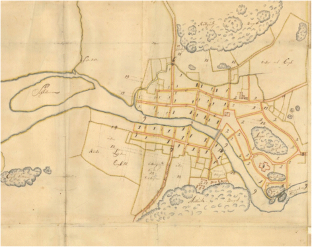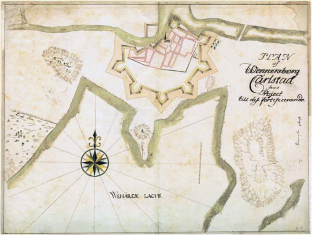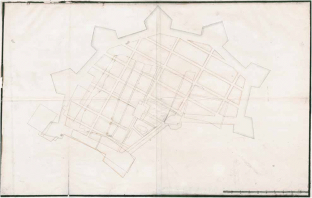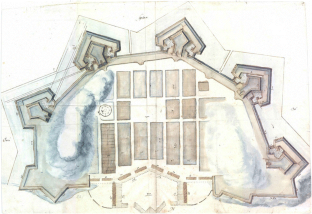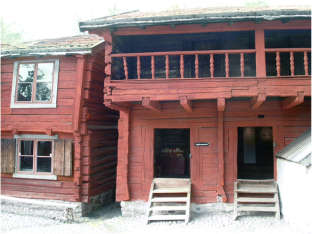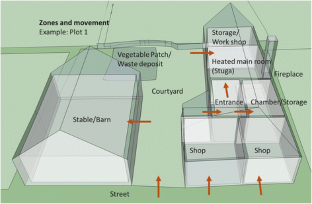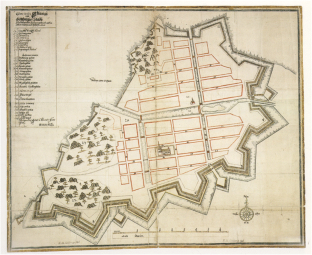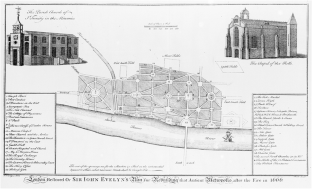 References
Ahlberg, N. (2012). Svensk stadsplanering: arvet från stormaktstiden, resurs i dagens stadsutveckling. Forskningsrådet Formas, 2012:3, Stockholm.

Almquist, H. (1929). Göteborgs historia: grundläggningen och de första hundra åren, vol. 1, Skrifter utgivna till Göteborgs stads trehundraårsjubileum genom jubileumsutställningens publikationskommitté, Gothenburg.

Andrén, A. (1994). State and towns in the Middle Ages: the Scandinavian experience. In Tilly, C. and Blockmans, W. P., (eds.), Cities and the Rise of States in Europe AD 1000 to 1800, Westview, Boulder, CO.

Andrén, A. (1998). Staden: himmel eller helvete: tankar om människan i staden, Informationsförlaget, Stockholm.

Ashton, J. R. (2003). Lives and Livelihoods in Little London: The Story of the British in Gothenburg 1621–2001, Warne, Sävedalen.

Augustsson, J.-E. (1992). Medeltida husbyggande i Sverige. Bebyggelsehistorisk Tidskrift. 1992: 55–85.

Bæckström, A. (1923). Studier i Göteborgs byggnadshistoria före 1814: ett bidrag till svensk stadsbyggnadshistoria, Utvidgad uppl. Vol. 2, Svensk byggnadskultur. Nordiska museet, Stockholm.

Ballon, H., and Friedman, D. (2007). Portraying the City in Early Modern Europe: Measurement, Representation, and Planning, University of Chicago Press, Chicago.

Bengtsson Rylander, L. (2013). Rum för möten. Offentliga rum i tidigmoderna städer. Arkeologiska och historiska ingångar. Göteborgs universitet, Gothenburg.

Blair, J. (2013). Grid-Planning in Anglo-Saxon Settlements: The Short Perch and the Four-Perch Module, Oxford University School of Archaeology, Oxford.

Bourdieu, P. (1977). Outline of a Theory of Practice, Cambridge Univ. Press, Cambridge.

Camerota, F. (2006). Teaching Euclid in a practical context: linear perspective and practical geometry. Science and Education 15(2): 323–334.

Dahl, O. (2016). Göteborgs tomtägare 1637-1807. http://www.gbgtomter.se/. Accessed January 4.

De Vries, J. (1984). European Urbanization, 1500–1800, Methuen, London.

Deetz, J. (1977). In Small Things Forgotten: The Archaeology of Early American Life. Anchor, Garden City, NY.

Eco, U. (1995). The Search for the Perfect Language, Blackwell, Oxford.

Eliassen, F-E. (forthcoming). New Towns, Small Towns, Lesser Towns in Late Medieval and Early Modern Europe. Urban Variation- Utopia, Planning and Practise. Gothenburg University, Gothenburg.

Ersgård, L., ed. (2013). Visioner och verklighet. Arkeologiska texter om den tidigmoderna staden.. The Early Modern Town No. 1. Arkeologiska skrifter, GOTARC Serie C Vol. 76. Institutionen för Historiska Studier, Göteborgs universitet, Gothenburg.

Fleming, J. V. (2013). The Dark Side of the Enlightenment: Wizards, Alchemists, and Spiritual Seekers in the Age of Enlightenment, W.W. Norton, New York.

Giddens, A. (1984). The Constitution of Society: Outline of the Theory of Structuration, University of California Press, Berkeley.

Grauers, S. (1923). Nya Lödöse Tänkeböcker 1586–1621. Skrifter Utgivna till Göteborgs Stads Trehundraårsjubileum, vol. VI, Göteborgs Jubileumspublikationer, Gothenburg.

Gustafsson, J. H., and Ehn, O., eds. (1984). Kransen: ett medeltida kvarter i Uppsala. Upplands fornminnesförenings tidskrift 50, Uppsala.

Hansen, G. (2005). Bergen c 800- c 1170: The Emergence of a Town, Vol. 6, The Bryggen Papers, Fagbokforlaget, Bergen.

Hanson, J. (1998). Decoding Homes and Houses, Cambridge University Press, Cambridge.

Harlitz, E. (2010). Urbana system och riksbildning i Skandinavien: en studie av Lödöses uppgång och fall ca 1050–1646. In Institutionen för historiska studier, Göteborgs universitet, Gothenburg.

Hill, C. (1972). The World Turned Upside Down Radical Ideas During the English Revolution, Pelican, Harmondsworth.

Hillier, B. (1984). The Social Logic of Space, Cambridge University Press, Cambridge.

Hodges, R. (1989). Dark Age Economics: The Origins of Towns and Trade AD, 500–1000, Duckworth, London.

Holmbäck, Å., and Wessén, E. (1966). Magnus Erikssons stadslag, vol. 7. Skrifter utgivna av Institutet för rättshistorisk forskning, grundat av Gustav och Carin Olin. Serien 1, Rättshistoriskt bibliotek, Stockholm.

Holt, R., and Baker, W. (2001). Towards a geography of sexual encounters: prostitution in English medieval towns. In Bevan, L. (ed.) Indecent Exposure: Sexuality, Society and the Archaeological Record, Cruithne Press, Glasgow.

Johnson, M. H. (1993). Housing Culture: Traditional Architecture in an English Landscape, University College London Press, London.

Johnson, M. H. (1996). An Archaeology of Capitalism, Blackwell, Oxford.

Jørgensen, D., Jørgensen, F. A., and Pritchard, S. B., (ed.) (2013). New Natures: Joining Environmental History with Science and Technology Studies, University of Pittsburgh Press, Pittsburgh.

Kempe, A. (1688). Die Sprachen des Paradises, das ist, gegebene Anleitung der Natur, zuerkennen, was vor Sprachen im ersten Anfange der Welt, im Paradeis, absonderlich beym Fall Adams und Eve seynd geredet worden. In einer Rede, von etlichen hochgelehrten Persohnen, in ein Vonvent vorgehabt, und mit ihrer sämtlichen Vergnügung ausgeführet. Zusammen geshrieben von Simon Simplex, anno mundi 5901. Anno Christi 1688. Ausz dem Schwedischen im Teutschen übersetzet von Albrecht Kopman. Gedruckt im itzigen Jahr.

Larsson, S., ed. (2006). Nya stadsarkeologiska horisonter, Riksantikvarieämbetet, Stockholm.

Legnér, M., Lilja, S., and Jørgensen, D., ed. (2010). Living Cities: An Anthology in Urban Environmental History, Formas, Stockholm.

Magnusson, B., and Nordin, J. (2015). Drömmen om stormakten: Erik Dahlberghs Sverige, Medström, Stockholm.

McRae, A. (1993). To know one's own: estate surveying and the representation of the land in early modern England. Huntington Library Quarterly 56(4): 332.

Nilsen, A. (2013). En jämförande studie av stadsrummet i Uppsala, Jönköping och Karlstad under medeltid-tidigmodern tid med utgångspunkt i arkeologiska undersökningar från åren 1998–2010. In Ersgård, L., eds., Visioner och verklighet. Arkeologiska texter om den tidigmoderna staden. The Early Modern Town No. 1. Arkeologiska skrifter, GOTARC Serie C Vol. 76. Institutionen för Historiska Studier, Göteborgs universitet, Gothenburg.

Oram, R. D. (2011). Waste management and peri-urban agriculture in the early modern Scottish burgh. Agricultural History Review 59(1): 1–17.

Primdahl, J., Andersen, E., Swaffield, S., and Kristensen, L. (2013). Intersecting dynamics of agricultural structural change and urbanisation within European rural landscapes: change patterns and policy Implications. Landscape Research 38(6): 799–817.

Rosén, C. (2004). Stadsbor och bönder: materiell kultur och social status i Halland från medeltid till 1700-tal, Lund studies in medieval archaeology 35, Riksantikvarieämbetet, Mölndal/Stockholm.

Rudbeck, O. (1679). Atlantica sive Manheim vera Japheti posterorum sedes ac patria, ... editio secunda multis in locis emendata & aucta. Editio secunda multis in locis emendata & aucta. Upsalæ excudit Henricus Curio S. R. M. & Academiæ Upsala bibliopola.

Sartre, J. P. (1960). Critique de La Raison Dialectique: (Précédé de Questions de Méthode), Bibliothèque Des Idées, Gallimard, Paris.

Seppänen, L. (2012). Lost but Found Underground: Construction, Development and Maintenance of Medieval Streets and Squares of Turku (Finland). Proceedings of the 16th International Conference on Cultural Heritage and New Technologies. Vienna, Austria 2011, Museen der Stadt Wien, Vienna.

Stibéus, M. (2014). Slaktarens kaj, apotekarens trädgård och fällberedarens gård: arkeologi på tre gårdar i 1600- och 1700-talens Jönköping. In Riksantikvarieämbetet, Linköping, Arkeologiska uppdragsverksamheten.

Strömbom, S. (1924). Forskningar på platsen för det forna Nya Lödöse (1915–1918): stadskrönika, grävningsberättelse, fyndkatalog. Skrifter utgivna till Göteborgs stads trehundraårsjubileum genom jubileumsutställningens publikationskommitté 5, Gothenburg.

Winthrop, J. (1838 [1630]). A Modell of Christian Charity. Collections of the Massachusetts Historical Society (1838), Boston.
About this article
Cite this article
Öbrink, M., Williams, G. & Nilsen, A. Townscapes: Utopia and Practice in a Thematic Comparison of Nya Lödöse and Gothenburg. Int J Histor Archaeol 22, 274–301 (2018). https://doi.org/10.1007/s10761-017-0423-4
Keywords
Early modern period

Urban culture

Town planning

Sweden