Abstract
The purpose of this research was to characterize the curation activity of preservice teachers practicing digital curation by constructing "knowledge exhibitions" in an academic course. Our database included 64 knowledge exhibitions on the Scoop.it platform. Factor analysis of curator's activities resulted in 3 factors, contributing 57.63% of the total variance explained: the social factor, the personal content factor and the personal process factor. Narratives of curators' reflections were analyzed using content analysis, resulting in 3 additional categories: relevance, curator activities and products. When combining the qualitative and quantitative categories, a two-dimensional conceptual model was constructed. The model illustrates a taxonomy of components that are included in the curation process, which portrays authentic learning. We conclude that curation contributes to the improvement of students' knowledge and 21st skills as curators. Curation requires personal and social skills, e.g., cognitive and meta-cognitive skills from an individual and social perspective, social skills on social media and affective skills. Hence, while focusing on personal skills in constructing an ontology, curation is also social in nature. Using social curation transforms learning, but surprisingly is uncommon in educational settings, and research is consequently meager. This highlights the need for incorporating curation as authentic learning in teacher training.
Access options
Buy single article
Instant access to the full article PDF.
US$ 39.95
Tax calculation will be finalised during checkout.
Subscribe to journal
Immediate online access to all issues from 2019. Subscription will auto renew annually.
US$ 79
Tax calculation will be finalised during checkout.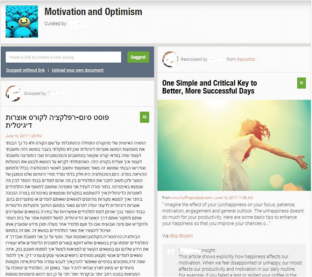 References
Alimisis, D. (2019). Teacher training in educational robotics: The ROBOESL project paradigm. Technology, Knowledge and Learning, 24(2), 279–290.

Antonio, A., Martin, N., & Stagg, A. (2012). Engaging higher education students via digital curation. In, Proceedings of the 29th annual conference of the Australasian society for computers in learning in tertiary education (ASCILITE 2012) (pp. 1–5). Australasian Society for Computers in Learning in Tertiary Education (ASCILITE). Retrieved December, 2018 from http://www.ascilite.org/conferences/Wellington12/2012/images/custom/antonio,_amy_-_engaging.pdf.

Banas, J. R., & York, C. S. (2014). Authentic learning exercises as a means to influence preservice teachers' technology integration self-efficacy and intentions to integrate technology. Australasian Journal of Educational Technology, 30(6), 728–746.

Bell, S. (2010). Project-based learning for the 21st century: Skills for the future. The Clearing House: A Journal of Educational Strategies, Issues and Ideas, 83(2), 39–43.

Chen, C. C., & Huang, T. C. (2012). Learning in a u-Museum: Developing a context-aware ubiquitous learning environment. Computers & Education, 59(3), 873–883.

Clarke, J. L., & Boud, D. (2018). Refocusing portfolio assessment: Curating for feedback and portrayal. Innovations in Education and Teaching International, 55(4), 479–486.

Dabbagh, N., & Kitsantas, A. (2012). Personal learning environments, social media, and self-regulated learning: A natural formula for connecting formal and informal learning. The Internet and Higher Education, 15(1), 3–8.

Deschaine, M. E., & Sharma, S. A. (2015). The five Cs of digital curation: Supporting twenty-first-century teaching and learning. InSight: A journal of scholarly teaching, 10, 19–24.

Ellingwood, B., Yeager, J., Janisch, M., Porter, I., Rufo, K., Scheve, I., et al. (2012). Curating the social graph, or what your friends say about you. The Four Peaks Review, 49(1), 68–86.

Flintoff, K., Mellow, P., & Clark, K. P. (2014). Digital curation: Opportunities for learning, teaching, research and professional development. In Transformative, innovative and engaging: Proceedings of the 23rd annual teaching learning forum. Perth: The University of Western Australia.

Floridi, L. (1995). Internet: Which future for organized knowledge, Frankenstein or Pygmalion. International Journal of Human-Computer Studies, 43, 261–274.

Floridi, L. (2014). The onlife manifesto. In L. Floridi (Ed.), The onlife manifesto: Being human in a hyperconnected era (pp. 7–13). Berlin: Springer.

Frerejean, J., Velthorst, G. J., van Strien, J. L., Kirschner, P. A., & Brand-Gruwel, S. (2019). Embedded instruction to learn information problem solving: Effects of a whole task approach. Computers in Human Behavior, 90, 117–130.

Gadot. (2017). Curation as learning activity. Unpublished doctoral dissertation, Tel Aviv University.

Gadot, R., & Forkosh Baruch, A. (2018). Preservice teachers' practices in social digital curation: Towards authentic learning. In EdMedia + innovate learning conference (pp. 942–949). Amsterdam, Netherlands: Association for the Advancement of Computing in Education (AACE).

Gadot, R., & Levin, I. (2014). Networked learning based on digital curation. In Proceedings of the European conference of social Media (ECSM). Brighton, UK.

Greenstein, L. M. (2012). Assessing 21st century skills: A guide to evaluating mastery and authentic learning. Thousand Oaks, CA: Corwin Press.

Hatlevik, I. K., & Hatlevik, O. E. (2018). Students' evaluation of digital information: The role teachers play and factors that influence variability in teacher behaviour. Computers in Human Behavior, 83, 56–63.

Herrington, J., & Oliver, R. (2000). An instructional design framework for authentic learning environments. Educational Technology Research and Development, 48(3), 23–48.

Herrington, J., Oliver, R., & Reeves, T. C. (2003). Patterns of engagement in authentic online learning environments. Australasian Journal of Educational Technology, 19(1), 59–71.

Hsieh, H. F., & Shannon, S. E. (2005). Three approaches to qualitative content analysis. Qualitative Health Research, 15(9), 1277–1288.

Ifenthaler, D. (2017). Designing effective digital learning environments: Toward learning analytics design. Technology, Knowledge and Learning, 22(3), 401–404.

Johnson, G. (2014). The ecology of interactive learning environments: Situating traditional theory. Interactive Learning Environments, 22(3), 298–308.

Kaplan, A. M., & Haenlein, M. (2016). Higher education and the digital revolution: About MOOCs, SPOCs, social media, and the Cookie Monster. Business Horizons, 59(4), 441–450.

Leeflang, P. S., Verhoef, P. C., Dahlström, P., & Freundt, T. (2014). Challenges and solutions for marketing in a digital era. European Management Journal, 32(1), 1–12.

Lewin, C., Lai, K. W., van Bergen, H., Charania, A., Ntebutse, J. G., Quinn, B., et al. (2018). Integrating academic and everyday learning through technology: Issues and challenges for researchers, policy makers and practitioners. Technology, Knowledge and Learning, 23(3), 391–407.

Llorente, R., & Morant, M. (2015). Crowdsourcing in higher education. In F. J. Garrigos-Simon, I. Gil-Pechuán, & S. Estelles-Miguel (Eds.), Advances in crowdsourcing (pp. 87–95). Cham: Springer.

Mason, R., & Rennie, F. (2007). Using Web 2.0 for learning in the community. The Internet and Higher Education, 10(3), 196–203.

Mioduser, D., Nachmias, R., & Forkosh-Baruch, A. (2008). New literacies for the knowledge society. In J. Voogt & G. Knezek (Eds.), International handbook of information technology in education (pp. 24–42). Berlin: Springer.

Moreillon, J. (2015). Increasing interactivity in the online learning environment: Using digital tools to support students in socially constructed meaning-making. TechTrends, 59(3), 41–47.

Oliver, G., & Harvey, R. (2016). Digital curation (2nd ed.). London: Facet Publishing.

Poole, A. H. (2015). Forging our cultural commonwealth: The importance of digital curation in the digital humanities. Doctoral dissertation, The University of North Carolina at Chapel Hill.

Poole, A. H. (2017). "A greatly unexplored area": Digital curation and innovation in digital humanities. Journal of the Association for Information Science and Technology, 68(7), 1772–1781.

Prestridge, S. (2019). Categorising teachers' use of social media for their professional learning: A self-generating professional learning paradigm. Computers & Education, 129, 143–158.

Reeves, T. C., Herrington, J., & Oliver, R. (2002). Authentic activities and online learning. In A. Goody, J. Herrington, & M. Northcote (Eds.), Quality conversations: Research and development in higher education (Vol. 25, pp. 562–567). Jamison, ACT: HERDSA. Retrieved February, 2019, from http://www.ecu.edu.au/conferences/herdsa/papers/ref/pdf/Reeves.pdf.

Thomas, L., Briggs, P., Kerrigan, F., & Hart, A. (2018). Exploring digital remediation in support of personal reflection. International Journal of Human-Computer Studies, 110, 53–62.

Thompson, G. (2018). Learning personalisation: Technics, disorientation and governance. In A. Wilkins & A. Olmedo (Eds.), Education governance and social theory (pp. 1–16). London: Routledge.

Tour, E. (2017). Teachers' self-initiated professional learning through personal learning networks. Technology, Pedagogy and Education, 26(2), 179–192.

Trust, T., Krutka, D. G., & Carpenter, J. P. (2016). Together we are better": Professional learning networks for teachers. Computers & Education, 102, 15–34.

Tseng, H., Yi, X., & Yeh, H. T. (2018). Learning-related soft skills among online business students in higher education: Grade level and managerial role differences in self-regulation, motivation, and social skill. Computers in Human Behavior. https://doi.org/10.1016/j.chb.2018.11.035.

Twinning, P., Raffaghelli, J., Albion, P., & Knezek, D. (2013). Moving education into the digital age: The contribution of teachers' professional development. Journal of Computer Assisted learning, 29, 426–437.

Ungerer, L. M. (2016). Digital curation as a core competency in current learning and literacy: A higher education perspective. The International Review of Research in Open and Distributed Learning, 17(5), 2–27.

Valtonen, T., Kukkonen, J., Kontkanen, S., Sormunen, K., Dillon, P., & Sointu, E. (2015). The impact of authentic learning experiences with ICT on pre-service teachers' intentions to use ICT for teaching and learning. Computers & Education, 81, 49–58.

Wang, Q. (2009). Design and evaluation of a collaborative learning environment. Computers & Education, 53(4), 1138–1146.

Zamzami, N., & Schiffauerova, A. (2017). The impact of individual collaborative activities on knowledge creation and transmission. Scientometrics, 111(3), 1385–1413.

Zohar, A. (2013). It's not all about test scores: Reviving pedagogical discourse. Tel-Aviv: Sifriat Poalim – Hakibbutz-Hameuchad Ltd. [Hebrew].
Additional information
Publisher's Note
Springer Nature remains neutral with regard to jurisdictional claims in published maps and institutional affiliations.
About this article
Cite this article
Forkosh Baruch, A., Gadot, R. Social Curation Experience: Towards Authentic Learning in Preservice Teacher Training. Tech Know Learn 26, 105–122 (2021). https://doi.org/10.1007/s10758-020-09449-3
Keywords
Social curation

Social media

Authentic learning

Inquiry

Preservice training