Abstract
Individual writing and collaborative writing skills are important for academic success, yet are poorly taught in K-12 classrooms. This study examines how sixth-grade students (n = 257) taught by two teachers used Google Docs to write and exchange feedback. We used longitudinal growth models to analyze a large number of student writing samples (n = 3,537) as they changed across individual writing sessions (n = 18,146), and multiple regression analyses to relate writing quantity and types of feedback to changes in students' standardized test scores. Additionally, student survey data and content analysis of students' writing samples were used to contextualize and interpret students' writing patterns. Overall, students had a positive attitude towards using Google Docs for editing and for the provision and receipt of feedback. They received various types of feedback from both their teachers and peers, but most were direct in character and in the areas of mechanics and grammar errors. However, neither students' writing quantity nor their types of feedback on Google Docs was associated with their writing achievement. Our findings suggest that cloud-based technology could be integrated into K-12 classrooms to support students' writing and editing, and to engage students in collaborative writing and improve interactions between writers and readers.
Access options
Buy single article
Instant access to the full article PDF.
USD 39.95
Price excludes VAT (USA)
Tax calculation will be finalised during checkout.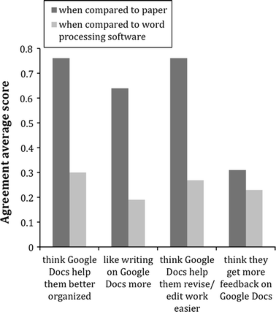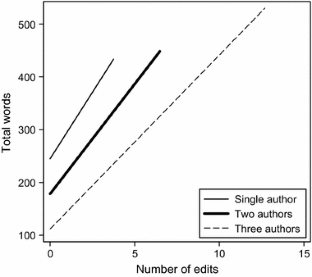 References
Aydin, Z., & Yildiz, S. (2014). Using Wikis to promote collaborative EFL writing. Language Learning & Technology, 18(1), 160–180.

Blau, I., & Caspi, A. (2009). Sharing and collaborating with Google Docs: The influence of psychlogical ownership, responsibility, and students' attitudes on outcome quality. Paper presented at the World conference on E-learning in Corportate, Government, Healthcare, and Higher Education, Vancouver, Canada. http://www.openu.ac.il/research_center/download/Sharing_collaborating_Google_Docs.pdf

Calkins, L. (1994). The art of teaching writing. Portsmouth, NH: Heinemann.

Calvo, R. A., Stephen, T. O. R., Jones, J., Yacef, K., & Reimann, P. (2011). Collaborative writing support tools on the cloud. IEEE Transaction on Learning Technologies, 4(1), 88–97.

Chamberlain, A. B. (2010). Synchronous computer-mediated collaborative writing in the ESL classroom. (Master of Arts), Michigan State University.

Chao, Y.-C. J., & Lo, H.-C. (2009). Students' perceptions of Wiki-based collaborative writing for learners of English as a foreign language. Interactive Learning Environments, 19(4), 395–411. doi:10.1080/10494820903298662.

Chaulk, N. (1994). Comparing teacher and student response to written work. TESOL Quarterly, 28(1), 181–188.

Cho, K., & Cho, M.-H. (2007). Self-awareness in a computer supported collaborative learning environment. In D. Schuler (Ed.), Online communities and social computing (Vol. 4564, pp. 284–291). Berlin: Springer.

Cho, K., & Schunn, C. D. (2007). Scaffolded writing and rewriting in the discipline: A web-based reciprocal peer review system. Computers & Education, 48(3), 409–426.

Colorado Department of Education. (2011a). Automated data exchange documentation: Student data elements and definitions. Retrieved March 15th, 2011, from https://cdeapps.cde.state.co.us/appendix_sodefs.htm

Colorado Department of Education. (2011b). Colorado Student Assessment Program Technical Report 2011. Retrieved June 29, 2012, from http://www.cde.state.co.us/assessment/CoAssess-AdditionalResources.asp

Conner, N. (2008). Google Apps: The missing manual. Sebastopol, CA: O'Reilly Media.

Couture, B., & Rymer, J. (1991). Discourse interaction between writer and supervisor: A primary collaboration in workplace writing. In M. M. Lay & W. M. Karis (Eds.), Collaborative writing in industry: Investigations in theory and practice (pp. 87–108). Amityville, NY: Baywood Publishing Company.

Dalke, A., Cassidy, K., Grobstein, P., & Blank, D. (2007). Emergent pedagogy: Learning to enjoy the uncontrollable—and make it productive. Journal of Educational Change, 8(2), 111–130.

Ede, L. S., & Lunsford, A. A. (1992). Singular Texts/Plural Authors: Perspectives on collaborative writing. Carbondale, IL: Southern Illinois University Press.

Educause Learning Initiative. (2008). 7 things you should know about Google Apps. Retrieved June 10, 2013, from http://net.educause.edu/ir/library/pdf/ELI7035.pdf

Ellis, R. (2009). A typology of written corrective feedback types. ELTJ, 63(2), 97–107.

Elola, I., & Oskoz, A. (2010). Collaborative writing: Fostering foreign language and writing conventions development. Language Learning & Technology, 14(3), 51–71.

Fallahi, C. R., Wood, R. M., Austad, C. S., & Fallahi, H. A. (2006). A program for improving undergraduate psychology students' basic writing skills. Teaching of Psychology, 33(3), 171–175.

Flower, L., & Hayes, J. R. (1981). A cognitive process theory of writing. College Composition and Communication, 32(4), 365–387. doi:10.2307/356600.

Flower, L., Hayes, J., Carey, L., Schriver, K., & Stratman, J. (1986). Detection, diagnosis, and the strategies of revision. College Composition and Communication, 37(1), 16–55.

Ge, Z.-g. (2011). Exploring e-learners' perceptions of net-based peer-reviewed English writing. International Journal of Computer-Supported Collaborative Learning, 6(1), 75–91. doi:10.1007/s11412-010-9103-7.

Geoffrey, A. C. (2001). Forming the collective mind: A contextual exploration of large-scale collaborative writing in industry. New York: Hampton Press.

Godwin-Jones, R. (2003). Blogs and Wikis: Environments for on-line collaboration. Language learning and technology, 7(2), 12–16.

Goldberg, A., Russell, M., & Cook, A. (2003). The effects of computers on student writing: A meta-analysis of studies from 1992 to 2002. The Journal of Technology, Learning, and Assessment, 2(1).

Graham, S., & Herbert, M. A. (2010). Writing to read: Evidence for how writing can improve reading, a Carnegie Corporation time to act report. Washington, DC: Alliance for Excellence Education.

Han, Z. H. (2002). Rethinking the role of corrective feedback in communicative language teaching. RELC Journal, 33(1), 1–34.

Hayes, J. (1996). A new framework for understanding cognition and affect in writing. In C. Levy & S. Ransdell (Eds.), The science of writing: Theories, methods, individual differences and applications (pp. 1–27). New Jersey: Lawrence Erlbaum Associates.

Jago, C. (2001). Cohesive writing: Why concept is not enough. Portsmouth, NJ: Heinemann.

Jones, J. (2008). Patterns of revision in online writing. Written Communication, 25(2), 262–289. doi:10.1177/0741088307312940.

Kessler, G., Bikowski, D., & Boggs, J. (2012). Collaborative writing among second language learners in academic web-based projects. Language Learning & Technology, 16(1), 91–109.

Li, X., Chu, S. K. W., & Ki, W. W. (2014). The effects of a wiki-based collaborative process writing pedagogy on writing ability and attitudes among upper primary school students in Mainland China. Computers & Education, 77, 151–169. doi:10.1016/j.compedu.2014.04.019.

Lindblom-Ylänne, S., & Pihlajamäki, H. (2003). Can a collaborative network environment enhance essay-writing processes? British Journal of Educational Technology, 34(1), 17–30. doi:10.1111/1467-8535.d01-3.

Lund, A., & Smørdal, O. (2006, August). Is there a space for the teacher in Wiki? Paper presented at the 2006 International Symposium on Wikis, Odense, Denmark. http://Wikisym.org/ws2006/proceedings/p37.pdf

Nagelhout, E. (1999). Pre-professional practices in the technical writing classroom: Promoting multiple literacies through research. Technical Communication Quarterly, 8(3), 285–299.

National Center for Education Statistics. (2012). The nation's report card: Writing 2011 (NCES 2012-470). Washington, D.C.: Institute of Education Sciences, U.S. Department of Education.

Oishi, L. (2007). Working together: Google Apps goes to school. Technology & Learning, 27(9), 46–47.

Parker, K. R., & Chao, J. T. (2007). Wiki as a teaching tool. Interdisciplinary Journal of Knowledge and Learning Objects, 3, 57–72.

Pierce, J. L., Kostova, T., & Dirks, K. T. (2003). The state of psychological ownership: Integrating and extending a century of research. Review of General Psychology, 7(1), 84–107.

Robb, T., Ross, S. M., & Shortreed, I. (1986). Salience of feedback on error and its effect on EFL writing quality. TESOL Quarterly, 20(1), 83–95.

Salvatori, M. (1985). The dialogical nature of basic reading and writing. In D. Bartholomae & A. Petrosky (Eds.), Facts, artifacts and counterfacts: Theory and method for a reading and writing course (pp. 137–166). Upper Montclair: NJ: Boynton.

Sheppard, K. (1992). Two feedback types: Do they make a difference? RELC Journal, 23(1), 103–110.

Singer, J. D., & Willett, J. B. (2003). Applied longitudinal data analysis: Modeling change and event occurrence. New York: Oxford University Press.

Storch, N. (2005). Collaborative writing: Product, process, and students' reflections. Journal of Second Language Writing, 14(3), 153–173.

Swain, M. (1995). Three functions of output in second language learning. In G. Cook & B. Seidlhofer (Eds.), Principle and practice in applied linguistics: Studies in honor of H.G. Widdowson (pp. 125–144). Oxford: Oxford University Press.

Tierney, R., & Shanahan, T. (1991). Research on the reading/writing relationship: Interactions, transactions, and outcomes. In P. E. Pearson, M. Barr & P. B. Mosenthal (Eds.), Handbook of Reading Research Volume II (pp. 246-280). New York: Longman.

Vigil, N. A., & Oller, J. W. (1976). Rule fossilization: A tentative model. Language Learning, 26(2), 281–295.

Wang, H.-C. (2009). Weblog-mediated peer editing and some pedagogical recommendations: A case study. The JALT CALL Journal, 5(2), 29–44.

Woo, M., Chu, S., Ho, A., & Li, X. (2011). Using a wiki to scaffold primary-school students' collaborative writing. Educational Technology & Society, 14(1), 43–54.

Yang, M., Badger, R., & Yu, Z. (2006). A comparative study of peer and teacher feedback in a Chinese EFL writing class. Journal of Second Language Writing, 15(3), 179–200.

Yeh, S.-W., Lo, J.-J., & Huang, J.-J. (2011). Scaffolding collaborative technical writing with procedural facilitation and synchronous discussion. International Journal of Computer-Supported Collaborative Learning, 6(3), 397–419. doi:10.1007/s11412-011-9117-9.

Zhang, S. (2008). Assessing the impact of peer revision on English writing of tertiary EFL learners. Teaching English in China, 31(2), 47–54.
Acknowledgments
Funding for this study was provided by a Google Faculty Research Award (Mark Warschauer, PI).
Appendix: Laptops and Learning—Collaborative Writing Survey
Appendix: Laptops and Learning—Collaborative Writing Survey
1.

What grade are you in?

6th grade

7th grade

8th grade

2.

Which school do you go to?

Newton

Euclid

Powell

Goddard

3.

Your gender

4.

How many computers are there in your house?

5.

How would you rate your skill using computers?

Novice: I can turn my laptop on, but I don't know how to use many programs.

Beginner: I am able to do a few simple things like browsing the Internet and some writing.

Intermediate: I do OK with 4 or 5 programs.

Advanced: I use lots of programs and sometimes help my classmates.

Expert: I'm often able to help others with their laptops, and generally fix computer problems quickly.

6.

How much do you use your computer at school?

Never

Less than 1 h a day

1–2 h a day

2–3 h a day

3–4 h a day

4–5 h a day

5–6 h a day

7.

How much do you use your computer for each of these subjects at school?

|   | I do not take this class | Less than an hour per week | 1–2 h per week | 3–4 h per week | 5–6 h per week | 7 or more hours per week |
| --- | --- | --- | --- | --- | --- | --- |
| English language arts (includes reading, writing, spelling, language) |   |   |   |   |   |   |
| Social studies/history |   |   |   |   |   |   |
| Math |   |   |   |   |   |   |
| Science |   |   |   |   |   |   |
| Writing papers (total writing time for any subject) |   |   |   |   |   |   |

8.

How much do you use the following Google products AT SCHOOL?

|   | Never | Less than once a week | Weekly | A few times a week | Less than 1 h a day | 1–2 h a day | More than 2 h a day |
| --- | --- | --- | --- | --- | --- | --- | --- |
| Gmail |   |   |   |   |   |   |   |
| Google Docs |   |   |   |   |   |   |   |
| Google Sites |   |   |   |   |   |   |   |
| Google Talk |   |   |   |   |   |   |   |
| Google Calendar |   |   |   |   |   |   |   |
| Google Reader |   |   |   |   |   |   |   |
| Google Video |   |   |   |   |   |   |   |
| Google Maps |   |   |   |   |   |   |   |
| EasyBib |   |   |   |   |   |   |   |
| Aviary |   |   |   |   |   |   |   |

9.

How much do you use the following Google products AT HOME?

|   | Never | Less than once a week | Weekly | A few times a week | Less than 1 h a day | 1–2 h a day | More than 2 h a day |
| --- | --- | --- | --- | --- | --- | --- | --- |
| Gmail |   |   |   |   |   |   |   |
| Google Docs |   |   |   |   |   |   |   |
| Google Sites |   |   |   |   |   |   |   |
| Google Talk |   |   |   |   |   |   |   |
| Google Calendar |   |   |   |   |   |   |   |
| Google Reader |   |   |   |   |   |   |   |
| Google Video |   |   |   |   |   |   |   |
| Google Maps |   |   |   |   |   |   |   |
| EasyBib |   |   |   |   |   |   |   |
| Aviary |   |   |   |   |   |   |   |

10.

How much do you usually use Google Docs AT SCHOOL to do the following?

|   | Never | Less than once a week | Once a week | A few times a week | Less than 1 h a day | 1–2 h a day | More than 2 h a day |
| --- | --- | --- | --- | --- | --- | --- | --- |
| Take notes |   |   |   |   |   |   |   |
| Write drafts as the only author |   |   |   |   |   |   |   |
| Write drafts that have two or more authors |   |   |   |   |   |   |   |
| Revise or edit something you have written |   |   |   |   |   |   |   |
| Give comments on other students' writing |   |   |   |   |   |   |   |
| Fill in teacher templates during class activities |   |   |   |   |   |   |   |
| Chat with others in Google Docs |   |   |   |   |   |   |   |
| Make or work on spreadsheets |   |   |   |   |   |   |   |
| Make presentation slides |   |   |   |   |   |   |   |

11.

How much do you usually use Google Docs AT HOME to do the following?

|   | Never | Less than once a week | Once a week | A few times a week | Less than 1 h a day | 1–2 h a day | More than 2 h a day |
| --- | --- | --- | --- | --- | --- | --- | --- |
| Write drafts as the only author |   |   |   |   |   |   |   |
| Write drafts that have two or more authors |   |   |   |   |   |   |   |
| Revise or edit something you have written |   |   |   |   |   |   |   |
| Revise or edit other students' writing |   |   |   |   |   |   |   |
| Give comments on other students' writing |   |   |   |   |   |   |   |
| Chat with others in Google Docs |   |   |   |   |   |   |   |
| Make or work on spreadsheets |   |   |   |   |   |   |   |
| Make presentation slides |   |   |   |   |   |   |   |

12.

Comparing writing with Google Docs to WRITING ON PAPER, please indicate how much you agree or disagree with the following statements about use of Google Docs?

|   | Strongly disagree | Disagree | Neutral | Agree | Strongly agree |
| --- | --- | --- | --- | --- | --- |
| Using Google Docs helps me keep better organized than using paper |   |   |   |   |   |
| I like writing on Google Docs more than writing on paper |   |   |   |   |   |
| It's easier for me to revise/edit my work on Google Docs than on paper |   |   |   |   |   |
| I write higher quality drafts on Google Docs than on paper |   |   |   |   |   |
| I get more feedback on my writing when I write on Google Docs than on paper |   |   |   |   |   |

13.

Comparing writing with Google Docs to WRITING ON WORD PROCESSING SOFTWARE (Open Office, Microsoft Word, etc.), please indicate how much you agree or disagree with the following statements about use of Google Docs?

|   | Strongly disagree | Disagree | Neutral | Agree | Strongly agree |
| --- | --- | --- | --- | --- | --- |
| Using Google Docs helps me keep better organized than using a word processor |   |   |   |   |   |
| I like writing on Google Docs more than writing on a word processor |   |   |   |   |   |
| It's easier for me to revise/edit my work on Google Docs than on a word processor |   |   |   |   |   |
| I write higher quality drafts on Google Docs than on a word processor |   |   |   |   |   |
| I get more feedback on my writing when I write on Google Docs than on a word processor |   |   |   |   |   |

14.

Please indicate how much you agree or disagree with the following statements about writing?

|   | Strongly disagree | Disagree | Neutral | Agree | Strongly agree |
| --- | --- | --- | --- | --- | --- |
| I like writing for a real audience |   |   |   |   |   |
| Writing for a real audience helps improve my writing |   |   |   |   |   |
| I like getting feedback on my writing |   |   |   |   |   |
| Getting feedback helps improve my writing |   |   |   |   |   |
| I like giving others feedback on their writing |   |   |   |   |   |
| Giving feedback to others helps me improve my writing |   |   |   |   |   |
| I like writing with multiple authors |   |   |   |   |   |
| Working with multiple authors helps improve my writing |   |   |   |   |   |

15.

Please describe what you like most about Google Docs:

16.

Please indicate any challenges you have experienced with Google Docs:

17.

Please include any other comments or suggestions regarding use of Google Docs:
About this article
Cite this article
Zheng, B., Lawrence, J., Warschauer, M. et al. Middle School Students' Writing and Feedback in a Cloud-Based Classroom Environment. Tech Know Learn 20, 201–229 (2015). https://doi.org/10.1007/s10758-014-9239-z
Published:

Issue Date:

DOI: https://doi.org/10.1007/s10758-014-9239-z
Keywords