Abstract
Personal mobility is a mundane characteristic of daily life. However, mobility is rarely considered an opportunity for learning in the learning sciences, and is almost never leveraged as relevant, experiential material for teaching. This article describes a social design experiment for spatial justice that focused on changes in the personal mobility of six non-driving, African-American teenagers, who participated in an afterschool bicycle building and riding workshop located in a mid-south city. Our study was designed to teach spatial literacy practices essential for counter-mapping—a discursive practice in which youth used tools similar to those of professional planners to "take place" in the future of their neighborhoods. Using conversation and multimodal discourse analyses with video records, GPS track data, and interactive maps authored by youth, we show how participants in our study had new experiences of mobility in the city, developed technically-articulate criticisms of the built environment in their neighborhoods, and imagined new forms of mobility and activity for the future.
This is a preview of subscription content, log in to check access.
Access options
Buy single article
Instant access to the full article PDF.
US$ 39.95
Price includes VAT for USA
Subscribe to journal
Immediate online access to all issues from 2019. Subscription will auto renew annually.
US$ 99
This is the net price. Taxes to be calculated in checkout.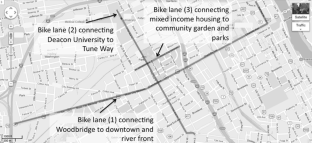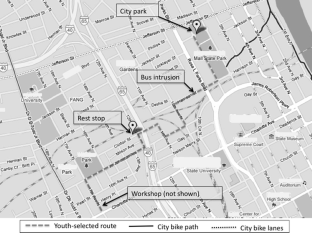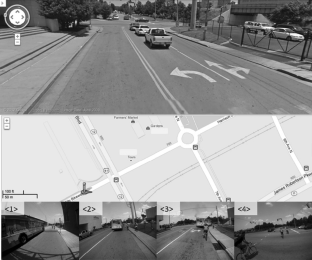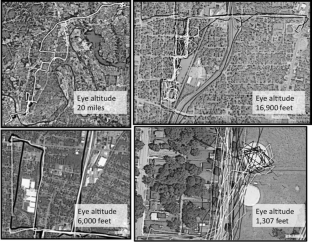 Notes
1.

Woodbridge is a pseudonym for neighborhoods near the center of the city where our study took place. We use pseudonyms for participants, organizations, and named places in transcripts and map images in this article.

2.

Study participants used "My Places" and "Collaborate" functions in Google Maps™ to author and compose together "desire layers." They titled the composite map, "SupaaQuery Park," in a symbolic renaming that reclaimed a neighborhood park for youth activity.Query

3.

Our figures are simplified versions of interactive maps used by study participants. We simplified maps in use to make images readable in print.

4.

Turns at talk are numbered for identified speakers. Continuous speech at turn boundaries is shown with = equal signs, while onset of [overlapping talk is shown with left brackets. EMPHATIC talk is shown in caps, and elong:::ated enunciation is shown with repeated colons. ((Activity descriptions)) appear within double parentheses and in italics, and > comparatively quick speech < appears in angle brackets.

5.

One meaning of "ground truthing" arises from remote sensing, where data gathered remotely (e.g., reflected light captured by satellite) are compared with independent sources of information about features known to exist on the ground. A more critical meaning of the term (Kwan 2004; Pickle 1995) questions whether maps or GIS technologies ever represent more (or less) than the interests of their makers. Our use draws on both meanings—we assume youth have legitimate experience "on the ground" in their neighborhoods, but in counter- mapping activities, we encourage them to question what is (or could be) depicted in conventional, map-like representations.

6.

Our study protocol, signed by all participants and their parents or guardians, clearly ruled out this possibility.
References
Cobb, P., Confrey, J., Disessa, A., Lehrer, R., & Schauble, L. (2003). Design experiments in educational research. Educational Researcher, 32(1), 9.

Cole, M., & Griffin, P. (1983). A socio-historical approach to re-mediation. Quarterly Newsletter of the Laboratory of Comparative Human Cognition, 5(4), 69–74.

Dennis, S. F. (2006). Prospects for qualitative GIS at the intersection of youth development and participatory urban planning. Environment and Planning A, 38(11), 2039–2054.

Derry, S. J., Pea, R., Barron, B., Engle, R., Erickson, F., Goldman, R., et al. (2010). Conducting video research in the learning sciences: Guidance on selection, analysis, technology, and ethics. Journal of the Learning Sciences, 19, 1–51.

Gutierrez, K., & Vossoughi, S. (2010). Lifting off the ground to return anew: Mediated praxis, transformative learning, and social design experiments. Journal of Teacher Education, 61(1–2), 100–117.

Hägerstrand, T. (1970). What about people in regional science? Papers in Regional Science, 24(1), 6–21.

Hall, R. & Greeno, J. G. (2008). Conceptual learning. In T. Good (Ed.), 21st Century Education: A Reference Handbook, (pp. 212–221). Sage. 

Hall, R. & Leander, K. M. (2010). Comparative analyses of spatial thinking in diverse professional practices. Paper presented at the American Educational Research Association Annual Meeting, Denver.

Harding, S. (1993). Rethinking standpoint epistemology: What is "strong objectivity"? In L. Alcoff & E. Potter (Eds.), Feminist epistemologies (pp. 49–82). New York: Routledge.

Hart, R. (1977). Children's experience of place. New York, NY: Irvington.

Harvey, D. (2008). The right to the city. The New Left Review, 53, 23–40.

Holloway, S. L., & Valentine, G. (Eds.). (2000). Children's geographies: Playing, living, learning. New York, NY: Routledge.

Jordan, B., & Henderson, A. (1995). Interaction analysis: Foundations and practice. The Journal of the Learning Sciences, 4(1), 39–103.

Karsten, L. (2005). It all used to be better? Different generations on continuity and change in urban children's daily use of space. Children's Geographies, 3, 275–290.

Kingston, R. (2007). Public participation in local policy decision-making: The role of web-based mapping. The Cartographic Journal, 4(2), 138–144.

Kwan, M. (2004). Beyond difference: From canonical geography to hybrid geographies. Annals of the Association of American Geographers, 94(4), 756–763.

Labov, W. (1972). The transformation of experience in narrative syntax. In W. Labov (Ed.), Language in the inner city (pp. 354–396). Philadelphia, PA: University of Philadelphia Press.

Lauriault, T. P., & Wood, J. (2009). GPS tracings—Personal cartographies. The Cartographic Journal, 46(4), 360–365.

Leander, K. M., Phillips, N. C., & Taylor, K. H. (2010). The changing social spaces of learning: Mapping new mobilities. Review of Research in Education, 34, 329–394.

Lee, V. R., & DuMont, M. (2010). An exploration into how physical activity data-recording devices could be used in computer-supported data investigations. International Journal of Computers for Mathematical Learning, 15(3), 167–189. doi:10/1007/s10758-010-9172-8.

Lefebvre, H. (1996). Writings on Cities (E. Kofman & E. Lebas, Trans.). Malden, MA: Blackwell Publishers.

Middleton, D., & Edwards, D. (1990). Collective remembering: Inquiries in social construction. Thousand Oaks, CA: Sage Publications.

Moje, E. B., Ciechanowski, K. M., Kramer, K., Ellis, L., Carillo, R., & Collazo, T. (2004). Working toward third space in content area literacy: An examination of everyday funds of knowledge and discourse. Reading Research Quarterly, 39, 38–70.

National Research Council. (2006). Learning to think spatially. Washington, D.C.: The National Academies Press.

Norris, S. (2004). Analyzing multimodal interaction: A methodological framework. New York, NY: Routledge.

Peluso, N. L. (2005). Whose woods are these? Counter-mapping forest territories in Kalimantan, Indonesia. In M. Edelman (Ed.), The anthropology of development and globalization: From classical political economy to contemporary neoliberalism (pp. 273–281). New York, NY: Wiley-Blackwell.

Pickle, J. (Ed.). (1995). Ground truth: The social implications of geographic information systems. New York, NY: Guilford Press.

Sanoff, H. (2000). Community participation methods in design and planning. New York: John Wiley & Sons.

Santo, C. A., Ferguson, N., & Trippel, A. (2010). Engaging urban youth through technology: The youth neighborhood mapping initiative. Journal of Planning Education and Research, 30(1), 52–65.

Schegloff, E. (1992). Repair after next turn: The last structurally provided defense of intersubjectivity in conversation. American Journal of Sociology, 97(5), 1295–1345.

Soja, E. (2010). Seeking spatial justice. Minneapolis, MN: University of Minnesota Press.

Streeck, J., Goodwin, C., & Lebaron, C. (Eds.). (2011). Multimodality and human activity: Research on human behavior. New York, NY: Cambridge University Press.

Taylor, K.H. & Hall, R. (2011, February). Forming publics: Negotiating what develops at the interface of participatory planning. Paper presented at the 32nd Annual Ethnography in Education Research Forum, University of Pennsylvania.

Wood, D., Fels, J., & Krygier, J. (2010). Rethinking the power of maps. New York, NY: Guilford Press.
Acknowledgments
This research was funded by the National Science Foundation (DRL-0816406). We thank members of the Spatial Learning and Mobility group at Vanderbilt University for help with design and analysis—Tyler Hollett, Jennifer Kahn, Kevin Leander, Jasmine Ma, Jillian Oury, Nathan Phillips, and Karen Wieckert. We also thank David Uttal, who provided reactions to the study and our arguments as an advisor to the grant. City planners generously allowed us to study their work, and we thank them both for their time and intellectual support during the design study. We are deeply indebted to the director and adult volunteers of the Workshop, and most importantly to the teens, their parents, and other adult relatives who participated in this study. Finally, we thank Victor Lee and two anonymous reviewers for critical but very helpful advice on our analysis and arguments.
About this article
Cite this article
Taylor, K.H., Hall, R. Counter-Mapping the Neighborhood on Bicycles: Mobilizing Youth to Reimagine the City. Tech Know Learn 18, 65–93 (2013). https://doi.org/10.1007/s10758-013-9201-5
Keywords
Mobility

Youth

Urban neighborhoods

Spatial literacy

Counter-mapping

Bicycles

Geospatial technology

Social design experiment for spatial justice

Thirdspace

Ground truth

Analysis of personal time geography

Desire layers