Abstract
The purpose of this study was to determine if using student recorded PechaKucha™ 20 × 20 presentations as an assignment in an online classroom yielded equivalent student learning compared to a similar written assignment. Twenty-one (15 women and 6 men) online graduate students participated in a mixed-method study using online surveys with a quasi-experimental design. While it was determined that student learning was similar regardless of assignment type (t(20) = 1.481, p = .154), the study revealed benefits of using recorded PechaKucha presentations, including increased content engagement and increased student enjoyment.
Access options
Buy single article
Instant access to the full article PDF.
US$ 39.95
Tax calculation will be finalised during checkout.
Subscribe to journal
Immediate online access to all issues from 2019. Subscription will auto renew annually.
US$ 79
Tax calculation will be finalised during checkout.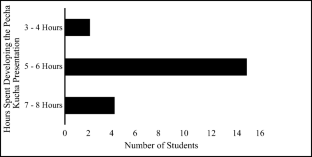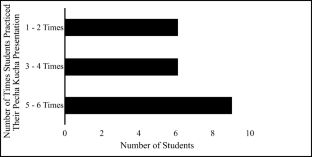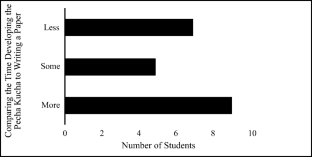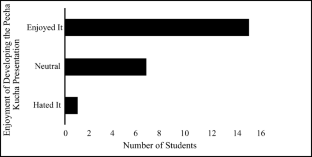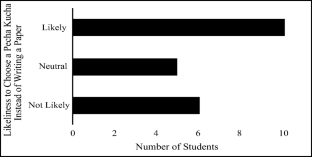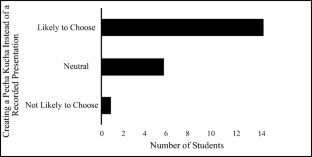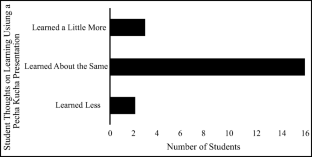 Notes
1.

This term is abbreviated as PechaKucha throughout this article.

2.
References
Anderson, J. S., & Williams, S. K. (2013). Pecha Kucha for lean and sticky presentations in business classes. Journal of the Academy of Business Education, 14, 96–109.

Beyer, A., Gaze, C., & Lazicki, J. (2013). Comparing students' evaluations and recall for student Pecha Kucha and PowerPoint presentations. Journal of Teaching and Learning with Technology, 1, 26–42. Retrieved from https://scholarworks.iu.edu/journals/index.php/jotlt/article/view/3109

Beyer, A. M. (2011). Improving student presentations: Pecha Kucha and just plain Powerpoint. Teaching of Psychology, 38(2), 122–126. https://doi.org/10.1177/0098628311401588

Braun, A. (2017). Comparative Evaluation of Online and In-Class Student Team Presentations. Journal of University Teaching & Learning Practice, 14(3), 1–21

Byrne, M. M. (2016). Presentation innovations: Using Pecha Kucha in nursing education. Teaching and Learning in Nursing, 11, 20–22. https://doi.org/10.1016/j.teln.2015.10.002

Carroll, A. J., Tchangalova, N., & Harrington, E. G. (2016). Flipping one-shot library instruction: Using canvas and Pecha Kucha for peer teaching. Journal of the Medical Library Association, 104(2), 125–130. https://doi.org/10.5195/jmla.2016.58

Coskun, A. (2017). The effect of Pecha Kucha presentations on students' English public speaking anxiety. Issues in Teachers' Professional Development, 19(Suppl. 1), 11–22. https://doi.org/10.15446/profile.v19n_sup1.68495

Flocker, M. (2006). Death by PowerPoint. Cambridge: DaCapo Press

Gaskins, R. (2007). PowerPoint at 20: Back to basics. Communications of the ACM, 50(12), 15–17. https://doi.org/10.1145/1323688.1323710

Gries, L. E. & Brooke, C. G. (2010). An inconvenient tool: Rethinking the role of slideware in the writing classroom. Composition Studies, 38(1), 11–28.

Hayashi, P. M. J., & Holland, S. J. (2017). Pecha Kucha: Transforming student presentations. In P. Clements, A. Krause, & H. Brown (Eds.), Transformation in language education (pp. 307–313). Tokyo: Japan Association for Language Teaching.

Hirst, N. (2016). Using Pecha Kucha as formative assessment in two undergraduate modules.(re)conceptualizing "the right lines". Practitioner Research in Higher Education Journal, 10, 140–155.

Kenkel, C. S. (2011). Teaching presentation skills in online business communication courses. MERLOT Journal of Online Learning and Teaching, 7(3), 412–418.

Klentzin, J. C., Paladino, E. B., Johnston, B., & Devine, C. (2010). Pecha Kucha: Using "lightning talk" in university instruction. Reference Services Review, 38(1), 158–167. https://doi.org/10.1108/00907321011020798

McDonald, R. E., & Derby, J. M. (Spring, 2015). Active learning to improve presentation skills: The use of Pecha Kucha undergraduate sales management classes. Marketing Education Review, 25(1), 21–25. https://doi.org/10.1080/10528008.2015.999593

Murugaiah, P. (2016). Pecha Kucha style Powerpoint presentation: An innovation call approach to developing oral presentation skills of tertiary students. Teaching English with Technology, 16, 88–104.

National Athletic Trainers' Association (2019). Athletic Training. Retrieved from https://www.nata.org/about/athletic-training

Oliver, J., & Kowalczyk, C. (2013). Improving student group marketing presentations: A modified Pecha Kucha approach. Marketing Education Review, 23(1), 55–58. https://doi.org/10.2753/MER1052-8008230109

Parker, I. (2001). Absolute PowerPoint. The New Yorker, 77(13), 76–87. Retrieved from https://www.newyorker.com/magazine/2001/05/28/absolute-powerpoint

Sun, A., & Chen, X. (2016). Online education and its effective practice: A research review. Journal of Information Technology Education: Research, 15, 157–190. Retrieved from http://www.informingscience.org/Publications/3502

Thomas, J. R., Nelson, J. K., & Silverman, S. J. (2015). Research methods in physical activity (7th ed.) Champaign, IL: Human kinetics.

U.S. Department of Education, National Center for Education Statistics (2018). Fast Facts. Retrieved from https://nces.ed.gov/fastfacts/display.asp?id=80
Additional information
Publisher's Note
Springer Nature remains neutral with regard to jurisdictional claims in published maps and institutional affiliations.
Appendix
Appendix
About this article
Cite this article
Ave, J.S., Beasley, D. & Brogan, A. A Comparative Investigation of Student Learning through PechaKucha Presentations in Online Higher Education. Innov High Educ 45, 373–386 (2020). https://doi.org/10.1007/s10755-020-09507-9
Keywords
PechaKucha presentations

Online education

Student learning

Higher education