Abstract
A new online program, The Student Resilience Project (https://strong.fsu.edu), explores how institutions can effectively communicate health and resilience information to students. We investigated one key element of a pilot version of this program, specifically its use of video-based "restorative narratives," which depict college students overcoming adversity using institutional resources. We proposed a theoretical model, which is supported by data from a survey completed by undergraduate students (n = 229) who viewed the videos. Results suggest that perceptions of restorative narratives can directly predict students' behavioral intentions, including their intention to seek resources and to share content with other students. Perceptions of restorative narratives also influenced behavioral intentions indirectly via their influence on meaningful affect and outcome expectations, including the belief that advice and resources would help them and others. Based on the model, we offer evidence-based suggestions for web-based prevention programs.
Access options
Buy single article
Instant access to the full article PDF.
US$ 39.95
Tax calculation will be finalised during checkout.
Subscribe to journal
Immediate online access to all issues from 2019. Subscription will auto renew annually.
US$ 79
Tax calculation will be finalised during checkout.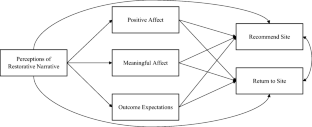 Notes
1.

The broad measure of affect here was employed mainly due to the need for brevity in measuring emotional responses to the messages (in order to limit participant fatigue and increase questionnaire completion rates) and to replicate the measure used in a previous study in order to facilitate comparison of effects across studies in this newer area of inquiry (restorative narrative). There is some debate about the validity of using a broader measure of an affective feeling state such as this one vs. using multi-item measures of discrete emotions (e.g., four-item measures of happiness, three-item measures of hope) when assessing responses to mediated messages. However, many scholars recognize the human tendency to categorize events or stimuli broadly along a continuum of negative to positive valence and suggest that such categorization can generally indicate a desire to avoid or approach that stimulus (Bolls, 2010), such as returning to a web site.
References
Algoe, S. B., & Haidt, J. (2009). Witnessing excellence in action: The "other-praising" emotions of elevation, gratitude, and admiration. The Journal of Positive Psychology, 4, 105–127.

Aquino, K., McFerran, B., & Laven, M. (2011). Moral identity and the experience of moral elevation in response to acts of uncommon goodness. Journal of Personality & Social Psychology, 100, 703–718. https://doi.org/10.1037/a0022540

Armitage, C. J., & Conner, M. (2001). Efficacy of the theory of planned behaviour: A meta-analytic review. British Journal of Social Psychology, 40, 471–499.

Atkin, C., & Rice, R. (2013). Theory and principles of public communication campaigns. In R. Rice & C. Atkin (Eds.), Public communication campaigns (pp. 3–19). Thousand Oaks, CA: SAGE.

Baker, R., Brick, J. M., Bates, N. A., Battaglia, M., Couper, M. P., Dever, J. A., & Tourangeau, R. (2013). Summary report of the AAPOR task force on non-probability sampling. Journal of Survey Statistics and Methodology, 1, 90–143.

Bandura, A. (1986). Social foundation of thought and action: A social cognitive theory. Englewood Cliffs, NJ: Prentice-Hall.

Bandura, A. (2004a). Health promotion by social cognitive means. Health Education & Behavior, 31, 143–164.

Bandura, A. (2004b). Social cognitive theory for personal and social change by enabling media. In A. Singhal, M. J. Cody, E. M. Rogers, & M. Sabido (Eds.), Entertainment-education and social change: History, research, and practice (pp. 75–96). Mahwah, NJ: Erlbaum.

Bandura, A. (2009). A social cognitive theory of mass communication. In J. Bryant & M. B. Oliver (Eds.), Media effects: Advances in theory and research (pp. 94–124). Los Angeles, CA: Erlbaum.

Bilandzic, H., & Busselle, R. (2013). Narrative persuasion. In J. P. Dillard & L. Shen (Eds.), The Sage handbook of persuasion: Developments in theory and practice (pp. 200–219). Thousand Oaks, CA: SAGE.

Blanco, C., Okuda, M., & Wright, C. (2008). Mental health of college students and their non-college-attending peers: Results from the National Epidemiologic Study on alcohol and related conditions. Archives of General Psychiatry, 65, 1429–1437. https://doi.org/10.1001/archpsyc.65.12.1429

Bolls, P. D. (2010). Understanding emotion from a superordinate dimensional perspective: A productive way forward for communication processes and effects studies. Communication Monographs, 77, 146–152.

Dahmen, N. S. (2016). Images of resilience: The case for visual restorative narrative. Visual Communication Quarterly, 23, 93–107.

Edwards, J. R., & Lambert, L. S. (2007). Methods for integrating moderation and mediation: A general analytical framework using moderated path analysis. Psychological Methods, 12, 1–22. https://doi.org/10.1037/1082-989X.12.1.1

Fitzgerald, K., & Green, M.C. (2018) Restorative narrative: A new approach to prosocial media. Unpublished Manuscript.

Florida State University (2018). 2017–2018 Factbook. Retrieved from http://ir.fsu.edu/factbooks/2017-18/2017-18%20FSU%20Fact%20Book.pdf

Fredrickson, B. L. (2001). The role of positive emotions in positive psychology: The broaden-and-build theory of positive emotions. American Psychologist, 56, 218–226. https://doi.org/10.1037/0003-066X.56.3.218

Fredrickson, B. L., & Branigan, C. (2005). Positive emotions broaden the scope of attention and thought-action repertoires. Cognition & Emotion, 19, 313–332.

Fredrickson, B. L., & Joiner, T. (2002). Positive emotions trigger upward spirals toward emotional well-being. Psychological Science, 13, 172–175.

Harvard Business Review. (2011). Post-traumatic growth and building resilience [Podcast Transcript]. Retrieved from https://hbr.org/2011/03/post-traumatic-growth-and-buil

Harvard University. (2018). The Resilience Consortium. Retrieved from https://resilienceconsortium.bsc.harvard.edu/about

Hu, L. T., & Bentler, P. M. (1999). Cutoff criteria for fit indexes in covariance structure analysis: Conventional criteria versus new alternatives. Structural Equation Modeling: A Multidisciplinary Journal, 6, 1–55.

Hunt, J., & Eisenberg, D. (2010). Mental health problems and help-seeking behavior among college students. Journal of Adolescent Health, 46, 3–10. https://doi.org/10.1016/j.jadohealth.2009.08.008

LeViness, P., Bershad, C., & Gorman, K. (2017). The Association for University and College Counseling Center Directors annual survey. Retrieved from https://www.aucccd.org/assets/documents/Governance/2017%20aucccd%20surveypublic-apr26.pdf

Masten, A. (2001). Ordinary magic: Resilience processes in development. American Psychologist, 56, 227–238.

McAdams, D. (2013). The psychological self as actor, agent, and author. Perspectives on Psychological Science, 8, 272–295. https://doi.org/10.1177/1745691612464657

McAdams, D. P., & Jones, B. K. (2017). Making meaning in the wake of trauma: Resilience and redemption. In E. M. Altmaier (Ed.), Reconstructing meaning after trauma: Theory, research, and practice (pp. 3–16). San Diego, CA: Elsevier.

Moyer-Gusé, E. (2008). Toward a theory of entertainment persuasion: Explaining the persuasive effects of entertainment-education messages. Communication Theory, 18, 407–425.

Murphy, S. T., Frank, L. B., Moran, M. B., & Patnoe-Woodley, P. (2011). Involved, transported, or emotional? Exploring the determinants of change in knowledge, attitudes, and behavior in entertainment-education. Journal of Communication, 61, 407–431. https://doi.org/10.1111/j.1460-2466.2011.01554.x

Myrick, J. G., & Oliver, M. B. (2015). Laughing and crying: Mixed emotions, compassion, and the effectiveness of a YouTube PSA about skin cancer. Health Communication, 30, 820–829. https://doi.org/10.1080/10410236.2013.845729

Nabi, R. L. (2015). Emotional flow in persuasive health messages. Health Communication, 30, 114–124.

Nabi, R. L., & Green, M. C. (2015). The role of a narrative's emotional flow in promoting persuasive outcomes. Media Psychology, 18, 137–162. https://doi.org/10.1080/15213269.2014.912585

Nabi, R. L., Gustafson, A., & Jensen, R. (2018). Framing climate change: Exploring the role of emotion in generating advocacy behavior. Science Communication, 40, 442–468. https://doi.org/10.1177/1075547018776019

Oatley, K. (2002). Emotions and the story worlds of fiction. In M. C. Green, J. J. Strange, & T. C. Brock (Eds.), Narrative impact: Social and cognitive foundations (pp. 39–69). Mahwah, NJ: Erlbaum.

Oehme, K., Perko, A., Clark, J., Ray, E. C., Arpan, L., & Bradley, L. (2018). A trauma-informed approach to building college students' resilience. Journal of Evidence-Informed Social Work, 16, 93–107. https://doi.org/10.1080/23761407.2018.1533503

Oliver, M. B., Hartmann, T., & Woolley, J. K. (2012). Elevation in response to entertainment portrayals of moral virtue. Human Communication Research, 38, 360–378.

Pedrelli, P., Nyer, M., Yeung, A., Zulauf, C., & Wilens, T. (2015). College students: Mental health problems and treatment considerations. Academic Psychiatry, 39, 503–511.

Schillewaert, N., Langerak, F., & Duharnel, T. (1998). Non-probability sampling for WWW surveys: A comparison of methods. International Journal of Market Research, 40, 1–13.

Tenore, M. (2016a). Exploring the impact of restorative narrative. Retrieved from http://ivoh.org/exploring-the-impact-of-restorative-narrative/

Tenore, M. (2016b). Restorative narratives: Defining a new strength-based genre. Retrieved from https://ivoh.org/what-we-do/restorative-narrative/

Tugade, M. M., & Fredrickson, B. L. (2004). Resilient individuals use positive emotions to bounce back from negative emotional experiences. Journal of Personality and Social Psychology, 86, 320–333.

Yeager, D. S., Krosnick, J. A., Chang, L., Javitz, H. S., Levendusky, M. S., Simpser, A., & Wang, R. (2011). Comparing the accuracy of RDD telephone surveys and internet surveys conducted with probability and non-probability samples. Public Opinion Quarterly, 75, 709–747.

Yzer, M. (2013). Reasoned action theory: Persuasion as a belief-based behavior change. In J. P. Dillard & L. Shen (Eds.), The Sage handbook of persuasion: Developments in theory and practice (pp. 120–136). Thousand Oaks, CA: SAGE.

Zhang, X., Han, X., Dang, Y., Meng, F., Guo, X., & Lin, J. (2017). User acceptance of mobile health services from users' perspectives: The role of self-efficacy and response-efficacy in technology acceptance. Informatics for Health and Social Care, 42, 194–206.
Additional information
Publisher's Note
Springer Nature remains neutral with regard to jurisdictional claims in published maps and institutional affiliations.
About this article
Cite this article
Ray, E.C., Arpan, L., Oehme, K. et al. Testing Restorative Narratives in a College Student Resilience Project. Innov High Educ 44, 267–282 (2019). https://doi.org/10.1007/s10755-019-9464-4
Keywords
Resilience

Online training

Restorative narratives

Student wellbeing