Abstract
Institutions of higher education frequently acknowledge their role in contributing to the common good through their mission statements. The current literature suggests that in order to be effective mission statements must be clearly articulated and reflected in all the activities of the institution including its curriculum. Faculty members at Walden University developed a Curriculum Guide for Social Change that could serve as a tool for reviewing current course offerings and developing new courses to reflect its mission of "creating positive social change." Those involved in piloting the Guide report on the process in this article. The general consensus is that it was time-consuming and frequently subjective; but the Guide gave substance to the institution's mission, opening the way for its fuller implementation.
Access options
Buy single article
Instant access to the full article PDF.
US$ 39.95
Tax calculation will be finalised during checkout.
Subscribe to journal
Immediate online access to all issues from 2019. Subscription will auto renew annually.
US$ 79
Tax calculation will be finalised during checkout.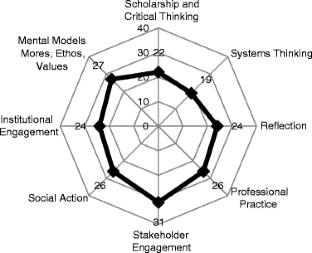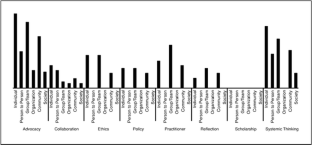 References
Abaidoo, S., & Wachniak, L. (2007). Re-thinking graduate education: An imperative for a changing world. International Journal of Learning, 14, 205–214.

Bartkus, B., Glassman, M., & McAfee, B. (2000). Mission statements: Are they smoke and mirrors? Business Horizons, 83, 23–28.

Berger, J. (2008). A mission counterstatement. Academe, 94, 25–27.

Boehm, A. (2010). University involvement in social planning: Perspectives of community institutions and universities. Journal of Higher Education and Policy Management, 32, 97–109.

Boyer, E. L. (1990). Scholarship reconsidered: Priorities of the professorate. Washington, DC: Carnegie Foundation for the Advancement of Teaching.

Camelia, G., & Marius, P. (2013). Mission statements in higher education: Context analysis and research propositions. Annals of Faculty of Economics, 1653-1663.

Cochran, D. S., David, F. R., & Gibson, C. K. (2008). A framework for developing an effective mission statement. Journal of Business Strategies, 25(2), 27–39.

Davies, S., & Glaister, K. (1997). Business school mission statements: The bland leading the bland? Long Range Planning, 30, 594–604.

Davis, J., Ruhe, J., Lee, M., & Rajadjyaksha, U. (2007). Mission possible: Do school mission statements work? Journal of Business Ethics, 70, 99–110.

Desmidt, S., Prinzie, A., & Heene, A. (2008). The level and determinants of mission statement use: A questionnaire survey. International Journal of Nursing Studies, 45, 1433–1444.

Eyler, J., Giles, E., Stenson, C. M., & Gray, C. J. (2001). At a glance: What we know about the effects of service-learning on college students, faculty, institutions and communities, 1993-2000 (3rd ed.). Nashville, TN: Vanderbilt University Press.

Feldman, J. M. (2001). Towards the post-university: Centres of higher learning and creative spaces as economic development and social change agents. Economic and Industrial Democracy, 22, 99–142.

Fairhurst, G., & Jordan, J. (1997). Why are we here? Managing the meaning of an organizational mission statement. Journal of Applied Community Research, 25, 243–264.

Finley, A. (2011). Civic learning and democratic engagements: A review of the literature on civic engagement in post-secondary education. Washington, DC: American Association of Colleges and Universities.

Ireland, D., & Hitt, M. (1992). Mission statements: Importance, challenge and recommendations for development. Business Horizons, 35, 34–42.

Krohe, J. (1995). Do you really need a mission statement? Across the Board, 32, 17–21.

Kuh, G. D., Kinzie, J., Schuh, J. H., Whitt, E. J., & Associates. (2005a). Student success in college: Creating conditions that matter. San Francisco, CA: Jossey-Bass.

Kuh, G. D., Kinzie, J., Schuh, J. H., Whitt, E. J., & Associates. (2005b). Assessing conditions to enhance educational effectiveness. San Francisco, CA: Jossey-Bass.

Lucas, J. (1998, February). Anatomy of a vision statement. Management Review, 87(2), 22–27.

Musil, C. T. (2015). Civic prompts: Making civic learning routine across the disciplines. Washington, DC: Association of American Colleges and Universities.

National Task Force on Civic Learning and Democratic Engagement. (2012). A crucible moment: College learning and democracy's future. Washington, DC: Association of American Colleges and Universities.

Piercy, N. F., & Morgan, N. A. (1994). Mission analysis: An operational approach. Journal of General Management, 19(2), 1–19.

Sidhu, J. (2003). Mission statements: Is it time to shelve them? European Management Journal, 21, 439–436.

Staples, W., & Black, K. (1984). Defining our business mission: A strategic perspective. Journal of Business Strategies, 1, 33–39.

Williams, J., Smythe, W., Hadjistavropoulos, T., Malloy, D., & Martin, R. (2005). A study of thematic content in hospital mission statements: A question of values. Health Care Management Review, 30, 304–314.

Yob, I. M. (2014). Keeping students in by sending them out: Retention and service-learning. Higher Education Research Communications, 4(2), 38–57.
About this article
Cite this article
Yob, I.M., Danver, S.L., Kristensen, S. et al. Curriculum Alignment with a Mission of Social Change in Higher Education. Innov High Educ 41, 203–219 (2016). https://doi.org/10.1007/s10755-015-9344-5
Keywords
mission statement

social change

curriculum development

higher education civic engagement movement