Abstract
When faculty members choose to implement instructional methods that are learning-centred, this may represent a change for students; and some resist engaging. In this exploratory case study research, 172 students shared what discourages them from being willing to engage with these innovative methods that aim to facilitate their learning. Questionnaire and interview responses revealed eight key themes that are used to create a comprehensive barrier framework, and comparative analyses assist in reducing the findings. A fishbone diagram provides a possible planning tool for practitioners, and theoretical connections to the Reasoned Action Approach model are explored to further distill the findings.
Access options
Buy single article
Instant access to the full article PDF.
USD 39.95
Price excludes VAT (USA)
Tax calculation will be finalised during checkout.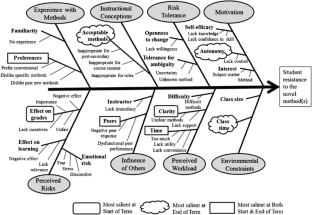 References
Abedor, A. J., & Sachs, S. G. (1978). The relationship between faculty development (FD), organizational development (OD) and instructional development (ID): Readiness for instructional innovation in higher education. In R. K. Bass, C. R. Dills, & D. B. Lumsden (Eds.), Instructional development: The state of the art (pp. 2–19). San Diego, CA: Collegiate Publishing.

Albers, C. (2009). Teaching: From disappointment to ecstasy. Teaching Sociology, 37, 269–282. doi:10.1177/0092055X0903700305

Allen, G. K., Wedman, J. F., & Folk, L. C. (2001). Looking beyond the valley: A five-year case study of course innovation. Innovative Higher Education, 26, 103–119.

Alessio, H. (2004). Student perceptions about and performance in problem-based learning. Journal of Scholarship of Teaching and Learning, 4(1), 23–34. Retrieved from http://josotl.indiana.edu/article/view/1607/1606

Barr, R. B., & Tagg, J. (1995). From teaching to learning – A new paradigm for undergraduate education. Change, 27(6), 13–25.

Charmaz, K. (2004). Grounded theory. In S. Hesse-Biber & P. Leavy (Eds.), Approaches to qualitative research: A reader on theory and practice (pp. 496–521). New York, NY: Oxford University Press.

Charmaz, K. (2006). Constructing grounded theory: A practical guide through qualitative analysis. London, United Kingdom: Sage.

Christensen Hughes, J., & Mighty, J. (2010). A call to action: Barriers to pedagogical innovation and how to overcome them. In J. Christensen Hughes & J. Mighty (Eds.), Taking stock: Research on teaching and learning in higher education (pp. 261–277). Kingston, ON: The School of Policy Studies, Queen's University.

Corbin, J., & Strauss, A. (2008). Basics of qualitative research (3rd ed.). Thousand Oaks, CA: Sage.

Durrheim, K., & Foster, D. (1997). Tolerance of ambiguity as a content specific construct. Personality and Individual Differences, 22, 741–750. doi:10.1016/S0191-8869(96)00207-3

Elen, J., & Lowyck, J. (2000). Instructional metacognitive knowledge: A qualitative study on conceptions of freshmen about instruction. Journal of Curriculum Studies, 32, 421–444. doi:10.1080/002202700182637

Ellis, D.E. (2013). Students' responses to innovative instructional methods: Exploring learning-centred methods and barriers to change (Unpublished Ph.D. Thesis). University of Waterloo. Retrieved from https://uwspace.uwaterloo.ca/handle/10012/7414

Erwin, D. G., & Garman, A. N. (2010). Resistance to organizational change: Linking research and practice. Leadership & Organization Development Journal, 31, 39–56. doi:10.1108/01437731011010371

Felder, R. M., & Brent, R. (1996). Navigating the bumpy road to student-centered instruction. College Teaching, 44(2), 43–47.

Fink, L. D. (2003). Creating significant learning experiences. San Francisco, CA: Jossey-Bass.

Fishbein, M., & Ajzen, I. (2010). Predicting and changing behavior: The reasoned action approach. New York, NY: Taylor & Francis Group.

Ghosh, D., & Ray, M. R. (1992). Risk attitude, ambiguity intolerance and decision making: An exploratory investigation. Decision Sciences, 23, 431–444.

Hockings, C. (2005). Removing the barriers? A study of the conditions affecting teaching innovation. Teaching in Higher Education, 10, 313–326. doi:10.1080/13562510500122149

Ishikawa, K. (1982). Guide to quality control. Tokyo, Japan: Asian Productivity Organization.

Judge, T. A., Thoresen, C. J., Pucik, V., & Welbourne, T. M. (1999). Managerial coping with organizational change: A dispositional perspective. Journal of Applied Psychology, 84, 107–122. doi:10.1037/0021-9010.84.1.107

Kearney, P., & Plax, T. G. (1992). Student resistance to control. In V. P. Richmond & J. C. McCroskey (Eds.), Power in the classroom: Communication, control, and concern (pp. 85–100). Hillsdale, NJ: Lawrence Erlbaum Associates.

Keeney-Kennicutt, W., Gunersel, A. B., & Simpson, N. (2008). Overcoming student resistance to a teaching innovation. International Journal for the Scholarship of Teaching and Learning, 2(1). Retrieved from http://academics.georgiasouthern.edu/ijsotl/issue_v2n1.htm

Lewin, K. (1999). Group decision and social change. In M. Gold (Ed.), The complete social scientist: A Kurt Lewin reader (pp. 265–284). Washington, DC: American Psychological Association (Original work published in 1948).

Lewis, L. K., & Hayward, P. A. (2003). Choice-based learning: Student reactions in an undergraduate organizational communication course. Communication Education, 52, 148–156. doi:10.1080/03634520302467

Messineo, M., Gaither, G., Bott, J., & Ritchey, K. (2007). Inexperienced versus experienced students' expectations for active learning in large classes. College Teaching, 55, 125–133.

Michael, J. (2007). Faculty perceptions about barriers to active learning. College Teaching, 55, 42–47.

Miles, M. B., & Huberman, A. M. (1994). Qualitative data analysis: An expanded sourcebook (2nd ed.). Thousand Oaks, CA: Sage.

Oreg, S. (2006). Personality, context, and resistance to organizational change. European Journal of Work and Organizational Psychology, 15, 73–101. doi:10.1080/13594320500451247

Patton, M. Q. (2002). Qualitative research and evaluative methods (3rd ed.). Thousand Oaks, CA: Sage.

Pepper, C. (2010). 'There's a lot of learning going on but NOT much teaching!': Student perceptions of problem-based learning in science. Higher Education Research & Development, 29, 693–707. doi:10.1080/07294360.2010.501073

Perry, C., & Jensen, O. (2001, December). Approaches to combining induction and deduction in one research study. Paper presented at the annual Australian & New Zealand Marketing Academy Conference, Auckland, NZ. Retrieved from http://anzmac.org/conference_archive/2001/anzmac/AUTHORS/pdfs/Perry1.pdf

Reid, S. (2009, October). Teaching risk-taking in college classrooms. In M. Weimer (Ed.), The Teaching Professor, 3.

Reimann, N. (2011). To risk or not to risk it: Student (non-)engagement with seen examination questions. Assessment & Evaluation in Higher Education, 36, 263–279. doi:10.1080/02602930903311716

Rogers, E. M. (2003). Diffusion of innovations (5th ed.). New York, NY: Free Press.

Thorn, P.M. (2003). Bridging the gap between what is praised and what is practiced: Supporting the work of change as anatomy & physiology instructors introduce active learning into their undergraduate classroom (Unpublished Ph.D. Thesis). University of Texas at Austin.

Trowler, P., & Cooper, A. (2002). Teaching and learning regimes: Implicit theories and recurrent practices in the enhancement of teaching and learning through educational development programmes. Higher Education Research & Development, 21, 221–240. doi:10.1080/0729436022000020742

Wanberg, C. R., & Banas, J. T. (2000). Predictors and outcomes of openness to changes in a reorganizing workplace. Journal of Applied Psychology, 85, 132–142. doi:10.1037/0021-9010.85.1.132

Weimer, M. (2002). Learner-centered teaching: Five key changes to practice. San Francisco, CA: Jossey-Bass.

Yin, R. K. (2009). Case study research: Design and methods (4th ed.). Thousand Oaks, CA: Sage.
Acknowledgement
The author wishes to thank Kenneth McKay for his insights and contributions to the research study as well as colleagues Julie Timmermans and Veronica Brown at the University of Waterloo's Centre for Teaching Excellence for their editorial contributions.
About this article
Cite this article
Ellis, D. What Discourages Students from Engaging with Innovative Instructional Methods: Creating a Barrier Framework. Innov High Educ 40, 111–125 (2015). https://doi.org/10.1007/s10755-014-9304-5
Published:

Issue Date:

DOI: https://doi.org/10.1007/s10755-014-9304-5
Keywords