Abstract
This article presents faculty perceptions of the first month of iPad deployment in a national college system and a case study describing the integration of mobile learning devices in one college, interpreted within the framework of a SWOT analysis. We include a brief history of the implementation; description of the three-tier structure of infrastructure, pedagogy, and content; faculty perceptions; and pedagogy interview findings. We collected data using 1) case study interviews, 2) a faculty dispositional survey, and 3) iPad lead faculty. Overall, the large-scale deployment of iPad mobile learning devices was associated with high faculty engagement in formal and informal professional development activities and adoption of an active student-centered pedagogy. In addition, the program stimulated innovative approaches to technical challenges; and it spurred development and evaluation of new digital content.
Access options
Buy single article
Instant access to the full article PDF.
US$ 39.95
Tax calculation will be finalised during checkout.
Subscribe to journal
Immediate online access to all issues from 2019. Subscription will auto renew annually.
US$ 79
Tax calculation will be finalised during checkout.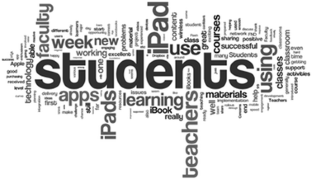 References
Benton, B. K. (2012). The iPad as an instructional tool: An examination of teacher implementation experiences. (Unpublished doctoral dissertation). University of Arkansas, Fayetteville, AR.

Cavanaugh, C., Dawson, K., & Ritzhaupt, A. D. (2011). An evaluation of the conditions, processes and consequences of laptop computing in K-12 classrooms. Journal of Educational Computing Research, 45, 359–378.

Cavanaugh, C., & Hargis, J. (in press). iPads as cognitive toolboxes in higher education, 12 manuscript pages. In S. Dowling (Ed.) Redefining learning, book 2 of the HCT Educational Technology Series. Abu Dhabi, UAE: HCT Press.

Christensen, R. (1997). Effect of technology integration education on the attitudes of teachers and their students. (Unpublished doctoral dissertation). University of North Texas, Denton, TX.

Dawson, K., Cavanaugh, C., & Ritzhaupt, A. (2008). Florida's Leveraging Laptops initiative and its impact on 480 teaching practices. Journal of Research on Technology in Education, 41, 43–159.

Garcia, E. R. (2011). There's an app for that: A study of using Apple iPads in a United States History Classroom. Winston-Salem, NC: Wake Forest University, Department of Education.

Heinrich, P. (2012). The iPad as a tool for education: Study of Longfield Academy, Kent. Winchester, UK: NAACE.

Higher Colleges of Technology (2012). 1st Annual Global Mobile Learning Congress 2012 Explores Education's Exciting Future. Retrieved from http://news.hct.ac.ae/2012/09/1st-annual-global-mobile-learning-congress-2012-explores-educations-exciting-future/

Jordan, D. (2010). Faculty attitudes toward online and blended learning (FABOL). Stockton, CA: Unpublished survey. University of the Pacific.

Knezek, G., Christensen, R., Gilmore, E. L., Kim, H., Magoun, A. D., Owens, C., et al. (1999). Teacher and student attitudes toward information technology in four nations. Society for Information Technology & Teacher Education International Conference, 1, 916–918.

Koehler, M., & Mishra, P. (2009). What is technological pedagogical content knowledge (TPACK)? Contemporary Issues in Technology and Teacher Education, 9, 60–70.

Maynard, S. (2010). The impact of e-books on young children's reading habits. Publishing Research Quarterly, 26, 236–248.

Ritzhaupt, A. D., Dawson, K., & Cavanaugh, C. (2012). An investigation of factors influencing student use of technology in K-12 classrooms using path analysis. Journal of Educational Computing Research, 46, 229–254.

Swan, K., van 't Hooft, M., Kratcoski, A., & Schenker, J. (2007). Ubiquitous computing and changing pedagogical possibilities: Representations, conceptualizations, and uses of knowledge. Journal of Educational Computing Research, 36, 481–515.

Thornton, P., & Houser, C. (2004). Using mobile phones in education. In Wireless and Mobile Technologies in Education, 2004. Proceedings. The 2nd IEEE International Workshop on Digital Object Identifier (pp. 3–10). IEEE. Available at http://ieeexplore.ieee.org/xpl/mostRecentIssue.jsp?reload=true&punumber=9017

Tinnerman, L. (2007). University faculty expressions of computer self-efficacy and personal attitudes regarding the viability of distance learning. (Unpublished doctoral dissertation). Indiana University of Pennsylvania, Indiana, PA.

Warschauer, M. (2009). Learning to write in the laptop classroom. Writing and Pedagogy, 1, 101–112.

Watson, B. (2009). A comparison of TPRS and traditional foreign language instruction at the high school level. International Journal of Foreign Language Teaching, 5(1), 21–24.

Weiss, R. D. (1994). Modified weekly self-help questionnaire. Unpublished measure, Harvard Medical School, Boston, MA.

Windschitl, M., & Sahl, K. (2002). Tracing teachers' use of technology in a laptop computer school: The interplay of teacher beliefs, social dynamics, and institutional culture. American Educational Research Journal, 39, 165–205.

Zurita, G., & Nussbaum, M. (2004). Computer supported collaborative learning using wirelessly interconnected handheld computers. Computers in Education, 42, 289–314.
About this article
Cite this article
Hargis, J., Cavanaugh, C., Kamali, T. et al. A Federal Higher Education iPad Mobile Learning Initiative: Triangulation of Data to Determine Early Effectiveness. Innov High Educ 39, 45–57 (2014). https://doi.org/10.1007/s10755-013-9259-y
Keywords
Mobile Learning

Active Pedagogy

Faculty Development

E-learning