Abstract
This study estimates the effects of formal home care, provided by paid professionals, on hospitalizations and doctor visits. We look at different lengths-of-stay (LOS) and types of doctor visits—general practitioners (GP) and specialists—and investigate heterogeneous effects by age groups and informal care availability. Two-part generalized linear models are estimated, using data from Switzerland. In this federal country, home care policy is decentralized into 26 cantons. Home care is measured at the canton level and its endogeneity is addressed by using an instrumental variable strategy combined with canton and time fixed-effects. We instrument home care use with the introduction of patient cost sharing for home care in some cantons in 2011. Overall, home care significantly increases the likelihoods of having a hospitalization, any doctor visit, or a GP visit. In addition, home care significantly reduces LOS up to 30 days, but has no effect on the number of doctor visits. These results are driven by the effects on persons 65 years and older. The effects are small, suggesting that the potential of formal home care to limit the growth in inpatient care and doctor visits may be limited.
Access options
Buy single article
Instant access to the full article PDF.
USD 39.95
Price excludes VAT (USA)
Tax calculation will be finalised during checkout.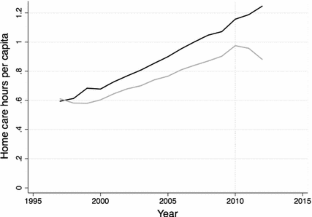 Similar content being viewed by others
References
Buntin, M. B., Colla, C. H., & Escarce, J. J. (2009). Effects of payment changes on trends in post-acute care. Health Services Research, 44(4), 1188–1210.

Costa-Font, J., Elvira, D., & Mascarilla-Miro, O. (2009). 'Ageing in place'? Exploring elderly people's housing preferences in Spain. Urban Studies, 46, 295–316.

de Meijer, C., Bakx, P., van Doorslaer, E., & Koopmanschap, M. (2015). Explaining declining rates of institutional LTC use in the Netherlands: A decomposition approach. Health Economics, 24(Suppl. 1), 18–31.

D'Souza, J. C., James, M. L., Szafara, K. L., & Fries, B. E. (2009). Hard times: the effects of financial strain on home care services use and participant outcomes in Michigan. Gerontologist, 49(2), 154–165.

Duan, N., Manning, W. G., Morris, C. N., & Newhouse, J. P. (1984). Choosing between the sample-selection model and the multi-part model. Journal of Business and Economic Statistics, 2(3), 283–289.

Felix, H. C., Mays, G. P., Stewart, M. K., Cottoms, N., & Olson, M. (2011). Medicaid savings resulted when community health workers matched those with needs to home and community care. Health Affairs, 30(7), 1366–1374.

Fernandez, J.-L., & Forder, J. (2008). Consequences of local variations in social care on the performance of the acute health care sector. Applied Economics, 40, 1503–1518.

Golberstein, E., Grabowski, D. C., Langa, K. M., & Chernew, M. E. (2009). The effect of Medicare home health care payment on informal care. Inquiry, 46(1), 58–71.

Guo, J., Konetzka, R. T., Magett, E., & Dale, W. (2015a). Quantifying long-term care preferences. Medical Decision Making, 35(1), 106–113.

Guo, J., Konetzka, R. T., & Manning, W. G. (2015b). The causal effects of home care use on institutional long-term care utilization and expenditures. Health Economics, 24(Suppl. 1), 4–17.

Hoerger, T. J., Picone, G. A., & Sloan, F. A. (1996). Public subsidies, private provision of care and living arrangements of the elderly. The Review of Economics and Statistics, 78(3), 428–440.

Huckfeldt, P. J., Sood, N., Escarce, J. J., Grabowski, D. C., & Newhouse, J. P. (2014). Effects of Medicare payment reform: Evidence from the home health interim and prospective payment systems. Journal of Health Economics, 34, 1–18.

Kemper, P. (1988). The evaluation of The National Long Term Care Demonstration. 10. Overview of the findings. Health Services Research, 23(1), 161–174.

Kemper, P., Weaver, F., Short, P. F., Shea, D., & Kang, H. (2008). Meeting the need for personal care among the elderly: Does Medicaid home care spending matter? Health Services Research, 43(1, Part II), 344–362.

Konetzka, R. T., Karon, S. L., & Potter, D. E. B. (2012). Users of Medicaid home- and community-based services are especially vulnerable to costly avoidable hospital admissions. Health Affairs, 31(6), 1167–1175.

Manning, W. G., & Mullahy, J. (2001). Estimating log models: To transform or not to transform? Journal of Health Economics, 20, 461–494.

McCullagh, P., & Nelder, J. A. (1989). Generalized linear models (2nd ed.). London: Chapman & Hall.

McKnight, R. (2006). Home care reimbursement, long-term care utilization & health outcomes. Journal of Public Economics, 90, 293–323.

Muramatsu, N., & Campbell, R. T. (2002). State expenditures on home- and community-based services and use of formal and informal personal assistance: a multilevel analysis. Journal of Health and Social Behavior, 43(1), 107–124.

Muramatsu, N., Yin, H., Campbell, R. T., Hoyem, R. L., Jacob, M. A., & Ross, C. O. (2007). Risk of nursing home admission among older Americans: Does states' spending on home- and community-based services matter? Journal of Gerontology: Social Sciences, 62B(3), 169–178.

OECD. (2013). Long-term care expenditure. In Health at a Glance 2013: OECD Indicators. OECD Publishing. Retrieved May 23, 2016 from doi:10.1787/health_glance-2013-79-en.

OECD (2014). OECD Health Statistics—OECD iLibrary. Retrieved July 30, 2014 from http://www.oecd-ilibrary.org/social-issues-migration-health/data/oecd-health-statistics_health-data-en.

Pezzin, L. E., & Kasper, J. D. (2002). Medicaid enrollment among elderly Medicare beneficiaries: Individual determinants, effects of state policy, and impact on service use. Health Services Research, 37(4), 827–847.

Pezzin, L. E., Kemper, P., & Reschovsky, J. (1996). Does publicly provided home care substitute for family care? Experimental evidence with endogenous living arrangements. The Journal of Human Resources, 31(3), 650–676.

Rice, J. B., Kasper, J. D., & Pezzin, L. E. (2009). A comparative analysis of Medicaid long-term care policies and their effects on elderly dual enrollees. Health Economics, 18, 275–290.

Shapiro, A., Loh, C.-P., & Mitchell, G. (2011). Medicaid cost-savings of home- and community-based service programs for older persons in Florida. Journal of Applied Gerontology, 30(1), 3–21.

Stabile, M., Laporte, A., & Coyte, P. C. (2006). Household responses to public home care programs. Journal of Health Economics, 25(4), 674–701.

Stuck, A. E., Minder, C. E., Peter-Wüest, I., Gillmann, G., Egli, C., Kesselring, A., et al. (2000). A randomized trial of in-home visits for disability prevention in community-dwelling older people at low and high risk for nursing home admission. Archives of Internal Medicine, 160, 977–986.

Terza, J. V., Basu, A., & Rathouz, P. J. (2008). Two-stage residual inclusion estimation: Addressing endogeneity in health econometric modeling. Journal of Health Economics, 27(3), 531–543.

Vass, M., Hendriksen, C., Thomsen, J. L., Parner, E. T., & Avlund, K. (2008). Preventive home visits to home-dwelling older people and hospital admissions: A municipality-randomised intervention trial. European Journal of Ageing, 5(1), 67–76.

Weaver, F., & Weaver, B. (2014). Does availability of informal care within the household impact hospitalization? Health Economics, Policy and Law, 9(1), 71–93.

Xu, H., Weiner, M., Paul, S., Thomas, J., Craig, B., Rosenman, M., et al. (2010). Volume of home- and community-based Medicaid waiver services and risk of hospital admissions. Journal of the American Geriatrics Society, 58(1), 109–115.
Acknowledgments
This study was funded by the Swiss National Science Foundation (grant PDFMP1_134899) and the Swiss School of Public Health+. Work was conducted while both authors were at the Geneva School of Economics and Management, University of Geneva. We are particularly grateful to Tamara Konetzka and Peter Kemper for their suggestions and support. We appreciate the comments of Courtney Van Houtven, Will Manning, Peter Zweifel, Eva Cantoni, Jaya Krishnakumar, two anonymous reviewers, and the participants at the 5th American Society of Health Economists Conference, the Health Economics Workshop at the University of Chicago, and the Swiss School of Public Health+ PhD Seminar. We thank Flavia Lazzeri, from the Swiss Federal Statistical Office, for data support, Silvia Marti Lavanchy and Walter Zecca, from the Swiss and Geneva's Home Care Associations, for answering questions about home care policy in Switzerland.
Ethics declarations
Conflict of interest
The authors declare that they have no conflict of interest.
Appendix
Appendix
See Figs. 2, 3, 4 and 5 and Tables 5, 6, 7 and 8.
About this article
Cite this article
Gonçalves, J., Weaver, F. Effects of formal home care on hospitalizations and doctor visits. Int J Health Econ Manag. 17, 203–233 (2017). https://doi.org/10.1007/s10754-016-9200-x
Published:

Issue Date:

DOI: https://doi.org/10.1007/s10754-016-9200-x
Keywords
JEL Classification