Abstract
This experiment was conducted to investigate the effects of a benzylideneacetophenone derivative ((2E)-3-(4-hydroxy-3-methoxyphenyl)phenylpro-2-en-l-one (JC3)) on trimellitic anhydride (TMA)–induced atopic dermatitis (AD)–like symptoms in mice. To induce AD, the dorsal skins of mice were treated with 5% TMA on day 0 and both ears were treated with 5% TMA on day 5 and with 2% TMA from day 6 to day 14. JC3 (1, 5, 10 mg/kg, i.p.) was treated once daily from day 9 to day 14 before TMA treatment. Histological analysis was performed and auricular lymph node weights, ear thicknesses, skin water contents, scratching behaviors, and serum immunoglobulin (IgE) and IFN-γ, and interleukin-4 (IL-4) levels in serum and ear tissues were determined. In addition, the anti-AD activity of JC3 was investigated on phorbol 12-myristate 13-acetate (PMA)–stimulated human mast cells (HMC-1 cells) derived from patients. Levels of TNF-α, IL-4, and mitogen-activated protein kinase (MAPK) were investigated after treating cultured cells with JC3. Treating mice with JC3 (10 mg/kg) significantly decreased ear thicknesses, lymph node weights, skin scores, skin water contents, scratching behavior, and IFN-γ, IL-4 cytokine levels, and serum IgE levels. Moreover, treatment with JC3 (10 mg/kg) significantly decreased serum and ear tissues levels of IFN-γ and IL-4 in AD mice. Furthermore, treatment with JC3 at 10 μg/ml reduced TNF-α and IL-4 levels and decreased MAPK phosphorylation in the HMC-1 cells. The results of this study provide a molecular basis for developing new therapeutics for the treatment of various inflammatory diseases, such as, eczema, asthma, and AD.
This is a preview of subscription content, log in to check access.
Access options
Buy single article
Instant access to the full article PDF.
US$ 39.95
Price includes VAT for USA
Subscribe to journal
Immediate online access to all issues from 2019. Subscription will auto renew annually.
US$ 199
This is the net price. Taxes to be calculated in checkout.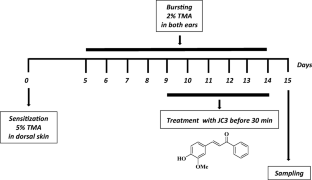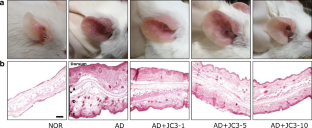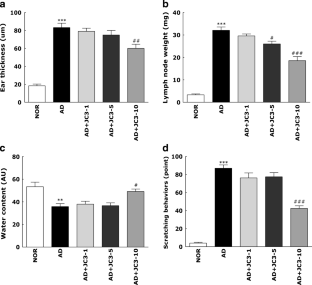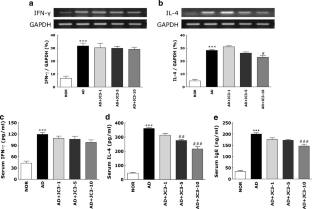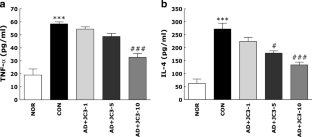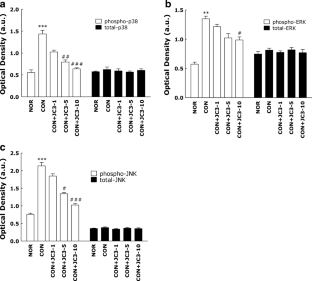 References
1.

Abramovits, W., A.M. Goldstein, and L.C. Stevenson. 2003. Changing paradigms in dermatology: topical immunomodulators within a permutational paradigm for the treatment of atopic and eczematous dermatitis. Clinics in Dermatology 62 (5): 136–143. https://doi.org/10.1016/j.clindermatol.2003.08.013.

2.

Amiri, M., M. Jafari, S. Azimzadeh Jamalkandi, and S.M. Davoodi. 2013. Atopic dermatitis-associated protein interaction network lead to new insights in chronic sulfur mustard skin lesion mechanisms. Expert Review of Proteomics 10 (5): 449–460. https://doi.org/10.1586/14789450.2013.841548.

3.

Azzolina, A., P. Guarneri, and N. Lampiasi. 2002. Involvement of p38 and JNK MAPKs pathways in substance P-induced production of TNF-alpha by peritoneal mast cells. Cytokine 18 (2): 72–80. https://doi.org/10.1006/cyto.2002.0879.

4.

Choi, H.J., W.S. Jin, H.B. Park, G.H. Kim, T. Khanal, J.H. Han, P.Y. Hwang, M.J. Choi, C.Y. Chung, K.S. Hwang, C.T. Jeong, and G.H. Jeong. 2013. Cultivated ginseng inhibits 2,4-dinitrochlorobenzene-induced atopic dermatitis-like skin lesions in NC/Nga mice and TNF-α / IFN-γ-induced TARC activation in HaCaT cells. Food and Chemical Toxicology 56: 195–203. https://doi.org/10.1016/j.fct.2013.02.037.

5.

Chun, K.S., Y. Sohn, H.S. Kim, O.H. Kim, K.K. Park, J.M. Lee, A. Moon, S.S. Lee, and Y.J. Surh. 1999. Anti-tumor promoting potential of naturally occurring diarylheptanoids structurally related to curcumin. Mutation Research 428 (1–2): 49–57. https://doi.org/10.1016/S1383-5742(99)00031-9.

6.

Dearman, R.J., S. Smith, D.A. Basketter, and I. Kimber. 1996. Classification of chemical allergens according to cytokine secretion profiles of murine lymph node cells. Journal of Applied Toxicology 17 (1): 53–62. https://doi.org/10.1002/(SICI)1099-1263(199701)17:1<53::AID-JAT393>3.0.CO;2-W.

7.

Duan, W., and W.S. Wong. 2006. Targeting mitogen-activated protein kinases for asthma. Current Drug Targets 7 (6): 691–698. https://doi.org/10.2174/138945006777435353.

8.

Elmariah, S.B., and E.A. Lerner. 2013. The missing link between itch and inflammation in atopic dermatitis. Cell 155 (2): 267–269. https://doi.org/10.1016/j.cell.2013.09.038.

9.

Hamke, M., I. Herpfer, K. Lieb, C. Wandelt, and B.L. Fiebich. 2006. Substance P induces expression of the corticotropin-releasing factor receptor 1 by activation of the neurokinin-1 receptor. Brain Research 1102 (1): 135–1344. https://doi.org/10.1016/j.brainres.2006.03.026.

10.

Kiuchi, F., S. Iwakami, M. Shibuya, F. Hanaoka, and U. Sankawa. 1992. Inhibition of prostaglandin and leukotriene biosynthesis by gingerols and diarylheptanoids. Chemical and Pharmaceutical Bulletin 40 (2): 387–391. https://doi.org/10.1248/cpb.40.387.

11.

Kwak, M.H., J.E. Kim, I.S. Hwang, Y.J. Lee, B.S. An, J.T. Hong, S.H. Lee, and D.Y. Hwang. 2013. Quantitative evaluation of therapeutic effect of Liriope platyphylla on phthalic anhydride-induced atopic dermatitis in IL-4/Luc/CNS-1 Tg mice. Journal of Ethnopharmacology 148 (3): 880–889. https://doi.org/10.1016/j.jep.2013.05.036.

12.

Lugovic, L., J. Lipozencic, and J. Jakic-Razumovic. 2005. Prominent involvement of activated Th1-subset of T cells and increased expression of receptor for IFN-γ on keratinocytes in atopic dermatitis acute skin lesions. International Archives of Allergy and Immunology 137 (2): 125–133. https://doi.org/10.1159/000085468.

13.

Marshall, J.S. 2004. Mast-cell responses to pathogens. Nature Reviews Immunology 4 (10): 787–799. https://doi.org/10.1038/nri1460.

14.

Masuda, A., Y. Yoshikai, K. Aiba, and T. Matsuguchi. 2002. Th2 cytokine production from mast cells is directly induced by lipopolysaccharide and distinctly regulated by c-Jun N-terminal kinase and p38 pathways. Journal of Immunology 169 (7): 3801–3810. https://doi.org/10.4049/jimmunol.169.7.3801.

15.

Mekori, Y.A., and A.Y. Hershko. 2012. T cell-mediated modulation of mast cell function: heterotypic adhesion-induced stimulatory or inhibitory effects. Frontiers in Immunology 3: 6. https://doi.org/10.3389/fimmu.2012.00006.

16.

Ninomiya, Y., N. Shimma, and H. Ishitsuka. 1990. Comparative studies on the antirhinovirus activity and the mode of action of the rhinovirus capsid binding agents, chalcone amides. Antiviral Research 13 (2): 61–74. https://doi.org/10.1016/0166-3542(90)90022-Y.

17.

Oh, S., S. Jang, D. Kim, I.O. Han, and J.C. Jung. 2006. Synthesis and evaluation of biological properties of benzylideneacetophenone derivatives. Archives of Pharmacal Research 29 (6): 469–475. https://doi.org/10.1007/BF02969418.

18.

Qin, H.D., Y.Q. Shi, Z.H. Liu, Z.G. Li, H.S. Wang, H. Wang, and Z.P. Liu. 2010. Effect of chlorogenic acid on mast cell-dependent anaphylactic reaction. International Immunopharmacology 10 (9): 1135–1141. https://doi.org/10.1016/j.intimp.2010.06.018.

19.

Sailstad, D.M., M.D.W. Ward, E.H. Boykin, and M.K. Selgrade. 2003. A murine model for low molecular weight chemicals: differentiation of respiratory sensitizers (TMA) from contact sensitizers (DNFB). Journal of Toxicology 194 (1–2): 147–161. https://doi.org/10.1016/S0300-483X(03)00338-X.

20.

Schneider, C., W.D. Döcke, T.M. Zollner, and L. Röse. 2009. Chronic mouse model of TMA-induced contact hypersensitivity. Journal of Investigative Dermatology 129 (4): 899–907. https://doi.org/10.1038/jid.2008.307.

21.

Seong, H.U., S.D. Cho, S.Y. Park, J.M. Yang, D.H. Lim, J.H. Kim, and B.K. Son. 2012. Nationwide survey on the prevalence of allergic diseases according to region and age. Pediatric Allergy and Respiratory Disease 22 (3): 224–231. https://doi.org/10.7581/pard.2012.22.3.224.

22.

Siraganian, R.P. 2003. Mast cell signal transduction from the high-affinity IgE receptor. Current Opinion in Immunology 15 (6): 639–646. https://doi.org/10.1016/j.coi.2003.09.010.

23.

Srimal, R.C., J.N. Sharma, A.N. Tangri, and B.N. Dhawan. 1973. Experimental evaluation of anti-inflammatory activity of 3,4-dimethoxyphenylethylamino-3-aminopyridine (Compound 64-92). Indian Journal of Experimental Biology 11 (3): 183–187.

24.

Surh, Y.J. 2002. Anti-tumor promoting potential of selected spice ingredients with antioxidative and anti-inflammatory activities: a short review. Food and Chemical Toxicology 40 (8): 1091–1097. https://doi.org/10.1016/S0278-6915(02)00037-6.

25.

Tanei, R., Y. Hasegawa, and M. Sawabe. 2013. Abundant immunoglobulin E-positive cells in skin lesions support an allergic etiology of atopic dermatitis in the elderly. Journal of the European Academy of Dermatology and Venereology 27 (8): 952–960. https://doi.org/10.1111/j.1468-3083.2012.04612.x.

26.

Tsang, M.S.M., D. Jiao, B.C.L. Chan, K. Hon, P.C. Leung, C.B.S. Lau, E.C.W. Wong, L. Cheng, C.K.M. Chan, C.W.K. Lam, and C.K. Wong. 2016. Anti-inflammatory activities of pentaherbs formula, berberine, gallic acid and chlorogenic acid in atopic dermatitis-like skin inflammation. Molecular 21 (4): 519. https://doi.org/10.3390/molecules21040519.

27.

Ullrich, S.E. 1995. The role of epidermal cytokines in the generation of cutaneous immune reactions and ultraviolet radiation-induced immune suppression. Photochemistry and Photobiology 62 (3): 389–401. https://doi.org/10.1111/j.1751-1097.1995.tb02359.x.

28.

Yamazaki, R., H. Hatano, R. Aiyama, T. Matsuzaki, S. Hashimoto, and T. Yokokura. 2000. Diarylheptanoids suppress expression of leukocyte adhesion molecules on human vascular endothelial cells. European Journal of Pharmacology 404 (3): 375–385. https://doi.org/10.1016/S0014-2999(00)00620-8.

29.

Yoshihisa, Y., T. Makino, K. Matsunaga, A. Honda, O. Norisugi, R. Abe, H. Shimizu, and T. Shimizu. 2011. Macrophage migration inhibitory factor is essential for eosinophil recruitment in allergen-induced skin inflammation. Journal of Investigative Dermatology 131 (4): 925–931. https://doi.org/10.1038/jid.2010.418.

30.

Zeppa, L., V. Bellini, and P. Lisi. 2011. Atopic dermatitis in adults. Dermatitis 22 (1): 40–46. https://doi.org/10.2310/6620.2011.10042.
Funding
This research was supported by a National Research Foundation (NRF) grant funded by the Korean Ministry of Science, ICT and Future Planning (grant no. MRC 2010-0029355).
Additional information
Publisher's Note
Springer Nature remains neutral with regard to jurisdictional claims in published maps and institutional affiliations.
About this article
Cite this article
Sur, B., Kang, S., Kim, M. et al. Alleviation of Atopic Dermatitis Lesions by a Benzylideneacetophenone Derivative via the MAPK Signaling Pathway. Inflammation 42, 1093–1102 (2019). https://doi.org/10.1007/s10753-019-00971-w
KEY WORDS
atopic dermatitis

benzylideneacetophenone derivative

trimellitic anhydride

interleukin-4

mitogen-activated protein kinase