Abstract
The most epidemic liver disorder non-alcoholic steatohepatitis (NASH) is characterized by hepatic steatosis and inflammation with hepatocellular damage. Recently, it is predictable to be the extensive cause for liver transplantation. The absence of an approved therapeutic agent for NASH is the reason for investigating saroglitazar (SAR) which showed promising effects as a dual PPAR-α/γ agonist in recent studies on NASH. Here, we aimed to investigate the effect of SAR on NASH induced in rats by the administration of high-fat emulsion (HFE) and small doses of lipopolysaccharides (LPS) for 5 weeks. Rats were divided into three groups: negative control group (saline and standard rodent chow), model group (HFE(10 ml/kg/day, oral gavage) + LPS(0.5 mg/kg/week, i.p)), and SAR-treated group (HFE(10 ml/kg/day, oral gavage) + LPS(0.5 mg/kg/week, i.p.) + SAR(4 mg/kg/day, oral gavage) starting at week 3.Treatment with SAR successfully ameliorated the damaging effects of HFE with LPS, by counteracting body weight gain and biochemically by normalization of liver function parameters activity, glucose, insulin, homeostasis model of assessment (HOMA-IR) score, lipid profile levels, and histopathological examination. Significant changes in adipokine levels were perceived, resulting in a significant decline in serum leptin and tumor necrosis factor-α (TNF-α) level concurrent with adiponectin normalization. The positive effects observed for SAR on NASH are due to the downregulation of the LPS/TLR4 pathway, as indicated by the suppression of hepatic Toll-like receptor 4 (TLR4), NF-κB, TNF-α, and transforming growth factor-β1 (TGF-β1) expression. In conclusion, this work verified that SAR ameliorates NASH through deactivation of the hepatic LPS/TLR4 pathway and inhibition of adipocyte dysfunction.
This is a preview of subscription content, log in to check access.
Access options
Buy single article
Instant access to the full article PDF.
US$ 39.95
Price includes VAT for USA
Subscribe to journal
Immediate online access to all issues from 2019. Subscription will auto renew annually.
US$ 199
This is the net price. Taxes to be calculated in checkout.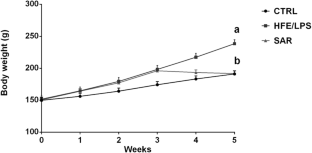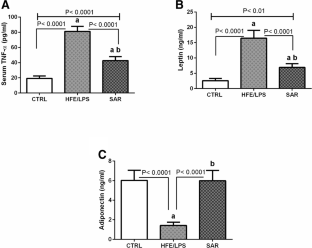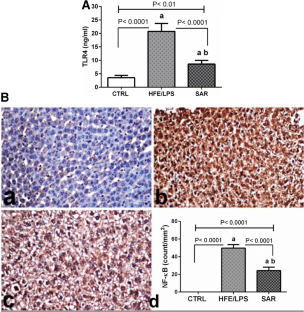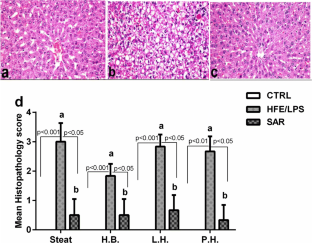 Abbreviations
NASH:

Non-alcoholic steatohepatitis

LPS:

Lipopolysaccharide

HFE:

High-fat emulsion

SAR:

Saroglitazar

ALT:

Alanine aminotransaminase

AST:

Aspartate aminotransaminase

LDL:

Low-density lipoprotein

NAFLD:

Non-alcoholic fatty liver disease

HOMA:

Homeostasis model of assessment

TLR4:

Toll-like receptor 4

TNF-α:

Tumor necrosis factor-α and

TGF-β1:

Transforming growth factor-β1

NAFLD:

Non-alcoholic fatty liver disease

HCC:

Hepatocellular carcinoma

PPARs:

Peroxisome proliferator-activator receptors

CMC:

Carboxymethyl cellulose

FFAs:

Free fatty acids

i.p:

Intraperitoneal

H&E:

Hematoxylin and eosin

LH:

Lobular hepatitis

HB:

Hepatocellular ballooning

PH:

Portal hepatitis
References
1.

Awazawa, Motoharu, Kohjiro Ueki, Kazunori Inabe, Toshimasa Yamauchi, Kazuma Kaneko, Yukiko Okazaki, Nabeel Bardeesy, Shin Ohnishi, Ryozo Nagai, and Takashi Kadowaki. 2009. Adiponectin suppresses hepatic SREBP1c expression in an AdipoR1/LKB1/AMPK dependent pathway. Biochemical and Biophysical Research Communications 382 (1): 51–56.

2.

Bedossa, Pierre. 2017. Pathology of non-alcoholic fatty liver disease. Liver International 37 (S1): 85–89.

3.

Bhatia, V., P. Arora, G. Kaur, and U. Kaul. 2016. Saroglitazar: a new drug to treat diabetic hypertriglyceridemia. Heart Research Open Journal 4 (1): 12–17.

4.

Browning, Jeffrey D., and Jay D. Horton. 2004. Molecular mediators of hepatic steatosis and liver injury. The Journal of Clinical Investigation 114 (2): 147–152.

5.

Bruun, Jens M., Aina S. Lihn, Camilla Verdich, Steen B. Pedersen, Søren Toubro, Arne Astrup, and Bjørn Richelsen. 2003. Regulation of adiponectin by adipose tissue-derived cytokines: in vivo and in vitro investigations in humans. American Journal of Physiology. Endocrinology and Metabolism 285 (3): E527–E533.

6.

Caffrey, R., J. Marioneaux, P. Santhekadur, P. Bedossa, B. Philip, S. Giri, M. Jain, and A. Sanyal. 2018. Saroglitazar treatment prevents NASH, eliminates hepatocyte ballooning, and significantly improves serum LFTs, lipids and insulin resistance in DIAMOND(tm) mice compared to pioglitazone benchmark. Journal of Hepatology 68: S578–S579. https://doi.org/10.1016/s0168-8278(18)31416-8.

7.

Ceccarelli, Sara, Nadia Panera, Marco Mina, Daniela Gnani, Cristiano De Stefanis, Annalisa Crudele, Chiara Rychlicki, Stefania Petrini, Giovannella Bruscalupi, and Laura Agostinelli. 2015. LPS-induced TNF-α factor mediates pro-inflammatory and pro-fibrogenic pattern in non-alcoholic fatty liver disease. Oncotarget 6 (39): 41434–41452.

8.

Chang, Feng, Linda A. Jaber, Helen D. Berlie, and Mary Beth O'Connell. 2007. Evolution of peroxisome proliferator-activated receptor agonists. Annals of Pharmacotherapy 41 (6): 973–983.

9.

Chen, Xi, Zhang Cheng, Mei Zhao, Chang-E Shi, Ren-Min Zhu, Hua Wang, Hui Zhao, Wei Wei, Jia-Bin Li, and Xu. De-Xiang. 2011. Melatonin alleviates lipopolysaccharide-induced hepatic SREBP-1c activation and lipid accumulation in mice. Journal of Pineal Research 51 (4): 416–425.

10.

Cheung, A.T., J. Wang, D. Ree, J.K. Kolls, and M. Bryer-Ash. 2000. Tumor necrosis factor-alpha induces hepatic insulin resistance in obese Zucker (fa/fa) rats via interaction of leukocyte antigen-related tyrosine phosphatase with focal adhesion kinase. Diabetes 49 (5): 810–819.

11.

Chistyakov, Dmitry V., Nadezda V. Azbukina, Alexandr V. Lopachev, Ksenia N. Kulichenkova, Alina A. Astakhova, and Marina G. Sergeeva. 2018. Rosiglitazone as a modulator of TLR4 and TLR3 signaling pathways in rat primary neurons and astrocytes. International Journal of Molecular Sciences 19 (1): 113.

12.

Chitturi, Shivakumar, Geoffrey Farrell, Linda Frost, Adamandia Kriketos, Rita Lin, Christopher Liddle, Dev Samarasinghe, and Jacob George. 2002. Serum leptin in NASH correlates with hepatic steatosis but not fibrosis: a manifestation of lipotoxicity? Hepatology 36 (2): 403–409.

13.

Minicis, De, Laura Agostinelli Samuele, Chiara Rychlicki, Gian Pio Sorice, Stefania Saccomanno, Cinzia Candelaresi, Andrea Giaccari, Luciano Trozzi, Irene Pierantonelli, and Eleonora Mingarelli. 2014. HCC development is associated to peripheral insulin resistance in a mouse model of NASH. PLoS One 9 (5): e97136.

14.

Douhara, Akitoshi, Kei Moriya, Hitoshi Yoshiji, Ryuichi Noguchi, Tadashi Namisaki, Mitsuteru Kitade, Kosuke Kaji, Yosuke Aihara, Norihisa Nishimura, and Kosuke Takeda. 2015. Reduction of endotoxin attenuates liver fibrosis through suppression of hepatic stellate cell activation and remission of intestinal permeability in a rat non-alcoholic steatohepatitis model. Molecular Medicine Reports 11 (3): 1693–1700.

15.

El-Haleim, Enas A. Abd, Ashraf K. Bahgat, and Samira Saleh. 2016. Effects of combined PPAR-γ and PPAR-α agonist therapy on fructose induced NASH in rats: modulation of gene expression. European Journal of Pharmacology 773: 59–70.

16.

Feige, Jérôme N., Laurent Gelman, Liliane Michalik, Béatrice Desvergne, and Walter Wahli. 2006. From molecular action to physiological outputs: peroxisome proliferator-activated receptors are nuclear receptors at the crossroads of key cellular functions. Progress in Lipid Research 45 (2): 120–159.

17.

Feldstein, Ariel E., Ali Canbay, Maria E. Guicciardi, Hajime Higuchi, Steven F. Bronk, and Gregory J. Gores. 2003. Diet associated hepatic steatosis sensitizes to Fas mediated liver injury in mice. Journal of Hepatology 39 (6): 978–983.

18.

Furukawa, Shigetada, Takuya Fujita, Michio Shimabukuro, Masanori Iwaki, Yukio Yamada, Yoshimitsu Nakajima, Osamu Nakayama, Makoto Makishima, Morihiro Matsuda, and Iichiro Shimomura. 2017. Increased oxidative stress in obesity and its impact on metabolic syndrome. The Journal of Clinical Investigation 114 (12): 1752–1761.

19.

Guo, J.H., D.W. Han, X.Q. Li, Y. Zhang, and Y.C. Zhao. 2014. The impact of small doses of LPS on NASH in high sucrose and high fat diet induced rats. European Review for Medical and Pharmacological Sciences 18 (18): 2742–2747.

20.

Guo, Jinsheng, and Scott L. Friedman. 2010. Toll-like receptor 4 signaling in liver injury and hepatic fibrogenesis. Fibrogenesis & Tissue Repair 3 (1): 21.

21.

Hansen, Henrik H., Michael Feigh, Sanne S. Veidal, Kristoffer T. Rigbolt, Niels Vrang, and Keld Fosgerau. 2017. Mouse models of nonalcoholic steatohepatitis in preclinical drug development. Drug Discovery Today 22: 1707–1718.

22.

Hersoug, Lars-Georg, Peter Møller, and Steffen Loft. 2018. Role of microbiota-derived lipopolysaccharide in adipose tissue inflammation, adipocyte size and pyroptosis during obesity. Nutrition Research Reviews,31(2): 153-163. https://doi.org/10.1017/S0954422417000269.

23.

Ikejima, Kenichi, Hajime Honda, Mutsuko Yoshikawa, Miyoko Hirose, Tsuneo Kitamura, Yoshiyuki Takei, and Nobuhiro Sato. 2001. Leptin augments inflammatory and profibrogenic responses in the murine liver induced by hepatotoxic chemicals. Hepatology 34 (2): 288–297.

24.

Imajo, K., K. Fujita, M. Yoneda, Y. Nozaki, Y. Ogawa, Y. Shinohara, S. Kato, H. Mawatari, W. Shibata, H. Kitani, K. Ikejima, H. Kirikoshi, N. Nakajima, S. Saito, S. Maeyama, S. Watanabe, K. Wada, and A. Nakajima. 2012. Hyperresponsivity to low-dose endotoxin during progression to nonalcoholic steatohepatitis is regulated by leptin-mediated signaling. Cell Metabolism 16 (1): 44–54.

25.

Issa, Danny, Vaishali Patel, and Arun J. Sanyal. 2018. Future therapy for non-alcoholic fatty liver disease. Liver International 38: 56–63.

26.

Jain, M.R., S.R. Giri, B. Bhoi, C. Trivedi, A. Rath, R. Rathod, R. Ranvir, S. Kadam, H. Patel, P. Swain, S.S. Roy, N. Das, E. Karmakar, W. Wahli, and P.R. Patel. 2018. Dual PPARalpha/gamma agonist saroglitazar improves liver histopathology and biochemistry in experimental NASH models. Liver International 38 (6): 1084–1094.

27.

Jain, Mukul R., Suresh R. Giri, Chitrang Trivedi, Bibhuti Bhoi, Akshyaya Rath, Geeta Vanage, Purvi Vyas, Ramchandra Ranvir, and Pankaj R. Patel. 2015. Saroglitazar, a novel PPARα/γ agonist with predominant PPARα activity, shows lipid-lowering and insulin-sensitizing effects in preclinical models. Pharmacology Research & Perspectives 3 (3): e00136.

28.

Jeong, Sunhyo, and Michung Yoon. 2009. Fenofibrate inhibits adipocyte hypertrophy and insulin resistance by activating adipose PPARα in high fat diet-induced obese mice. Experimental & Molecular Medicine 41 (6): 397–405.

29.

Joshi, S.R. 2015. Saroglitazar for the treatment of dyslipidemia in diabetic patients. Expert Opinion on Pharmacotherapy 16 (4): 597–606. https://doi.org/10.1517/14656566.2015.1009894.

30.

Kessoku, T., K. Imajo, Y. Honda, T. Kato, Y. Ogawa, W. Tomeno, S. Kato, H. Mawatari, K. Fujita, M. Yoneda, Y. Nagashima, S. Saito, K. Wada, and A. Nakajima. 2016. Resveratrol ameliorates fibrosis and inflammation in a mouse model of nonalcoholic steatohepatitis. Scientific Reports 6: 22251.

31.

Kiziltas, Safak. 2016. Toll-like receptors in pathophysiology of liver diseases. World Journal of Hepatology 8 (32): 1354–1369. https://doi.org/10.4254/wjh.v8.i32.1354.

32.

Kleiner, David E., Elizabeth M. Brunt, Mark Van Natta, Cynthia Behling, Melissa J. Contos, Oscar W. Cummings, Linda D. Ferrell, Yao-Chang Liu, Michael S. Torbenson, and Aynur Unalp-Arida. 2005. Design and validation of a histological scoring system for nonalcoholic fatty liver disease. Hepatology 41 (6): 1313–1321.

33.

Lau, Jennie Ka Ching, Xiang Zhang, and Jun Yu. 2017. Animal models of non-alcoholic fatty liver disease: current perspectives and recent advances. The Journal of Pathology 241 (1): 36–44.

34.

Lieber, Charles S., Maria A. Leo, Ki M. Mak, Youqing Xu, Qi Cao, Chaoling Ren, Anatoly Ponomarenko, and Leonore M. DeCarli. 2004. Model of nonalcoholic steatohepatitis. The American Journal of Clinical Nutrition 79 (3): 502–509.

35.

Lin, X., Z. Zhang, J.M. Chen, Y.Y. Xu, H.R. Ye, J. Cui, Y. Fang, Y. Jin, D.R. Zhu, and L. Yuan. 2015. Role of APN and TNF-alpha in type 2 diabetes mellitus complicated by nonalcoholic fatty liver disease. Genetics and Molecular Research 14: 2940–2946.

36.

Liu, X.J., N.N. Duan, C. Liu, C. Niu, X.P. Liu, and J. Wu. 2018. Characterization of a murine nonalcoholic steatohepatitis model induced by high fat high calorie diet plus fructose and glucose in drinking water. Laboratory Investigation 98 (9): 1184–1199.

37.

Masaki, Takayuki, Seiichi Chiba, Hiroshi Tatsukawa, Tohru Yasuda, Hitoshi Noguchi, Masataka Seike, and Hironobu Yoshimatsu. 2004. Adiponectin protects LPS-induced liver injury through modulation of TNF-α in KK-Ay obese mice. Hepatology 40 (1): 177–184.

38.

Matsumoto, Hitoshi, Shinji Tamura, Yoshihiro Kamada, Shinichi Kiso, Juichi Fukushima, Akira Wada, Norikazu Maeda, Shinji Kihara, Tohru Funahashi, and Yuji Matsuzawa. 2006. Adiponectin deficiency exacerbates lipopolysaccharide/D-galactosamine-induced liver injury in mice. World journal of gastroenterology: WJG 12 (21): 3352–3358.

39.

Matsuzawa, Yuji. 2005. Adiponectin: identification, physiology and clinical relevance in metabolic and vascular disease. Atherosclerosis Supplements 6 (2): 7–14.

40.

Matthews, D.R., J.P. Hosker, A.S. Rudenski, B.A. Naylor, D.F. Treacher, and R.C. Turner. 1985. Homeostasis model assessment: insulin resistance and β-cell function from fasting plasma glucose and insulin concentrations in man. Diabetologia 28 (7): 412–419.

41.

Mitchell, J.R., D.J. Jollow, W.Z. Potter, D.C. Davis, J.R. Gillette, and B.B. Brodie. 1973. Acetaminophen-induced hepatic necrosis. I. Role of drug metabolism. Journal of Pharmacology and Experimental Therapeutics 187 (1): 185–194.

42.

Miura, Kouichi, and Hirohide Ohnishi. 2014. Role of gut microbiota and Toll-like receptors in nonalcoholic fatty liver disease. World journal of gastroenterology: WJG 20 (23): 7381–7391.

43.

Mohamadin, Ahmed M., Ahmed A. Elberry, Mohamed A. Elkablawy, Hala S. Abdel Gawad, and Fahad A. Al-Abbasi. 2011. Montelukast, a leukotriene receptor antagonist abrogates lipopolysaccharide-induced toxicity and oxidative stress in rat liver. Pathophysiology 18 (3): 235–242.

44.

Montagner, Alexandra, Arnaud Polizzi, Edwin Fouché, Simon Ducheix, Yannick Lippi, Frédéric Lasserre, Valentin Barquissau, Marion Régnier, Céline Lukowicz, and Fadila Benhamed. 2016. Liver PPARα is crucial for whole-body fatty acid homeostasis and is protective against NAFLD. Gut. https://doi.org/10.1136/gutjnl-2015-310798.

45.

Musso, Giovanni, Maurizio Cassader, and Roberto Gambino. 2016. Non-alcoholic steatohepatitis: emerging molecular targets and therapeutic strategies. Nature Reviews Drug Discovery 15 (4): 249–274.

46.

Orlik, Bartlomiej, Gabriela Handzlik, and Magdalena Olszanecka-Glinianowicz. 2010. The role of adipokines and insulin resistance in the pathogenesis of nonalcoholic fatty liver disease. Postȩpy Higieny i Medycyny Doświadczalnej (Online) 64: 212–219.

47.

Oseini, Abdul M., and Arun J. Sanyal. 2017. Therapies in non-alcoholic steatohepatitis (NASH). Liver International 37 (S1): 97–103.

48.

Ota, Tsuguhito, Toshinari Takamura, Seiichiro Kurita, Naoto Matsuzawa, Yuki Kita, Masafumi Uno, Hiroshi Akahori, Hirofumi Misu, Masaru Sakurai, and Yoh Zen. 2007. Insulin resistance accelerates a dietary rat model of nonalcoholic steatohepatitis. Gastroenterology 132 (1): 282–293.

49.

Patel, Vihitaben S., M. Ete Chan, Gabriel M. Pagnotti, Danielle M. Frechette, Janet Rubin, and Clinton T. Rubin. 2017. Incorporating refractory period in mechanical stimulation mitigates obesity-induced adipose tissue dysfunction in adult mice. Obesity 25 (10): 1745–1753.

50.

Pawlak, M., E. Bauge, W. Bourguet, K. De Bosscher, F. Lalloyer, A. Tailleux, C. Lebherz, P. Lefebvre, and B. Staels. 2014. The transrepressive activity of peroxisome proliferator-activated receptor alpha is necessary and sufficient to prevent liver fibrosis in mice. Hepatology 60 (5): 1593–1606.

51.

Pawlak, M., P. Lefebvre, and B. Staels. 2015. Molecular mechanism of PPARalpha action and its impact on lipid metabolism, inflammation and fibrosis in non-alcoholic fatty liver disease. Journal of Hepatology 62 (3): 720–733.

52.

Perreault, Mylene, David V. Erbe, and James F. Tobin. 2008. PPARdelta Agonism for the Treatment of Obesity and Associated Disorders: Challenges and Opportunities. PPAR Research, 2008;125387. https://doi.org/10.1155/2008/125387.

53.

Rao, Srinivasa, and K. Das. 2014. Hepatoprotective and antioxidant activity of Lannea coromandelica Linn. on thioacetamide induced hepatotoxicity in rats. International Letters of Natural Sciences 8:30–43. https://doi.org/10.18052/www.scipress.com/ILNS.8.30.

54.

Reitman, S., and S. Frankel. 1957. A colorimetric method for the determination of serum glutamic oxalacetic and glutamic pyruvic transaminases. American Journal of Clinical Pathology 28 (1): 56–63.

55.

Ribeiro, Paulo S., Helena Cortez-Pinto, Susana Solá, Rui E. Castro, Rita M. Ramalho, Amlia Baptista, Miguel C. Moura, Maria E. Camilo, and Cecília M.P. Rodrigues. 2004. Hepatocyte apoptosis, expression of death receptors, and activation of NF-κB in the liver of nonalcoholic and alcoholic steatohepatitis patients. The American Journal of Gastroenterology 99 (9): 1708–1717.

56.

Schuppan, Detlef, and Jörn M. Schattenberg. 2013. Non-alcoholic steatohepatitis: pathogenesis and novel therapeutic approaches. Journal of Gastroenterology and Hepatology 28: 68–76.

57.

Shen, Wei, Gao Yang, Boyu Lu, Qingjiong Zhang, Yang Hu, and Ying Chen. 2014. Negatively regulating TLR4/NF-κB signaling via PPARα in endotoxin-induced uveitis. Biochimica et Biophysica Acta (BBA) - Molecular Basis of Disease 1842 (7): 1109–1120.

58.

Singh, Deepak Kumar, Puja Sakhuja, Archana Rastogi, Anubha Singh, Ranjana Gondal, and Shiv Kumar Sarin. 2013. Serum leptin levels correlate with body mass index but not with histologic disease severity in Indian patients with non-alcoholic steatohepatitis: a pilot study. The Indian Journal of Medical Research 137 (5): 986–987.

59.

Souza-Mello, Vanessa. 2015. Peroxisome proliferator-activated receptors as targets to treat non-alcoholic fatty liver disease. World Journal of Hepatology 7 (8): 1012.

60.

Srivastava, R.A., R. Jahagirdar, S. Azhar, S. Sharma, and C.L. Bisgaier. 2006. Peroxisome proliferator-activated receptor-alpha selective ligand reduces adiposity, improves insulin sensitivity and inhibits atherosclerosis in LDL receptor-deficient mice. Molecular and Cellular Biochemistry 285 (1–2): 35–50.

61.

Stojsavljević, Sanja, Marija Gomerčić Palčić, Lucija Virović Jukić, Lea Smirčić Duvnjak, and Marko Duvnjak. 2014. Adipokines and proinflammatory cytokines, the key mediators in the pathogenesis of nonalcoholic fatty liver disease. World journal of gastroenterology: WJG 20 (48): 18070–18091.

62.

Sun, Xin, Yan Zhang, and Meilin Xie. 2017. The role of peroxisome proliferator-activated receptor in the treatment of non-alcoholic fatty liver diseases. Acta Pharmaceutica 67 (1): 1–13.

63.

Takeuchi, Masayoshi, Jun-ichi Takino, Akiko Sakasai-Sakai, Takanobu Takata, Tadashi Ueda, Mikihiro Tsutsumi, Hideyuki Hyogo, and Sho-ichi Yamagishi. 2014. Involvement of the TAGE-RAGE system in non-alcoholic steatohepatitis: novel treatment strategies. World Journal of Hepatology 6 (12): 880–893.

64.

Tontonoz, Peter, and Bruce M. Spiegelman. 2008. Fat and beyond: the diverse biology of PPARγ. Annual Review of Biochemistry 77: 289–312.

65.

Tsai, Jen-Pi. 2017. The association of serum leptin levels with metabolic diseases. Tzu-Chi Medical Journal 29 (4): 192–196.

66.

Tsochatzis, Emmanuel, George V. Papatheodoridis, and Athanasios J. Archimandritis. 2006. The evolving role of leptin and adiponectin in chronic liver diseases. The American Journal of Gastroenterology 101 (11): 2629–2640.

67.

Willebrords, J., I.V. Pereira, M. Maes, S. Crespo Yanguas, I. Colle, B. Van Den Bossche, T.C. Da Silva, et al. 2015. Strategies, models and biomarkers in experimental non-alcoholic fatty liver disease research. Progress in Lipid Research 59: 106–125.

68.

Wong, V.W., A.Y. Hui, S.W. Tsang, J.L. Chan, A.M. Tse, K.F. Chan, W.Y. So, A.Y. Cheng, W.F. Ng, G.L. Wong, J.J. Sung, and H.L. Chan. 2006. Metabolic and adipokine profile of Chinese patients with nonalcoholic fatty liver disease. Clinical Gastroenterology and Hepatology 4 (9): 1154–1161.

69.

Yamauchi, Toshimasa, J. Kamon, Yet al Minokoshi, Y. Ito, Hand Waki, S. Uchida, S. Yamashita, M. Noda, S. Kita, and K. Ueki. 2002. Adiponectin stimulates glucose utilization and fatty-acid oxidation by activating AMP-activated protein kinase. Nature Medicine 8 (11): 1288–1295.

70.

Yamauchi, Toshimasa, Yasunori Nio, Toshiyuki Maki, Masaki Kobayashi, Takeshi Takazawa, Masato Iwabu, Miki Okada-Iwabu, Sachiko Kawamoto, Naoto Kubota, and Tetsuya Kubota. 2007. Targeted disruption of AdipoR1 and AdipoR2 causes abrogation of adiponectin binding and metabolic actions. Nature Medicine 13 (3): 332–339.

71.

Yang, Shi Qi, Hui Zhi Lin, M. Daniel Lane, Mark Clemens, and Anna Mae Diehl. 1997. Obesity increases sensitivity to endotoxin liver injury: implications for the pathogenesis of steatohepatitis. Proceedings of the National Academy of Sciences 94 (6): 2557–2562.

72.

Younossi, Zobair M. 2018. The epidemiology of nonalcoholic steatohepatitis. Clinical Liver Disease 11 (4): 92–94.

73.

Zou, J.N., J. Xiao, S.S. Hu, C.S. Fu, X.L. Zhang, Z.X. Zhang, Y.J. Lu, W.J. Chen, and Z.B. Ye. 2017. Toll-like receptor 4 signaling pathway in the protective effect of pioglitazone on experimental immunoglobulin A nephropathy. Chinese Medical Journal 130 (8): 906–913.

74.

Zou, Yuhong, Jun Li, Chao Lu, Jianqing Wang, Jinfang Ge, Yan Huang, Lei Zhang, and Yuanyuan Wang. 2006. High-fat emulsion-induced rat model of nonalcoholic steatohepatitis. Life Sciences 79 (11): 1100–1107.

75.

Zu, L., J. He, H. Jiang, C. Xu, S. Pu, and G. Xu. 2009. Bacterial endotoxin stimulates adipose lipolysis via toll-like receptor 4 and extracellular signal-regulated kinase pathway. The Journal of Biological Chemistry 284 (9): 5915–5926.

76.

Zuo, Hui, Zumin Shi, Baojun Yuan, Yue Dai, Gaolin Wu, and Akhtar Hussain. 2013. Association between serum leptin concentrations and insulin resistance: a population-based study from China. PLoS One 8 (1): e54615.
Acknowledgments
This manuscript has been appreciatively scientifically edited by the Nature Research Editing Service through the Egyptian knowledge bank.
Ethics declarations
Ethics Statement
Experimental design and animal handling procedures were approved by the Faculty of Pharmacy, Cairo University Research Ethics Committee, Cairo, Egypt: PT number (1742) and complied with the Guide for the Care and Use of Laboratory Animals published by the US National Institutes of Health (NIH Publication no. 85–23, revised 1996). Every effort was made to minimize the number and suffering of animals used in this study.
Conflict of Interest
The authors declare that they have no conflicts of interest.
Additional information
Publisher's Note
Springer Nature remains neutral with regard to jurisdictional claims in published maps and institutional affiliations.
About this article
Cite this article
Hassan, N.F., Nada, S.A., Hassan, A. et al. Saroglitazar Deactivates the Hepatic LPS/TLR4 Signaling Pathway and Ameliorates Adipocyte Dysfunction in Rats with High-Fat Emulsion/LPS Model-Induced Non-alcoholic Steatohepatitis. Inflammation 42, 1056–1070 (2019). https://doi.org/10.1007/s10753-019-00967-6
KEY WORDS
NASH

lipopolysaccharide

saroglitazar

PPAR-α/γ agonist

toll-like receptor 4

adipocyte