Abstract
Intervertebral disc degeneration (IDD) is widely considered one of the main causes of low back pain, which is a chronic progressive disease closely related to inflammation and degeneration of nucleus pulposus (NP) cells. Baicalein is a natural bioactive compound with anti-inflammatory effects in different diseases, including inhibition of the inflammatory response in chondrocytes, whose morphology and avascular supply are similar to those of NP cells. Therefore, we hypothesized that baicalein may have a therapeutic effect on IDD by suppressing the inflammatory response. In vitro, NP cells were pretreated with baicalein for 2 h and then incubated with IL-1β for 24 h. We found that baicalein not only inhibited the overexpression of inflammatory cytokine production, including NO, PGE2, TNF-α, and IL-6, but also suppressed the expression of COX-2 and iNOS. The IL-1β-induced overexpression of MMP13 and ADAMTS5 and degradation of aggrecan and type II collagen were reversed by baicalein in a dose-dependent manner. Mechanistically, we found that baicalein suppressed the IL-1β-induced activation of the NF-κB and MAPK pathways. Moreover, an in vivo study demonstrated that baicalein treatment could ameliorate IDD in a puncture-induced rat model. Thus, baicalein has great value as a potential therapeutic agent for IDD.
This is a preview of subscription content, log in to check access.
Access options
Buy single article
Instant access to the full article PDF.
US$ 39.95
Price includes VAT for USA
Subscribe to journal
Immediate online access to all issues from 2019. Subscription will auto renew annually.
US$ 199
This is the net price. Taxes to be calculated in checkout.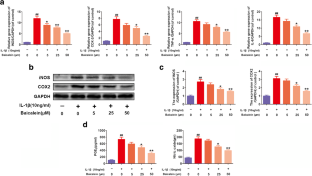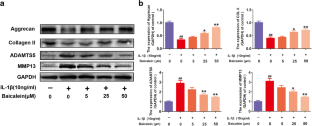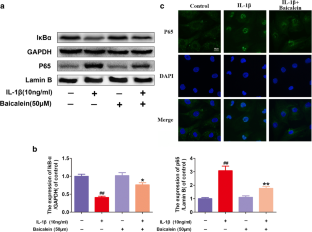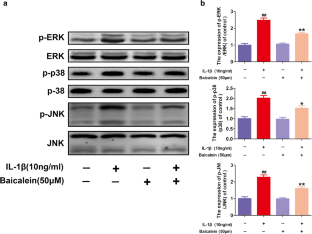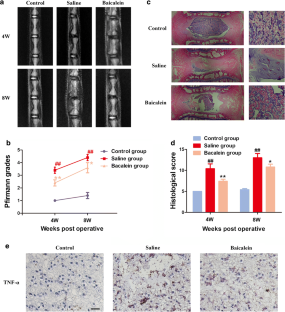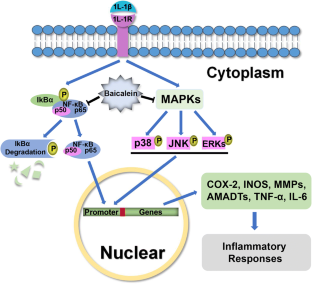 References
1.

Katz, J.N. 2006. Lumbar disc disorders and low-back pain: socioeconomic factors and consequences. The Journal of bone and joint surgery American volume 88 (Suppl 2): 21–24.

2.

Luoma, K., H. Riihimaki, R. Luukkonen, R. Raininko, E. Viikari-Juntura, and A. Lamminen. 2000. Low back pain in relation to lumbar disc degeneration. Spine 25: 487–492.

3.

Adams, M.A., and P.J. Roughley. 2006. What is intervertebral disc degeneration, and what causes it? Spine 31: 2151–2161.

4.

Hangai, M., K. Kaneoka, S. Kuno, S. Hinotsu, M. Sakane, N. Mamizuka, S. Sakai, and N. Ochiai. 2008. Factors associated with lumbar intervertebral disc degeneration in the elderly. The spine journal : official journal of the North American Spine Society 8: 732–740.

5.

Burke, J.G., R.W. Watson, D. McCormack, F.E. Dowling, M.G. Walsh, and J.M. Fitzpatrick. 2002. Intervertebral discs which cause low back pain secrete high levels of proinflammatory mediators. The Journal of bone and joint surgery British volume 84: 196–201.

6.

Shamji, M.F., L.A. Setton, W. Jarvis, S. So, J. Chen, L. Jing, R. Bullock, R.E. Isaacs, C. Brown, and W.J. Richardson. 2010. Proinflammatory cytokine expression profile in degenerated and herniated human intervertebral disc tissues. Arthritis and Rheumatism 62: 1974–1982.

7.

Le Maitre, C.L., A.J. Freemont, and J.A. Hoyland. 2005. The role of interleukin-1 in the pathogenesis of human intervertebral disc degeneration. Arthritis Research & Therapy 7: R732–R745.

8.

Lee, S., C.S. Moon, D. Sul, J. Lee, M. Bae, Y. Hong, M. Lee, S. Choi, R. Derby, B.J. Kim, J. Kim, J.S. Yoon, L. Wolfer, J. Kim, J. Wang, S.W. Hwang, and S.H. Lee. 2009. Comparison of growth factor and cytokine expression in patients with degenerated disc disease and herniated nucleus pulposus. Clinical Biochemistry 42: 1504–1511.

9.

Wuertz, K., N. Vo, D. Kletsas, and N. Boos. 2012. Inflammatory and catabolic signalling in intervertebral discs: the roles of NF-kappaB and MAP kinases. European Cells & Materials 23: 103–119 discussion 119-120.

10.

Li, H.B., Y. Jiang, and F. Chen. 2004. Separation methods used for Scutellaria baicalensis active components. Journal of chromatography B, Analytical technologies in the biomedical and life sciences 812: 277–290.

11.

Kim, K.C., I.K. Lee, K.A. Kang, H.S. Kim, S.S. Kang, and J.W. Hyun. 2012. Baicalein (5,6,7-trihydroxyflavone) reduces oxidative stress-induced DNA damage by upregulating the DNA repair system. Cell Biology and Toxicology 28: 421–433.

12.

Zhu, J., J. Wang, Y. Sheng, Y. Zou, L. Bo, F. Wang, J. Lou, X. Fan, R. Bao, Y. Wu, F. Chen, X. Deng, and J. Li. 2012. Baicalin improves survival in a murine model of polymicrobial sepsis via suppressing inflammatory response and lymphocyte apoptosis. PLoS One 7: e35523.

13.

Fan, G.W., Y. Zhang, X. Jiang, Y. Zhu, B. Wang, L. Su, W. Cao, H. Zhang, and X. Gao. 2013. Anti-inflammatory activity of baicalein in LPS-stimulated RAW264.7 macrophages via estrogen receptor and NF-kappaB-dependent pathways. Inflammation 36: 1584–1591.

14.

Yang, W., H. Li, X. Cong, X. Wang, Z. Jiang, Q. Zhang, X. Qi, S. Gao, R. Cao, and W. Tian. 2016. Baicalin attenuates lipopolysaccharide induced inflammation and apoptosis of cow mammary epithelial cells by regulating NF-kappaB and HSP72. International Immunopharmacology 40: 139–145.

15.

Dong, S.J., Y.Q. Zhong, W.T. Lu, G.H. Li, H.L. Jiang, and B. Mao. 2015. Baicalin inhibits lipopolysaccharide-induced inflammation through signaling NF-kappaB pathway in HBE16 airway epithelial cells. Inflammation 38: 1493–1501.

16.

Zhang, X., Y. Yang, L. Du, W. Zhang, and G. Du. 2017. Baicalein exerts anti-neuroinflammatory effects to protect against rotenone-induced brain injury in rats. International Immunopharmacology 50: 38–47.

17.

Zhang, X., Y. Zhu, X. Chen, Y. Zhang, Y. Zhang, Y. Jia, H. Wang, Y. Liu, and L. Xiao. 2014. Baicalein ameliorates inflammatory-related apoptotic and catabolic phenotypes in human chondrocytes. International Immunopharmacology 21: 301–308.

18.

Chen, W.P., Y. Xiong, P.F. Hu, J.P. Bao, and L.D. Wu. 2015. Baicalein inhibits MMPs expression via a MAPK-dependent mechanism in chondrocytes. Cellular Physiology and Biochemistry : International Journal of Experimental Cellular Physiology, Biochemistry, and Pharmacology 36: 325–333.

19.

Li, Y., J. Wang, X. Song, H. Bai, T. Ma, Z. Zhang, X. Li, R. Jiang, G. Wang, X. Fan, X. Liu, and L. Gao. 2017. Effects of baicalein on IL-1beta-induced inflammation and apoptosis in rat articular chondrocytes. Oncotarget 8: 90781–90795.

20.

Pfirrmann, C.W., A. Metzdorf, M. Zanetti, J. Hodler, and N. Boos. 2001. Magnetic resonance classification of lumbar intervertebral disc degeneration. Spine 26: 1873–1878.

21.

Han, B., K. Zhu, F.C. Li, Y.X. Xiao, J. Feng, Z.L. Shi, M. Lin, J. Wang, and Q.X. Chen. 2008. A simple disc degeneration model induced by percutaneous needle puncture in the rat tail. Spine 33: 1925–1934.

22.

Le Maitre, C.L., A. Pockert, D.J. Buttle, A.J. Freemont, and J.A. Hoyland. 2007. Matrix synthesis and degradation in human intervertebral disc degeneration. Biochemical Society Transactions 35: 652–655.

23.

Sandy, J.D. 2001. Proteoglycan core proteins and catabolic fragments present in tissues and fluids. Methods in molecular biology (Clifton, NJ) 171: 335–345.

24.

Le Maitre, C.L., J.A. Hoyland, and A.J. Freemont. 2007. Catabolic cytokine expression in degenerate and herniated human intervertebral discs: IL-1beta and TNFalpha expression profile. Arthritis Research & Therapy 9: R77.

25.

Roelofs, P.D., R.A. Deyo, B.W. Koes, R.J. Scholten, and M.W. van Tulder. 2008. Nonsteroidal anti-inflammatory drugs for low back pain: an updated Cochrane review. Spine 33: 1766–1774.

26.

Madigan, L., A.R. Vaccaro, L.R. Spector, and R.A. Milam. 2009. Management of symptomatic lumbar degenerative disk disease. The Journal of the American Academy of Orthopaedic Surgeons 17: 102–111.

27.

Li, K., Y. Li, Z. Ma, and J. Zhao. 2015. Crocin exerts anti-inflammatory and anti-catabolic effects on rat intervertebral discs by suppressing the activation of JNK. International Journal of Molecular Medicine 36: 1291–1299.

28.

Chen, J., J. Xuan, Y.T. Gu, K.S. Shi, J.J. Xie, J.X. Chen, Z.M. Zheng, Y. Chen, X.B. Chen, Y.S. Wu, X.L. Zhang, and X.Y. Wang. 2017. Celastrol reduces IL-1beta induced matrix catabolism, oxidative stress and inflammation in human nucleus pulposus cells and attenuates rat intervertebral disc degeneration in vivo. Biomedicine & pharmacotherapy = Biomedecine & pharmacotherapie 91: 208–219.

29.

Dinarello, C.A. 2011. Interleukin-1 in the pathogenesis and treatment of inflammatory diseases. Blood 117: 3720–3732.

30.

Yang, W., X.H. Yu, C. Wang, W.S. He, S.J. Zhang, Y.G. Yan, J. Zhang, Y.X. Xiang, and W.J. Wang. 2015. Interleukin-1beta in intervertebral disk degeneration. Clinica chimica acta; international journal of clinical chemistry 450: 262–272.

31.

Kang, J.D., M. Stefanovic-Racic, L.A. McIntyre, H.I. Georgescu, and C.H. Evans. 1997. Toward a biochemical understanding of human intervertebral disc degeneration and herniation. Contributions of nitric oxide, interleukins, prostaglandin E2, and matrix metalloproteinases. Spine 22: 1065–1073.

32.

Sasaki, K., T. Hattori, T. Fujisawa, K. Takahashi, H. Inoue, and M. Takigawa. 1998. Nitric oxide mediates interleukin-1-induced gene expression of matrix metalloproteinases and basic fibroblast growth factor in cultured rabbit articular chondrocytes. Journal of Biochemistry 123: 431–439.

33.

Hardy, M.M., K. Seibert, P.T. Manning, M.G. Currie, B.M. Woerner, D. Edwards, A. Koki, and C.S. Tripp. 2002. Cyclooxygenase 2-dependent prostaglandin E2 modulates cartilage proteoglycan degradation in human osteoarthritis explants. Arthritis and Rheumatism 46: 1789–1803.

34.

Yoon, S.T., and N.M. Patel. 2006. Molecular therapy of the intervertebral disc. European spine journal : official publication of the European Spine Society, the European Spinal Deformity Society, and the European Section of the Cervical Spine Research Society 15 (Suppl 3): S379–S388.

35.

Roberts, S., B. Caterson, J. Menage, E.H. Evans, D.C. Jaffray, and S.M. Eisenstein. 2000. Matrix metalloproteinases and aggrecanase: their role in disorders of the human intervertebral disc. Spine 25: 3005–3013.

36.

Bachmeier, B.E., A. Nerlich, N. Mittermaier, C. Weiler, C. Lumenta, K. Wuertz, and N. Boos. 2009. Matrix metalloproteinase expression levels suggest distinct enzyme roles during lumbar disc herniation and degeneration. European spine journal : official publication of the European Spine Society, the European Spinal Deformity Society, and the European Section of the Cervical Spine Research Society 18: 1573–1586.

37.

Vo, N.V., R.A. Hartman, T. Yurube, L.J. Jacobs, G.A. Sowa, and J.D. Kang. 2013. Expression and regulation of metalloproteinases and their inhibitors in intervertebral disc aging and degeneration. The spine journal : official journal of the North American Spine Society 13: 331–341.

38.

Sun, Z., Z. Yin, C. Liu, H. Liang, M. Jiang, and J. Tian. 2015. IL-1beta promotes ADAMTS enzyme-mediated aggrecan degradation through NF-kappaB in human intervertebral disc. Journal of Orthopaedic Surgery and Research 10: 159.

39.

Tu, J., W. Li, Y. Zhang, X. Wu, Y. Song, L. Kang, W. Liu, K. Wang, S. Li, W. Hua, and C. Yang. 2017. Simvastatin inhibits IL-1beta-induced apoptosis and extracellular matrix degradation by suppressing the NF-kB and MAPK pathways in nucleus pulposus cells. Inflammation 40: 725–734.

40.

Kong, D., T. Zheng, M. Zhang, D. Wang, S. Du, X. Li, J. Fang, and X. Cao. 2013. Static mechanical stress induces apoptosis in rat endplate chondrocytes through MAPK and mitochondria-dependent caspase activation signaling pathways. PLoS One 8: e69403.

41.

Boutros, T., E. Chevet, and P. Metrakos. 2008. Mitogen-activated protein (MAP) kinase/MAP kinase phosphatase regulation: roles in cell growth, death, and cancer. Pharmacological Reviews 60: 261–310.

42.

Seguin, C.A., M. Bojarski, R.M. Pilliar, P.J. Roughley, and R.A. Kandel. 2006. Differential regulation of matrix degrading enzymes in a TNFalpha-induced model of nucleus pulposus tissue degeneration. Matrix biology : journal of the International Society for Matrix Biology 25: 409–418.

43.

Studer, R.K., L.G. Gilbertson, H. Georgescu, G. Sowa, N. Vo, and J.D. Kang. 2008. p38 MAPK inhibition modulates rabbit nucleus pulposus cell response to IL-1. Journal of Orthopaedic Research : Official Publication of the Orthopaedic Research Society 26: 991–998.

44.

Wako, M., T. Ohba, T. Ando, Y. Arai, K. Koyama, Y. Hamada, A. Nakao, and H. Haro. 2008. Mechanism of signal transduction in tumor necrosis factor-like weak inducer of apoptosis-induced matrix degradation by MMP-3 upregulation in disc tissues. Spine 33: 2489–2494.
Funding
This work was supported by the National Natural Science Foundation of China (81871806 and 81501933), the Zhejiang Public Service Technology Research Program/Social Development (LGF18H060008), the Major Scientific and Technological Project of the Medical and Health Ministry of Zhejiang Province (WKJ-ZJ-1527), the Wenzhou Science and Technology Project (Y20170080), and the Zhejiang Provincial Natural Science Foundation of China (LY17H060008).
Ethics declarations
The study was performed in accordance with the Declaration of Helsinki and relevant policies in China.
Conflict of Interest
The authors declare that they have no conflicts of interest.
Ethics Statement
This study was approved by the Committee of Wenzhou Medical University, and all surgical interventions, treatments, and postoperative animal care procedures were performed in accordance with the NIH Guide for the Care and Use of Laboratory Animals.
Additional information
Publisher's Note
Springer Nature remains neutral with regard to jurisdictional claims in published maps and institutional affiliations.
About this article
Cite this article
Jin, H., Wang, Q., Wu, J. et al. Baicalein Inhibits the IL-1β-Induced Inflammatory Response in Nucleus Pulposus Cells and Attenuates Disc Degeneration In vivo. Inflammation 42, 1032–1044 (2019). https://doi.org/10.1007/s10753-019-00965-8
KEY WORDS
intervertebral disc degeneration

baicalein

inflammation

NF-κB

MAPK