Abstract
The administration of cannabinoid receptor 2 (CB2R) agonist has been reported to produce a cardioprotective effect against the pathogenesis and progression of myocardial infarction (MI). Here in this study, we investigated the specific mechanism related to inflammatory suppression. JWH-133 was used for the activation of CB2R. MI mice models and cardiomyocytes under oxygen-glucose deprivation (OGD) challenge were used for the in vivo and in vitro studies, respectively. Detection of cardiac infarct size and levels of myocardial enzymes as well as echocardiographic examination were applied to assess MI severity and cardiac function. Cell viability and lactate dehydrogenase (LDH) release were detected in vitro. Real-time-polymerase chain reaction (RT-PCR) and enzyme-linked immunosorbent assay (ELISA) were used to detect the levels of proinflammatory cytokines. Western blot was used for the analysis of the NOD-like receptor family, pyrin domain containing 3 (NLRP3) inflammasome activation. We found that the administration of CB2R agonist attenuated the severity of MI through reducing infarct size ratio and levels of myocardial enzymes and improved cardiac function in ejection fraction (EF), fractional shortening (FS), left ventricular end-systolic diameter (LVESD), and left ventricular end-diastolic diameter (LVEDD) in MI mice. JWH-133 also produced a cardioprotective effect in murine primary cardiomyocytes by improving cell viability and LDH release. JWH-133 largely reduced the production and secretion of proinflammatory cytokines, which was significantly attenuated by AM630. HU308 showed the same effects as JWH-133. Taken together, we demonstrated for the first time the cardioprotective effect of CB2R agonist and its NLRP3 inflammasome-related mechanism in MI.
This is a preview of subscription content, log in to check access.
Access options
Buy single article
Instant access to the full article PDF.
US$ 39.95
Price includes VAT for USA
Subscribe to journal
Immediate online access to all issues from 2019. Subscription will auto renew annually.
US$ 199
This is the net price. Taxes to be calculated in checkout.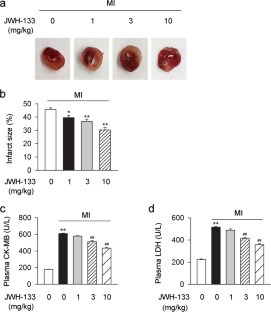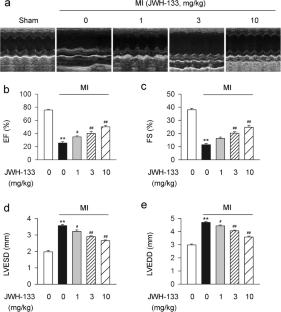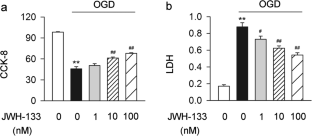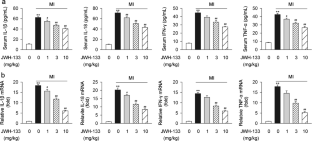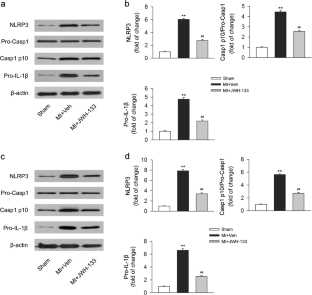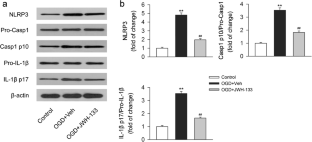 References
1.

Gajarsa, J.J., and R.A. Kloner. 2011. Left ventricular remodeling in the post-infarction heart: a review of cellular, molecular mechanisms, and therapeutic modalities. Heart Failure Reviews 16 (1): 13–21. https://doi.org/10.1007/s10741-010-9181-7.

2.

Frangogiannis, N.G. 2015. Inflammation in cardiac injury, repair and regeneration. Current Opinion in Cardiology 30 (3): 240–245. https://doi.org/10.1097/HCO.0000000000000158.

3.

Koenig, T., D.G. Sedding, H.J. Wester, and T. Derlin. 2017. Seeing the unseen: post-infarction inflammation in an isolated right ventricular myocardial infarction visualized by combined cardiac magnetic resonance imaging and chemokine receptor CXCR4-targeted molecular imaging. European Heart Journal 39: 966. https://doi.org/10.1093/eurheartj/ehx783.

4.

Borg, N., C. Alter, N. Gorldt, C. Jacoby, Z. Ding, B. Steckel, C. Quast, et al. 2017. CD73 on T Cells Orchestrates Cardiac Wound Healing After Myocardial Infarction by Purinergic Metabolic Reprogramming. Circulation 136 (3): 297–313. https://doi.org/10.1161/CIRCULATIONAHA.116.023365.

5.

Ong, S.B., S. Hernandez-Resendiz, G.E. Crespo-Avilan, R.T. Mukhametshina, X.Y. Kwek, H.A. Cabrera-Fuentes, and D.J. Hausenloy. 2018. Inflammation following acute myocardial infarction: Multiple players, dynamic roles, and novel therapeutic opportunities. Pharmacology & Therapeutics 186: 73–87. https://doi.org/10.1016/j.pharmthera.2018.01.001.

6.

Graham, E.S., J.C. Ashton, and M. Glass. 2009. Cannabinoid Receptors: A brief history and what not. Frontiers in Bioscience (Landmark Edition) 14: 944–957.

7.

Rowley, S., X. Sun, I.V. Lima, A. Tavenier, A.C.P. de Oliveira, S.K. Dey, and S.C. Danzer. 2017. Cannabinoid receptor 1/2 double-knockout mice develop epilepsy. Epilepsia 58 (12): e162–e166. https://doi.org/10.1111/epi.13930.

8.

Munro, S., K.L. Thomas, and M. Abu-Shaar. 1993. Molecular characterization of a peripheral receptor for cannabinoids. Nature 365 (6441): 61–65. https://doi.org/10.1038/365061a0.

9.

Deng, L., J. Guindon, A. BL Cornett, K. Mackie Makriyannis, and A.G. Hohmann. 2015. Chronic cannabinoid receptor 2 activation reverses paclitaxel neuropathy without tolerance or cannabinoid receptor 1-dependent withdrawal. Biological Psychiatry 77 (5): 475–487. https://doi.org/10.1016/j.biopsych.2014.04.009.

10.

Li, X., D. Han, Z. Tian, B. Gao, M. Fan, C. Li, X. Li, Y. Wang, S. Ma, and F. Cao. 2016. Activation of Cannabinoid Receptor Type II by AM1241 Ameliorates Myocardial Fibrosis via Nrf2-Mediated Inhibition of TGF-beta1/Smad3 Pathway in Myocardial Infarction Mice. Cellular Physiology and Biochemistry 39 (4): 1521–1536. https://doi.org/10.1159/000447855.

11.

Han, D., X. Li, W.S. Fan, J.W. Chen, T. Su TT Gou, M.M. Fan, et al. 2017. Activation of cannabinoid receptor type II by AM1241 protects adipose-derived mesenchymal stem cells from oxidative damage and enhances their therapeutic efficacy in myocardial infarction mice via Stat3 activation. Oncotarget 8 (39): 64853–64866. https://doi.org/10.18632/oncotarget.17614.

12.

Snider, N.T., V.J. Walker, and P.F. Hollenberg. 2010. Oxidation of the endogenous cannabinoid arachidonoyl ethanolamide by the cytochrome P450 monooxygenases: physiological and pharmacological implications. Pharmacological Reviews 62 (1): 136–154. https://doi.org/10.1124/pr.109.001081.

13.

Adhikary, S., V.P. Kocieda, J.H. Yen, R.F. Tuma, and D. Ganea. 2012. Signaling through cannabinoid receptor 2 suppresses murine dendritic cell migration by inhibiting matrix metalloproteinase 9 expression. Blood 120 (18): 3741–3749. https://doi.org/10.1182/blood-2012-06-435362.

14.

Maslov, L.N., I. Khaliulin, Y. Zhang, A.V. Krylatov, N.V. Naryzhnaya, R. Mechoulam, L. De Petrocellis, and J.M. Downey. 2016. Prospects for Creation of Cardioprotective Drugs Based on Cannabinoid Receptor Agonists. Journal of Cardiovascular Pharmacology and Therapeutics 21 (3): 262–272. https://doi.org/10.1177/1074248415612593.

15.

Wang, Y., S. Ma, Q. Wang, Hu W, D. Wang, X. Li, T. Su, et al. 2014. Effects of cannabinoid receptor type 2 on endogenous myocardial regeneration by activating cardiac progenitor cells in mouse infarcted heart. Science China. Life Sciences 57 (2): 201–208. https://doi.org/10.1007/s11427-013-4604-z.

16.

Ito, M., T. Shichita, M. Okada, R. Komine, Y. Noguchi, A. Yoshimura, and R. Morita. 2015. Bruton's tyrosine kinase is essential for NLRP3 inflammasome activation and contributes to ischaemic brain injury. Nature Communications 6: 7360. https://doi.org/10.1038/ncomms8360.

17.

Wang, T., D. Nowrangi, Yu L, Lu T, J. Tang, B. Han, Y. Ding, Fu F, and J.H. Zhang. 2018. Activation of dopamine D1 receptor decreased NLRP3-mediated inflammation in intracerebral hemorrhage mice. Journal of Neuroinflammation 15 (1): 2. https://doi.org/10.1186/s12974-017-1039-7.

18.

Abderrazak, A., D. Couchie, D.F. Mahmood, R. Elhage, C. Vindis, M. Laffargue, V. Mateo, et al. 2015. Anti-inflammatory and antiatherogenic effects of the NLRP3 inflammasome inhibitor arglabin in ApoE2.Ki mice fed a high-fat diet. Circulation 131 (12): 1061–1070. https://doi.org/10.1161/CIRCULATIONAHA.114.013730.

19.

Ridker, P.M., and T.F. Luscher. 2014. Anti-inflammatory therapies for cardiovascular disease. European Heart Journal 35 (27): 1782–1791. https://doi.org/10.1093/eurheartj/ehu203.

20.

Guo, W., W. Liu, Z. Chen, Gu Y, S. Peng, L. Shen, Y. Shen, et al. 2017. Tyrosine phosphatase SHP2 negatively regulates NLRP3 inflammasome activation via ANT1-dependent mitochondrial homeostasis. Nature Communications 8 (1): 2168. https://doi.org/10.1038/s41467-017-02351-0.

21.

Mridha, A.R., A. Wree, Robertson AAB, M.M. Yeh, C.D. Johnson, D.M. Van Rooyen, F. Haczeyni, et al. 2017. NLRP3 inflammasome blockade reduces liver inflammation and fibrosis in experimental NASH in mice. Journal of Hepatology 66 (5): 1037–1046. https://doi.org/10.1016/j.jhep.2017.01.022.

22.

Toldo, S., and A. Abbate. 2017. The NLRP3 inflammasome in acute myocardial infarction. Nature Reviews. Cardiology 15: 203–214. https://doi.org/10.1038/nrcardio.2017.161.

23.

Sano, S., K. Oshima, Y. Wang, S. MacLauchlan, Y. Katanasaka, M. Sano, M.A. Zuriaga, et al. 2018. Tet2-Mediated Clonal Hematopoiesis Accelerates Heart Failure Through a Mechanism Involving the IL-1beta/NLRP3 Inflammasome. Journal of the American College of Cardiology 71 (8): 875–886. https://doi.org/10.1016/j.jacc.2017.12.037.

24.

van Hout, G.P., L. Bosch, G.H. Ellenbroek, J.J. de Haan, W.W. van Solinge, M.A. Cooper, F. Arslan, et al. 2017. The selective NLRP3-inflammasome inhibitor MCC950 reduces infarct size and preserves cardiac function in a pig model of myocardial infarction. European Heart Journal 38 (11): 828–836. https://doi.org/10.1093/eurheartj/ehw247.

25.

Shao, B.Z., W. Wei, P. Ke, Xu ZQ, J.X. Zhou, and C. Liu. 2014. Activating cannabinoid receptor 2 alleviates pathogenesis of experimental autoimmune encephalomyelitis via activation of autophagy and inhibiting NLRP3 inflammasome. CNS Neuroscience & Therapeutics 20 (12): 1021–1028. https://doi.org/10.1111/cns.12349.

26.

Wang, P.F., J. Bu LS Jiang, W. XJ Huang, Y.P. Du Song, and B. He. 2012. Cannabinoid-2 receptor activation protects against infarct and ischemia-reperfusion heart injury. Journal of Cardiovascular Pharmacology 59 (4): 301–307. https://doi.org/10.1097/FJC.0b013e3182418997.

27.

Tang, J., H. Miao, B. Jiang, Q. Chen, L. Tan, Y. Tao, J. Zhang, et al. 2017. A selective CB2R agonist (JWH133) restores neuronal circuit after Germinal Matrix Hemorrhage in the preterm via CX3CR1(+) microglia. Neuropharmacology 119: 157–169. https://doi.org/10.1016/j.neuropharm.2017.01.027.

28.

Guillot, A., N. Hamdaoui, A. Bizy, K. Zoltani, R. Souktani, E.S. Zafrani, A. Mallat, S. Lotersztajn, and F. Lafdil. 2014. Cannabinoid receptor 2 counteracts interleukin-17-induced immune and fibrogenic responses in mouse liver. Hepatology 59 (1): 296–306. https://doi.org/10.1002/hep.26598.

29.

Frei, R.B., P. Luschnig, G.P. Parzmair, M. Peinhaupt, S. Schranz, A. Fauland, C.E. Wheelock, A. Heinemann, and E.M. Sturm. 2016. Cannabinoid receptor 2 augments eosinophil responsiveness and aggravates allergen-induced pulmonary inflammation in mice. Allergy 71 (7): 944–956. https://doi.org/10.1111/all.12858.

30.

Rajesh, M., P. Mukhopadhyay, G. Hasko, J.W. Huffman, K. Mackie, and P. Pacher. 2008. CB2 cannabinoid receptor agonists attenuate TNF-alpha-induced human vascular smooth muscle cell proliferation and migration. British Journal of Pharmacology 153 (2): 347–357. https://doi.org/10.1038/sj.bjp.0707569.

31.

Aso, E., S. Juves, R. Maldonado, and I. Ferrer. 2013. CB2 cannabinoid receptor agonist ameliorates Alzheimer-like phenotype in AbetaPP/PS1 mice. Journal of Alzheimer's Disease 35 (4): 847–858. https://doi.org/10.3233/JAD-130137.

32.

Montecucco, F., S. Lenglet, V. Braunersreuther, F. Burger, G. Pelli, M. Bertolotto, F. Mach, and S. Steffens. 2009. CB(2) cannabinoid receptor activation is cardioprotective in a mouse model of ischemia/reperfusion. Journal of Molecular and Cellular Cardiology 46 (5): 612–620. https://doi.org/10.1016/j.yjmcc.2008.12.014.

33.

Li, Q., H.C. Guo, L.N. Maslov, X.W. Qiao, J.J. Zhou, and Y. Zhang. 2014. Mitochondrial permeability transition pore plays a role in the cardioprotection of CB2 receptor against ischemia-reperfusion injury. Canadian Journal of Physiology and Pharmacology 92 (3): 205–214. https://doi.org/10.1139/cjpp-2013-0293.

34.

Zhong, Y., A. Kinio, and M. Saleh. 2013. Functions of NOD-Like Receptors in Human Diseases. Frontiers in Immunology 4: 333. https://doi.org/10.3389/fimmu.2013.00333.

35.

Ozaki, E., M. Campbell, and S.L. Doyle. 2015. Targeting the NLRP3 inflammasome in chronic inflammatory diseases: current perspectives. Journal of Inflammation Research 8: 15–27. https://doi.org/10.2147/JIR.S51250.

36.

Shao, B.Z., Xu ZQ, D.F. Su BZ Han, and C. Liu. 2015. NLRP3 inflammasome and its inhibitors: a review. Frontiers in Pharmacology 6: 262. https://doi.org/10.3389/fphar.2015.00262.

37.

Kim, E.H., S. Park MJ Park, and E.S. Lee. 2015. Increased expression of the NLRP3 inflammasome components in patients with Behcet's disease. Journal of Inflammation (London) 12: 41. https://doi.org/10.1186/s12950-015-0086-z.

38.

Wang, Q., P. Lin, P. Li, L. Feng, Q. Ren, X. Xie, and Xu J. 2017. Ghrelin protects the heart against ischemia/reperfusion injury via inhibition of TLR4/NLRP3 inflammasome pathway. Life Sciences 186: 50–58. https://doi.org/10.1016/j.lfs.2017.08.004.

39.

Valle Raleigh, J., T. AG Mauro, C. Devarakonda, J. Marchetti, E. He, S. Kim, Filippone, et al. 2017. Reperfusion therapy with recombinant human relaxin-2 (Serelaxin) attenuates myocardial infarct size and NLRP3 inflammasome following ischemia/reperfusion injury via eNOS-dependent mechanism. Cardiovascular Research 113 (6): 609–619. https://doi.org/10.1093/cvr/cvw246.

40.

Zhou, Z., Z. Wang, Q. Guan, F. Qiu, Y. Li, Z. Liu, H. Zhang, H. Dong, and Z. Zhang. 2016. PEDF Inhibits the Activation of NLRP3 Inflammasome in Hypoxia Cardiomyocytes through PEDF Receptor/Phospholipase A2. International Journal of Molecular Sciences 17 (12): 2064. https://doi.org/10.3390/ijms17122064.

41.

Gao, F., H.C. Xiang, H.P. Li, M. Jia, X.L. Pan, H.L. Pan, and M. Li. 2018. Electroacupuncture inhibits NLRP3 inflammasome activation through CB2 receptors in inflammatory pain. Brain, Behavior, and Immunity 67: 91–100. https://doi.org/10.1016/j.bbi.2017.08.004.

42.

Ke, P., Z.Q. Xu BZ Shao, W. Wei, B.Z. Han, X.W. Chen, Su DF, and C. Liu. 2016. Activation of Cannabinoid Receptor 2 Ameliorates DSS-Induced Colitis through Inhibiting NLRP3 Inflammasome in Macrophages. PLoS One 11 (9): e0155076. https://doi.org/10.1371/journal.pone.0155076.
Funding
This work was supported by a Zhejiang Provincial Medicine Health Science and Technology Program (No. 2014KYB013).
Ethics declarations
Conflict of Interest
The authors declare that they have no conflict of interest.
Additional information
Publisher's Note
Springer Nature remains neutral with regard to jurisdictional claims in published maps and institutional affiliations.
Electronic Supplementary Material
HU308 suppresses the serum level of proinflammatory cytokines, while AM630 attenuated the effects of JWH-133. MI mice models were created through occlusion of left anterior descending coronary artery. (a) Mice were intraperitoneally injected with HU308 at 5 min before ischemia. Quantitative analysis of proinflammatory cytokines including IL-1β, IL-18, IFN-γ and TNF-α in serum at 6-h post-MI (n = 6). **P < 0.01 vs. sham group; ##P < 0.01 vs. MI group without HU308; data are presented as mean ± SEM. (b) Mice were intraperitoneally injected with JWH-133 (10 mg/kg) at 10 min before ischemia followed by intraperitoneal administration of AM630 at 5 min before ischemia. Quantitative analysis of proinflammatory cytokines including IL-1β, IL-18, IFN-γ and TNF-α in serum at 6-h post-MI (n = 6). **P < 0.01 vs. sham group; #P < 0.05 vs. MI group; ##P < 0.01 vs. MI group; $$P < 0.01 vs. MI + JWH-133 group; data are presented as mean ± SEM. (TIF 42498 kb)
About this article
Cite this article
Yu, W., Jin, G., Zhang, J. et al. Selective Activation of Cannabinoid Receptor 2 Attenuates Myocardial Infarction via Suppressing NLRP3 Inflammasome. Inflammation 42, 904–914 (2019). https://doi.org/10.1007/s10753-018-0945-x
KEY WORDS
cannabinoid receptor 2

myocardial infarction

NLRP3 inflammasome; agonist