Abstract
The aim of this study was to investigate the effects of Astragaloside IV (AS) on cigarette smoke (CS)-induced chronic obstructive pulmonary disease (COPD). Our results showed that AS alleviated CS-induced pathological injury in lung tissue. AS also increased superoxide dismutase (SOD) and reduced the level of malondialdehyde (MDA) in serum and lung. AS also reduced cytokines including tumor necrosis factor-α (TNF-α), interleukin-6 (IL-6), and interleukin-1β (IL-1β) in serum and lung. More, AS significantly reduced the protein expression of JAK3/STAT3/NF-κB pathway in CS-induced mice. In vitro, cigarette smoke extract (CSE) stimulation exposed to normal human bronchial epithelial (HBE) cells. Results further confirmed that AS significantly inhibited the protein levels of JAK3/STAT3/NF-κB pathway in CSE-induced HBE. Our result showed that AS might effectively ameliorate COPD via JAK3/STAT3/NF-κB pathway.
Access options
Buy single article
Instant access to the full article PDF.
US$ 39.95
Tax calculation will be finalised during checkout.
Subscribe to journal
Immediate online access to all issues from 2019. Subscription will auto renew annually.
US$ 119
Tax calculation will be finalised during checkout.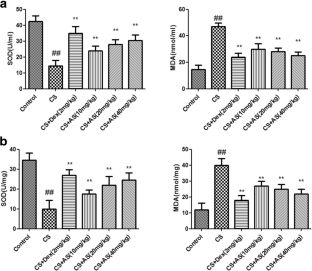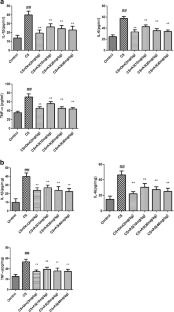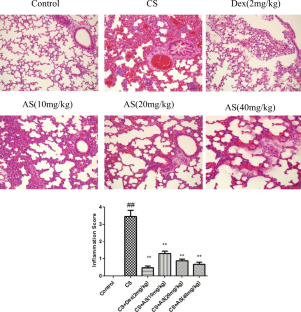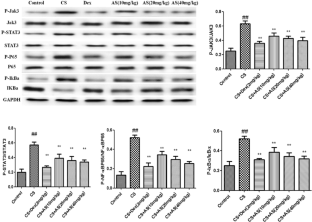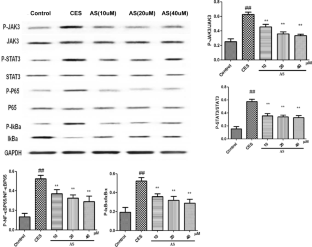 References
1.

Johnschuster, G., et al. 2016. Inflammaging increases susceptibility to cigarette smoke-induced COPD. Oncotarget 7 (21): 30068–30083.

2.

Magrone, T., and E. Jirillo. 2016. Cigarette smoke-mediated perturbations of the immune response: a new therapeutic approach with natural compounds. Endocrine Metabolic & Immune Disorders Drug Targets 16 (3): 158–167.

3.

Vij, N., Chandramani-Shivalingappa, P., Van Westphal, C., Hole, R., Bodas, M. 2016. Cigarette smoke induced autophagy-impairment accelerates lung aging, COPD-emphysema exacerbations and pathogenesis. American Journal of Physiology Cell Physiology 314 (1): C73–C87.

4.

Shao, P., L.H. Zhao, Zhi-Chen, and J.P. Pan. 2006. Regulation on maturation and function of dendritic cells by Astragalus mongholicus polysaccharides. International Immunopharmacology 6 (7): 1161–1166.

5.

Meng, L., J.W. Tang, Y. Wang, J.R. Zhao, M.Y. Shang, M. Zhang, S.Y. Liu, L. Qu, S.Q. Cai, and X.M. Li. 2011. Astragaloside IV synergizes with ferulic acid to inhibit renal tubulointerstitial fibrosis in rats with obstructive nephropathy. British Journal of Pharmacology 162 (8): 1805–1818.

6.

Chung-Min, Y., et al. 2016. Epigenetic silencing of theNR4A3tumor suppressor, by aberrant JAK/STAT signaling, predicts prognosis in gastric cancer. Scientific Reports 6: 31690.

7.

Ahmad, S.F., M.A. Ansari, K.M.A. Zoheir, S.A. Bakheet, H.M. Korashy, A. Nadeem, A.E. Ashour, and S.M. Attia. 2015. Regulation of TNF-α and NF-κB activation through the JAK/STAT signaling pathway downstream of histamine 4 receptor in a rat model of LPS-induced joint inflammation. Immunobiology 220 (7): 889–898.

8.

Jia, Y., J. Jing, Y. Bai, Z. Li, L. Liu, J. Luo, M. Liu, and H. Chen. 2011. Amelioration of experimental autoimmune encephalomyelitis by plumbagin through down-regulation of JAK-STAT and NF-κB signaling pathways. PLoS One 6 (6): e27006.

9.

Primack, B.A., M.V. Carroll, P.M. Weiss, A.L. Shihadeh, A. Shensa, S.T. Farley, M.J. Fine, T. Eissenberg, and S. Nayak. 2016. Systematic review and meta-analysis of inhaled toxicants from waterpipe and cigarette smoking. Public Health Reports 131 (1): 76–85.

10.

Wu, Y.P., C. Cao, Y.F. Wu, M. Li, T.W. Lai, C. Zhu, Y. Wang, S.M. Ying, Z.H. Chen, H.H. Shen, and W. Li. 2017. Activating transcription factor 3 represses cigarette smoke-induced IL6 and IL8 expression via suppressing NF-κB activation. Toxicology Letters 270: 17–24.

11.

XY, Z., et al. 2017. Plumbagin suppresses chronic periodontitis in rats via down-regulation of TNF-α, IL-1β and IL-6 expression. Acta Pharmacologica Sinica.

12.

Li, Y., et al. 2017. Effects of ketamine on levels of inflammatory cytokines IL-6, IL-1β, and TNF-α in the hippocampus of mice following acute or chronic administration. Frontiers in Pharmacology 8: 139.

13.

Khan, J., N. Noboru, A. Young, and D. Thomas. 2017. Pro and anti-inflammatory cytokine levels (TNF-α, IL-1β, IL-6 and IL-10) in rat model of neuroma. Pathophysiology 24: 155–159.

14.

Athanasios, V., et al. 2013. Pulmonary oxidative stress, inflammation and cancer: respirable particulate matter, fibrous dusts and ozone as major causes of lung carcinogenesis through reactive oxygen species mechanisms. International Journal of Environmental Research and Public Health 10 (9): 3886–3907.

15.

Kang, K.A., Z.H. Wang, R. Zhang, M.J. Piao, K.C. Kim, S.S. Kang, Y.W. Kim, J. Lee, D. Park, and J.W. Hyun. 2010. Myricetin protects cells against oxidative stress-induced apoptosis via regulation of PI3K/Akt and MAPK signaling pathways. International Journal of Molecular Sciences 11 (11): 4348–4360.

16.

Zhang, H., Z. Ji, T. Xia, H. Meng, C. Low-Kam, R. Liu, S. Pokhrel, S. Lin, X. Wang, Y.P. Liao, M. Wang, L. Li, R. Rallo, R. Damoiseaux, D. Telesca, L. Mädler, Y. Cohen, J.I. Zink, and A.E. Nel. 2012. Use of metal oxide nanoparticle band gap to develop a predictive paradigm for oxidative stress and acute pulmonary inflammation. ACS Nano 6 (5): 4349–4368.

17.

Yuan, L., et al. 2017. Pirfenidone attenuates bleomycin-induced pulmonary fibrosis in mice by regulating Nrf2/Bach1 equilibrium. BMC Pulmonary Medicine 17 (1): 63.

18.

Yan, L., S.M. Yeligar, and A.S. Lou Brown. 2012. Chronic-alcohol-abuse-induced oxidative stress in the development of acute respiratory distress syndrome. TheScientificWorldJournal 2012 (2): 740308.

19.

Miyazaki, T., et al. 2014. Video-assisted thoracic surgery attenuates perioperative oxidative stress response in lung cancer patients: a preliminary study. Acta Medica Nagasakiensia 59 (1): 19–25.

20.

Xu, P., J. Xu, S. Liu, and Z. Yang. 2012. Nano copper induced apoptosis in podocytes via increasing oxidative stress. Journal of Hazardous Materials 241-242 (4): 279–286.

21.

SB, L., et al. 2017. Xanthotoxin suppresses LPS-induced expression of iNOS, COX-2, TNF-α, and IL-6 via AP-1, NF-κB, and JAK-STAT inactivation in RAW 264.7 macrophages. International Immunopharmacology 49: 21–29.

22.

Luo, K. 2017. Signaling cross talk between TGF-β/Smad and other signaling pathways. Cold Spring Harbor Perspectives in Biology 9 (1): a022137.

23.

Li, J., Y. Wei, X. Li, D. Zhu, B. Nie, J. Zhou, L. Lou, B. Dong, A. Wu, Y. Che, M. Chen, L. Zhu, M. Mu, and L. Chai. 2017. Herbal formula Xian-Fang-Huo-Ming-Yin regulates differentiation of lymphocytes and production of pro-inflammatory cytokines in collagen-induced arthritis mice. BMC Complementary and Alternative Medicine 17 (1): 12.
Funding
This work was supported by National Natural Science Project (81470225).
Ethics declarations
Conflict of Interest
The authors declare that they have no conflict of interest.
About this article
Cite this article
Meiqian, Z., Leying, Z. & Chang, C. Astragaloside IV Inhibits Cigarette Smoke-Induced Pulmonary Inflammation in Mice. Inflammation 41, 1671–1680 (2018). https://doi.org/10.1007/s10753-018-0811-x
KEY WORDS
Astragaloside IV

COPD

inflammation