A Novel Tetrasubstituted Imidazole as a Prototype for the Development of Anti-inflammatory Drugs
Abstract
Although inflammation is a biological phenomenon that exists to protect the host against infections and/or related problems, its unceasing activation results in the aggravation of several medical conditions. Imidazoles, whether natural or synthetic, are molecules related to a broad spectrum of biological effects, including anti-inflammatory properties. In this study, we screened eight novel small molecules of the imidazole class synthesized by our research group for their in vitro anti-inflammatory activity. The effect of the selected molecules was confirmed in an in vivo inflammatory model. We also analyzed whether the effects were caused by inhibition of nuclear factor kappa B (NF-κB) transcription factor transmigration. Of the eight imidazoles tested, methyl 1-allyl-2-(4-fluorophenyl)-5-phenyl-1H-imidazole-4-acetate (8) inhibited nitric oxide metabolites and pro-inflammatory cytokine (TNF-α, IL-6, and IL-1β) secretion in J774 macrophages stimulated with LPS. It also attenuated leukocyte migration and exudate formation in the pleural cavity of mice challenged with carrageenan. Furthermore, imidazole 8 reverted the oxidative stress pattern triggered by carrageenan in the pleural cavity by diminishing myeloperoxidase, superoxide dismutase, catalase, and glutathione S-transferase activities and reducing the production of nitric oxide metabolites and thiobarbituric acid-reactive substances. Finally, these effects can be attributed, at least in part, to the ability of this compound to prevent NF-κB transmigration. In this context, our results demonstrate that imidazole 8 has promising potential as a prototype for the development of a new anti-inflammatory drug to treat inflammatory conditions in which NF-κB and oxidative stress play a prominent role.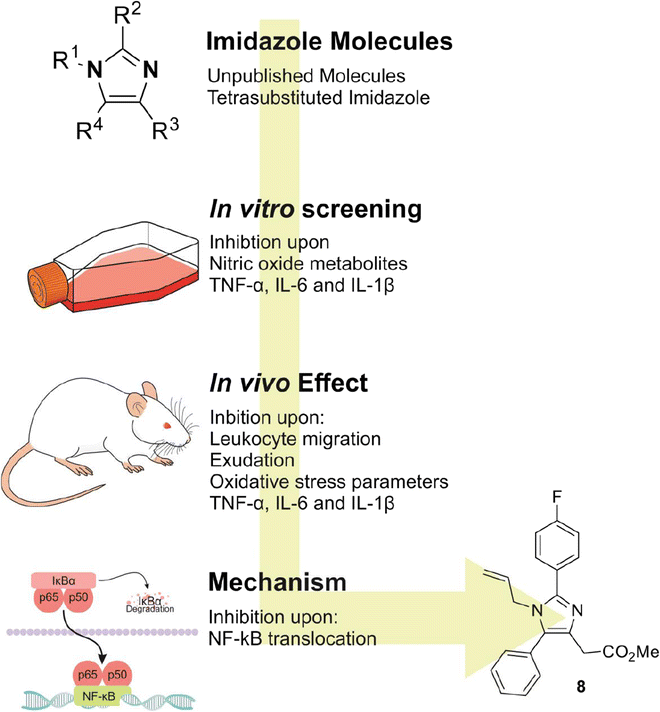 KEY WORDS
Inflammation 
imidazole 
J774 
pleurisy 
oxidative stress 
NF-κB 
Notes
Acknowledgments
The authors are grateful to Fiona Robson for her assistance in proofreading and correcting the English language of this text.
Funding
This study was granted and financially supported by the Conselho Nacional de Desenvolvimento Científico e Tecnológico (CNPq) (Grant number, 483713/2012-0) and fellowships from Coordenação de Aperfeiçoamento de Pessoal de Nível Superior (CAPES).
Compliance with Ethical Standards
Conflict of Interest
The authors declare that they have no conflict of interest.
Ethical Approval
All procedures in studies involving animals were performed in accordance with the ethical standards of the institution (CEUA/UFSC Protocol PP00965).
Copyright information
© Springer Science+Business Media, LLC, part of Springer Nature 2018