ABSTRACT
In this study, we tested our working hypothesis that inhibiting the activation of microglia by systemic minocycline treatments can decrease the dosage of local tramadol injection in inflammatory pain. This study was therefore aimed to evaluate the actions of intraplantarly injected tramadol, intraperitoneally injected minocycline, or their combined treatments on the inflammation-induced hypernociception (thermal hyperalgesia, mechanical allodynia), edema, and pro- and anti-inflammatory cytokine levels of paw and spinal cord tissues in a rat model of carrageenan-induced hindpaw inflammation. While local tramadol or systemic minocycline caused a significant anti-hypernociceptive effect their combined treatments significantly enhanced anti-hypernociceptive action compared to each agent applied alone. Also anti-edematous actions of combined treatment were higher than that of their individual administrations. In addition, combined treatment significantly decreased the level of the pro-inflammatory cytokines and caused significant increases in anti-inflammatory cytokine level of paw and spinal cord tissues. The present finding can suggest that combined treatments of local tramadol and systemic minocycline may decrease the dose requirements for anti-hypernociceptive actions of local tramadol and this combination therapy might be a beneficial option for the inflammatory pain relief.
Access options
Buy single article
Instant access to the full article PDF.
US$ 39.95
Tax calculation will be finalised during checkout.
Subscribe to journal
Immediate online access to all issues from 2019. Subscription will auto renew annually.
US$ 119
Tax calculation will be finalised during checkout.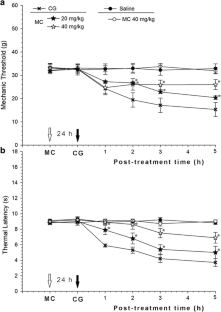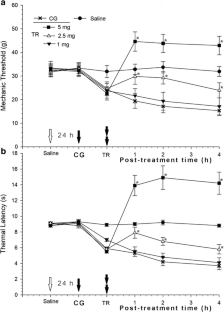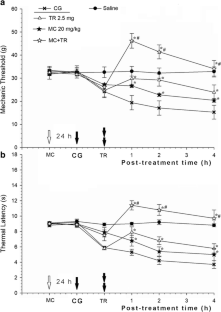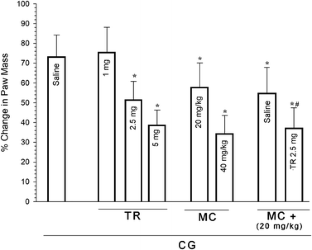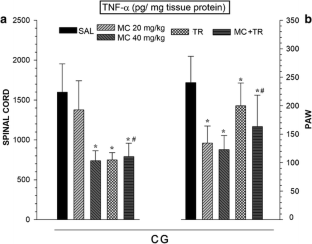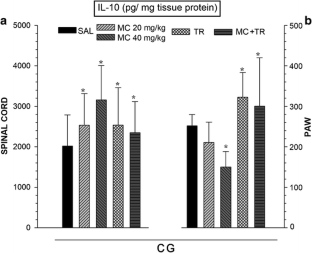 References
1.

Zhang, J.M., and J. An. 2007. Cytokines, inflammation, and pain. International Anesthesiology Clinics 45: 27–37.

2.

Libby, P. 2007. Inflammatory mechanisms: the molecular basis of inflammation and disease. Nutrition Reviews 65: 140–146.

3.

Barrot, M. 2012. Tests and models of nociception and pain in rodents. Neuroscience 211: 39–50.

4.

Winter, C.A., E.A. Risley, and G.W. Nuss. 1962. Carrageenan induced edema in hind paw of the rat as an assay for anti-inflammatory drugs. Proceedings of the Society for Experimental Biology and Medicine 111: 544–547.

5.

Morris, C.J. 2003. Carrageenan-induced paw edema in the rat and mouse. Methods in Molecular Biology 225: 115–121.

6.

Grond, S., and A. Sablotzki. 2004. Clinical pharmacology of tramadol. Clinical Pharmacokinetics 43: 879–923.

7.

Reeves, R.R., and R.S. Burke. 2008. Tramadol: basic pharmacology and emerging concepts. Drugs Today 44: 827–836.

8.

Raffa, R.B., E. Friderichs, W. Reimann, R.P. Shank, E.E. Codd, and J.L. Vaught. 1992. Opioid and non opioid components independently contribute to the mechanism of action of tramadol, an 'atypical' opioid analgesic. Journal of Pharmacology and Experimental Therapeutics 260: 275–278.

9.

Haeseler, G., N. Foadi, J. Ahrens, R. Dengler, H. Hecker, and M. Leuwer. 2006. Tramadol, fentanyl and sufentanil but not morphine block voltage-operated sodium channels. Pain 126: 234–244.

10.

Wang, J.T., C.C. Chung, R.A. Whitehead, S.K. Schwarz, C.R. Ries, and B.A. MacLeod. 2010. Effects of local tramadol administration on peripheral glutamate-induced nociceptive behaviour in mice. Canadian Journal of Anesthesia 57: 659–663.

11.

Cho, I.H., Y.M. Chung, C.K. Park, S.H. Park, H.Y. Li, D. Kim, Z.G. Piao, S.Y. Choi, S.J. Lee, K. Park, J.S. Kim, S.J. Jung, and S.B. Oh. 2006. Systemic administration of minocycline inhibits formalin-induced inflammatory pain in rat. Brain Research 1072: 208–214.

12.

Watkins, L.R., E.D. Milligan, and S.F. Maier. 2003. Glial proinflammatory cytokines mediate exaggerated pain states: implications for clinical pain. Advances in Experimental Medicine and Biology 521: 1–21.

13.

Raghavendra, V., F. Tanga, and J.A. DeLeo. 2003. Inhibition of microglial activation attenuates the development but not existing hypersensitivity in a rat model of neuropathy. Journal of Pharmacology and Experimental Therapeutics 306 (2): 624–630.

14.

Cunha, F.Q., and S.H. Ferreira. 2003. Peripheral hyperalgesic cytokines. Advances in Experimental Medicine and Biology 521: 22–39.

15.

Bastos, L.F., A.C. de Oliveira, L.R. Watkins, M.F. Moraes, and M.M. Coelho. 2012. Tetracyclines and pain. Naunyn-Schmiedeberg's Archive Pharmacology 385: 225–241.

16.

Beggs, S., and M.W. Salter. 2010. Microglia-neuronal signaling in neuropathic pain hypersensitivity. Current Opinion Neurobiology 20: 474–480.

17.

Watkins, L.R., E.D. Milligan, and S.F. Maier. 2001. Spinal cord glia: new player in pain. Pain 93: 201–205.

18.

Nasseri, B., V. Nazemian, H. Manaheji, Z. Mousavi, and J. Zaringhalam. 2016. Microglia are involved in pain related behaviors during the acute and chronic phases of arthritis inflammation. Journal of Cellular and Molecular Anesthesia 1 (4): 137–145.

19.

Mika, J., A. Wawrzczak-Bargiela, M. Osikowicz, W. Makuch, and B. Przewlocka. 2009. Attenuation of morphine tolerance by minocycline and pentoxifylline in naive and neuropathic mice. Brain Behavior and Immunity 23: 75–84.

20.

Pol, O., and M.M. Puig. 2004. Expression of opioid receptors during peripheral inflammation. Current Topics in Medicinal Chemistry 4: 51–61.

21.

Mert, T., Y. Gunes, and I. Gunay. 2007. Local analgesic efficacy of tramadol following intraplantar injection. European Journal Pharmacology 558: 68–72.

22.

Mert, T., A.H. Kurt, M. Arslan, A. Celik, B. Tugtag, and A. Akkurt. 2015. Anti-inflammatory and anti-nociceptive actions of systemically or locally treated adipose-derived mesenchymal stem cells in experimental inflammatory model. Inflammation 38 (3): 1302–1310.

23.

Ledeboer, A., E.M. Sloane, E.D. Milligan, M.G. Frank, J.H. Mahony, S.F. Maier, and L.R. Watkins. 2005. Minocycline attenuates mechanical allodynia and proinflammatory cytokine expression in rat models of pain facilitation. Pain 115: 71–83.

24.

Sweitzer, S.M., R.W. Colburn, M. Rutkowski, and J.A. DeLeo. 1999. Acute peripheral inflammation induces moderate glial activation and spinal IL-1b expression that correlates with pain behavior in the rat. Brain Research 829: 209–221.

25.

Bianchi, M., G. Rossoni, P. Sacerdote, and A.E. Panerai. 1999. Effects of tramadol on experimental inflammation. Fundamental and Clinical Pharmacology 13: 220–225.

26.

Ide, S., M. Minami, K. Ishihara, G.R. Uhl, I. Sora, and K. Ikeda. 2006. Mu opioid receptor-dependent and independent components in effects of tramadol. Neuropharmacology 51: 651–658.

27.

Mert, T., Y. Gunes, D. Ozcengiz, I. Gunay, and S. Polat. 2006. Comparative effects of lidocaine and tramadol on injured peripheral nerves. European Journal Pharmacology 543: 54–62.

28.

Chen, S., H. Hui, D. Zhang, and Y. Xue. 2010. The combination of morphine and minocycline may be a good treatment for intractable postherpetic neuralgia. Medical Hypotheses 75: 663–665.

29.

Yeh, Y.C., T.F. Lin, H.C. Chang, W.S. Chan, Y.P. Wang, C.J. Lin, and W.Z. Sun. 2009. Combination of low-dose nalbuphine and morphine in patient-controlled analgesia decreases incidence of opioid-related side effects. Journal of the Formosan Medical Association 108: 548–553.

30.

Watkins, L.R., S.F. Maier, and L.E. Goehler. 1995. Immune activation: the role of pro-inflammatory cytokines in inflammation, illness responses and pathological pain states. Pain 63: 289–302.

31.

Sommer, C., and M. Kress. 2004. Recent findings on how proinflammatory cytokines cause pain: peripheral mechanisms in inflammatory and neuropathic hyperalgesia. Neuroscience Letters 361: 184–187.

32.

Verri, W.A., Jr., T.M. Cunha, C.A. Parada, S. Poole, F.Q. Cunha, and Ferreira. 2006. Hypernociceptive role of cytokines and chemokines: targets for analgesic drug development. Pharmacology and Therapeutics 112 (1): 116–138.

33.

Moller, B., and P.M. Villiger. 2006. Inhibition of IL-1, IL-6, and TNF-alpha in immune-mediated inflammatory diseases. Journal of Immunopathology 27: 391–408.
ACKNOWLEDGEMENTS
We acknowledge the support given by Kahramanmaras Sutcu Imam University Research Foundation (2016/3-54M) and Scientific and Technical Research Council of Turkey (106S502).
Ethics declarations
Conflict of Interest
The authors state no conflict of interest.
About this article
Cite this article
Mert, T., Sahin, E., Yaman, S. et al. Pain-Relieving Effectiveness of Co-Treatment with Local Tramadol and Systemic Minocycline in Carrageenan-Induced Inflammatory Pain Model. Inflammation 41, 1238–1249 (2018). https://doi.org/10.1007/s10753-018-0771-1
KEY WORDS
minocycline

tramadol

inflammation

cytokines

rat