ABSTRACT
D-limonene epoxidation generates (+)-limonene epoxide, an understudied compound in the pharmacologically point of view. Herein, we investigated the anti-inflammatory and antinociceptive potentialities of (+)-limonene epoxide and suggested a mechanism of action. The anti-inflammatory potential was analyzed using agents to induce paw edema, permeability, and myeloperoxidase (MPO) activity. Pro-inflammatory cytokines and cell migration of peritoneal cells were also assessed. Antinociceptive effects were evaluated by writhing test induced by acetic acid, formalin, and hot plate assays and contribution of opioid pathways. Pretreated animals with (+)-limonene epoxide showed reduced carrageenan-induced paw edema in all doses (25, 50, and 75 mg/kg) (P < 0.05). At 75 mg/kg, it suppressed edema provoked by compound 48/80, histamine, prostaglandin E2, and serotonin and reduced permeability determined by Evans blue and MPO activity. It also reduced leukocytes, neutrophils, and IL-1β levels in the peritoneal cavity in comparison with carrageenan group (P < 0.05). (+)-Limonene epoxide diminished abdominal contortions induced by acetic acid (78.9%) and paw licking times in both 1 (41.8%) and 2 (51.5%) phases and a pretreatment with naloxone (3 mg/kg) reverted the antinociceptive action in morphine- and (+)-limonene epoxide-treated groups (P < 0.05). Additionally, it enlarged response times to the thermal stimulus after 60 and 90 min. In conclusion, (+)-limonene epoxide inhibited release/activity of inflammatory mediators, vascular permeability, migration of neutrophils and displayed systemic and peripheral analgesic-dependent effects of the opioid system.
Access options
Buy single article
Instant access to the full article PDF.
US$ 39.95
Tax calculation will be finalised during checkout.
Subscribe to journal
Immediate online access to all issues from 2019. Subscription will auto renew annually.
US$ 119
Tax calculation will be finalised during checkout.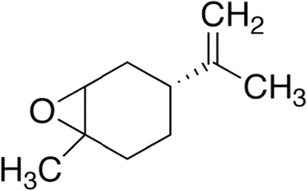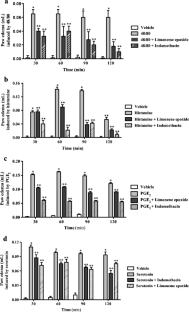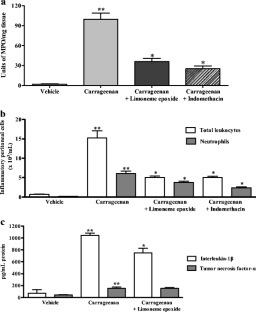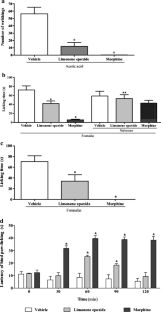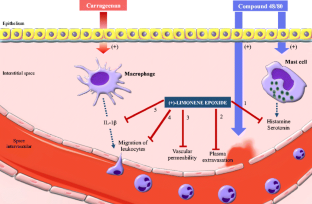 REFERENCES
1.

Butler, M.S. 2014. The role of natural product chemistry in drug discovery. Journal of Natural Products 67: 2141–2153.

2.

Balunas, M.J., and A.D. Kingnorn. 2005. Drug discovery from medicinal plants. Life Sciences 78: 431–441.

3.

Srivastava, A.S., J.K. Negi, M. Gupta Kumar, and S.P.S. Khanuja. 2005. Plant-based anticancer molecules: a chemical and biological profile of some important leads. Bioorganic & Medicinal Chemistry 13: 5892–5908.

4.

Farias, D.F., T.M. Souza, M.P. Viana, B.M. Soares, A.P. Cunha, I.M. Vasconcelos, N.M. Ricardo, P.M.P. Ferreira, V.M.M. Melo, and A.F.F.U. Carvalho. 2013. Antibacterial, antioxidant, and anticholinesterase activities of plant seed extracts from Brazilian semiarid region. BioMed Research International 2013: 1–9.

5.

Pereira, J.B.A., M.M. Rodrigues, I.R. Morais, C.R.S. Vieira, J.P.M. Sampaio, M.G. Moura, M.F.M. Damasceno, J.N. Silva, I.B.F. Calou, F.A. Deus, A.P. Peron, M.C. Abreu, G.C.G. Militão, and P.M.P. Ferreira. 2005. O papel terapêutico do Programa Farmácia Viva e das plantas medicinais no centro-sul piauense. Revista Brasileira de Plantas Medicinais 17: 550–561.

6.

Simoes, E.R.B., E.A. Santos, M.C. Abreu, J.N. Silva, N.M.F. Nunes, M.P. Costa, O.D.L. Pessoa, C. Pessoa, and P.M.P. Ferreira. 2015. Biomedical properties and potentiality of Lippia microphylla Cham. and its essential oils. Journal of Intercultural Ethnopharmacology 4: 256–263.

7.

Ferreira, P.M.P., D.P. Bezerra, J.N. Silva, M.P. Costa, J.R.O. Ferreira, N.M.N. Alencar, I.S.T. Figueiredo, A.J. Cavalheiro, C.M.L. Machado, R. Chammas, A.P.N.N. Alves, M.O. Moraes, and C. Pessoa. 2016. Preclinical anticancer effectiveness of a fraction from Casearia sylvestris and its component Casearin X: in vivo and ex vivo methods and microscopy examinations. Journal of Ethnopharmacology 186: 270–279.

8.

Jukanti, R., G. Devaraj, R. Devaraj, and S. Apte. 2011. Drug targeting to inflammation: studies on antioxidant surface loaded diclofenac liposomes. International Journal of Pharmaceutics 414: 179–185.

9.

Zygmunt, M., G. Chłoń-Rzepa, and J. Sapa. 2014. Analgesic and anti-inflammatory activity of 7-substituted purine-2,6-dione. Pharmacological Reports 66: 996–1002.

10.

Silva, J.C., S.R.G.L. Saraiva, R.G. Oliveira-Júnior, and J.R.G.S. Almeida. 2013. Experimental models for evaluation of antinociceptive activity of natural products: a review. Brazilian Journal of Pharmacognosy 94: 18–23.

11.

Quintans-Júnior, L.J., A.G. Guimarães, M.T. Santana, B.E.S. Araújo, F.V. Moreira, L.R. Bonjardim, A.S.S. Araújo, J.S. Siqueira, A.R. Antoniolli, M.A. Botelho, J.R.G.S. Almeida, and M.R.V. Santos. 2011. Citral reduces nociceptive and inflammatory response in rodents. Brazilian Journal of Pharmacognosy. 21: 497–502.

12.

Burt, S. 2004. Essential oils: their antibacterial properties and potential applications in foods—a review. International Journal of Food Microbiology 94: 223–253.

13.

Raut, J.S., and S.M. Karuppayil. 2014. A status review on the medicinal properties of essential oils. Industrial Crops and Products 62: 260–264.

14.

Amaral, J.F., M.I. Silva, M.R. Neto, P.F. Neto, B.A. Moura, C.T. Melo, F.L. Araújo, P.F. Vasconcelos, S.M. Vasconcelos, and F.C. Sousa. 2007. Antinociceptive effect of the monoterpene R-(+)-limonene in mice. Biological and Pharmaceutical Bulletin 30: 1217–1220.

15.

Sun, J. 2007. D-Limonene: safety and clinical applications. Alternative Medicine Review 12: 259–264.

16.

Rozza, A.L., T.M. Moraes, H. Kushima, A. Tanimoto, M.O. Marques, T.M. Bauab, C.A. Hiruma-Lima, and C.H. Pellizzon. 2011. Gastroprotective mechanisms of Citrus lemon (Rutaceae) essential oil and its majority compounds limonene and β-pinene: involvement of heat-shock protein-70; vasoactive intestinal peptide; glutathione; sulfhydryl compounds; nitric oxide and prostaglandin E2. Chemico-Biological Interactions 189: 82–89.

17.

Murali, R., and S. Ramalingam. Antidiabetic effect of d-limonene, a monoterpene in streptozotocin-induced diabetic rats. Biomedicine & Preventive Nutrition 2:269–275.

18.

Maróstica-Júnior, M.R., and G.M. Pastore. 2007. Biotransformation of limonene: a review of the main metabolic pathways. Quimica Nova 30: 382–387.

19.

Von Honlleben, M.L.A., and C.M. Schuch. 1997. Activating agents of the hydrogen peroxide in the epoxidation of unfunctionalized alkenes. Quimica Nova 20: 58–71.

20.

Thomas, A.F., and Y. Bessiére. 1989. Limonene. Natural Products Reports 291–309.

21.

Winter, C.A., E.A. Risley, and G.W. Nuss. 1962. Carrageenan-induced oedema in the hind paw of rat as an assay for anti-inflammatory activity. Proceedings of the Society for Experimental Biology and Medicine 111: 544–547.

22.

Silva, R.O., M.S. Salvadori, F.B.M. Sousa, M.S. Santos, N.S. Carvalho, D.P. Sousa, B.S. Gomes, F.A. Oliveira, A.L.R. Barbosa, R.M. Freitas, R.N. De Almeida, and J.R. Medeiros. 2014. Evaluation of the anti-inflammatory and antinociceptive effects of myrtenol, a plant derived monoterpene alcohol, in mice. Flavour and Fragrance Journal 29: 184–192.

23.

Radu, M., and J. Chernoff. 2013. An in vivo assay to test blood vessel permeability. Journal of Visualized Experiments 16, e50062.

24.

Bradley, P.P., D.A. Priebat, R.D. Christensen, and G. Rothstein. 1982. Measurement of cutaneous inflammation: estimation of neutrophil content with an enzyme marker. Journal of Investigative Dermatology 78: 206–209.

25.

Molins, B., M. Mesquida, R.W. Lee, V. Llorenç, L. Pelegrín, and A. Adán. 1954. Regulatory T cell levels and cytokine production in active non-infectious uveitis: in vitro effects of pharmacological treatment. Clinical & Experimental Immunology 179: 529–538.

26.

Koster, R., M. Anderson, and E.I. Debeer. 1959. Acetic acid for analgesic screening. Federation Proceedings 18: 412–418.

27.

Fasmer, O.G. Berge, and K. Hole. 1985. Changes in nociception after lesions of descending serotonergic pathways induced with 5,6-dihydroxytryptamine. Different effects in the formalin and tail-flick tests. Neuropharmacology 24: 729–734.

28.

Eddy, N.B., and D. Leimbach. 1953. Synthetic analgesics. II. Dithienylbutenyl and dithienylbutylamines. Journal of Pharmacology and Experimental Therapeutics 107: 385–393.

29.

McCubrey, J.A., S.L. Abrams, T.L. Fitzgerald, L. Cocco, A.M. Martelli, G. Montalto, M. Cervello, A. Scalisi, S. Candido, M. Libra, and L.S. Steelman. 2015. Roles of signaling pathways in drug resistance, cancer initiating cells and cancer progression and metastasis. Advances in Biological Regulation 57: 75–101.

30.

Talwar, S., K. Nandakumar, P.G. Nayak, P. Bansal, J. Mudgal, V. Mor, C.M. Rao, and R. Lobo. 2011. Anti-inflammatory activity of Terminalia paniculata bark extract against acute and chronic inflammation in rats. Journal of Ethnopharmacology 134: 323–328.

31.

Almeida, A.A.C., R.B.F. Carvalho, O.A. Silva, D.P. Sousa, and R.M. Freitas. 2014. Potential antioxidant and anxiolytic effects of (+)-limonene epoxide in mice after marble-burying test. Pharmacology, Biochemistry and Behavior 118: 69–78.

32.

Almeida, A.A.C., J.P. Costa, R.B.F. Carvalho, D.P. Sousa, and R.M. Freitas. 2012. Evaluation of acute toxicity of a natural compound (+)-limonene epoxide and its anxiolytic-like action. Brain Reseach 1448: 56–62.

33.

Moraes, J., A.A.C. Almeida, M.R.M. Brito, T.H.C. Marques, L.C. Lima, D.P. Sousa, E. Nakano, R.Z. Mendonça, and R.M. Freitas. 2013. Antihelmintic activity of a natural compound (+)-limonene epoxide against Schistosoma mansoni. Planta Medica 79: 253–258.

34.

Ribeiro, R.V., R.M.L. Silva, J.C. Silva, and D.T.O. Martins. 2010. Antiinflammatory, antinociceptive and antipyretic effects of hydroethanolic extract from Macrosiphonia velame (A. St.-Hil.) M. Arg. in animal models. Brazilian Journal of Pharmaceutical Sciences 46: 515–523.

35.

Chakrabarty, A., K.E. Mccarson, and P.G. Smith. 2011. Hypersensitivity and hyperinnervation of the rat hind paw following carrageenan-induced inflammation. Neuroscience Letters 495: 67–71.

36.

Silva, R.O., S.R.B. Damasceno, I.S. Silva, V.G. Silva, C.F.C. Brito, A.E.A. Teixera, G.B.L. Nunes, C.A. Camara, J.M.B. Filho, S.J.C. Gutierrez, R.A. Ribeiro, M.H.L.P. Souza, A.L.R. Barbosa, R.M. Freitas, and J.V.R. Medeiros. 2015. Riparin A, a compound from Aniba riparia, attenuates the inflammatory response by modulation of neutrophil migration. Chemico-Biological Interactions 229: 55–63.

37.

Lo, T.N., A.P. Almeida, and M.A. Beaven. 1982. Dextran and carrageenan evoke different inflammatory responses in rat with respect to composition of infiltrates and effect of indomethacin. Journal of Pharmacology and Experimental Therapeutics 222: 261–267.

38.

Silva, M.G., F.S. Oliveira, L.J. Quintans-Júnior, O.M.L. Thenio, and M.F.M. Diniz. 2005. Investigação de efeito analgésico central e anti-inflamatório de Conocliniopsis prasiifolia (DC) RM King and H Robinson em roedores. Acta Farmaceutica Bonaerense 24: 533–537.

39.

Damasceno, S.R.B., F.R.A.M. Oliveira, N.S. Carvalho, C.F.C. Brito, I.S. Silva, F.B.M. Sousa, R.O. Silva, D.P. Sousa, A.L.R. Barbosa, R.M. Freitas, and J.R. Medeiros. 2014. Carvacrol acetate, a derivative of carvacrol, reduces nociceptive and inflammatory response in mice. Life Sciences 94: 58–66.

40.

Pereira, L.P., K.E.S. Da Silva, R.O. Da Silva, A.M.S. Assreuy, and M.G. Pereira. 2012. Anti-inflammatory polysaccharides of Azadirachta indica seed tegument. Brazilian Journal of Pharmacognosy 22: 617–622.

41.

Silva, R.O., F.B.M. Sousa, S.R.B. Damasceno, N.S. Carvalho, V.G. Silva, F.R.M.A. Oliveira, D.P. Sousa, K.S. Aragão, A.L.R. Barbosa, R.M. Freitas, and J.V.R. Medeiros. 2014. Phytol, a diterpene alcohol, inhibits the inflammatory response by reducing cytokine production and oxidative stress. Fundamental & Clinical Pharmacology 28: 455–464.

42.

Santos, J., P.C. Yang, J.D. Soderholm, M. Benjamin, and M.H. Perdue. 2001. Role of mast cells in chronic stress induced colonic epithelial barrier dysfunction in the rat. Gut 48: 630–636.

43.

Pereira, J.G., J.X. Mesquita, K.S. Aragão, A.X. Franco, M.H.L.P. Souza, T.V. Brito, J.M. Dias, R.O. Silva, J.R. Medeiros, J.S. Oliveira, C.M.W.S. Abreu, R.C.M. De Paula, A.L.R. Barbosa, and A.L.P. Freitas. 2014. Polysaccharides isolated from Digenea simplex inhibit inflammatory and nociceptive responses. Carbohydrate Polymers 108: 17–25.

44.

Silva-Filho, S.E., F.M.Z. Silva-Comar, L.A.M. Wiirzler, R.J. Pinho, R. Grespan, C.A. Bersani-Amado, and R.K.N. Cuman. 2014. Effect of camphor on the behavior of leukocytes in vitro and in vivo in acute inflammatory response. Tropical Journal of Pharmaceutical Research 13: 2031–2037.

45.

Nuzzo, D., P. Picone, L. Caruana, S. Vasto, A. Barrera, C. Caruso, and M. Di Carlo. 2014. Inflammatory mediators as biomarkers in brain disorders. Inflammation 37: 639–648.

46.

Brito, T.V., Prudêncio, A.B. Sales, F.C. Vieira Júnior, S.J.N. Candeira, A.X. Franco, K.S. Aragão, R.A. Ribeiro, M.H.L.P. Souza, L.S. Chaves, A.L.P. Freitas, J.R. Medeiros, and A.L.R. Barbosa. 2013. Anti-inflammatory effect of a sulphated polysaccharide fraction extracted from the red algae Hypnea musciformis via the suppression of neutrophil migration by the nitric oxide signalling pathway. Journal of Pharmacy and Pharmacology 65: 724–733.

47.

González, C.P., R.S. Veja, M. González-Chávez, M.A.Z. Sánchez, and S.P. Gutiérrez. 2013. Antiinflammatory activity and composition of Senecio salignus Kunth. BioMed Research International 2013: 1–4.

48.

Zhang, J.M., and J. An And. 2007. Cytokines, inflammation, and pain. International Anesthesiology Clinics 45: 27–37.

49.

Ren, K., and R. Torres. 2009. Role of interleukin-1β during pain and inflammation. Brain Research Reviews 60: 57–64.

50.

Carvalho, V., L. Fernandes, T. Conde, H. Zamith, R. Silva, A. Surrage, V. Frutuoso, H. Castro-Faria-Neto, and F. Amendoeira. 2013. Antinociceptive activity of Stephanolepis hispidus skin aqueous extract depends partly on opioid system activation. Marine Drugs 11: 1221–1255.

51.

Lima, S.M.A., L.C.C. Araújo, M.M. Sitônio, A.C.C. Freitas, S.L. Moura, M.T. Correia, D.J.N. Malta, and T. Gonçalves-Silva. 2012. Anti-inflammatory and analgesic potential of Caesalpinia ferrea. Brazilian Journal of Pharmacognosy 22: 169–175.

52.

Sowemimo, A., M. Onakoy, M.S. Fageyinbo, and T. Fadoju. 2012. Studies on the anti-inflammatory and anti-nociceptive properties of Blepharis maderaspatensis leaves. Brazilian Journal of Pharmacognosy 23: 830–835.

53.

Shin, D.J., C.W. Jeong, S.H. Lee, and M.H. Yoon. 2011. Receptors involved in the antinociception of intrathecal melatonin in formalin test of rats. Neuroscience Letters 494: 207–210.

54.

Mansouri, M.T., B. Naghizadeh, and B. Ghorbanzadeh. 2014. Involvement of opioid receptors in the systemic and peripheral antinociceptive actions of ellagic acid in the rat formalin test. Pharmacology, Biochemistry and Behavior 120: 43–49.
ACKNOWLEDGEMENTS
We wish to thank the Federal Brazilian agency "Conselho Nacional de Desenvolvimento Científico e Tecnológico" (CNPq) for financial support in the form of grants (#473167/2012-3) and fellowships.
Ethics declarations
All procedures were approved by the Committee on Animal Research at the UFPI (Process no. 091/2014) and followed the Brazilian (Colégio Brasileiro de Experimentação Animal—COBEA) and International Standards on the care and use of experimental animals (Directive 2010/63/EU of the European Parliament and of the Council).
Conflict of Interest
The authors declare that there are no conflicts of interest.
Additional information
Rivelilson Mendes de Freitas (In Memoriam)
About this article
Cite this article
de Almeida, A.A.C., Silva, R.O., Nicolau, L.A.D. et al. Physio-pharmacological Investigations About the Anti-inflammatory and Antinociceptive Efficacy of (+)-Limonene Epoxide. Inflammation 40, 511–522 (2017). https://doi.org/10.1007/s10753-016-0496-y
KEY WORDS
semisynthetic compound

cell migration inhibition

cytokine reduction

analgesia

opioid system involvement