Abstract
Paeoniflorin has been demonstrated to exert anti-inflammatory and immunomodulatory effects in the animal study. In this study, we investigated immunoregulatory effects of paeoniflorin on anti-asthmatic effects and underlying mechanisms. Asthma model was established by ovalbumin-induced. A total of 50 mice were randomly assigned to five experimental groups: control, model, dexamethasone (2 mg/kg), and paeoniflorin (10 and 20 mg/kg). Airway resistance (Raw) were measured by the forced oscillation technique; histological studies were evaluated by the hematoxylin and eosin (HE) staining; Th1/Th2 cytokines were evaluated by enzyme-linked immunosorbent assay (ELISA); Th1/Th2 cells were evaluated by flow cytometry (FCM); and GATA3 and T-bet were evaluated by Western blot. Our study demonstrated that, compared with model group, paeoniflorin inhibited ovalbumin (OVA)-induced increases in Raw and eosinophil count; interleukin (IL)-4, IgE levels were recovered in bronchoalveolar lavage fluid compared; increased IFN-γ level in bronchoalveolar lavage fluid; histological studies demonstrated that paeoniflorin substantially inhibited OVA-induced eosinophilia in lung tissue and lung tissue compared with model group. Flow cytometry studies demonstrated that paeoniflorin can regulate Th1/Th2 balance. These findings suggest that paeoniflorin may effectively ameliorate the progression of asthma and could be used as a therapy for patients with allergic asthma.
Access options
Buy single article
Instant access to the full article PDF.
USD 39.95
Price excludes VAT (USA)
Tax calculation will be finalised during checkout.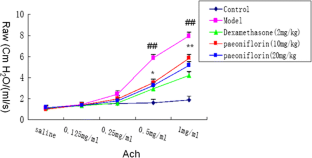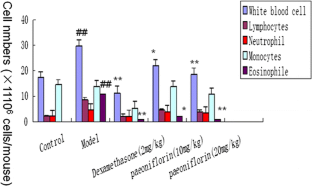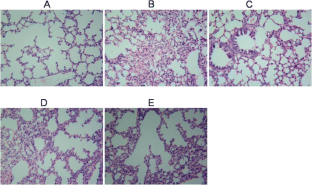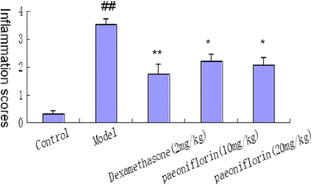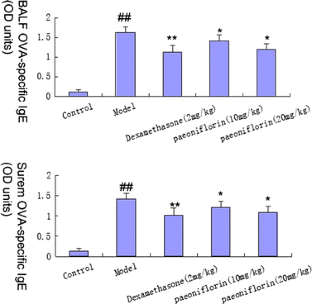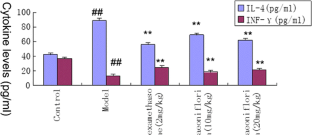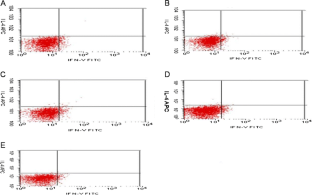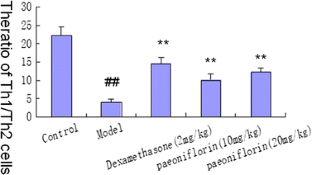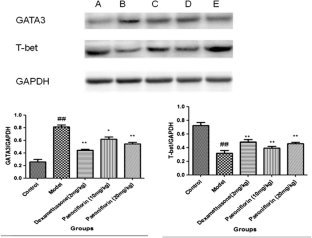 References
Beasley, R., J. Crane, C.K. Lai, and N. Pearce. 2000. Prevalence and etiology of asthma. Journal of Allergy and Clinical Immunology 105: 466–472.

Busse, W.W., and R.F. Lemanske Jr. 2001. Asthma. New England Journal of Medicine 344: 350–362.

Mosmann, T.R., and K.W. Moore. 1991. The role of IL-10 in crossregulation of TH1andTH2 responses. Immunology Today 12: A49–A53.

Brewer, J.M., M. Conacher, C.A. Hunter, M. Mohrs, F. Brombacher, and J. Alexander. 1999. Aluminium hydroxide adjuvant initiates strong antigen-specific Th2 responses in the absence of IL-4- or IL-13-mediated signaling. Journal of Immunology 163: 6448–6454.

Zhu, L., W. Wei, Y.Q. Zheng, and X.Y. Jia. 2005. Effects and mechanisms of total glucosides of paeony on joint damage in rat collagen-induced arthritis. Inflammation Research 54: 211–220.

Zheng, Y.Q., and W. Wei. 2005. Total glucosides of paeony suppresses adjuvant arthritis in rats and intervenes cytokine-signaling between different types of synoviocytes. International Immunopharmacology 5: 1560–1573.

Chang, Y., W. Wei, L. Zhang, and H.M. Xu. 2009. Effects and mechanisms of total glucosides of paeony on synoviocytes activities in rat collagen-induced arthritis. Journal of Ethnopharmacology 121: 43–48.

Xu, H.M., W. Wei, X.Y. Jia, Y. Chang, and L. Zhang. 2007. Effects and mechanisms of total glucosides of paeony on adjuvant arthritis in rats. Journal of Ethnopharmacology 109: 442–448.

Chang, Y., L. Zhang, C. Wang, X.Y. Jia, and W. Wei. 2011. Paeoniflorin inhibits function of synoviocytes pretreated by rIL-1α and regulates EP4 receptor expression. Journal of Ethnopharmacology 137: 1275–1282.

Zhang, L.L., W. Wei, N.P. Wang, Q.T. Wang, J.Y. Chen, Y. Chen, et al. 2008. Paeoniflorin suppresses inflammatory mediator production and regulates G protein-coupled signaling in fibroblast-like synoviocytes of collagen induced arthritic rats. Inflammation Research 57: 388–395.

Zheng, Y.Q., W. Wei, L. Zhu, and J.X. Liu. 2007. Effects and mechanisms of paeoniflorin, a bioactive glucoside from paeony root, on adjuvant arthritis in rats. Inflammation Research 56: 182–188.

Oh, S.R., M.Y. Lee, K. Ahn, B.Y. Park, O.K. Kwon, H. Joung, et al. 2006. Suppressive effect of verproside isolated from Pseudolysimachion longifolium on airway inflammation in a mouse model of allergic asthma. International Immunopharmacology 6: 978–986.

Djukanovic, R., W.R. Roche, and J.W. Wilson. 1990. Mucosal inflammation in asthma. American Review of Respiratory Disease 142: 434–457.

Duan, W., J.H. Chan, and C.H. Wong. 2004. Anti-inflammatory effects of mitogen-activated protein kinase kinase inhibitor U0126 in an asthma mouse model. Journal of Immunology 172: 7053–7059.

Jain, V.V., K. Kitagaki, T. Businga, I. Hussain, C. George, P. O'shaughnessy, and J.N. Kline. 2002. CpG-oligodeoxynucleotides inhibit airway remodeling in a murine model of chronic asthma. Journal of Allergy and Clinical Immunology 110: 867–872.

Wenzel, S.E. 2006. Asthma: defining of the persistent adult phenotypes. Lancet 368: 804–813.

Elsner, J., and A. Kapp. 1999. Regulation and modulation of eosinophil effector functions. Allergy 54: 15–26.
Conflict of Interest
The authors declare that they have no competing of interest.
Additional information
Tianzhu Zhang and Zhaocong Yang contributed equally to this work.
About this article
Cite this article
Zhang, T., Yang, Z., Yang, S. et al. Immunoregulatory Effects of Paeoniflorin Exerts Anti-asthmatic Effects via Modulation of the Th1/Th2 Equilibrium. Inflammation 38, 2017–2025 (2015). https://doi.org/10.1007/s10753-015-0182-5
Published:

Issue Date:

DOI: https://doi.org/10.1007/s10753-015-0182-5
KEY WORDS