Abstract
Osteoarthritis (OA) is the most common arthritis and also one of the major causes of joint pain in elderly people. The aim of this study was to investigate the effects of pyrroloquinoline quinone (PQQ) on degenerated-related changes in osteoarthritis (OA). SW1353 cells were stimulated with IL-1β to establish the chondrocyte injury model in vitro. PQQ was administrated into SW1353 cultures 1 h before IL-1β treatment. Amounts of MMP-1, MMP-13, P65, IκBα, ERK, p-ERK, P38, and p-P38 were measured via western blot. The production of NO was determined by Griess reaction assay and reflected by the iNOS level. Meniscal-ligamentous injury (MLI) was performed on 8-week-old rats to establish the OA rat model. PQQ was injected intraperitoneally 3 days before MLI and consecutively until harvest, and the arthritis cartilage degeneration level was assessed. The expressions of MMP-1 and MMP-13 were significantly downregulated after PQQ treatment compared with that in IL-1β alone group. NO production and iNOS expression were decreased by PQQ treatment compared with control group. Amounts of nucleus P65 were upregulated in SW1353 after stimulated with IL-1β, while PQQ significantly inhibited the translocation. In rat OA model, treatment with PQQ markedly decelerated the degeneration of articular cartilage. These findings suggested that PQQ could inhibit OA-related catabolic proteins MMPs expression, NO production, and thus, slow down the articular cartilage degeneration and OA progression. Owing to its beneficial effects, PQQ is expected to be a novel pharmacological application in OA clinical prevention and treatment in the near future.
Access options
Buy single article
Instant access to the full article PDF.
USD 39.95
Price excludes VAT (USA)
Tax calculation will be finalised during checkout.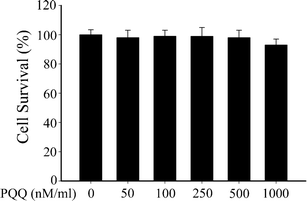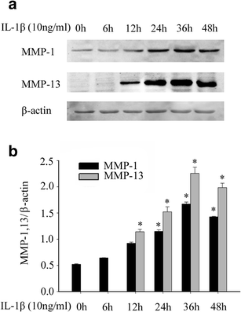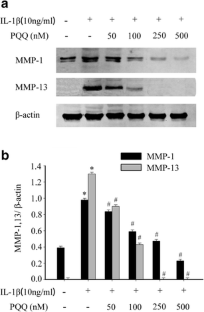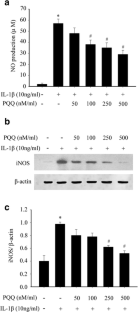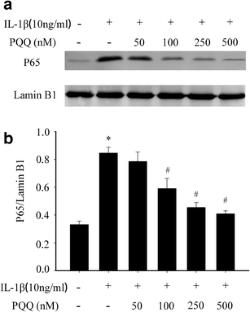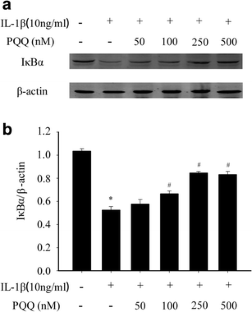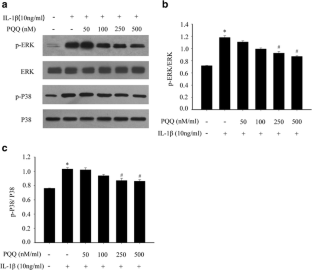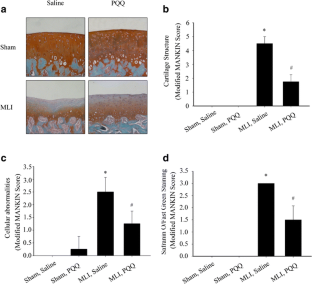 REFERENCES
Kouri, J.B., and C. Lavalle. 2006. Do chondrocytes undergo "activation" and "transdifferentiation" during the pathogenesis of osteoarthritis? A review of the ultrastructural and immunohistochemical evidence. Histology and Histopathology 21: 793–802.

Loeser, R.F., S.R. Goldring, C.R. Scanzello, et al. 2012. Osteoarthritis: a disease of the joint as an organ. Arthritis and Rheumatism 64: 1697–1707.

Siebelt, M., H. Jahr, H.C. Groen, et al. 2013. Hsp90 inhibition protects against biomechanically induced osteoarthritis in rats. Arthritis and Rheumatism 65: 2102–2112.

Goldring, M.B. 2000. The role of the chondrocyte in osteoarthritis. Arthritis and Rheumatism 43: 1916–1926.

Wang, M., E.R. Sampson, H. Jin, et al. 2013. MMP13 is a critical target gene during the progression of osteoarthritis. Arthritis Research & Therapy 15: R5.

Roach, H.I., N. Yamada, K.S. Cheung, et al. 2005. Association between the abnormal expression of matrix-degrading enzymes by human osteoarthritic chondrocytes and demethylation of specific CpG sites in the promoter regions. Arthritis and Rheumatism 52: 3110–3124.

Kaspiris, A., L. Khaldi, T.B. Grivas, et al. 2013. Subchondral cyst development and MMP-1 expression during progression of osteoarthritis: an immunohistochemical study. Orthopaedics & Traumatology, Surgery & Research 99: 523–529.

Kobayashi, Y. 2010. The regulatory role of nitric oxide in proinflammatory cytokine expression during the induction and resolution of inflammation. Journal of Leukocyte Biology 88: 1157–1162.

Melchiorri, C., R. Meliconi, L. Frizziero, et al. 1998. Enhanced and coordinated in vivo expression of inflammatory cytokines and nitric oxide synthase by chondrocytes from patients with osteoarthritis. Arthritis and Rheumatism 41: 2165–2174.

Tomita, M., E.F. Sato, M. Nishikawa, et al. 2001. Nitric oxide regulates mitochondrial respiration and functions of articular chondrocytes. Arthritis and Rheumatism 44: 96–104.

Cake, M.A., R.C. Appleyard, R.A. Read, et al. 2003. Topical administration of the nitric oxide donor glyceryl trinitrate modifies the structural and biomechanical properties of ovine articular cartilage. Osteoarthritis and Cartilage 11: 872–878.

Marcu, K.B., M. Otero, E. Olivotto, et al. 2010. NF-kappaB signaling: multiple angles to target OA. Current Drug Targets 11: 599–613.

Saklatvala, J. 2007. Inflammatory signaling in cartilage: MAPK and NF-kappaB pathways in chondrocytes and the use of inhibitors for research into pathogenesis and therapy of osteoarthritis. Current Drug Targets 8: 305–313.

Stites, T.E., A.E. Mitchell, and R.B. Rucker. 2000. Physiological importance of quinoenzymes and the O-quinone family of cofactors. Journal of Nutrition 130: 719–727.

Salisbury, S.A., H.S. Forrest, W.B. Cruse, et al. 1979. A novel coenzyme from bacterial primary alcohol dehydrogenases. Nature 280: 843–844.

Felton, L.M., and C. Anthony. 2005. Biochemistry: role of PQQ as a mammalian enzyme cofactor? Nature 433: E10. discussion E11-12.

Killgore, J., C. Smidt, L. Duich, et al. 1989. Nutritional importance of pyrroloquinoline quinone. Science 245: 850–852.

Steinberg, F., T.E. Stites, P. Anderson, et al. 2003. Pyrroloquinoline quinone improves growth and reproductive performance in mice fed chemically defined diets. Experimental Biology and Medicine (Maywood, N.J.) 228: 160–166.

Bauerly, K.A., D.H. Storms, C.B. Harris, et al. 2006. Pyrroloquinoline quinone nutritional status alters lysine metabolism and modulates mitochondrial DNA content in the mouse and rat. Biochimica et Biophysica Acta 1760: 1741–1748.

Stites, T., D. Storms, K. Bauerly, et al. 2006. Pyrroloquinoline quinone modulates mitochondrial quantity and function in mice. Journal of Nutrition 136: 390–396.

Bauerly, K., C. Harris, W. Chowanadisai, et al. 2011. Altering pyrroloquinoline quinone nutritional status modulates mitochondrial, lipid, and energy metabolism in rats. PLoS ONE 6: e21779.

Sampson, E.R., C.A. Beck, J. Ketz, et al. 2011. Establishment of an index with increased sensitivity for assessing murine arthritis. Journal of Orthopaedic Research 29: 1145–1151.

Shiomi, T., V. Lemaitre, J. D'Armiento, et al. 2010. Matrix metalloproteinases, a disintegrin and metalloproteinases, and a disintegrin and metalloproteinases with thrombospondin motifs in non-neoplastic diseases. Pathology International 60: 477–496.

Daheshia, M., and J.Q. Yao. 2008. The interleukin 1beta pathway in the pathogenesis of osteoarthritis. Journal of Rheumatology 35: 2306–2312.

Takada, M., M. Sumi, A. Maeda, et al. 2012. Pyrroloquinoline quinone, a novel protein tyrosine phosphatase 1B inhibitor, activates insulin signaling in C2C12 myotubes and improves impaired glucose tolerance in diabetic KK-A(y) mice. Biochemical and Biophysical Research Communications 428: 315–320.

Kimura, K., M. Takada, T. Ishii, et al. 2012. Pyrroloquinoline quinone stimulates epithelial cell proliferation by activating epidermal growth factor receptor through redox cycling. Free Radical Biology and Medicine 53: 1239–1251.

Zhang, L., J. Liu, C. Cheng, et al. 2012. The neuroprotective effect of pyrroloquinoline quinone on traumatic brain injury. Journal of Neurotrauma 29: 851–864.

Burrage, P.S., K.S. Mix, and C.E. Brinckerhoff. 2006. Matrix metalloproteinases: role in arthritis. Frontiers in Bioscience 11: 529–543.

Rousset, F., M.V. Nguyen, L. Grange, et al. 2013. Heme oxygenase-1 regulates matrix metalloproteinase MMP-1 secretion and chondrocyte cell death via Nox4 NADPH oxidase activity in chondrocytes. PLoS ONE 8: e66478.

Kim, S.J., J.W. Ju, C.D. Oh, et al. 2002. ERK-1/2 and p38 kinase oppositely regulate nitric oxide-induced apoptosis of chondrocytes in association with p53, caspase-3, and differentiation status. Journal of Biological Chemistry 277: 1332–1339.
ACKNOWLEDGMENTS
This work was supported by National Basic Research Program of China (973 Program, No. 2012CB822104), National Natural Science Foundation of China (31170766, 81171140), Key Project Natural Science Foundation of Jiangsu University and College (No. 11KJA310002), Nantong City Social Development Projects funds (HS2012032), and A Project Funded by the Priority Academic Program Development of Jiangsu Higher Education Institutions (PAPD).
Conflict of Interest
The authors of this manuscript have no conflict of interests to declare.
Authors' Contribution
RT and ST concepted the study, designed experiment and wrote manuscript. PL, XX, XX, ZL helped in animal experiments. YW, YC, YH were involved in cell experiments. XT, CL helped in statistical analysis of data. All authors have read and approved the final manuscript.
About this article
Cite this article
Tao, R., Wang, S., Xia, X. et al. Pyrroloquinoline Quinone Slows Down the Progression of Osteoarthritis by Inhibiting Nitric Oxide Production and Metalloproteinase Synthesis. Inflammation 38, 1546–1555 (2015). https://doi.org/10.1007/s10753-015-0129-x
Published:

Issue Date:

DOI: https://doi.org/10.1007/s10753-015-0129-x
KEY WORDS