Abstract
Elevated levels of serum cytokines, a marker of immune activation and chronic inflammation, are commonly associated with age and are a significant risk factor for all-cause mortality in the elderly. This phenomenon is very similar to that exhibited by individuals with diseases of inflammatory etiology and chronic viral infections such as human immunodeficiency virus (HIV). Although the origin of chronically elevated cytokines with age is unknown, for chronic diseases and viral infections, a role for circulating bacterial products and other pattern recognition receptor (PRR) ligands has been suggested. Given this, we sought to examine whether the levels of circulating cytokines (tumour necrosis factor (TNF), interferon-gamma (IFN-γ), interleukin (IL)-1β, IL-6, IL-8, IL-10, IL-12) in the advanced-age, frail elderly (n = 135) correlated with plasma levels of lipopolysaccharide (LPS), muramyl dipeptide (MDP), 16S ribosomal DNA, total cell-free DNA and host-derived mitochondrial DNA. After adjusting for multiple testing, no associations between circulating products and donor age, sex or comorbidities were observed. However, a significant negative correlation between MDP and IL-10 was identified. Given the anti-inflammatory nature of IL-10, a negative relationship with a potent inflammatory agonist such as MDP is not surprising and suggests a potential role for circulating MDP in the propagation of age-related immune activation.
This is a preview of subscription content, log in to check access.
Access options
Buy single article
Instant access to the full article PDF.
US$ 39.95
Price includes VAT for USA
Subscribe to journal
Immediate online access to all issues from 2019. Subscription will auto renew annually.
US$ 199
This is the net price. Taxes to be calculated in checkout.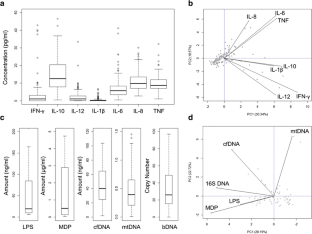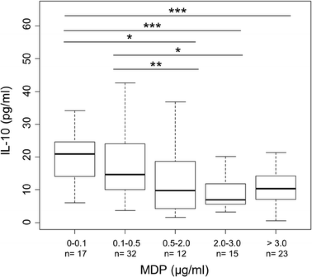 References
1.

Bartlett, David B., Charlotte M. Firth, Anna C. Phillips, Moss Paul, Baylis Daniel, Syddall Holly, Avan A. Sayer, Cooper Cyrus, and Janet M. Lord. 2012. The age-related increase in low-grade systemic inflammation (inflammaging) is not driven by cytomegalovirus infection. Aging Cell 11: 912–915. doi:10.1111/j.1474-9726.2012.00849.x.

2.

Jenny, Nancy S., Benjamin French, M. Alice, Elsa S. Arnold, Mary Cushman Strotmeyer, H.M. Paulo, Jingzhong Ding Chaves, et al. 2012. Long-term assessment of inflammation and healthy aging in late life: the Cardiovascular Health Study All Stars. The Journals of Gerontology. Series A, Biological Sciences and Medical Sciences 67: 970–976. doi:10.1093/gerona/glr261.

3.

Leng, Sean X., Xinping Tian, Amy Matteini, Huifen Li, Jennifer Hughes, Alka Jain, Jeremy D. Walston, and Neal S. Fedarko. 2011. IL-6-independent association of elevated serum neopterin levels with prevalent frailty in community-dwelling older adults. Age and ageing 40: 475–481. doi:10.1093/ageing/afr047.

4.

Qian, Feng, Xiaomei Wang, Lin Zhang, Shu Chen, Marta Piecychna, Heather Allore, Linda Bockenstedt, et al. 2012. Age-associated elevation in TLR5 leads to increased inflammatory responses in the elderly. Aging Cell 11: 104–110. doi:10.1111/j.1474-9726.2011.00759.x.

5.

Pinke, Karen Henriette, Bruno Calzavara, Patricia Freitas Faria, Magda Paula Pereira do Nascimento, James Venturini, and Vanessa Soares Lara. 2013. Proinflammatory profile of in vitro monocytes in the ageing is affected by lymphocytes presence. Immunity & ageing: I & A 10: 22. doi:10.1186/1742-4933-10-22.

6.

Hearps, Anna C., Genevieve E. Martin, Thomas A. Angelovich, Cheng Wan-Jung, Maisa Anna, Alan L. Landay, Anthony Jaworowski, and Suzanne M. Crowe. 2012. Aging is associated with chronic innate immune activation and dysregulation of monocyte phenotype and function. Aging Cell 11: 867–875. doi:10.1111/j.1474-9726.2012.00851.x.

7.

Johnstone, Jennie, Jamie Millar, Alina Lelic, P. Chris, Stephen D. Verschoor, Philip J. Walter, Jonathan Bramson Devereaux, and Mark Loeb. 2014. Immunosenescence in the nursing home elderly. BMC Geriatrics 14: 50. doi:10.1186/1471-2318-14-50.

8.

Bukh, Anne Roslev, Jesper Melchjorsen, Rasmus Offersen, Jens Magnus Bernth Jensen, Lars Toft, Henrik Støvring, Lars Østergaard, Martin Tolstrup, and Ole Schmeltz Søgaard. 2011. Endotoxemia is associated with altered innate and adaptive immune responses in untreated HIV-1 infected individuals. PLoS ONE 6. doi:10.1371/journal.pone.0021275.

9.

Keating Sheila, M., Elizabeth T. Golub, Nowicki Marek, Young Mary, Anastos Kathryn, Crystal Howard, Mardge H. Cohen, et al. 2011. The effect of HIV infection and HAART on inflammatory biomarkers in a population-based cohort of women. AIDS (London, England) 25: 1823–1832. doi:10.1097/QAD.0b013e3283489d1f.

10.

Moore, Raeanne C, Pariya L Fazeli, Dilip V Jeste, David J Moore, Igor Grant, Steven Paul Woods, and The HIV Neurobehavioral Research Program (HNRP) Group. 2014. Successful cognitive aging and health-related quality of life in younger and older adults infected with HIV. AIDS and behavior. doi:10.1007/s10461-014-0743-x.

11.

Shiraki, Makoto, Terakura Yoichi, Iwasa Junpei, Shimizu Masahito, Miwa Yoshiyuki, Murakami Nobuo, Nagaki Masahito, and Moriwaki Hisataka. 2010. Elevated serum tumor necrosis factor-alpha and soluble tumor necrosis factor receptors correlate with aberrant energy metabolism in liver cirrhosis. Nutrition (Burbank, Los Angeles County, Calif.) 26: 269–275. doi:10.1016/j.nut.2009.04.016.

12.

Szeto, Cheuk-Chun, Bonnie Ching-Ha Kwan, Kai-Ming Chow, Ka-Bik Lai, Kwok-Yi Chung, Chi-Bon Leung, and Philip Kam-Tao Li. 2008. Endotoxemia is related to systemic inflammation and atherosclerosis in peritoneal dialysis patients. Clinical journal of the American Society of Nephrology: CJASN 3: 431–436. doi:10.2215/CJN.03600807.

13.

Sandler, Netanya G., Handan Wand, Annelys Roque, Matthew Law, C. Martha, Daniel E. Nason, Court Pedersen Nixon, et al. 2011. Plasma levels of soluble CD14 independently predict mortality in HIV infection. The Journal of Infectious Diseases 203: 780–790. doi:10.1093/infdis/jiq118.

14.

Lester Richard, T., Yao Xiao-Dan, T. Blake Ball, Lyle R. McKinnon, Were R. Omange, Kaul Rupert, Wachihi Charles, Jaoko Walter, Kenneth L. Rosenthal, and Francis A. Plummer. 2009. HIV-1 RNA dysregulates the natural TLR response to subclinical endotoxemia in Kenyan female sex-workers. PloS One 4: e5644. doi:10.1371/journal.pone.0005644.

15.

Assimakopoulos Stelios, F., Athanassios C. Tsamandas, Georgios I. Tsiaoussis, Karatza Elli, Zisimopoulos Dimitrios, Maroulis Ioannis, Kontogeorgou Eleni, Christos D. Georgiou, Chrisoula D. Scopa, and Konstantinos C. Thomopoulos. 2013. Intestinal mucosal proliferation, apoptosis and oxidative stress in patients with liver cirrhosis. Annals of Hepatology 12: 301–307.

16.

Bajaj, J.S., D.M. Heuman, P.B. Hylemon, A.J. Sanyal, P. Puri, R.K. Sterling, V. Luketic, et al. 2014. Randomised clinical trial: Lactobacillus GG modulates gut microbiome, metabolome and endotoxemia in patients with cirrhosis. Alimentary Pharmacology & Therapeutics 39: 1113–1125. doi:10.1111/apt.12695.

17.

Shaw Albert, C., Daniel R. Goldstein, and Ruth R. Montgomery. 2013. Age-dependent dysregulation of innate immunity. Nature Reviews. Immunology 13: 875–887. doi:10.1038/nri3547.

18.

Verschoor Chris, P., Johnstone Jennie, Millar Jamie, Michael G. Dorrington, Habibagahi Mojtaba, Lelic Alina, Loeb Mark, Jonathan L. Bramson, and Dawn M.E. Bowdish. 2013. Blood CD33(+)HLA-DR(−) myeloid-derived suppressor cells are increased with age and a history of cancer. Journal of Leukocyte Biology 93: 633–637. doi:10.1189/jlb.0912461.

19.

Rockwood, Kenneth, Melanie Joan Abeysundera, and Arnold Mitnitski. 2007. How should we grade frailty in nursing home patients? Journal of the American Medical Directors Association 8: 595–603. doi:10.1016/j.jamda.2007.07.012.

20.

Noguchi, Eiichiro, Homma Yoichiro, Kang Xiaoyan, Mihai G. Netea, and Ma. Xiaojing. 2009. A Crohn's disease-associated NOD2 mutation suppresses transcription of human IL10 by inhibiting activity of the nuclear ribonucleoprotein hnRNP-A1. Nature Immunology 10: 471–479. doi:10.1038/ni.1722.

21.

Canto, Elisabet, Esther Moga, Elena Ricart, Orlando Garcia-Bosch, Esther Garcia-Planella, Candido Juarez, and Silvia Vidal. 2009. MDP-induced selective tolerance to TLR4 ligands: impairment in NOD2 mutant Crohn's disease patients. Inflammatory Bowel Diseases November 2009(15): 1686–1696. doi:10.1002/ibd.21013.

22.

Khalifeh, M.S., R. Al-Rukibat, W. Hananeh, A. Boumezrag, and O. Okour. 2010. Investigation of the role of tumour necrosis factor-α, interleukin-1β, interleukin-10, nitric oxide and rheumatoid factor-immunoglobulin M in a rat model of arthritis. Laboratory Animals 44: 143–149. doi:10.1258/la.2009.0080132.

23.

Shulman, Robert J, Monica E Jarrett, Kevin C Cain, Elizabeth K Broussard, and Margaret M Heitkemper. 2014. Associations among gut permeability, inflammatory markers, and symptoms in patients with irritable bowel syndrome. Journal of gastroenterology. doi:10.1007/s00535-013-0919-6.

24.

Martín, Rebeca, Florian Chain, Sylvie Miquel, Jane M Natividad, Harry Sokol, Elena F Verdu, Philippe Langella, and Luis G Bermúdez-Humarán. 2014. Effects in the use of a genetically engineered strain of Lactococcus lactis delivering in situ IL-10 as a therapy to treat low-grade colon inflammation. Human vaccines & immunotherapeutics 10.

25.

Kennedy, R.J., M. Hoper, K. Deodhar, P.J. Erwin, S.J. Kirk, and K.R. Gardiner. 2000. Interleukin 10-deficient colitis: new similarities to human inflammatory bowel disease. The British Journal of Surgery 87: 1346–1351. doi:10.1046/j.1365-2168.2000.01615.x.

26.

Verschoor Chris, P., Johnstone Jennie, Millar Jamie, Parsons Robin, Lelic Alina, Loeb Mark, Bramson J. Jonathan, and Bowdish M.E. Dawn. 2014. Alterations to the frequency and function of peripheral blood monocytes and associations with chronic disease in the advanced-age, frail elderly. PloS One 9: e104522. doi:10.1371/journal.pone.0104522.

27.

Compté, Nathalie, Karim Zouaoui Boudjeltia, Michel Vanhaeverbeek, Sandra De Breucker, Joel Tassignon, Anne Trelcat, Thierry Pepersack, and Stanislas Goriely. 2013. Frailty in old age is associated with decreased interleukin-12/23 production in response to toll-like receptor ligation. PloS One 8: e65325. doi:10.1371/journal.pone.0065325.

28.

Yao, Xu., Huifen Li, and Sean X. Leng. 2011. Inflammation and immune system alterations in frailty. Clinics in Geriatric Medicine 27: 79–87. doi:10.1016/j.cger.2010.08.002.

29.

Njemini, Rose, Ivan Bautmans, Oscar O. Onyema, Katrien Van Puyvelde, Christian Demanet, and Tony Mets. 2011. Circulating heat shock protein 70 in health, aging and disease. BMC Immunology 12: 24. doi:10.1186/1471-2172-12-24.
Acknowledgments
Funding for this study was supported by the Canadian Institutes of Health Research (CIHR) and a Pfizer-Ontario Lung Association award. Work in the Bowdish lab is supported in part by the M.G. DeGroote Institute for Infectious Disease Research (IIDR) and the McMaster Immunology Research Centre (MIRC). Chris Verschoor is funded by the 2013 Canadian Lung Association (Canadian Thoracic Society) postdoctoral fellowship, and Jennie Johnstone is supported by a CIHR fellowship.
About this article
Cite this article
Verschoor, C.P., Naidoo, A., Wallace, J.G. et al. Circulating Muramyl Dipeptide Is Negatively Associated with Interleukin-10 in the Frail Elderly. Inflammation 38, 272–277 (2015). https://doi.org/10.1007/s10753-014-0030-z
KEY WORDS
inflammaging

chronic immune activation

cytokines

lipopolysaccharide

cell-free DNA

mitochondrial DNA