Abstract
In view of the folklore use of green leaves to treat inflammation, the anti-inflammatory property of chlorophylls and their degradation products were studied. Chlorophyll a and pheophytin a (magnesium-free chlorophyll a) from fresh leaves showed potent anti-inflammatory activity against carrageenan-induced paw edema in mice and formalin-induced paw edema in rats. Chlorophyll a inhibited bacterial lipopolysaccharide-induced TNF-α (a pro-inflammatory cytokine) gene expression in HEK293 cells, but it did not influence the expression of inducible nitric acid synthase and cyclooxygenase-2 genes. Chlorophyll b only marginally inhibited both inflammation and TNF-α gene expression. But both chlorophyll a and chlorophyll b showed the same level of marginal inhibition on 12-O-tetradecanoyl-phorbol-13-acetate-induced NF-κB activation. Chlorophylls and pheophytins showed in vitro anti-oxidant activity. The study shows that chlorophyll a and its degradation products are valuable and abundantly available anti-inflammatory agents and promising for the development of phytomedicine or conventional medicine to treat inflammation and related diseases.
Access options
Buy single article
Instant access to the full article PDF.
US$ 39.95
Tax calculation will be finalised during checkout.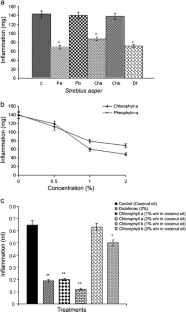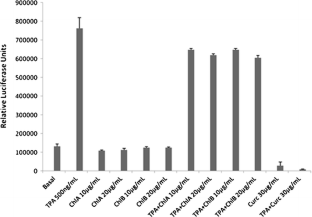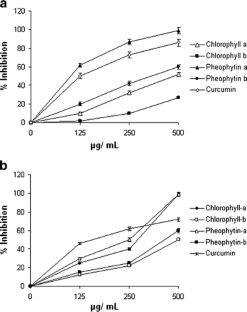 REFERENCES
1.

Heinrich, M., P.M. Bork, M.L. Schmitz, H. Rimpler, B. Frgi, and O. Sticher. 2001. Pheophorbide A from Solanum diflorum interferes with NF-kappa B activation. Planta Medica 67: 156–157.

2.

Surh, Y.A., K.S. Chun, H.H. Cha, S.S. Han, Y.S. Keum, K.K. Park, and S.S. Lee. 2001. Molecular mechanisms underlying chemo preventive activities of anti-inflammatory phyto-chemicals: Down regulation of COX-2 or iNOS through suppression of NF-κB activation. Mutation Research 48: 243–268.

3.

Bouwmeester, T., A. Bauch, H. Ruffner, P.O. Angrand, G. Bergamini, K. Croughton, C. Cruciat, D. Eberhard, J. Gagneur, S. Ghidelli, C. Hopf, B. Huhse, R. Mangano, A.M. Michon, M. Schirle, J. Schlegl, M. Schwab, M.A. Stein, A. Bauer, G. Casari, G. Drewes, A.C. Gavin, D.B. Jackson, G. Joberty, G. Neubauer, J. Rick, B. Kuster, and G. Superti-Furga. 2004. A physical and functional map of the human TNF-alpha/NF-kappa B signal transduction pathway. Nature Cell Biology 6: 97–105.

4.

Hyvarinen, K., and P.H. Hynninen. 1999. Liquid chromatographic separation and mass spectrometric identification of chlorophyll b allomers. Journal of Chromatography 839: 107–116.

5.

Harborne, J.H. 1933. Phytochemical methods. London: Chapman and Hall.

6.

Hartmut, K.L., and B. Claus. 2001. Chlorophylls and carotenoids: Measurement and characterization by UV-VIS spectroscopy. In: Current protocols in food analytical chemistry. F.3.1–F4.3.8.

7.

Lichtenthaler, H.K. 1997. Chlorophylls and carotenoids: Pigments of photosynthetic biomembranes. Methods in Enzymology 148: 350–382.

8.

Subramoniam, A., D.A. Evans, S. Rajasekharan, and S. Sreekandan Nair. 2001. Effect of Hemigraphis colorata (Blume) H. G. Hallier leaf on wound healing and inflammation in mice. Indian Journal of Pharmacology 33: 283–286.

9.

Mc Cord, J.M., and I. Fridorvich. 1969. Superoxide dismutase: An enzymic function for erythrocuprein (hemocuprein). Journal of Biological Chemistry 244: 6049–6054.

10.

Okhawa, H., N. Ohishi, and K. Yagi. 1976. Assay for lipid peroxides in animal tissue by thiobarbutric acid reaction. Analytical Biochemistry 95: 351–358.

11.

Gaur, U., and B.B. Aggarwal. 2003. Regulation of proliferation, survival and apoptosis by members of the TNF super family. Biochemical Pharmacology 66: 1403–1408.

12.

Butler, B., I.W. Milsark, and A.C. Ceramic. 1985. Passive immunization against cachectin/tumor necrosis factor protects mice from lethal effects of endotoxin. Science 229: 867–871.

13.

Cho, K.J., S.H. Han, B.Y. Kim, S.G. Hwang, K.K. Par, K.H. Yang, and A.S. Chung. 2000. Chlorophyllin suppression of lipopolysaccharide-induced nitric oxide production in RAW 264.7 cells. Toxicology and Applied Pharmacology 166: 120–127.

14.

Higgs, G.A., S. Moncada, and J.R. Vane. 1984. Eicosanoids in inflammation. Annals of Clinical Research 16: 287–299.

15.

Lee, W.Y., J.H. Park, B.S. Kims, M.J. Han, and B.S. Hahn. 1990. Chlorophyll derivatives (CpD) extracted from silk worm excreta are specifically cytotoxic to tumor cells in vitro. Yonsei Medical Journal 31: 225–233.

16.

Moynagh, P.N. 1969. The nuclear factor kappa B pathway. Journal of Cell Science 118: 4589–4592.

17.

Surh, Y.J. 1999. Molecular mechanisms of chemo preventive effects of selected dietary and medicinal substances. Mutation Research 428: 305–327.

18.

Sing, S., and B.B. Aggarwal. 1995. Activation of transcription factor NF-κB is suppressed by curcumin (diferuloyl methane). Journal of Biological Chemistry 270: 24995–25000.

19.

Gallardo-Guerrero, L., B. Gandul-Rojas, and M.I. Minguez-Mosquera. 2008. Digestive stability, micellarization and uptake by Caco-2 human intestinal cell of chlorophyll derivatives from different preparations of pea (Pisum sativam L.). Journal of Agriculture and Food Chemistry 56: 8379–8386.

20.

Ferruzzi, M.G., M.L. Failla, and S.J. Schwattz. 2001. Assessment of degradation and intestinal cell uptake of carotenoids and chlorophyll derivatives from spinach puree using an in vitro digestion and Caco-2 human cell model. Journal of Agriculture and Food Chemistry 49: 2082–2089.
ACKNOWLEDGMENTS
The authors thank Dr. Rameshkumar for isolating chlorophyll a and b in pure form from spinach and Dr. Gilmore, Boston University, USA, for providing NF-κB luciferase plasmid. Dr. B. Sabulal, Dr. S. Anilkumar, and Dr. Anil John are thanked for their help in the course of this work. Mr. Santhosh Kumar G, Animal House Technician, is acknowledged for his help in animal experiments. The financial support and facilities for the study were provided by the Government of Kerala through its plan fund support to TBGRI.
Competing interests
The authors declare that there are no potential conflicts of interest.
About this article
Cite this article
Subramoniam, A., Asha, V.V., Nair, S.A. et al. Chlorophyll Revisited: Anti-inflammatory Activities of Chlorophyll a and Inhibition of Expression of TNF-α Gene by the Same. Inflammation 35, 959–966 (2012). https://doi.org/10.1007/s10753-011-9399-0
KEY WORDS
pheophytin a

paw edema

nuclear factor-κB

Streblus asper Lour.
Chromolaena odorata (L.) R. King & Robin