Abstract
Interleukin-17 (IL-17) is a proinflammatory cytokine produced, although not exclusively, by T helper 17 recently identified as a distinct T helper lineage mediating tissue inflammation. IL-17 is known to be involved in a number of chronic disorders although the mechanisms regulating its production in inflammatory disease are still unclear. The beneficial properties of the polyphenolic compound resveratrol including its anti-inflammatory, antioxidant, and antitumor effects, its role in the aging process and in the prevention of heart and neurodegenerative diseases are well-known. In addition, derivatives of resveratrol, including glucosylated molecules as polydatin have been linked to similar beneficial effects. We have investigated the effects of resveratrol and polydatin on the in vitro production of IL-17 in a model of inflammation in vitro. The results obtained by activated human peripheral blood mononuclear cells, stimulated with anti-CD3/anti-CD28 monoclonal antibodies and treated with these polyphenolic compounds at different concentrations show that both decrease IL-17 production in a concentration-dependent manner. This study confirms the anti-inflammatory activity of resveratrol and its derivatives and suggests a potential clinical relevance in the therapy of inflammatory diseases.
This is a preview of subscription content,
to check access.
Access this article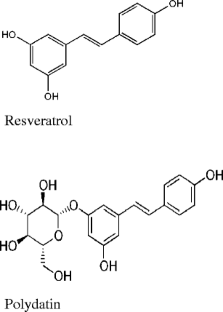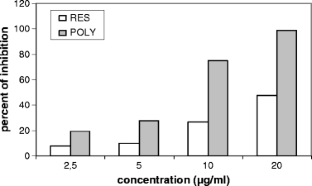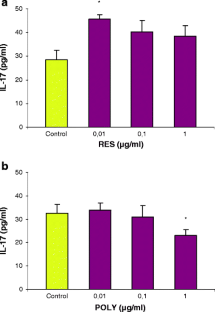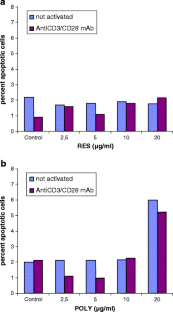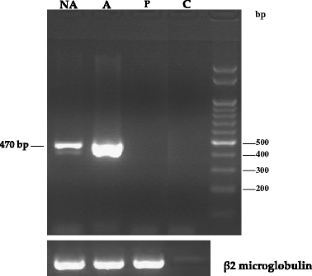 Similar content being viewed by others
REFERENCES
Kopf, M., M.F. Bachmann, and B.J. Marsland. 2010. Averting inflammation by targeting the cytokine environment. Nature Reviews. Drug Discovery 9(9): 703–718.

Valledor, A.F., M. Comalada, L.F. Santamaría-Babi, J. Lloberas, and A. Celada. 2010. Macrophage proinflammatory activation and deactivation a question of balance. Advances in Immunology 108: 1–20.

Duarte, J., A. Agua-Doce, V.G. Oliveira, J.E. Fonseca, and L. Graca. 2010. Inflammatory bowel disease (Proinflammatory cytokines underlying the inflammation of Crohn's disease. PLoS ONE 5(5): e10558.

Reuter, S., S.C. Gupta, M.M. Chaturvedi, and B.B. Aggarwal. 2010. Oxidative stress, inflammation and cancer how are they linked? Free Radical Biology & Medicine 49(11): 1603–1616. Epub 2010 Sep 16.

Zhu, J., and W.E. Paul. 2010. Heterogeneity and plasticity of T helper cells. Cell Research 20(1): 4–12. Epub 2009 Dec 15.

Wan, Y.Y. 2010. Multi-tasking of helper T cells. Immunology 130(2): 166–171.

Noma, T. 2010. Helper T cell paradigm: Th17 and regulatory T cells involved in autoimmune inflammatory disorders, pathogen defense and allergic diseases. Nihon Rinsho Men'eki Gakkai Kaishi 33(5): 262–271.

Chen, S., T.R. Crother, and M. Arditi. 2010. Emerging role of IL-17 in atherosclerosis. Journal of Innate Immunity 2(4): 325–333. Epub 2010 May 7. Review.

Netea, M.G., and L. Maródi. 2010. Innate immune mechanisms for recognition and uptake of Candida species. Trends in Immunology 31(9): 346–353. Epub 2010 Aug 11. Review.

Leung, S., X. Liu, L. Fang, X. Chen, T. Guo, and J. Zhang. 2010. The cytokine milieu in the interplay of pathogenic Th1/Th17 cells and regulatory T cells in autoimmune disease. Cellular & Molecular Immunology 7(3): 182–189. Epub 2010 Apr 12. Review.

Mai, J., H. Wang, and X.F. Yang. 2010. Th 17 cells interplay with Foxp3+ Tregs in regulation of inflammation and autoimmunity. Frontiers in Bioscience 15: 986–1006. Review.

Jäger, A., and V.K. Kuchroo. 2010. Effector and regulatory T-cell subsets in autoimmunity and tissue inflammation. Scandinavian Journal of Immunology 72(3): 173–184. Review.

Afzali, B., P. Mitchell, R.I. Lechler, S. John, and G. Lombardi. 2010. Translational mini-review series on Th17 cells: induction of interleukin-17 production by regulatory T cells. Clinical and Experimental Immunology 159(2): 120–130. Epub 2009 Nov 11.

Cua, D.J., and C.M. Tato. 2010. Innate IL-17-producing cells: the sentinels of the immune system. Nature Reviews. Immunology 10(7): 479–489. Epub 2010 Jun 18. Review. Erratum in: Nat Rev Immunol. 2010 Jul;10(7):following 489. Nat Rev Immunol. 2010 Aug;10(8):611.

Moseley, T.A., D.R. Haudenschild, L. Rose, and A.H. Reddi. 2003. Interleukin-17 family and IL-17 receptors. Cytokine & Growth Factor Reviews 14(2): 155–174.

Cianci, R., D. Pagliari, V. Pietroni, R. Landolfi, and F. Pandolfi. 2010. Tissue infiltrating lymphocytes: the role of cytokines in their growth and differentiation. Journal of Biological Regulators and Homeostatic Agents 24(3): 239–249.

Guglani, L., and S.A. Khader. 2010. Th17 cytokines in mucosal immunity and inflammation. Curr Opin HIV AIDS 5(2): 120–127.

Sies, H. 2010. Polyphenols and health: update and perspectives. Archives of Biochemistry and Biophysics 501(1): 2–5. Epub 2010 Apr 14. Review.

Shakibaei, M., K.B. Harikumar, and B.B. Aggarwal. 2009. Resveratrol addiction: to die or not to die. Molecular Nutrition & Food Research 53(1): 115–128. Review.

Cottart, C.H., V. Nivet-Antoine, C. Laguillier-Morizot, and J.L. Beaudeux. 2010. Resveratrol bioavailability and toxicity in humans. Molecular Nutrition & Food Research 54(1): 7–16.

Fabris, S., F. Momo, G. Ravagnan, and R. Stevanato. 2008. Antioxidant properties of resveratrol and piceid on lipid peroxidation in micelles and monolamellar liposomes. Biophysical Chemistry 135(1–3): 76–83.

Bertelli, A.A., and D.K. Das. 2009. Grapes, wines, resveratrol, and heart health. Journal of Cardiovascular Pharmacology 54(6): 468–476. Review.

Gullett, N.P., A.R. Ruhul Amin, S. Bayraktar, J.M. Pezzuto, D.M. Shin, F.R. Khuri, B.B. Aggarwal, Y.J. Surh, and O. Kucuk. 2010. Cancer prevention with natural compounds. Seminars in Oncology 37(3): 258–281. Review.

Petro TM. 2010. Regulatory role of resveratrol on Th17 in autoimmune disease. Int Immunopharmacol. Aug 12.

Mikulski, D., and M. Molski. 2010. Quantitative structure-antioxidant activity relationship of trans-resveratrol oligomers, trans-4, 4′-dihydroxystilbene dimer, trans-resveratrol-3-O-glucuronide, glucosides: trans-piceid, cis-piceid, trans-astringin and trans-resveratrol-4′-O-beta-d-glucopyranoside. European Journal of Medicinal Chemistry 45(6): 2366–2380.

Du, J., L.N. Sun, W.W. Xing, B.K. Huang, M. Jia, J.Z. Wu, H. Zhang, and L.P. Qin. 2009. Lipid-lowering effects of polydatin from Polygonum cuspidatum in hyperlipidemic hamsters. Phytomedicine 16(6–7): 652–658.

Rovedatti, L., T. Kudo, P. Biancheri, M. Sarra, C.H. Knowles, D.S. Rampton, G.R. Corazza, G. Monteleone, A. Di Sabatino, and T.T. Macdonald. 2009. Differential regulation of interleukin 17 and interferon gamma production in inflammatory bowel disease. Gut 58(12): 1629–1636.

Shen H, Xia L, Lu J, Xiao W. 2011. Interleukin-17 and interleukin-23 in patients with polymyositis and dermatomyositis. Scand J Rheumatol. Jan 13.

Mattivi, F., F. Reniero, and S. Korhammeret. 1995. Isolation, characterization, and evolution in red wine vinification of resveratrol monomers. Journal of Agricultural and Food Chemistry 43: 1620–1823.

G. Ravagnan, R. Falchetti, G. Lanzilli, M.P. Fuggetta, M. Tricarico and F. Mattivi. Solid phase extraction of trans-resveratrol from wines for HPLC analysis. Use of extracts from spermatophyte plants with immunomodulating activity, Pat. EP 1 292 320)

Falchetti, R., M.P. Fuggetta, G. Lanzilli, M. Tricarico, and G. Ravagnan. 2001. Effects of resveratrol on human immune cell function. Life Sciences 70(1): 81–96.

Son, T.G., S. Camandola, and M.P. Mattson. 2008. Hormetic dietary phytochemicals. Neuromolecular Medicine 10(4): 236–246. Epub 2008 Jun 10. Review.

Fuggetta, M.P., G. Lanzilli, M. Tricarico, A. Cottarelli, R. Falchetti, G. Ravagnan, and E. Bonmassar. 2006. Effect of resveratrol on proliferation and telomerase activity of human colon cancer cells in vitro. Journal of Experimental & Clinical Cancer Research 25(2): 189.

Athar, M., J.H. Back, L. Kopelovich, D.R. Bickers, and A.L. Kim. 2009. Multiple molecular targets of resveratrol: anti-carcinogenic mechanisms. Archives of Biochemistry and Biophysics 486(2): 95–102. Review.

Shahabuddin, S. 1993. Expression of IL-2 receptor subunit p55 (CD25) on normal human lymphocytes. Clinical Immunology and Immunopathology 69(2): 175–179.

Sundrud, M.S., and M.A. Nolan. 2010. Synergistic and combinatorial control of T cell activation and differentiation by transcription factors. Current Opinion in Immunology 22(3): 286–292.

Burgler, S., P.Y. Mantel, C. Bassin, N. Ouaked, C.A. Akdis, and C.B. Schmidt-Weber. 2010. RORC2 is involved in T cell polarization through interaction with the FOXP3 promoter. Journal of Immunology 184(11): 6161–6169.

Ivanov, I.I., B.S. McKenzie, L. Zhou, C.E. Tadokoro, A. Lepelley, J.J. Lafaille, D.J. Cua, and D.R. Littman. 2006. The orphan nuclear receptor RORgammat directs the differentiation program of proinflammatory IL-17+ T helper cells. Cell 126(6): 1121–1133.

Jarnicki, A., T. Putoczki, and M. Ernst. 2010. Stat3: linking inflammation to epithelial cancer—more than a "gut" feeling? Cell Division 5: 14.

Wei, L., A. Laurence, K.M. Elias, and J.J. O'Shea. 2007. IL-21 is produced by Th17 cells and drives IL-17 production in a STAT3-dependent manner. The Journal of Biological Chemistry 282(48): 34605–34610.

Yang, X.O., A.D. Panopoulos, R. Nurieva, S.H. Chang, D. Wang, S.S. Watowich, and C. Dong. 2007. STAT3 regulates cytokine-mediated generation of inflammatory helper T cells. The Journal of Biological Chemistry 282(13): 9358–9363.

Ivanov, I.I., L. Zhou, and D.R. Littman. 2007. Transcriptional regulation of Th17 cell differentiation. Seminars in Immunology 19(6): 409–417.

Chen, Z., A. Laurence, Y. Kanno, M. Pacher-Zavisin, B.M. Zhu, C. Tato, A. Yoshimura, L. Hennighausen, and J.J. Shea. 2006. Selective regulatory function of Socs3 in the formation of IL-17-secreting T cells. Proceedings of the National Academy of Sciences of the United States of America 103(21): 8137–8142.

Korn, T., E. Bettelli, W. Gao, A. Awasthi, A. Jäger, T.B. Strom, M. Oukka, and V.K. Kuchroo. 2007. IL-21 initiates an alternative pathway to induce proinflammatory T(H)17 cells. Nature 448(7152): 484–487.

Das, S., and D.K. Das. 2007. Anti-inflammatory responses of resveratrol. Inflammation & Allergy Drug Targets 6(3): 168–173. Review.

Harikumar, K.B., and B.B. Aggarwal. 2008. Resveratrol: a multitargeted agent for age-associated chronic diseases. Cell Cycle 7(8): 1020–1035.

Li, T., W. Wang, H. Chen, T. Li, and L. Ye. 2010. Evaluation of anti-leukemia effect of resveratrol by modulating STAT3 signaling. International Immunopharmacology 10(1): 18–25.
ACKNOWLEDGMENTS
This work was partially supported by Ministero dell'Istruzione, dell'Università e della Ricerca Rome, Italy.
We are grateful to Fulvio Mattivi for generously providing purified resveratrol and polydatin.
Additional information
Giulia Lanzilli and Andrea Cottarelli contributed equally to this work.
About this article
Cite this article
Lanzilli, G., Cottarelli, A., Nicotera, G. et al. Anti-inflammatory Effect of Resveratrol and Polydatin by In Vitro IL-17 Modulation. Inflammation 35, 240–248 (2012). https://doi.org/10.1007/s10753-011-9310-z
Published:

Issue Date:

DOI: https://doi.org/10.1007/s10753-011-9310-z
KEY WORDS