Abstract
Turmeric (rich in curcuminoids) and ginger (rich in gingerols and shogaols) rhizomes have been widely used as dietary spices and to treat different diseases in Ayurveda/Chinese medicine since antiquity. Here, we compared the anti-inflammatory/anti-oxidant activity of these two plants in rat adjuvant-induced arthritis (AIA). Both plants (at dose 200 mg/kg body weight) significantly suppressed (but with different degrees) the incidence and severity of arthritis by increasing/decreasing the production of anti-inflammatory/pro-inflammatory cytokines, respectively, and activating the anti-oxidant defence system. The anti-arthritic activity of turmeric exceeded that of ginger and indomethacin (a non-steroidal anti-inflammatory drug), especially when the treatment started from the day of arthritis induction. The percentage of disease recovery was 4.6–8.3% and 10.2% more in turmeric compared with ginger and indomethacin (P < 0.05), respectively. The present study proves the anti-inflammatory/anti-oxidant activity of turmeric over ginger and indomethacin, which may have beneficial effects against rheumatoid arthritis onset/progression as shown in AIA rat model.
This is a preview of subscription content, log in to check access.
Access options
Buy single article
Instant access to the full article PDF.
US$ 39.95
Price includes VAT for USA
Subscribe to journal
Immediate online access to all issues from 2019. Subscription will auto renew annually.
US$ 199
This is the net price. Taxes to be calculated in checkout.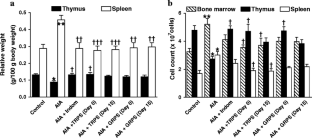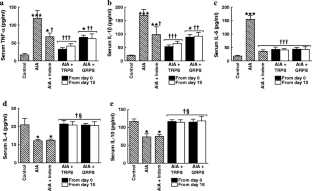 References
1.

Gabriel, S.E. 2001. The epidemiology of rheumatoid arthritis. Rheumatic Diseases Clinics of North America 27(2): 269–281.

2.

Buch, M., and P. Emery. 2002. The aetiology and pathogenesis of rheumatoid arthritis. Hospital Pharmacist 9: 5–10.

3.

Carteron, N.L. 2000. Cytokines in rheumatoid arthritis: Trials and tribulations. Molecular Medicine Today 6(8): 315–323.

4.

Shanahan, J.C., L.W. Moreland, and R.H. Carter. 2003. Upcoming biologic agents for the treatment of rheumatic diseases. Current Opinion in Rheumatology 15(3): 226–236.

5.

Szekanecz, Z., M.M. Halloran, M.V. Volin, J.M. Woods, R.M. Strieter, G. Kenneth Haines, S.L. Kunkel, M.D. Burdick, and A.E. Koch. 2000. Temporal expression of inflammatory cytokines and chemokines in rat adjuvant-induced arthritis. Arthritis and Rheumatism 43(6): 1266–1277.

6.

Goldring, S.R. 2003. Pathogenesis of bone and cartilage destruction in rheumatoid arthritis. Rheumatology (Oxford) 42(2): 11–16.

7.

Henrotin, Y.E., P. Bruckner, and J.P. Pujol. 2003. The role of reactive oxygen species in homeostasis and degradation of cartilage. Osteoarthritis and Cartilage 11(10): 747–755.

8.

Gomes, A., S. Bhattacharya, M. Chakraborty, P. Bhattacharjee, and R. Mishra. 2010. Anti-arthritic activity of Indian monocellate cobra (Naja kaouthia) venom on adjuvant induced arthritis. Toxicon 55(2–3): 670–673.

9.

Ramprasath, V.R., P. Shanthi, and P. Sachdanandam. 2005. Evaluation of antioxidant effect of Semecarpus anacardium Linn. nut extract on the components of immune system in adjuvant arthritis. Vascul Pharmacol 42(4): 179–186.

10.

Quan, L.D., G.M. Thiele, J. Tian, and D. Wang. 2008. The development of novel therapies for rheumatoid arthritis. Expert Opinion on Therapeutic Patents 18(7): 723–738.

11.

Payne, R. 2000. Limitations of NSAIDs for pain management: Toxicity or lack of efficacy? Journal of Pain 1(3 Suppl): 14–18.

12.

Simon, L.S. 2000. DMARDs in the treatment of rheumatoid arthritis: Current agents and future developments. International Journal of Clinical Practice 54(4): 243–249.

13.

Feldmann, M., and R.N. Maini. 2001. Anti-TNF alpha therapy of rheumatoid arthritis: What have we learned? Annual Review of Immunology 19: 163–196.

14.

Funk, J.L., J.B. Frye, J.N. Oyarzo, N. Kuscuoglu, J. Wilson, G. McCaffrey, G. Stafford, G. Chen, R.C. Lantz, S.D. Jolad, A.M. Solyom, P.R. Kiela, and B.N. Timmermann. 2006. Efficacy and mechanism of action of turmeric supplements in the treatment of experimental arthritis. Arthritis and Rheumatism 54(11): 3452–3464.

15.

Shishodia, S., G. Sethi, and B.B. Aggarwal. 2005. Curcumin: Getting back to the roots. Annals of the New York Academy of Sciences 1056: 206–217.

16.

Ali, B.H., G. Blunden, M.O. Tanira, and A. Nemmar. 2008. Some phytochemical, pharmacological and toxicological properties of ginger (Zingiber officinale Roscoe): A review of recent research. Food and Chemical Toxicology 46(2): 409–420.

17.

Grzanna, R., L. Lindmark, and C.G. Frondoza. 2005. Ginger—an herbal medicinal product with broad anti-inflammatory actions. Journal of Medicinal Food 8(2): 125–132.

18.

Phan, P.V., A. Sohrabi, A. Polotsky, D.S. Hungerford, L. Lindmark, and C.G. Frondoza. 2005. Ginger extract components suppress induction of chemokine expression in human synoviocytes. Journal of Alternative and Complementary Medicine 11(1): 149–154.

19.

Funk, J.L., J.N. Oyarzo, J.B. Frye, G. Chen, R.C. Lantz, S.D. Jolad, A.M. Solyom, and B.N. Timmermann. 2006. Turmeric extracts containing curcuminoids prevent experimental rheumatoid arthritis. Journal of Natural Products 69(3): 351–355.

20.

Ojewole, J.A. 2006. Analgesic, antiinflammatory and hypoglycaemic effects of ethanol extract of Zingiber officinale (Roscoe) rhizomes (Zingiberaceae) in mice and rats. Phytotherapy Research 20(9): 764–772.

21.

Narendhirakannan, R.T., S. Subramanian, and M. Kandaswamy. 2007. Anti-inflammatory and lysosomal stability actions of Cleome gynandra L. studied in adjuvant induced arthritic rats. Food and Chemical Toxicology 45(6): 1001–1012.

22.

Lowry, O.H., N.J. Rosebrough, A.L. Farr, and R.J. Randall. 1951. Protein measurement with the Folin phenol reagent. The Journal of Biological Chemistry 193(1): 265–275.

23.

Ganesan, K., M. Tiwari, C. Balachandran, B.M. Manohar, and R. Puvanakrishnan. 2008. Estrogen and testosterone attenuate extracellular matrix loss in collagen-induced arthritis in rats. Calcified Tissue International 83(5): 354–364.

24.

Wroblewski, F., and J.S. Ladue. 1956. Serum glutamic pyruvic transaminase in cardiac with hepatic disease. Proceedings of the Society for Experimental Biology and Medicine 91(4): 569–571.

25.

Wenger, C. 1984. Alkaline phosphatase. In Clinical chemistry, ed. A. Kaplan, 1094–1098. Mosby: St Louis.

26.

Esterbauer, H., R.J. Schaur, and H. Zollner. 1991. Chemistry and biochemistry of 4-hydroxynonenal, malonaldehyde and related aldehydes. Free Radical Biology & Medicine 11(1): 81–128.

27.

Aebi, H. 1984. Catalase in vitro. Methods in Enzymology 105: 121–126.

28.

Flohe, L., and W.A. Gunzler. 1984. Assays of glutathione peroxidase. Methods in Enzymology 105: 114–121.

29.

Smith, I.K., T.L. Vierheller, and C.A. Thorne. 1988. Assay of glutathione reductase in crude tissue homogenates using 5,5′-dithiobis(2-nitrobenzoic acid). Analytical Biochemistry 175(2): 408–413.

30.

Malstrom, B., L. Andreasson, and B. Reinhammaer. 1975. Copper-containing oxidases and superoxide dismutase. In The enzymes, ed. P.D. Boyer, 533. New York: Academic.

31.

Ellman, G.L. 1959. Tissue sulfhydryl groups. Archives of Biochemistry and Biophysics 82: 70–77.

32.

Turner, J.R., and J.F. Thayer. 2001. Introduction to analysis of variance: Design, analysis and interpretation. Thousand Oaks: Sage Publications.

33.

Tamura, T., N. Udagawa, N. Takahashi, C. Miyaura, S. Tanaka, Y. Yamada, Y. Koishihara, Y. Ohsugi, K. Kumaki, T. Taga, T. Kishimoto, and T. Suda. 1993. Soluble interleukin-6 receptor triggers osteoclast formation by interleukin 6. Proceedings of the National Academy of Sciences of the United States of America 90(24): 11924–11928.

34.

Hisadome, M., T. Fukuda, H. Sumichika, T. Hanano, and K. Adachi. 2000. A novel anti-rheumatic drug suppresses tumor necrosis factor-alpha and augments interleukin-10 in adjuvant arthritic rats. European Journal of Pharmacology 409(3): 331–335.

35.

Yoshihara, Y., H. Nakamura, K. Obata, H. Yamada, T. Hayakawa, K. Fujikawa, and Y. Okada. 2000. Matrix metalloproteinases and tissue inhibitors of metalloproteinases in synovial fluids from patients with rheumatoid arthritis or osteoarthritis. Annals of the Rheumatic Diseases 59(6): 455–461.

36.

Bharti, A.C., Y. Takada, and B.B. Aggarwal. 2004. Curcumin (diferuloylmethane) inhibits receptor activator of NF-kappa B ligand-induced NF-kappa B activation in osteoclast precursors and suppresses osteoclastogenesis. Journal of Immunology 172(10): 5940–5947.

37.

Park, C., D.O. Moon, I.W. Choi, B.T. Choi, T.J. Nam, C.H. Rhu, T.K. Kwon, W.H. Lee, G.Y. Kim, and Y.H. Choi. 2007. Curcumin induces apoptosis and inhibits prostaglandin E(2) production in synovial fibroblasts of patients with rheumatoid arthritis. International Journal of Molecular Medicine 20(3): 365–372.

38.

Grzanna, R., P. Phan, A. Polotsky, L. Lindmark, and C.G. Frondoza. 2004. Ginger extract inhibits beta-amyloid peptide-induced cytokine and chemokine expression in cultured THP-1 monocytes. Journal of Alternative and Complementary Medicine 10(6): 1009–1013.

39.

Hayashida, K., T. Nanki, H. Girschick, S. Yavuz, T. Ochi, and P.E. Lipsky. 2001. Synovial stromal cells from rheumatoid arthritis patients attract monocytes by producing MCP-1 and IL-8. Arthritis Research 3(2): 118–126.

40.

Katrib, A., P.P. Tak, J.V. Bertouch, C. Cuello, H.P. McNeil, T.J. Smeets, M.C. Kraan, and P.P. Youssef. 2001. Expression of chemokines and matrix metalloproteinases in early rheumatoid arthritis. Rheumatology (Oxford) 40(9): 988–994.

41.

Gangur, V., F.E. Simons, and K.T. Hayglass. 1998. Human IP-10 selectively promotes dominance of polyclonally activated and environmental antigen-driven IFN-gamma over IL-4 responses. The FASEB Journal 12(9): 705–713.

42.

Barber, D.A., and S.R. Harris. 1994. Oxygen free radicals and antioxidants: A review. American Pharmacy NS34(9): 26–35.

43.

Hassan, M.Q., R.A. Hadi, Z.S. Al-Rawi, V.A. Padron, and S.J. Stohs. 2001. The glutathione defense system in the pathogenesis of rheumatoid arthritis. Journal of Applied Toxicology 21(1): 69–73.

44.

Islamov, B.I., R.M. Balabanova, V.A. Funtikov, Y.V. Gotovskii, and E.E. Meizerov. 2002. Effect of bioresonance therapy on antioxidant system in lymphocytes in patients with rheumatoid arthritis. Bulletin of Experimental Biology and Medicine 134(3): 248–250.

45.

Niino-Nanke, Y., H. Akama, M. Hara, and S. Kashiwazaki. 1998. Alkaline phosphatase (ALP) activity in rheumatoid arthritis (RA): Its clinical significance and synthesis of ALP in RA synovium. Ryumachi 38(4): 581–588.

46.

Deng, S.L., W.F. Chen, B. Zhou, L. Yang, and Z.L. Liu. 2006. Protective effects of curcumin and its analogues against free radical-induced oxidative haemolysis of human red blood cells. Food Chemistry 98: 112–119.

47.

Ahmed, R.S., V. Seth, and B.D. Banerjee. 2000. Influence of dietary ginger (Zingiber officinales Rosc) on antioxidant defense system in rat: comparison with ascorbic acid. Indian Journal of Experimental Biology 38(6): 604–606.

48.

Goldstein, J.L. 2004. Challenges in managing NSAID-associated gastrointestinal tract injury. Digestion 69: 25–33.

49.

Charlier, C., and C. Michaux. 2003. Dual inhibition of cyclooxygenase-2 (COX-2) and 5-lipoxygenase (5-LOX) as a new strategy to provide safer non-steroidal anti-inflammatory drugs. European Journal of Medicinal Chemistry 38: 645–659.
Acknowledgements
The authors thank Mr. Ali A. Al-Kahtani our lab technician, for animal care. This study was supported by the Deanship of Scientific Research, King Faisal University, Kingdom of Saudi Arabia (90066 to G. R.).
Conflicts of Interest
The authors have no potential financial conflicts of interest.
Author contributions
G. R. planned the study (with assistance from M. A. A.-K.), designed and carried out all experiments (except for that in Table 2, which were carried out by W. M. E.-S.), performed the statistical analysis and summarized the results. G. R. drafted the manuscript with assistance from M. A. A.-K. and W. M. E.-S.
About this article
Cite this article
Ramadan, G., Al-Kahtani, M.A. & El-Sayed, W.M. Anti-inflammatory and Anti-oxidant Properties of Curcuma longa (Turmeric) Versus Zingiber officinale (Ginger) Rhizomes in Rat Adjuvant-Induced Arthritis. Inflammation 34, 291–301 (2011). https://doi.org/10.1007/s10753-010-9278-0
KEY WORDS
rat adjuvant-induced arthritis

anti-inflammatory/anti-oxidant activity

Curcuma longa

indomethacin

Zingiber officinale