Abstract
Brain ischemia–reperfusion (IR) triggers a complex series of biochemical events including inflammation. To test the neuroprotective efficacy of Cordyceps sinensis mycelium (CSM) in a rat model of focal cerebral IR, ischemic animals were treated with CSM. They were evaluated at 24 h after reperfusion for neurological deficit score. Furthermore, the mechanism of the anti-inflammatory potential of CSM in the regulation of nuclear factor kappaB, polymorphonuclear cells (PMN), interleukin-1β (IL-1β), inducible nitric oxide synthase (iNOS), tumor necrosis factor-α (TNF-α), adhesion molecule (ICAM-1), and cyclooxygenase-2 (COX-2) was determined by ELISA and immunohistochemistry. CSM significantly inhibited IR-induced up-regulation of NF-kappaB activation and the brain production of IL-1β, TNF-α, iNOS, ICAM-1, and COX-2. Moreover, CSM suppressed infiltration of PMN. The study demonstrates the neuroprotective potential of CSM inhibition through anti-inflammation in a rat model of ischemia–reperfusion.
This is a preview of subscription content, log in to check access.
Access options
Buy single article
Instant access to the full article PDF.
US$ 39.95
Price includes VAT for USA
Subscribe to journal
Immediate online access to all issues from 2019. Subscription will auto renew annually.
US$ 199
This is the net price. Taxes to be calculated in checkout.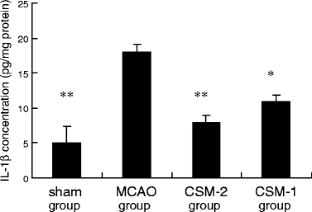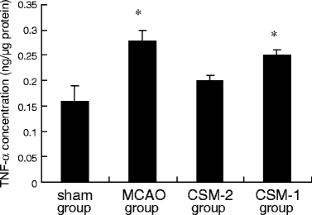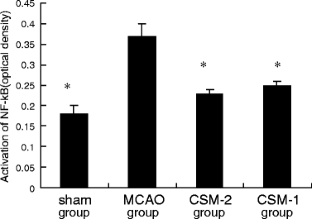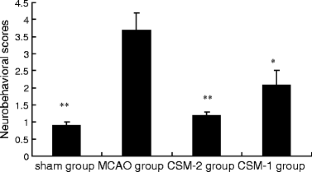 REFERENCES
1.

Lindsberg, P.J., and A.J. Grau. 2003. Inflammation and infections as risk factors for ischemic stroke. Stroke 34: 2518–2532.

2.

Wang, X., and G.Z. Feuerstein. 2000. Role of immune and inflammatory mediators in CNS injury. Drug News & Perspectives 13: 133–140.

3.

Donnan, G.A., M. Fisher, M. Macleod, and S.M. Davis. 2008. Stroke. Lancet 371: 1612–1623.

4.

Han, C.C., and J.Y. Guo. 2010. A hypothesis: Supplementation with mushroom-derived active compound modulates immunity and increases survival in response to influenza virus (H1N1) infection. Evidence-Based Complementary and Alternative Medicine. doi:10.1093/ecam/neq037.

5.

Zhu, J.S., G.M. Halpern, and K. Jones. 1998. The scientific rediscovery of an ancient Chinese herbal medicine: Cordyceps sinensis. Journal of Alternative and Complementary Medicine 4: 289–303.

6.

Kuo, Y.C., W.J. Tsai, M.S. Shiao, C.F. Chen, and C.Y. Lin. 1996. Cordyceps sinensis as an immunomodulatory agent. The American Journal of Chinese Medicine 24: 111–125.

7.

Yang, L.Y., A. Chen, Y.C. Kuo, and C.Y. Lin. 1999. Efficacy of a pure compound H1-A extracted from Cordyceps sinensis on autoimmune disease of MRL lpr/lpr mice. The Journal of Laboratory and Clinical Medicine 134: 492–500.

8.

Kuo, Y.C., W.J. Tsai, J.Y. Wang, S.C. Chang, C.Y. Lin, and M.S. Shiao. 2001. Regulation of bronchoalveolar lavage fluids cell function by the immunomodulatory agents from Cordyceps sinensis. Life Sciences 68: 1067–1082.

9.

Kuo, Y.C., C.Y. Lin, W.J. Tsai, C.L. Wu, C.F. Chen, and M.S. Shiao. 1994. Growth inhibitors against tumor cells in Cordyceps sinensis other than cordycepin and polysaccharides. Cancer Investigation 12: 611–615.

10.

Bok, J.W., L. Lermer, J. Chilton, H.G. Klingeman, and G.H. Towers. 1999. Antitumor sterols from the mycelia of Cordyceps sinensis. Phytochemistry 51: 891–898.

11.

Manabe, N., Y. Azuma, M. Sugimoto, K. Uchio, M. Miyamoto, N. Taketomo, H. Tsuchita, and H. Miyamoto. 2000. Effects of the mycelial extract of cultured Cordyceps sinensis on in vivo hepatic energy metabolism and blood flow in dietary hypoferric anaemic mice. The British Journal of Nutrition 83: 197–204.

12.

Balon, T.W., A.P. Jasman, and J.S. Zhu. 2002. A fermentation product of Cordyceps sinensis increases whole-body insulin sensitivity in rats. Journal of Alternative and Complementary Medicine 8: 315–323.

13.

Koh, J.H., J.M. Kim, U.J. Chang, and H.J. Suh. 2003. Hypocholesterolemic effect of hot-water extract from mycelia of Cordyceps sinensis. Biological & Pharmaceutical Bulletin 26: 4–87.

14.

Chiou, W.F., P.C. Chang, C.J. Chou, and C.F. Chen. 2000. Protein constituent contributes to the hypotensive and vasorelaxant activities of Cordyceps sinensis. Life Sciences 66: 1369–1376.

15.

Kuo, C.-F., C.-C. Chen, Y.-H. Luo, R.Y. Huang, W.-J. Chuang, C.-C. Sheu, and Y.-S. Lin. 2005. Cordyceps sinensis mycelium protects mice from group A streptococcal infection. Journal of Medical Microbiology 54: 795–802.

16.

Longa, E.Z., P.R. Weinstein, S. Carlson, and R. Cummins. 1989. Reversible middle cerebral artery occlusion without craniectomy in rats. Stroke 20: 84–91.

17.

Shah, Z.A., K. Namiranian, J. Klaus, K. Kibler, and S. Dore. 2006. Use of an optimized transient occlusion of the middle cerebral artery protocol for the mouse stroke model. Journal of Stroke and Cerebrovascular Diseases 15: 133–138.

18.

Lee, E.J., H.Y. Chen, T.S. Wu, T.Y. Chen, I.A. Ayoub, and K.I. Maynard. 2002. Acute administration of Ginkgo biloba extract (EGb 761) affords neuroprotection against permanent and transient focal cerebral ischemia I Sprague–Dawley rats. Journal of Neuroscience Research 68: 636–645.

19.

Xu, J.A., C.Y. Hsu, T.H. Liu, E.L. Hogan, P.L. Perot Jr., and H.H. Tai. 1990. Leukotriene B4 release and polymorphonuclear cell infiltration in spinal cord injury. Journal of Neurochemistry 55: 907–912.

20.

Cai, Z., Y. Pang, S. Lin, and P.G. Rhodes. 2003. Differential roles of tumor necrosis factor-alpha and interleukin-1 beta in lipopolysaccharide-induced brain injury in the neonatal rat. Brain Research 975: 37–47.

21.

Muir, K.W., P. Tyrrell, N. Sattar, and E. Warburton. 2007. Inflammation and ischaemic stroke. Current Opinion in Neurology 20: 334–342.

22.

Won, S.Y., and E.H. Park. 2005. Anti-inflammatory and related pharmacological activities of cultured mycelia and fruiting bodies of Cordyceps militaris. Journal of Ethnopharmacology 96: 555–561.

23.

del Zoppo, G.J., G.W. Schmid-Schonbein, E. Mori, B.R. Copeland, and C.M. Chang. 1991. Polymorphonuclear leukocytes occlude capillaries following middle cerebral artery occlusion and reperfusion in baboons. Stroke 22: 1276–1283.

24.

Hartl, R., L. Schurer, G.W. Schmid-Schonbein, and G.J. del Zoppo. 1996. Experimental antileukocyte interventions in cerebral ischemia. Journal of Cerebral Blood Flow and Metabolism 16: 1108–1119.

25.

Chopp, M., R.L. Zhang, H. Chen, Y. Li, N. Jiang, and J.R. Rusche. 1994. Postischemic administration of an anti-Mac-1 antibody reduces ischemic cell damage after transient middle cerebral artery occlusion in rats. Stroke 25: 869–875.

26.

Abraham, E. 2000. NF-kappaB activation. Critical Care Medicine 28: 100–104.

27.

Berti, R., A.J. Williams, J.R. Moffett, S.L. Hale, L.C. Velarde, P.J. Elliott, C. Yao, J.R. Dave, and F.C. Tortella. 2002. Quantitative real-time RT-PCR analysis of inflammatory gene expression associated with ischemia–reperfusion brain injury. Journal of Cerebral Blood Flow and Metabolism 22: 1068–1079.

28.

Lindsberg, P.J., O. Carpén, A. Paetau, M.L. Karjalainen-Lindsberg, and M. Kaste. 1996. Endothelial ICAM-1 expression associated with inflammatory cell response in human ischemic stroke. Circulation 94: 939–945.

29.

Jiang, M.H., T. Kaku, J. Hada, and Y. Hayashi. 1999. 7-Nitroindazole reduces nitric oxide concentration in rat hippocampus after transient forebrain ischemia. European Journal of Pharmacology 380: 117–121.

30.

Iadecola, C., C. Forster, S. Nogawa, H.B. Clark, and M.E. Ross. 1999. Cyclooxygenase-2 immunoreactivity in the human brain following cerebral ischemia. Acta Neuropathologica 98: 9–14.
ACKNOWLEDGEMENTS
This work was supported by the Key New Drugs Innovation project from Ministry of Science and Technology (2009ZX09502-017), the project from Key Laboratory of Mental Health, Chinese Academy of Sciences, Young Scientist project from IPCAS (08CX043004), NNSF grant (30800301), the Knowledge Innovation Program of the Chinese Academy of Sciences (KSCX2-YW-R-254).
About this article
Cite this article
Liu, Z., Li, P., Zhao, D. et al. Anti-inflammation Effects of Cordyceps sinensis Mycelium in Focal Cerebral Ischemic Injury Rats. Inflammation 34, 639–644 (2011). https://doi.org/10.1007/s10753-010-9273-5
KEY WORDS
CSM

inflammation

ischemia–reperfusion

inflammatory cells

inflammatory mediators