Abstract
To assess the effect of infliximab, an anti-tumor necrosis factor (TNF)-α agent, on the carbon tetrachloride (CCl4)-induced hepatic fibrosis in rats. Rats were randomized into three groups (n = 9). The control group received only intraperitoneal (i.p.) olive oil. Hepatic fibrosis was induced by repeated i.p. injections of 1.5 ml/kg CCl4 (1:3 mixture with olive oil) for 5 weeks in the remaining two groups which were also injected subcutaneous saline or 2 mg/kg infliximab. Infliximab reduced the levels of aspartate aminotransferase and alanine aminotransferase (p < 0.05 for both). The scores of hepatic necrosis, inflammation and fibrosis, and expression of α-smooth muscle actin were lower in the infliximab-treated group than the CCI4-treated group (p < 0.01, p < 0.001, p < 0.01, p < 0.001, respectively). However, there was no significant difference in terms of liver tissue and plasma malondialdehyde, and serum TNF-α levels, while infliximab relatively reduced the level of transforming growth factor-β1 (373.0 ± 153.1 vs. 280.8 ± 127.1 pg/ml). Treatment with infliximab attenuated the necro-inflammation and fibrogenesis in the CCI4-induced hepatic fibrosis, and thus it might be effective as a therapeutic anti-fibrotic agent.
This is a preview of subscription content,
to check access.
Access this article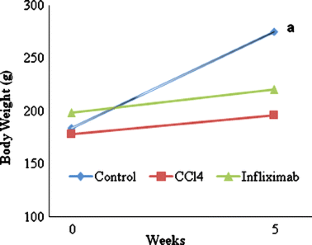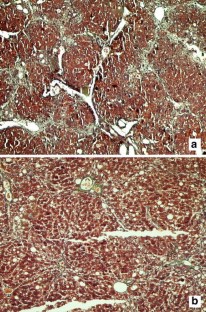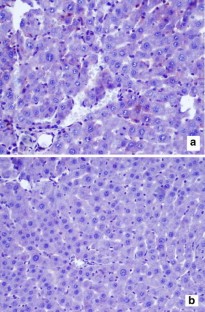 Similar content being viewed by others
References
Friedman, S. L. 2003. Liver fibrosis—from bench to bedside. J. Hepatol. 38:S38–S53.

Ogawa, K., J. Suzuki, H. Mukai, and M. Mori. 1986. Sequential changes of extracellular matrix and proliferation of Ito cells with enhanced expression of desmin and actin in focal hepatic injury. Am. J. Pathol. 125:611–619.

Maher, J. J. 1999. Leukocytes as modulators of stellate cell activation. Alcohol Clin. Exp. Res. 23:917–921.

Gressner, A. M., B. Lahme, and A. Brenzel. 1995. Molecular dissection of the mitogenic effect of hepatocytes on cultured hepatic stellate cells. Hepatology 22:1507–1518.

Recknagel, R., E. A. Glende, J. A. Dolak, and R. L. Waller. 1989. Mechanisms of carbon tetrachloride toxicity. Pharma. Ther. 43:139–154.

Brattin, W. J., E. A. Glende, and R. O. Recknagel. 1985. Pathological mechanisms in carbon tetrachloride hepatotoxicity. J. Free Radic. Biol. Med. 1:27–28.

Nadkarni, G. D., and N. B. D'Souza. 1988. Hepatic antioxidant enzymes and lipid peroxidation in carbon tetrachloride-induced liver cirrhosis in rats. Biochem. Med. Metabol. Biol. 40:42–45.

Gassó, M., M. Rubio, G. Varela, M. Cabré, J. Caballería, E. Alonso, R. Deulofem, J. Camps, A. Giménez, M. Pajares, A. Parés, J. M. Mato, and J. Rodés. 1996 Effects of S-adenosylmethionine on lipid peroxidation and liver fibrogenesis in carbon tetrachloride-induced cirrhosis. J. Hepatol. 25:200–205.

Simeonova, P. P., R. M. Gallucci, T. Hulderman, R. Wilson, C. Kommineni, M. Rao, and M. I. Luster. 2001. The role of tumor necrosis factor-a in liver toxicity, inflammation, and liver fibrosis induced by carbontetrachloride. Toxicol. Appl. Pharmacol. 177:112–120.

Wanner, G. A., P. E. Müller, W. Ertel, M. Bauer, M. D. Menger, and K. Messmer. 1999. Differential effect of anti-TNF-alpha antibody on proinflammatory cytokine release by Kupffer cells following liver ischemia and reperfusion. Shock 11:391–395.

Gallucci, R. M., P. P. Simeneova, W. Toriumi, and M. I. Luster. 2000. TNF alpha regulates transforming growth factor-alpha expression in regenerating murine liver and isolated hepatocytes. J. Immunol. 164:872–878.

Yagi, K. 1984. Assay for blood plasma or serum. Methods Enzymol 105:328–331.

Satoh, K., S. Takamatsu, S. Sakuta, S. Mizuno, H. Metoki, and M. Takamatsu. 1981. Augmented malondialdehyde production by platelets from patients with cerebrovascular disorders. Jpn. Circ. J. 45:1335–1341.

Ohkawa, H., N. Ohishi, and K. Yagi. 1979. Assay for lipid peroxides in animal tissues by thiobarbituric acid reaction. Annal. Biochem. 95:351–358.

Koca, S. S., I. H. Bahcecioglu, O. K. Poyrazoglu, I. H. Ozercan, K. Sahin, and B. Ustundag. 2007. The treatment with antibody of TNF-alpha reduces the inflammation, necrosis and fibrosis in the non-alcoholic steatohepatitis induced by methionine- and choline-deficient diet. Inflammation 31:91–98, Dec 8; [Epub ahead of print].

Lee, K. S., S. J. Lee, H. J. Park, J. P. Chung, K. H. Han, C. Y. Chon, S. I. Lee, and Y. M. Moon. 2001. Oxidative stress effect on the activation of hepatic stellate cells. Yonsei Med. J. 42:1–8.

Edwards, M. J., B. J. Keller, F. C. Kaufman, and R. G. Thurman. 1993. The involvement of Kupffer cells in carbon tetrachloride toxicity. Toxicol. Appl. Pahrmacol. 119:275–279.

Brouckaert, P., and W. Fiers. 1996. Tumor necrosis factor and the systemic inflammatory response syndrome. Curr. Top. Microbiol. Immunol. 216:167–187.

Tilg, H. 1993. The role of cytokines in the pathophysiology of chronic liver diseases. Int. J. Clin. Lab. Res. 23:179–185.

Wullaert, A., K. Heyninck, and R. Beyaert. 2006. Mechanisms of crosstalk between TNF-induced NF-kappaB and JNK activation in hepatocytes. Biochem. Pharmacol. 72:1090–1101.

Sudo, K., Y. Yamada, H. Moriwaki, K. Saito, and M. Seishima. 2005. Lack of tumor necrosis factor receptor type 1 inhibits liver fibrosis induced by carbon tetrachloride in mice. Cytokine 29:236–244.

Czaja, M. J., J. Xu, and E. Alt. 1995. Prevention of carbon tetrachloride-induced rat liver injury by tumor necrosis factor receptor. Gastroenterology 108:1849–1854.

Kimura, K., K. Ando, H. Ohnishi, T. Ishikawa, S. Kakumu, M. Takemura, Y. Muto, and H. Moriwaki. 1999. Immunopathogenesis of hepatic fibrosis in chronic liver injury induced by repeatedly administered concanavalin A. Int. Immunol. 11:1491–1500.

Gurujeyalakshmi, G., and S. N. Giri. 1995. Molecular mechanisms of antifibrotic effect of interferon gamma in bleomycin-mouse model of lung fibrosis: downregulation of TGF-beta and procollagen I and III gene expression. Exp. Lung Res. 2:791–808.

Shen, H., M. Zhang, G. Y. Minuk, and Y. Gong. 2002. Different effects of rat interferon alpha, beta and gamma on rat hepatic stellate cell proliferation and activation. BMC Cell. Biol. 3:9.

Natsume, M., H. Tsuji, A. Harada, M. Akiyama, T. Yano, H. Ishikura, I. Nakanishi, K. Matsushima, S. Kaneko, and N. Mukaida. 1999. Attenuated liver fibrosis and depressed serum albumin levels in carbon tetrachloride-treated IL-6-deficient mice. J. Leukoc. Biol. 66:601–608.

Roderfeld, M., A. Geier, C. G. Dietrich, E. Siewert, B. Jansen, C. Gartung, and E. Roeb. 2006. Cytokine blockade inhibits hepatic tissue inhibitor of metalloproteinase-1 expression and up-regulates matrix metalloproteinase-9 in toxic liver injury. Liver Int. 26:579–586.

Murray, D. A., and I. N. Crispe. 2004. TNF-alpha controls intrahepatic T cell apoptosis and peripheral T cell numbers. J. Immunol. 173:2402–2409.

Lang, A., R. Schoonhoven, S. Tuvia, D. A. Brenner, and R. A. Rippe. 2000. Nuclear factor kappaB in proliferation, activation, and apoptosis in rat hepatic stellate cells. J. Hepatol. 33:49–58.

Freedman, A. R., R. J. Sharma, G. J. Nabel, S. G. Emerson, and G. E. Griffin. 1992. Cellular distribution of nuclear factor kappa B binding activity in rat liver. Biochem. J. 287:645–649.

Piguet, P. F., and C. Vesin. 1994. Treatment by human recombinant soluble TNF receptor of pulmonary fibrosis induced by bleomycin or silica in mice. Eur. Respir. J. 7:515–518.

Koca, S. S., A. Isik, I. H. Ozercan, B. Ustundag, B. Evren, and K. Metin. 2008. Effectiveness of etanercept in bleomycin-induced experimental scleroderma. Rheumatology (Oxford) 47:172–175.
About this article
Cite this article
Bahcecioglu, I.H., Koca, S.S., Poyrazoglu, O.K. et al. Hepatoprotective Effect of Infliximab, an Anti-TNF-α Agent, on Carbon Tetrachloride-Induced Hepatic Fibrosis. Inflammation 31, 215–221 (2008). https://doi.org/10.1007/s10753-008-9067-1
Received:

Accepted:

Published:

Issue Date:

DOI: https://doi.org/10.1007/s10753-008-9067-1
KEY WORDS