Abstract
Small shallow lakes (SSLs) have great conservation value and support numerous ecosystem services. However, these small ecosystems are faced with many threats, including eutrophication, which tends to shift biodiverse SSLs to a turbid state dominated by phytoplankton. The ecological quality of SSLs still remains poorly evaluated because of the lack of adapted tools. We propose a new trophic index—TIM2S—based on the tolerance range of 245 macrophyte species to total phosphorus. As a single trophic index can favour oligotrophic ecosystems and their associated species to the detriment of more eutrophic but rare species, we converted TIM2S into a predictive reference-based model. Then, we compared TIM2S with five existing trophic indices in their efficiency to discriminate trophic levels and disentangle eight anthropogenic or internal pressures. TIM2S was the only index strongly correlated with total phosphorus and able to discriminate trophic levels. Most existing trophic indices are expert-based, and reflect community alteration rather than eutrophication. These expert-based indices are also dependent on numerous environmental factors, highlighting the need for robust predictive models to evaluate ecological statuses accurately. TIM2S is Water Framework Directive-compatible and can be used widely in Europe to evaluate the trophic status and trophic alterations of SSLs.
Access options
Buy single article
Instant access to the full article PDF.
USD 39.95
Price excludes VAT (USA)
Tax calculation will be finalised during checkout.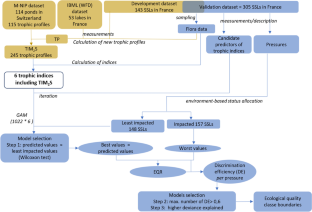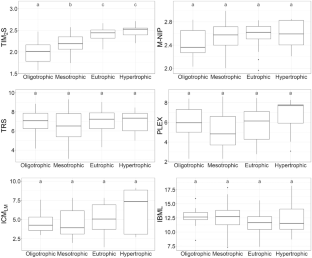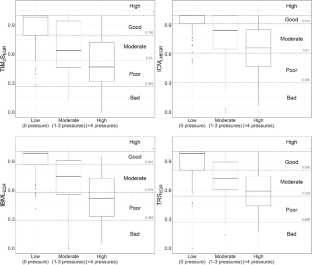 Data availability
The data presented in this study are available on request from the corresponding author. The data are not publicly available due to private funding.
References
AFNOR, 2009. Qualité de l'eau - Dosage d'éléments choisis par spectroscopie d'émission optique avec plasma induit par haute fréquence (ICP-OES).

AFNOR, 2010. XP T90–328 – Échantillonnage des communautés de macrophytes en plans d'eau. AFNOR, Paris: 33.

APHA, American Public Health Association, American Water Works Association, & W. P. C. Federation, 1998. Standard Methods for the Examination of Water and Wastewater, 20th edn. APHA, Washington, DC.

Arlinghaus, R. & T. Mehner, 2003. Socio-economic characterisation of specialised common carp (Cyprinus carpio L.) anglers in Germany, and implications for inland fisheries management and eutrophication control. Fisheries Research 61: 19–33.

Bergamini, A. & D. Pauli, 2001. Effects of increased nutrient supply on bryophytes in montane calcareous fens. Journal of Bryology 23: 331–339.

Biggs, J., P. Williams, M. Whitfield, G. Fox, P. Nicolet & H. Shelley, 2000. A New Biological Method for Assessing the Ecological Quality of Lentic Waterbodies L'eau, de la cellule au paysage, Elsevier, Paris:, 235–250.

Biggs, J., S. von Fumetti & M. Kelly-Quinn, 2017. The importance of small waterbodies for biodiversity and ecosystem services: implications for policy makers. Hydrobiologia 793: 3–39.

Borics, G., L. Nagy, S. Miron, I. Grigorszky, Z. Nagy-László, B. Lukács, L. G-Tóth & G. Varbiro, 2013. Which factors affect phytoplankton biomass in shallow eutrophic lakes? Hydrobiologia 714: 93–104.

Bornette, G., C. Henry, M.-H. Barrat & C. Amoros, 1994. Theoretical habitat templets, species traits, and species richness: aquatic macrophytes in the Upper Rhone River and its floodplain. Freshwater Biology 31: 487–505.

Boros, E., A. Takács, P. Dobosy & L. Vörös, 2021. Extreme guanotrophication by phosphorus in contradiction with the productivity of alkaline soda pan ecosystems. Science of the Total Environment 793: 148300.

Boutry, S., V. Bertrin, & A. Dutartre, 2013. Méthode d'évaluation de la qualité écologique des plans d'eau basée sur les communautés de macrophytes Indice Biologique Macrophytique en Lac (IBML) - Rapport d'avancement. IRSTEA: 47.

Carbiener, R., M. Trémolières, J. L. Mercier & A. Ortscheit, 1990. Aquatic macrophyte communities as bioindicators of eutrophication in calcareous oligosaprobe stream waters (Upper Rhine plain, Alsace). Vegetatio 86: 71–88.

Carpenter, S. R., 2005. Eutrophication of aquatic ecosystems: Bistability and soil phosphorus. Proceedings of the National Academy of Sciences of the United States of America 102: 10002–10005.

Cavaignac, S., 2009. Les sylvoécorégions (SER) de France métropolitaine Étude de définition. Inventaire forestier national: 53.

Céréghino, R., J. Biggs, B. Oertli & S. Declerck, 2007. The ecology of European ponds: defining the characteristics of a neglected freshwater habitat. Hydrobiologia 597: 1–6.

Ciecierska, H. & A. Kolada, 2014. ESMI: a macrophyte index for assessing the ecological status of lakes. Environmental Monitoring and Assessment 186: 5501–5517.

Correll, D., 1999. Phosphorus: a rate limiting nutrient in surface waters. Poultry Science 78: 674–682.

Demars, B. O. L., J. M. Potts, M. Trémolières, G. Thiébaut, N. Gougelin & V. Nordmann, 2012. River macrophyte indices: not the Holy Grail! Freshwater Biology 57: 1745–1759.

Duan, S., S. S. Kaushal, P. M. Groffman, L. E. Band & K. T. Belt, 2012. Phosphorus export across an urban to rural gradient in the Chesapeake Bay watershed. Journal of Geophysical Research: Biogeosciences. https://doi.org/10.1029/2011JG001782.

Duigan, C., W. Kovach & M. Palmer, 2007. Vegetation communities of British lakes: a revised classification scheme for conservation. Aquatic Conservation: Marine and Freshwater Ecosystems 17: 147–173.

Eglin, I., U. Roeck, F. Robach & M. Tremolieres, 1997. Macrophyte biological method used in the study of the exchange between the Rhine river and the groundwater. Water Resources 31: 503–514.

Ehrenfeld, J. G., 2008. Exotic invasive species in urban wetlands: environmental correlates and implications for wetland management. Journal of Applied Ecology 45: 1160–1169.

European Commission. Joint Research Centre. Institute for environment and Sustainability, & S. Poikane, 2009. Water Framework Directive Intercalibration Technical Report. Part 2: Lakes. Publications Office, LU. https://doi.org/10.2788/23415.

Free, G., R. Little, D. Tierney, K. Donnelly, & R. Caroni, 2006. A Reference Based Typology and Ecological Assessment System for Irish Lakes. Preliminary investigations – Final Report. Environmental Protection Agency, Ireland: 272.

Gao, J., C. Yang, Z. Zhang, Z. Liu & E. Jeppesen, 2021. Effects of co-occurrence of invading Procambarus clarkii and Pomacea canaliculata on Vallisneria denseserrulata -dominated clear-water ecosystems: a mesocosm approach. Knowledge & Management of Aquatic Ecosystems. https://doi.org/10.1051/kmae/2021029.

Garcia, X.-F., M. Brauns, M. Pusch & N. Walz, 2003. Selecting potential type-specific lakes of reference in implementing the E.U. Water Framework Directive. Temanord 547: 206–211.

Gethöffe, F. & U. Siebert, 2020. Current knowledge of the Neozoa, Nutria and Muskrat in Europe and their environmental impacts. Journal of Wildlife and Biodiversity 4: 1–12.

Gilbert, P. J., S. Taylor, D. A. Cooke, M. E. Deary & M. J. Jeffries, 2021. Quantifying organic carbon storage in temperate pond sediments. Journal of Environmental Management 280: 111698.

Gunn, I., S. Meis, S. Maberly & B. Spears, 2013. Assessing the responses of aquatic macrophytes to the application of a lanthanum modified bentonite clay, at Loch Flemington, Scotland, UK. Hydrobiologia 737: 309–320.

Håkanson, L., 2012. Limiting nutrient and eutrophication in aquatic systems – the nitrogen/phosphorus dilemma In Yue Chen, M., & D.-X. Yang (eds), Phosphorus: Properties, Health Effects, and the Environment. Nova Science Publishers, New York: 36.

Halina, S., R. Kornijów & S. Ligęza, 2005. The effect of catchment on water quality and eutrophication risk of five shallow lakes (Polesie Region, Eastern Poland). Polish Journal of Ecology 53: 313–327.

Hassall, C., J. Hollinshead & A. Hull, 2011. Environmental correlates of plant and invertebrate species richness in ponds. Biodiversity and Conservation 20: 3189–3222.

Hastie, T. & R. Tibshirani, 1999. Generalized Additive Models, Chapman & Hall/CRC, Boca Raton:

Haury, J., M.-C. Peltre, M. Trémolières, J. Barbe, G. Thiébaut, I. Bernez, H. Daniel, P. Chatenet, G. Haan-Archipof, S. Muller, A. Dutartre, C. Laplace-Treyture, A. Cazaubon & E. Lambert-Servien, 2006. A new method to assess water trophy and organic pollution – the Macrophyte Biological Index for Rivers (IBMR): its application to different types of river and pollution. Hydrobiologia 570: 153–158.

Heiskanen, A.-S., W. van de Bund, A. C. Cardoso & P. Nõges, 2004. Towards good ecological status of surface waters in Europe – interpretation and harmonisation of the concept. Water Science and Technology 49: 169–177.

Hellsten, S., Nigel J. Willby, F. Ecke, M. Mjelde, G. Phillips, & D. Tierney, 2014. Water Framework Directive Intercalibration Technical Report: Northern Lake Macrophyte Ecological Assessment Methods. European Comission, Luxembourg: 113, https://data.europa.eu/doi/https://doi.org/10.2788/75735.

Hering, D., C. K. Feld, O. Moog & T. Ofenböck, 2006. Cook book for the development of a Multimetric Index for biological condition of aquatic ecosystems: Experiences from the European AQEM and STAR projects and related initiatives. Hydrobiologia 566: 311–324.

Hering, D., A. Borja, J. Carstensen, L. Carvalho, M. Elliott, C. K. Feld, A.-S. Heiskanen, R. K. Johnson, J. Moe, D. Pont, A. L. Solheim & W. van de Bund, 2010. The European Water Framework Directive at the age of 10: A critical review of the achievements with recommendations for the future. Science of the Total Environment 408: 4007–4019.

Herrmann, A., A. Schnabler & A. Martens, 2018. Phenology of overland dispersal in the invasive crayfish Faxonius immunis (Hagen) at the Upper Rhine River area. Knowledge & Management of Aquatic Ecosystems EDP Sciences. https://doi.org/10.1051/kmae/2018018.

Hilt, S., S. Brothers, E. Jeppesen, A. J. Veraart & S. Kosten, 2017. Translating regime shifts in shallow lakes into changes in ecosystem functions and services. BioScience 67: 928–936.

Holmes, N. T. H., J. R. Newman, S. Chadd, & Environment Agency, 1999. Mean Trophic Rank: A user's Manual. Environment Agency, Bristol.

Hootsmans, M. J. M., & J. E. Vermaat, 1991. Macrophytes, A Key to Understanding Changes Caused by Eutrophication in Shallow Freshwater Ecosystems. Wageningen University, Wageningen. https://edepot.wur.nl/206465.

Hossain, M. S., W. Guo, A. Martens, Z. Adámek, A. Kouba & M. Buřič, 2020. Potential of marbled crayfish Procambarus virginalis to supplant invasive Faxonius immunis. Aquatic Ecology 54: 45–56.

Houlahan, J. E., P. A. Keddy, K. Makkay & C. S. Findlay, 2006. The effects of adjacent land use on wetland species richness and community composition. Wetlands 26: 79–96.

Hutorowicz, A., 2020. A retrospective ecological status assessment of the lakes based on historical and current maps of submerged vegetation—A case study from five stratified lakes in Poland. Water 12: 2607.

Indermuehle, N., B. Oertli, J. Biggs, R. Cereghino, P. Grillas, A. Hull, P. Nicolet & O. Scher, 2008. Pond conservation in Europe: the European Pond Conservation Network (EPCN). Verhandlungen International Verein Limnologie 30: 446–448.

Indermuehle, N., S. Angélibert, V. Rosset & B. Oertli, 2010. The pond biodiversity index "IBEM": a new tool for the rapid assessment of biodiversity in ponds from Switzerland. Part 2. Method description and examples of application. Limnetica 29: 105–120.

Jennings, E., P. Mills, P. Jordan, J. P. Jensen, M. Søndergaard, A. Barr, G. Glasgow, & K. Irvine, 2003. Eutrophication from Agricultural Sources: Environmental Soil Phosphorus Test (2000-LS-2.1.6-M2): Final Report. Environmental Protection Agency, Johnstown Castle, Co., Wexford.

Kolada, A., N. Willby, B. Dudley, P. Nõges, M. Søndergaard, S. Hellsten, M. Mjelde, E. Penning, G. van Geest, V. Bertrin, F. Ecke, H. Mäemets & K. Karus, 2014. The applicability of macrophyte compositional metrics for assessing eutrophication in European lakes. Ecological Indicators 45: 407–415.

Kutschker, A. M., L. B. Epele & M. L. Miserendino, 2014. Aquatic plant composition and environmental relationships in grazed Northwest Patagonian wetlands, Argentina. Ecological Engineering 64: 37–48.

Labat, F., G. Thiébaut & C. Piscart, 2021. Principal determinants of aquatic macrophyte communities in least-impacted small shallow lakes in France. Water Multidisciplinary Digital Publishing Institute 13: 609.

Labat, F., G. Thiébaut & C. Piscart, 2022. A new method for monitoring macrophyte communities in small shallow lakes and ponds. Biodiversity and Conservation 31: 1627–1645.

Landolt, E., 1977. Ökologische Zeigerwerte zur Schweizer Flora. Veröffentlichungen des Geobotanischen Institudes der ETH, Zürich.

Le Moal, M., C. Gascuel-Odoux, A. Ménesguen, Y. Souchon, C. Étrillard, A. Levain, F. Moatar, A. Pannard, P. Souchu, A. Lefebvre & G. Pinay, 2019. Eutrophication: a new wine in an old bottle? Science of the Total Environment 651: 1–11.

Linton, S. & R. Goulder, 2000. Botanical conservation value related to origin and management of ponds. Aquatic Conservation: Marine and Freshwater Ecosystems 10: 77–91.

Lyche Solheim, A., L. Globevnik, K. Austnes, P. Kristensen, S. J. Moe, J. Persson, G. Phillips, S. Poikane, W. van de Bund & S. Birk, 2019. A new broad typology for rivers and lakes in Europe: development and application for large-scale environmental assessments. Science of the Total Environment 697: 134043.

Marra, G. & S. N. Wood, 2011. Practical variable selection for generalized additive models. Computational Statistics & Data Analysis 55: 2372–2387.

Marzin, A., O. Delaigue, M. Logez, J. Belliard, & D. Pont, 2016. Jeux de données de référence pour le calcul de l'IPR+. SEEE – Le portail de l'évaluation des eaux. http://seee.eaufrance.fr/algos/IPRplus/Documentation/IPRplus_v1.0.3_Import_export.zip.

Matej-Lukowicz, K., E. Wojciechowska, N. Nawrot & L. A. Dzierzbicka-Głowacka, 2020. Seasonal contributions of nutrients from small urban and agricultural watersheds in northern Poland. PeerJ Inc 8: e8381.

Meerhoff, M. & E. Jeppesen, 2010. Shallow Lakes and Ponds. In Likens, G. E. (ed), Lake Ecosystem Ecology: A Global Perspective: A Derivative of Encyclopedia of Inland Waters Elsevier/Academic Press, Amsterdam: 343–353.

Meerhoff, M., J. Audet, T. A. Davidson, L. De Meester, S. Hilt, S. Kosten, Z. Liu, N. Mazzeo, H. Paerl, M. Scheffer & E. Jeppesen, 2022. Feedbacks between climate change and eutrophication: revisiting the allied attack concept and how to strike back. Inland Waters 12(2): 1–42.

Melzer, A., 1988. Die Gewässerbeurteilung bayerischer Seen mit Hille makrophytischer Wasserpflanzen In Kohler, A., H. Rahmann, & Universität Hohenheim (eds), Gefährdung und Schutz von Gewässern: Tagung über Umweltforschung an der Universität Hohenheim. Ulmer, Stuttgart: 105–116.

Mondy, C. P., B. Villeneuve, V. Archaimbault & P. Usseglio-Polatera, 2012. A new macroinvertebrate-based multimetric index (I2M2) to evaluate ecological quality of French wadeable streams fulfilling the WFD demands: a taxonomical and trait approach. Ecological Indicators 18: 452–467.

Moss, B., J. Madgwick, & G. Phillips, 1997. A Guide to the Restoration of Nutrient-Enriched Shallow Lakes. Broads Authority [u.a.], Norwich, Norfolk.

O'Hare, M. T., A. Baattrup-Pedersen, I. Baumgarte, A. Freeman, I. D. M. Gunn, A. N. Lázár, R. Sinclair, A. J. Wade & M. J. Bowes, 2018. Responses of aquatic plants to eutrophication in rivers: a revised conceptual model. Frontiers in Plant Science. https://doi.org/10.3389/fpls.2018.00451.

Oertli, B. & K. M. Parris, 2019. Review: Toward management of urban ponds for freshwater biodiversity. Ecosphere 10: e02810.

Ofenböck, T., O. Moog, J. Gerritsen & M. Barbour, 2004. A stressor specific multimetric approach for monitoring running waters in Austria using benthic macro-invertebrates. Hydrobiologia 516: 251–268.

Padisák, J. & C. S. Reynolds, 2003. Shallow lakes: the absolute, the relative, the functional and the pragmatic. Hydrobiologia 506–509: 1–11.

Palmer, M., 1992. A Botanical Classification of Standing Waters in Great Britain and a Method for the Use of Macrophyte Flora in Assessing Changes in Water Quality. Incorporing a Reworking Data, 1992. Nature Conservancy Council, Peterborough.

Patenaude, T., A. C. Smith & L. Fahrig, 2015. Disentangling the effects of wetland cover and urban development on quality of remaining wetlands. Urban Ecosystems 18: 663–684.

Penning, W. E., M. Mjelde, B. Dudley, S. Hellsten, J. Hanganu, A. Kolada, M. van den Berg, S. Poikane, G. Phillips, N. Willby & F. Ecke, 2008. Classifying aquatic macrophytes as indicators of eutrophication in European lakes. Aquatic Ecology 42: 237–251.

Pescott, O. & G. Stewart, 2014. Assessing the impact of human trampling on vegetation: a systematic review and meta-analysis of experimental evidence. PeerJ 2: e360.

Phillips, G., N. Willby & B. Moss, 2016. Submerged macrophyte decline in shallow lakes: What have we learnt in the last forty years? Aquatic Botany 135: 37–45.

Prigioni, C., A. Balestrieri & L. Remonti, 2005. Food habits of the coypu, Myocastor coypus, and its impact on aquatic vegetation in a freshwater habitat of NW Italy. Folia Zoologica 54: 269–277.

Qin, B.-Q., G. Gao, G. Zhu, Y. Zhang, Y. Song, X. Tang, H. Xu & J. Deng, 2012. Lake eutrophication and its ecosystem response. Chinese Science Bulletin 58: 961–970.

Robach, F., G. Thiebaut, M. Trémolieres & S. Muller, 1996. A reference system for continental running waters: plant communities as bioindicators of increasing eutrophication in alkaline and acidic waters in north-east France. Hydrobiologia 340: 67–76.

Rodríguez-Pérez, H., S. Hilaire & F. Mesléard, 2016. Temporary pond ecosystem functioning shifts mediated by the exotic red swamp crayfish (Procambarus clarkii): a mesocosm study. Hydrobiologia 767: 333–345.

Rosset, V., S. Angélibert, F. Arthaud, G. Bornette, J. Robin, A. Wezel, D. Vallod & B. Oertli, 2014. Is eutrophication really a major impairment for small waterbody biodiversity? Journal of Applied Ecology 51: 415–425.

Ruggiero, A., A. G. Solimini & G. Carchini, 2004. Limnological aspects of an Apennine shallow lake. Annales De Limnologie – International Journal of Limnology 40: 89–99.

Sager, L. & J.-B. Lachavanne, 2009. The M-NIP: a macrophyte-based Nutrient Index for Ponds. Hydrobiologia 634: 43–63.

Scheffer, M., S. H. Hosper, M.-L. Meijer, B. Moss & E. Jeppesen, 1993. Alternative equilibria in shallow lakes. Trends in Ecology & Evolution 8: 275–279.

Scherer, N. M., H. L. Gibbons, K. B. Stoops & M. Muller, 1995. Phosphorus loading of an urban lake by bird droppings. Lake and Reservoir Management 11: 317–327.

Schindler, D. W., 2006. Recent advances in the understanding and management of eutrophication. Limnology and Oceanography 51: 356–363.

Schneider, S. C. & A. Melzer, 2003. The Trophic Index of Macrophytes (TIM) – a New Tool for Indicating the Trophic State of Running Waters. International Review of Hydrobiology 88: 49–67.

Seo, A., K. Lee, B. Kim & Y. Choung, 2014. Classifying plant species indicators of eutrophication in Korean lakes. Paddy and Water Environment 12: 29–40.

Søndergaard, M., E. Jeppesen, J. Peder Jensen & S. Lildal Amsinck, 2005. Water Framework Directive: ecological classification of Danish lakes: Water Framework Directive and Danish lakes. Journal of Applied Ecology 42: 616–629.

Stelzer, D., S. Schneider & A. Melzer, 2005. Macrophyte-based assessment of lakes – a contribution to the implementation of the European Water Framework Directive in Germany. International Review of Hydrobiology 90: 223–237.

Thiébaut, G. & S. Muller, 1999. A macrophyte communities sequence as an bioindicator of eutrophication and acidification levels in weakly mineralised streams in North-Eastern France. Hydrobiologia 410: 17–24.

Thiébaut, G., 2008. Phosphorus and aquatic plants In White, P. J., & J. P. Hammond (eds), The Ecophysiology of Plant-Phosphorus Interactions. Springer Netherlands, Dordrecht: 31–49. https://doi.org/10.1007/978-1-4020-8435-5_3.

Turner, A. & N. Ruhl, 2007. Phosphorus loadings associated with a park tourist attraction: limnological consequences of feeding the fish. Environmental Management 39: 526–533.

Vidal, J.-P., E. Martin, L. Franchistéguy, M. Baillon & J.-M. Soubeyroux, 2010. A 50-year high-resolution atmospheric reanalysis over France with the Safran system. International Journal of Climatology 30: 1627–1644.

Vollenweider, R. A., & J. Kerekes, 1982. Eutrophication of Waters: Monitoring, Assessment and Control. OECD Cooperative Programme on Monitoring of Inland Water (Eutrophication Control). OECD, Paris.

Willby, N. J., V. J. Abernethy & B. O. L. Demars, 2000. Attribute-based classification of European hydrophytes and its relationship to habitat utilization. Freshwater Biology 43: 43–74.

Williams, P., M. Whitfield, J. Biggs, S. Bray, G. Fox, P. Nicolet & D. Sear, 2004. Comparative biodiversity of rivers, streams, ditches and ponds in an agricultural landscape in Southern England. Biological Conservation 115: 329–341.

Wood, K. A., R. A. Stillman, R. T. Clarke, F. Daunt & M. T. O'Hare, 2012. The impact of waterfowl herbivory on plant standing crop: a meta-analysis. Hydrobiologia 686: 157–167.

Zębek, E. & U. Szymańska, 2017. Abundance, biomass and community structure of pond phytoplankton related to the catchment characteristics. Knowledge & Management of Aquatic Ecosystems 2017: 45.

Zelinka, M. & P. Marvan, 1961. Zur Präzisierung der biologischen klassifikation der Reinheit flieβender Gewässer. Archiv Für Hydrobiologie 57: 389–407.
Acknowledgements
We thank the Aquabio team, especially Joyce Lambert, David Serrette, and Nicolas Tarozzi, who assisted the first author in macrophyte sampling and identification, and Jerome Simon, Anthony Antoine and Benjamin Poujardieu who performed the IBML relevés. We also thank the Water Agencies Adour-Garonne and Loire-Bretagne, the Pyrenees National Park, the Regional Natural Parks of Bauges, Ballon des Vosges, Causses du Quercy, Perigord-Limousin, Plateau des Millevaches, Prealps Cotes d'Azur, Volcans d'Auvergne, and Vosges du Nord; the EPTB Seine Grands Lacs; the Regional Conservatories of Natural Spaces of Nouvelle Aquitaine, Bourgogne, and Lorraine; the French National Forestry Office; the French National Office of Hunting and Wildlife; the Chartered Fisheries and Aquatic Environment Protection Departmental Federations of Dordogne, Gironde, Puy de Dôme and Vosges; the Gironde Hunting Federation; Pinail and Glomel Reserve Associations, and the communities of the cities of Andernos, Sage-Blavet, and Tregor-Lannion. Special thanks to the managers or site owners who granted us permission to carry out sampling. The BIOME project was labelled by the scientific council of DREAM Competitiveness Cluster.
Funding
This research followed the BIOME (BIOindication des Mares et Etangs) Project, funded by Aquabio, and the call for proposals "IPME Biodiversité" launched by ADEME, Grant Number 1682C0129, with the Chartered Fisheries and Aquatic Environment Protection Departmental Federations of Gironde.
Ethics declarations
Conflict of interest
The authors declare that they have no known competing financial interests or personal relationships that could have appeared to influence the work reported in this paper.
Additional information
Handling editor: Julie Coetzee
Publisher's Note
Springer Nature remains neutral with regard to jurisdictional claims in published maps and institutional affiliations.
Supplementary Information
Below is the link to the electronic supplementary material.
Supplementary Table S1 – New trophic profiles of plants. IV = indicator value, W = weighted value (ecological tolerance), N = number of observations in the dataset (CSV 9 kb)
Rights and permissions
Springer Nature or its licensor (e.g. a society or other partner) holds exclusive rights to this article under a publishing agreement with the author(s) or other rightsholder(s); author self-archiving of the accepted manuscript version of this article is solely governed by the terms of such publishing agreement and applicable law.
About this article
Cite this article
Labat, F., Thiebaut, G. A new trophic index (TIM2S) to evaluate trophic alteration of small shallow lakes: a predictive reference-based approach. Hydrobiologia 850, 519–536 (2023). https://doi.org/10.1007/s10750-022-05098-y
Received:

Revised:

Accepted:

Published:

Issue Date:

DOI: https://doi.org/10.1007/s10750-022-05098-y
Keywords