Abstract
Fire retardants are commonly used for fighting wildfires. Retardant chemicals washed via runoff into aquatic systems may be concentrated, thus exposing aquatic species to high levels of ammonium, phosphate, and iron. These chemicals directly affect individual species, which can also cascade to the rest of the aquatic community. We investigated the effects of a prevalent fire retardant, FR CROS 134 (FR), at various concentrations (0 to 11.4 × 102 mg l−1) on larval fire salamander (Salamandra infraimmaculata) and aquatic community structure (bacteria, algae and invertebrates) using mesocosms. We show a negative effect of the presence of FR on the survivorship and time to metamorphosis of salamander larvae (94–17% and 48–64 days, respectively). Moreover, increasing FR concentrations were found to inhibit the predation rate of salamander larvae on mosquito larvae (89–14%). FR decreased the invertebrate community diversity with changes in composition and shifts in evenness and dominance (e.g., cladoceran species abundance increased, whereas calanoid copepod species declined). Finally, cyanobacteria and eukaryotic algal abundance increased, while heterotrophic bacterial abundance decreased with FR addition. The effects of fire retardants on biodiversity found here and the growing use of fire retardants worldwide call for additional evidence-based assessment of their impact, especially in aquatic ecosystems.
Access options
Buy single article
Instant access to the full article PDF.
US$ 39.95
Tax calculation will be finalised during checkout.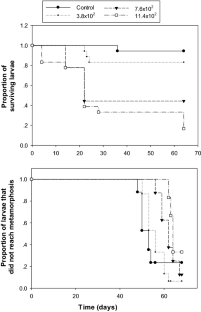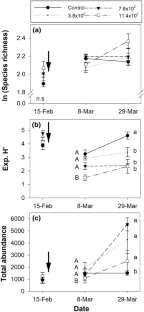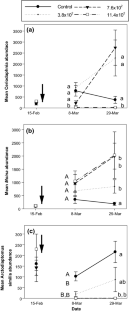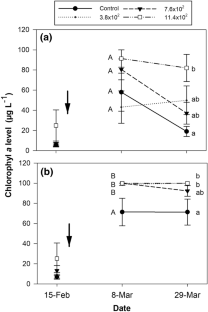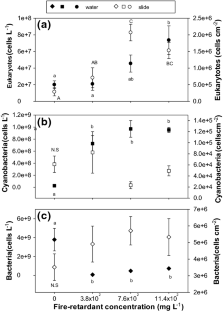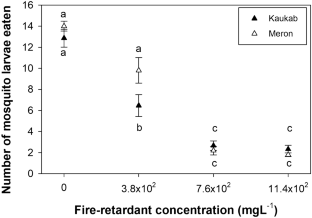 References
Altwegg, R. & H.-U. Reyer, 2003. Patterns of natural selection on size at metamorphosis in water frogs. Evolution 57: 872–882.

Angeler, D. G., & J. M. Moreno, 2007. Zooplankton community resilience after press-type anthropogenic stress in temporary ponds. Ecological Applications 17(4): 1105-1115. https://doi.org/10.1890/06-1040.

Anderson, I. J. & J. M. Kneitel, 2015. Pseudacris regilla tadpole density differentially affects periphyton and macrophytes in a California vernal pool community. Aquatic Botany 125: 23–30.

Angeler, D. G., S. Martín & J. M. Moreno, 2005a. Daphnia emergence: a sensitive indicator of fire-retardant stress in temporary wetlands. Environment international 31: 615–620.

Angeler, D. G., S. Martín, M. Rodríguez & J. M. Moreno, 2005b. Application-rate-dependent impacts of a fire retardant on zooplankton community structure of temporary ponds. Marine and Freshwater Research 56: 197.

Angeler, D. G., B. Sánchez, G. García & J. M. Moreno, 2006. Community ecotoxicology: invertebrate emergence from Fire Trol 934 contaminated vernal pool and salt marsh sediments under contrasting photoperiod and temperature regimes. Aquatic Toxicology 78: 167–175.

Bar-David, S., O. Segev, N. Peleg, N. Hill, A. R. Templeton, C. B. Schultz & L. Blaustein, 2007. Long-distance movements by fire salamanders (Salamandra infraimmaculata) and implications for habitat fragmentation. Israel Journal of Ecology & Evolution 53: 143–159.

Batzer, D. & D. Boix, 2016. An Introduction to freshwater wetlands and their invertebrates In Batzer, D. & D. Boix (eds), Invertebrates in Freshwater Wetlands: An International Perspective on their Ecology. Springer International Publishing, Cham: 1–23.

Benoy, G. A., 2008. TIger salamanders in prairie potholes: a "fish in amphibian's garments?" The Society of Wetland Scientists 28: 464–472.

Blank, L. & L. Blaustein, 2012. Using ecological niche modeling to predict the distributions of two endangered amphibian species in aquatic breeding sites. Hydrobiologia 693: 157–167.

Blank, L. & L. Blaustein, 2014. A multi-scale analysis of breeding site characteristics of the endangered fire salamander (Salamandra infraimmaculata ) at its extreme southern range limit. Hydrobiologia 726: 229–244.

Blaustein, L. & J. Margalit, 1996. Priority effects in temporary pools: nature and outcome of mosquito larva-toad tadpole interactions depend on order of entrance. Journal of Animal Ecology 65: 77–84.

Blaustein, A. R. & J. M. Kiesecker, 2002. Complexity in conservation: lessons from the global decline of amphibian populations. Ecology Letters 5: 597–608.

Blaustein, A. R. & L. K. Belden, 2003. Amphibian defenses against ultraviolet-B radiation. Evolution and Development 5: 89–97.

Blaustein, L., B. P. Kotler & D. Ward, 1995. Direct and indirect effects of a predatory backswimmer (Notonecta maculata) on community structure of desert temporary pools. Ecological Entomology 20: 311–318.

Blaustein, L., J. Friedman & T. Fahima, 1996. Larval salamandra drive temporary pool community dynamics: evidence from an artificial pool experiment. Oikos 76: 392–402.

Blaustein, J., A. Sadeh & L. Blaustein, 2014. Influence of fire salamander larvae on among-pool distribution of mosquito egg rafts: oviposition habitat selection or egg raft predation?. Hydrobiologia 723: 157–165.

Blum, S., T. Basedow & N. Becker, 1997. Culicidae (Diptera) in the diet of predatory stages of anurans (Amphibia) in humid biotopes of the Rhine Valley in Germany. Journal of Vector Ecology 22: 23—29.

Boone, M. D., R. D. Semlitsch, A. F. Fairchild & B. B. Rothermel, 2004. Effects of an insecticide on amphibians in large‐scale experimental pond. Ecological Applications 14: 685–691.

Buhl, K. J. & S. J. Hamilton, 2000. Acute toxicity of fire-control chemicals, nitrogenous chemicals, and surfactants to rainbow trout. Transactions of the American Fisheries Society 129: 408–418.

Calfee, R. D. & E. E. Little, 2003. The effects of ultraviolet-B radiation on the toxicity of fire-fighting chemicals. Environmental Toxicology and Chemistry / SETAC 22: 1525–1531.

Camargo, J. A. & Á. Alonso, 2006. Ecological and toxicological effects of inorganic nitrogen pollution in aquatic ecosystems: a global assessment. Environment International 32: 831–849.

Chambers, D. L., 2011. Increased conductivity affects corticosterone levels and prey consumption in larval amphibians. Journal of Herpetology 45: 219–223.

Clarke, K. R., 1993. Non-parametric multivariate analyses of changes in community structure. Austral Ecology 18: 117–143.

Couto-Vázquez, A., S. García-Marco & S. J. González-Prieto, 2011. Long-term effects of fire and three firefighting chemicals on a soil–plant system. International Journal of Wildland Fire 20: 856–865.

Crump, M. L., 1983. Opportunistic Cannibalism by Amphibian Larvae in Temporary Aquatic Environments. The American Naturalist The University of Chicago Press 121: 281–289.

Degani, G., 1996. Salamandra at the Southern Limit of Its Distribution. Laser Pages Publishing.

Degani, G. & D. Kaplan, 1999. Distribution of amphibian larvae in Israeli habitats with changeable water availability. Hydrobiologia 405: 49–55.

Degani, G., S. Goldenberg & M. R. Warburg, 1980. Cannibalistic phenomena in salamandra Salamandra larvae in certain water bodies and under experimental conditions. Hydrobiologia 75: 123–128.

Diana, S. G., W. J. Resetarits, D. J. Schaeffer, K. B. Beckmen & V. R. Beasley, 2000. Effects of atrazine on amphibian growth and survival in artificial aquatic communities. Environmental Toxicology and Chemistry 19: 2961–2967.

Dietrich, J. P., M. S. Myers, S. A. Strickland, A. Van Gaest & M. R. Arkoosh, 2013. Toxicity of forest fire retardant chemicals to stream-type Chinook salmon undergoing parr-smolt transformation. Environmental Toxicology and Chemistry 32: 236–247.

Dolev, A., A. Perevolotsky & E. Lachman, 2004. Vertebrates in Israel: the red book. Israel Nature and Parks Authority.

Downing, A. L. & M. A. Leibold, 2002. Ecosystem consequences of species richness and composition in pond food webs. Nature 416: 837–841.

DuRant, S. E. & W. A. Hopkins, 2008. Amphibian predation on larval mosquitoes. Canadian Journal of Zoology 86: 1159–1164.

Egea‐Serrano, A., R. A. Relyea, M. Tejedo & M. Torralva, 2012. Understanding of the impact of chemicals on amphibians: a meta‐analytic review. Ecology and Evolution Wiley Online Library 2: 1382–1397.

Eitam, A., L. Blaustein & M. Mangel, 2005. Density and intercohort priority effects on larval Salamandra salamandra in temporary pools. Oecologia 146: 36–42.

Finke, D. L. & R. F. Denno, 2004. Predator diversity dampens trophic cascades. Nature 429: 407–410.

Freda, J. & W. A. Dunson, 1984. Sodium Balance of Amphibian Larvae Exposed to Low Environmental pH. Physiological Zoology 57: 435–443.

Gaikowski, M. P., S. J. Hamilton, K. J. Buhl, S. F. McDonald & C. H. Summers, 1996. Acute toxicity of three fire-retardant and two fire-suppressant foam formulations to the early life stages of rainbow trout (Oncorhynchus mykiss). Environmental Toxicology and Chemistry 15: 1365–1374.

Giménez, A., E. Pastor, L. Zárate, E. Planas & J. Arnaldos, 2004. Long-term forest fire retardants: a review of quality, effectiveness, application and environmental considerations. International Journal of Wildland Fire 13: 1–15.

Gómez-Mestre, I. & M. Tejedo, 2002. Geographic variation in asymmetric competition: a case study with two larval anuran species. Ecology 83: 2102–2111.

Gomez‐Mestre, I., M. Tejedo, E. Ramayo & J. Estepa, 2004. Developmental alterations and osmoregulatory physiology of a larval anuran under osmotic stress. Physiological and Biochemical Zoology 77: 267–274.

Green, J.W., Springer, T.A. & Holbech, H. (2018) Time-to-Event Data. In Statistical Analysis of Ecotoxicity Studies, Wiley Online Books (ed. by Green, J.W., Springer, T.A. & Holbech, H.). pp. 259–273.

Greenhouse, S. W. & S. Geisser, 1959. On methods in the analysis of profile data. Psychometrika 24: 95–112.

Greven, H., 1998. Survey of the oviduct of salamandrids with special reference to the viviparous species. The Journal of experimental zoology 282: 507–525.

Havens, K. E., 1995. Insecticide (Carbaryl, 1-napthyl-N-methylcarbamate) effects on a freshwater plankton community: zooplankton size, biomass, and algal abundance. Water, Air, & Soil Pollution 84: 1–10.

Hosmer, D. & Lemeshow, S. 2001. Applied survival analysis: regression modeling of time to event data. International Journal of Epidemiology. pp. 408–409.

Inman, R. C., 1974. Acute Toxicity of Phos-Check (Trade Name) 202 and Diammonium Phosphate to Fathead Minnows. Report AD/A-006 122. U.S. Air Force, San Antonio, TX.

Kalabokidis, K. D., 2000. Effects of wildfire suppression chemicals on people and the environment: a review. Global Nest 2: 129–137.

Karraker, N. E., J. P. Gibbs & J. R. Vonesh, 2008. Impacts of road deicing salt on the demography of vernal pool-breeding amphibians. Ecological Applications 18: 724–734.

Kneitel, J. M. & C. L. Lessin, 2010. Ecosystem-phase interactions: aquatic eutrophication decreases terrestrial plant diversity in California vernal pools. Oecologia 163: 461–469.

Kniffin, M., C. Neill, R. McHorney & G. Gregory, 2009. Nutrient limitation of periphyton and phytoplankton in Cape Cod coastal plain ponds. Northeastern Naturalist JSTOR 16: 395–408.

Kreutzweiser, D. P., R. C. Back, T. M. Sutton, D. G. Thompson & T. A. Scarr, 2002. Community-level disruptions among zooplankton of pond mesocosms treated with a Neem (azadirachtin) insecticide. Aquatic Toxicology 56: 257–273.

Leff, L. G. & M. D. Bachmann, 1986. Ontogenetic changes in predatory behavior of larval tiger salamanders (Ambystoma tigrinum). Canadian Journal of Zoology 64: 1337–1344.

Levis, N. A., M. L. Schooler, J. R. Johnson & M. L. Collyer, 2016. Non-adaptive phenotypic plasticity: The effects of terrestrial and aquatic herbicides on larval salamander morphology and swim speed. Biological Journal of the Linnean Society 118: 569–581.

Lin, D. Y., and L.J. Wei (1989). The robust inference for the Cox proportional hazards model. Journal of the American statistical Association 84:1074–1078.

Little, E. E., R. D. Calfee & C. Johnson, 2002. Effects of fire-retardant chemical products on fathead minnows in experimental streams. USGS Columbia Environmental Research Center, Final Report to USDA Forest Service, Wildland Fire Chemical Systems, Missoula Technology & Development Center (Missoula, MT).

Martín, S., M. Rodríguez, J. M. Moreno & D. G. Angeler, 2014. Complex ecological responses to drought and fire-retardant contamination impacts in ephemeral waters. Water, Air, and Soil Pollution 225: 2078.

McDonald, S. F., S. J. Hamilton, K. J. Buhl & J. F. Heisinger, 1997. Acute toxicity of fire-retardant and foam-suppressant chemicals to Hyalella azteca (Saussure). Environmental Toxicology and Chemistry 16: 1370–1376.

Michalopoulos, C., S. Koufopoulou, N. Tzamtzis & A. Pappa, 2016. Impact of a long-term fire retardant (Fire Trol 931) on the leaching of Ca, Mg, and K from a Mediterranean forest loamy soil. Environmental Science and Pollution Research 23: 5487–5494.

Modovsky, C., 2007. Ecological risk assessment: wildland fire-fighting chemicals.

Morin, P. J., 1999. Community ecology. Malden. Blackwell Science.

Ozeri, L., R. Horwitz, J. Kneitel, E. Rahav & L. Blaustein, 2019. Effects of a fire-retardant on oviposition habitat selection and larval development of the mosquito Culiseta longiareolata. Ecological Entomology. https://doi.org/10.1111/een.12819.

Pierce, B. A., 1985. Acid Tolerance in Amphibians. BioScience 35: 239–243.

R Core Team. 2016. R: A Language and environment for statistical computing. Vienna, Austria: R Foundation for Statistical Computing; 2014. R Foundation for Statistical Computing.

Rahav, E.; Raveh, O.; Hazan, O.; Gordon, N.; Kress, N.; Silverman, J.; Herut, B., 2018. Impact of nutrient enrichment on productivity of coastal water along the SE Mediterranean shore of Israel: a bioassay approach. Marine Pollution Bulletin 127: 559–567.

Rehage, J. S., S. G. Lynn, J. I. Hammond, B. D. Palmer & A. Sih, 2002. Effects of larval exposure to triphenyltin on the survival, growth, and behavior of larval and juvenile Ambystoma barbouri salamanders. Environmental Toxicology and Chemistry / SETAC 21: 807–815.

Relyea, R. A., 2003. Predator cues and pesticides: a double dose of danger for amphibians. Ecological Applications 13: 1515–1521.

Relyea, R. A., N. M. Schoeppner & J. T. Hoverman, 2005. Pesticides and amphibians: the importance of community context. Ecological Applications 15: 1125–1134.

Richter-Boix, A., G. A. Llorente, & A. Montori, 2007. Hierarchical competition in pond-breeding anuran larvae in a Mediterranean area. Amphibia-Reptilia 28(2): 247–261. https://doi.org/10.1163/156853807780202549

Rohr, J. R. & P. W. Crumrine, 2005. Effects of an herbicide and an insecticide on pond community structure and processes. Ecological Applications 15: 1135–1147.

Rose, C. S., 2005. Integrating ecology and developmental biology to explain the timing of frog metamorphosis. Trends in Ecology and Evolution 20: 129–135.

Sadeh, A., N. Truskanov, M. Mangel & L. Blaustein, 2011. Compensatory development and costs of plasticity: larval responses to desiccated conspecifics. PLoS ONE Public Library of Science 6: e15602.

Sadeh, A., A. Polevikov, M. Mangel & L. Blaustein, 2015. Intercohort size structure dynamics of fire salamander larvae in ephemeral habitats: a mesocosm experiment. Oecologia 179: 425–433.

Sanzo, D. & S. J. Hecnar, 2006. Effects of road de-icing salt (NaCl) on larval wood frogs (Rana sylvatica). Environmental Pollution 140: 247–256.

Segev, O., M. Mangel & L. Blaustein, 2009. Deleterious effects by mosquitofish (Gambusia affinis) on the endangered fire salamander (Salamandra infraimmaculata). Animal Conservation 12: 29–37.

Segev, O., A. Polevikove, L. Blank, D. Goedbloed & E. Küpfer, 2015. Effects of tail clipping on larval performance and tail regeneration rates in the Near Eastern Fire Salamander, Salamandra infraimmaculata. PLoS ONE 10: 1–12.

Semlitsch, R. D., D. E. Scott & J. H. K. Pechmann, 1988. Time and size at metamorphosis related to adult fitness in Ambystoma talpoideum. Ecology 69: 184–192.

Sibley, P. K., N. K. Kaushik & D. P. Kreutzweiser, 1991. Impact of a pulse application of permethrin on the macroinvertebrate community of a headwater stream. Environmental Pollution 70: 35–55.

Spencer, M., S. S. Schwartz & L. Blaustein, 2002. Are there fine-scale spatial patterns in community similarity among temporary freshwater pools?. Global Ecology and biogeography JSTOR 71–78.

Steinfartz, S., M. Veith & D. Tautz, 2000. Mitochondrial sequence analysis of Salamandra taxa suggests old splits of major lineages and postglacial recolonizations of Central Europe from distinct source populations of Salamandra salamandra. Molecular Ecology 9: 397–410.

Steinfartz, S., M. Weitere, & D. Tautz, 2007. Tracing the first step to speciation: ecological and genetic differentiation of a salamander population in a small forest. Molecular Ecology 16(21): 4550–4561. https://doi.org/10.1111/j.1365-294X.2007.03490.x.

Tobin, B. W., B. F. Schwartz, M. Kelly, & J. D. Despain, 2015. Fire retardant and post-fire nutrient mobility in a mountain surface water—karst groundwater system: the Hidden Fire Sequoia National Park California USA. Environmental Earth Sciences 73(3): 951–960. https://doi.org/10.1007/s12665-014-3444-x.

USDA/DOI, 2000. Guidelines for aerial delivery of retardant or foam near waterways definition.

USDA Forest Service, 2011. Aerial application of fire retardant draft environmental impact statement

Verkaik, I., M. Rieradevall, S. D. Cooper, J. M. Melack, T. L. Dudley & N. Prat, 2013. Fire as a disturbance in mediterranean climate streams. Hydrobiologia 719: 353–382.

Vitousek, P. M., J. D. Aber, R. W. Howarth, G. E. Likens, P. A. Matson, D. W. Schindler, W. H., Schlesinger, & D. G. Tilman, 1997. Human alteration of the global nitrogen cycle: causes and consequences. Ecological Applications 7(3): 737–750. https://doi.org/10.1890/1051-0761(1997)007[0737:HAOTGN]2.0.CO;2.

Vonesh, J. R. & J. M. Kraus, 2009. Pesticide alters habitat selection and aquatic community composition. Oecologia 160: 379–385.

Welschmeyer, N. A. 1994. Fluorometric analysis of chlorophyll a in the presence of chlorophyll b and pheopigments. Limnology and Oceanography 39(8): 1985–1992. https://doi.org/10.4319/lo.1994.39.8.1985.

Werner, E. E. 1986. Amphibian metamorphosis: growth rate, predation risk, and the optimal size at transformation. The American Naturalist 128(3): 319–341. https://doi.org/10.1086/284565.

Yagil, O. & C. Zoref, 2010. Wildfire fighting chemicals in Israel: applied aspects.
Acknowledgements
This study was funded by a DIP grant (961-2008) awarded to Leon Blaustein and Alan Templeton (DFG reference number BL 1271/1-1), as well as Sebastian Steinfartz and Arne Nolte (SRE 1130/8-1). Additional funding was provided by an Israel Science Foundation grant (891/2012) to Leon Blaustein. Jamie Kneitel was supported by the Fulbright Scholar Program and the US-Israel Educational Foundation. We thank the Israel Fire and Rescue Authority for providing us with FR CROS 134. We also thank Prof. Offer Ovadia for helping with the time-to-event analyses. Lastly, we thank Ori Segev, Valentina Rovelli, Nadav Pezaro, Sahar Rosenfeld, Avi Koplovich, Maxim Krakhmalnyi, Hadar Shalom, and Claire Duchet for their help with laboratory work and fruitful discussions. This work is in partial fulfillment of the M.Sc. thesis of Lital Ozeri (University of Haifa). This study is in memory of our dear and beloved colleague and friend Leon Blaustein who passed away in June 2020.
Additional information
Publisher's Note
Springer Nature remains neutral with regard to jurisdictional claims in published maps and institutional affiliations.
Handling editor: Nicholas R. Bond
Supplementary Information
Below is the link to the electronic supplementary material.
About this article
Cite this article
Ozeri, L., Blaustein, L., Polevikov, A. et al. Effects of a fire retardant on the Near Eastern Fire Salamander Salamandra infraimmaculata and aquatic community structure: an experimental approach. Hydrobiologia 848, 4713–4729 (2021). https://doi.org/10.1007/s10750-021-04670-2
Received:

Revised:

Accepted:

Published:

Issue Date:
Keywords
Amphibians

Invertebrates

Eutrophication

Metamorphosis

Vernal pools

Wildfire