Abstract
Genetic and morphological variation within species are determined by intrinsic and extrinsic factors, which jointly or separately can promote population divergence. In freshwater systems, the structure of the basins, geographic distance, climatic fluctuations of the Pleistocene as well as extant environmental variation are important drivers of population divergence. Xiphophorus hellerii is a fish widely distributed in basins of the Gulf of Mexico slope. We used mitochondrial DNA sequences, geometric morphometrics and ecological niche modeling to investigate the roles of geographic and environmental factors in population divergence of X. hellerii. We found strong genetic structure conforming to the Stream Hierarchy and isolation by distance models. Demographic tests and ecological niche modeling suggested that the niche and populations of the species underwent contractions and expansions during the Pleistocene. Body shape of X. hellerii varied among basins and hydrological regions. Temperature seems to affect body shape, as individuals with shallow bodies were found in basins with low temperature and high altitudes. We found significant relationships between genetics, morphology, geography and the environment. Our study suggests that X. hellerii from different basins and hydrological regions have followed independent evolutionary routes and that environmental and geographical factors have played an important role in population divergence.
Access options
Buy single article
Instant access to the full article PDF.
US$ 39.95
Tax calculation will be finalised during checkout.
Subscribe to journal
Immediate online access to all issues from 2019. Subscription will auto renew annually.
US$ 119
Tax calculation will be finalised during checkout.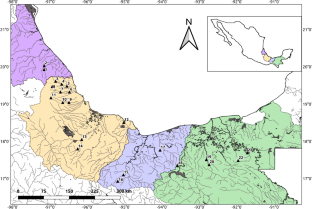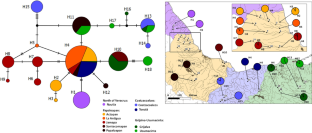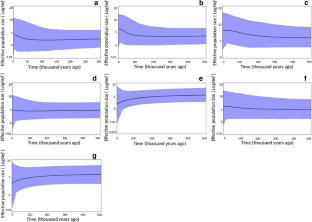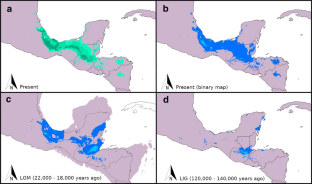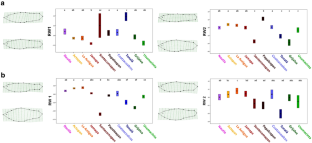 Data availability
We have deposited control region sequences in Genbank under Accessions Numbers MH187969-MH187986. The morphometrics datasets generated during the current study are available from the corresponding author on reasonable request.
References
Aljanabi, S.M. & I. Martinez, 1997. Universal and rapid salt-extraction of high quality genomic DNA for PCR-based techniques. Nucleic Acids Research 25: 4692–4693.

Araújo, M.S., S. Perez, M. Magazoni & A.C. Petry, 2014. Body size and allometric shape variation in the molly Poecilia vivipara along a gradient of salinity and predation. BMC Evolutionary Biology 14: 251.

Avise, J.C., J. Arnold, R.M. Ball, E. Bermingham, T. Lamb, J.E. Neigel, C.A. Reeb & N.C. Saunders, 1987. Interspecific phylogeography: the mitochondrial DNA bridge between population genetics and systematics. Annual Review of Ecology and Systematics 18: 489–522.

Bagley, J.C. & J.B. Johnson, 2014. Phylogeography and biogeography of the lower Central American Neotropics: Diversification between two continents and between two seas. Biological Reviews 89: 767–790.

Bagley, J.C., M. Sandel, J. Travis, M. Lozano-Vilano & J.B. Johnson, 2013. Paleoclimatic modeling and phylogeography of least killifish, Heterandria formosa: insights into Pleistocene expansion-contraction dynamics and evolutionary history of North American Coastal Plain freshwater biota. BMC Evolutionary Biology 13: 1–22.

Bandelt, H-J., P. Forster & A. Rohl, 1999. Median-Joining Networks for Inferring Intraspecific Phylogenies. Molecular Biology and Evolution 16: 37–48.

Basolo A.L., 1990. Female preference predates the evolution of the sword in swordtail fish. Science 250: 808–810.

Basolo, A.L., 1995. Phylogenetic evidence for the role of a pre-existing bias in sexual selection. Proceedings of the Royal Society of London Series B 259: 307–311.

Basolo, A.L. & W.E. Wagner, 2004. Covariation between predation risk, body size and fin elaboration in the green swordtail, Xiphophorus helleri. Biological Journal of the Linnean Society 83: 87–100.

Baumsteiger, J., A.P. Kinziger & A. Aguilar, 2016. Novel concordance between geographic, environmental and genetic structure in the ecological generalist princkly sculpin (Cottus asper) in California. Journal of Heredity 107: 504–517.

Berendzen, P.B., A.M. Simons & R.M. Wood, 2003. Phylogeography of the northern hogsucker, Hypentelium nigricans (Teleostei: Cypriniformes): Genetic evidence for the existence of the ancient Teays River. Journal of Biogeography 30: 1139–1152.

Bruno, M.C., F.J. Mapelli, J.R. Casciotta, A.E. Almirón & M.S. Lizarralde, 2016. Phylogeography of Cnesterodon decemmaculatus (Cyprinodontiformes: poeciilidae) in Southern Pampas, Argentina: ancient versus recent patterns in freshwater fishes. Environmental Biology of Fishes 99: 293–307.

Cabral, H.N., J.F. Marques, A.L. Rego, A.I. Catarino, J. Figueiredo & J. Garcia, 2003. Genetic and morphological variation of Synaptura lusitanica Capello, 1868, along the Portuguese coast. Journal of Sea Research 50: 167–175.

Carstens, B.C. & L.L. Knowles, 2007. Shifting distributions and speciation: species divergence during rapid climate change. Molecular Ecology 16: 619–627.

Chen, J.H., H.A. Curran, B. White & G.J. Wassenburg, 1991. Precise chronology of the last interglacial period: 234U-230th data from fossil coral reefs in the Bahamas. Geological Society of American Bulletin 103: 82–97.

Collin, H. & L. Fumagalli, 2011. Evidence for morphological and adaptive genetic divergence between lake and stream habitats in European minnows (Phoxinus phoxinus, Cyprinidae). Molecular Ecology 20: 4490–4502.

Cotler, H., A. Garrido, V. Bunge & M.L. Cuevas, 2010. Las cuencas hidrográficas de México: priorización y toma de decisiones. En: Cotler, H. (ed), Las cuencas hidrográficas de México. Diagnóstico y priorización. Instituto Nacional de Ecología/Fundación Gonzalo Río Arronte I.A.P. México, DF: 210–215.

Coyne, J.A. & A.H. Orr, 2004. Speciation. Sinauer Associates, Inc. Publishers, Sunderland.

Crispo, E., 2008. Modifying effects of phenotypic plasticity on interactions among natural selection, adaptation and gene flow. Journal of Evolutionary Biology 21: 1460–1469.

Cui, ZX, Y.A. Liu & K.H. Chu, 2010. Broader pattern of tandem repeats in the mitochondrial control region of Perciformes. Chinese Journal of Oceanology and Limnology 28: 785–794.

Culumber, Z.W., H.S. Fisher, M. Tobler, M. Mateos, P.H. Barber, M.D. Sorenson, et al., 2011. Replicated hybrid zones of Xiphophorus swordtails along an elevational gradient. Molecular Ecology 20: 342–56.

Culumber, Z.W., D.B. Shepard, C.G. Coleman, G.G. Rosenthal & M. Tobler, 2012. Physiological adpatation along environmental gradients and replicated hybrid zone structure in swordtails (Teleostei: Xiphophorus). Journal of Evolutionary Biology 25: 1800–1814.

Domínguez-Domínguez, O., I. Doadrio & G. Pérez-Ponce de León, 2006. Historical biogeography of some river basins in central Mexico evidenced by their goodeine freshwater fishes: a preliminary hypothesis using secondary Brooks parsimony analysis. Journal of Biogeography 33: 1437–1447.

Domínguez-Domínguez, O., F. Alda, G. Pérez-Ponce de León, J.L. García-Garitogoitia & I. Doadrio, 2008. Evolutionary history of the endangered fish Zoogoneticus quitzeoensis (Bean, 1898) (Cyprinodontiformes: Goodeidae) using a sequential approach to phylogeographic based on mitochondrial and nuclear DNA data. BMC Evolutionary Biology 8: 161.

Drummond, A.J. & A. Rambaut, 2007. BEAST: Bayesian evolutionary analysis by sampling trees. BMC Evolutionary Biology 7: 214.

Eagderi, S., H. Poorbagher, F. Parsazade & H. Mousavi-Sabet, 2015. Effects of rearing temperature on the body shape of swordtail ( Xiphophorus hellerii ) during the early development using geometric morphometrics. Poeciliid Research 5: 24–30.

Elith, J., S.J. Phillips, T. Hastie, M. Dudík, Y.E. Chee & C.J. Yates, 2011. A statistical explanation of MaxEnt for ecologist. Diversity and Distributions 17: 43–57.

Elmer, K.R., H. Kusche, T.K. Lehtonen & A. Meyer, 2010. Local variation and parallel evolution: morphological and genetic diversity across a species complex of neotropical crater lake cichlid fishes. Philosophical Transactions of the Royal Society B: Biological Sciences 365: 1763–1782.

Excoffier, L., P.E. Smouse & J.M. Quattro, 1992. Analysis of molecular variance inferred from metric distances among DNA haplotypes: application to human mitochondrial DNA restriction data. Genetics 131: 479–491.

Excoffier, L., G. Laval & S. Schneider, 2005. Arlequin (version 3.0): an integrated software package for population genetics data analysis. Evolutionary Bioinformatics Online 1: 47–50.

Feminella, J.W. & W.J. Matthews, 1984. Intraspecific differences in thermal tolerance of Etheostoma spectabile (Agassiz) in constant versus fluctuating environments. Journal of Fish Biology 25: 455–461.

Fox, G.A., S. Negrete-Yankelevich, V.J. Sosa, 2015. Ecological statistics: contemporary theory and application. Oxford University Press, Oxford.

Fu, Y., 1997. Statistical test of neutrality of mutations against population growth, hitchhiking and background selection. Genetics 147: 915–925.

Gutiérrez-Rodríguez, C., M.R. Morris, N.S. Dubois & K.D. Queiroz, 2007. Genetic variation and phylogeography of the swordtail fish Xiphophorus cortezi (Cyprinodontiformes, Poeciliidae). Molecular Phylogenetics and Evolution 43: 111–123.

Gutiérrez-Rodríguez, C., A.E. Shearer, M.R. Morris & K. De Queiroz, 2008. Phylogeography and monophyly of the swordtail fish species Xiphophorus birchmanni (Cyprinodontiformes, Poeciliidae). Zoologica Scripta 37:129–139.

Harrison, X.A., L. Donaldson, M.E. Correa-Cano, J.Evans, D.N. Fisher, C.E.D. Goodwin, B.S. Robinson, D.J. Hodgson, R. Inger, 2018. A brief introduction to mixed effects modelling and multi-model inference in ecology. PeerJ 6:e4794.

Heckel, J., 1848. Eine neue Gattung von Poecilien mit rochenartigen Anklammerungsorgane. Sitzungsberichte der K. Akadernie der Wissenschaften, Vienna.

Heled, J. & A.J. Drummond, 2008. Bayesian inference of population size history from multiple loci. BMC Evolutionary Biology 23: 289.

Hendry, A.P., E.B. Taylor & J.D. McPahil, 2002. Adaptive divergence and the balance between selection and gene flow: lake and stream stickleback in the misty system. Evolution 56: 1199–1216.

Hernandez-Jimenez, A. & O. Rios-Cardenas, 2012. Natural versus sexual selection: Predation risk in relation to body size and sexual ornaments in the green swordtail. Animal Behaviour 84: 1051–1059.

Hewitt, G.M., 2004. Genetic consequences of climatic oscillations in the Quaternary. Philosophical Transactions of the Royal Society B: Biological Sciences 359: 183–195.

Hey, J. & C.A. Machado, 2003. The study of structured populations-new hope for a difficult and divided sciences. Nature Reviews in Genetics 4: 535–543.

Hijmans, R.J. & C.H. Graham, 2006. The ability of climate envelope models to predict the effect of climate change on species distributions. Global Change Biology 12: 2272–2281.

Hijmans, R.J., S.E. Cameron, J.L. Parra, P.G. Jones & A. Jarvis, 2005. Very high resolution interpolated climate surfaces for global land areas. International Journal of Climatology 25: 1965–1978.

Hopken, M.W., M.R. Douglas & M.E. Douglas, 2013. Stream hierarchy defines riverscape genetics of a North American desert fish. Molecular Ecology 22: 956–971.

Hughes, J.M., D.J. Schmidt & D.S. Finn, 2009. Genes in Streams: Using DNA to Understand the Movement of Freshwater Fauna and Their Riverine Habitat. BioScience 59: 573–583.

Husemann, M., J.W. Ray, S.K. King, E.A. Hooser & P.D. Danley, 2012. Comparative biogeography reveals differences in population genetic strucuture of five species of stream fishes. Biological Journal of the Linnean Society 107: 867–885.

Johnson, J.B., 2001. Adaptative life-history evolution in the livebearing fish Brachyrhaphis rhabdophora: genetic basis for parallel divergence in age and size at maturity and a test of predator-induced plasticity. Evolution 55: 1486–1491.

Johnson, J.B. & M.C. Belk, 2001. Predation environment predicts divergent life-histoy phenotypes among populations of the livebearing fish Brachyrhaphis rhabdophora. Oecologia 126: 142–149.

Jones, J.C., J.A. Perez-Sato & A. Meyer, 2012. A phylogeographic investigation of the hybrid origin of a species of swordtail fish from Mexico. Molecular Ecology 21: 2692–2712.

Jones, J.C., S. Fan, P. Franchini, M. Schartl & A. Meyer, 2013. The evolutionary history of Xiphophorus fish and their sexually selected sword: a genome-wide approach using restriction site-associated DNA sequencing. Molecular Ecology 22: 2986–3001.

Jordan, D. S. & B.W. Evermann, 1896–1900. The fishes of North and Middle America. Bulletin United States National Museum. 47: 1–3313.

Kallman, K.D., R.B. Walter, D.C. Morizot & S. Kaizanis, 2004. Two New Species of Xiphophorus (Poeciliidae) from the Isthmus of Tehuantepec, Oaxaca, Mexico, with a Discussion of the Distribution of the X. clemenciae Clade. American Museum Novitates 3441.

Kang, J.H., M. Schartl & A. Meyer, 2013. Comprehensive phylogenetic analysis of all species of swordtails and platies (Pisces: Genus Xiphophorus) uncovers a hybrid origin of a swordtail fish, Xiphophorus monticolus, and demonstrates that the sexually selected sword originated in the ancestral lineage of the genus, but was lost again secondarily. BMC Evolutionary Biology 13:25.

Kawecki, T.J. & D. Ebert, 2004. Conceptual issues in local adaptation. Ecology Letters 7: 1225–1241.

Kingsolver, J.G. & R.B. Huey, 2008. Size, temperature, and fitness: three rules. Evolutionary Ecology Research 10: 251–268.

Lambeck, K., 2001. Sea level change through the Last Glacial Cycle. Science 292: 679–686.

Langerhans, R.B. & D.N. Reznick, 2010. Ecology and evolution of swimming performance in fishes: predicting evolution with biomechanics. In Domenici, P. & B.G. Kapoor (eds), Fish Locomotion: An Etho-Ecological Perspective. NH: Science Publishers, New York: 200–248.

Laporte, M., J. Claude, P. Berrebi, P. Perret & P. Magnan, 2016. Shape plasticity in response to water velocity in the freshwater blenny Salaria fluviatilis. Journal of Fish Biology 88: 1191–1203.

Liu, J.X., T.X. Gao, Z.M. Zhuang, X.S. Jin, K. Yokogawa & Y.P. Zhang, 2006. Late Pleistocene divergence and subsequent population expansion of two closely related fish species, Japanese anchovy (Engraulis japonicus) and Australian anchovy (Engraulis australis). Molecular Phylogenetics and Evolution 40: 712–723.

Lowe, W.H., M.A. McPeek, G.E. Likens & B.J. Cosentino, 2012. Decoupling of genetic and phenotypic divergence in a headwater landscape. Molecular Ecology 21: 2399–2409.

Maddison, W. & L.L. Knowles, 2006. Inferring phylogeny despite incomplete lineage sorting. Systematic biology 55: 21–30.

Mateos, M., 2005. Comparative phylogeography of livebearing fishes in the genera Poeciliopsis and Poecilia (Poeciliidae: Cyprinodontiformes) in central Mexico. Journal of Biogeography 32: 775–780.

Mather, A.T., J.O. Hanson, L.C. Pope & C. Riginos, 2018. Comparative phylogeogrpahy of two co-distributed but ecologically distinct rainbowfishes of far-northern Australia. Journal of Biogeography 45: 127-141.

McGlashan, D.J. & J.M. Hughes, 2000. Reconciling patterns of genetic variation with stream structure, earth history and biology in the Australian freshwater fish Craterocephalus stercusmuscarum (Atherinidae). Molecular Ecology 9: 1737–1751.

McMahan, C.D., L. Ginger, M. Cage, K.T. David, P. Chakrabarty, M. Johnston & W.A. Matamoros, 2017. Pleistocene to holocene expansion of the black-belt cichlid in Central America, Vieja maculicauda (Teleostei: Cichlidae). PLoS ONE, 12: 1–14.

McMillan, W.O. & S. R. Palumbi, 1997. Rapid Rate of Control-Region Evolution in Pacific Butterflyfishes (Chaetodontidae). Journal of Molecular Evolution, 45: 473–484.

Meffe, G.K. & F.F. Snelson, 1989. An ecological overview of poeciliid fishes. In Meffe, G.K. & F.F. Snelson (eds), Ecology and Evolution of Livebearing Fishes (Poeciliidae). Prentice Hall, Englewood Cliffs: 13–31.

Meffe, G.K. & R.C. Vrijenhoek, 1988. Conservation Genetics in the Management of Desert Fishes. Conservation Biology 2: 157–169.

Metcalfe, S.E., S.L. O'Hara, M. Caballero & S.J. Davies, 2000. Records of Late Pleistocene-Holocene climatic change in Mexico - A review. Quaternary Science Reviews 19: 699–721.

Meyer, A., T.D. Kocher, P. Bassabiwaki & A.C. Wilson, 1990. Monophyletic origin of Lake Victoria cichlid fishes suggested by mitochondrial DNA sequences. Nature 347: 550–553.

Meyer, A., J. Morrissey & M. Shartl, 1994. Recurrent evolution of a sexually selected trait in Xiphophorus fishes inferred from a molecular phylogeny. Nature 368: 539–542.

Meyer A, Salzburger W, Schartl M (2006) Hybrid origin of a swordtail species (Teleostei: Xiphophorus clemenciae) driven by sexual selection. Molecular Ecology 15: 721–730.

Miller, R.R., W.L. Minckley & S.M. Norris, 2009. Peces dulceacuícolas de México. Comisión Nacional para el Conocimiento y Uso de la Biodiversidad, Sociedad Ictiológica Mexicana A. C., El colegio de la Frontera Sur y Consejo de los Peces del Desierto México-Estados Unidos, México D.F.

Milton, D.A., & A.H. Arthington, 1983. Reproductive biology of Gambusia afjnis holbrooki Baird and Girard, Xiphophorus helleri (Gunther) and X. maculatus (Heckel) (Pisces; Poeciliidae) in Queensland. Australia. Journal of Fish 23: 23–41.

Mitteroecker, P. & F. Bookstein, 2011. Linear Discrimination, Ordination, and the Visualization of Selection Gradients in Modern Morphometrics. Evolutionary Biology 38: 100–114.

Morin, P.J, 2011. Community ecology. Wiley-Blackwell, Oxford.

Morris, M.R., J.A. Moretz, K. Farley & P. Nicoletto, 2005. The role of sexual selection in the loss of sexually selected traits in the swordtail fish Xiphophorus continens. Animal Behavior 69: 1415–1424.

Nei, M., 1992. Age of the common ancestor of human mitochondrial DNA. Molecular Biology and Evolution 9: 1176–1178.

Nei, M. & W-H. Li, 1979. Mathematical model for studying genetic variation in terms of restriction endonucleases. Proceedings of the National Academy of Sciences of the United States of America 76: 5269–5273.

Padhi, A., 2013. Genetic evidence of multiple matrilineal lineages of the channel catfish, Ictalurus punctatus in North America. Conservation Genetics 14: 907–912.

Pakkasmaa, S. & J. Piironen 2001. Morphological differentiation among local trout (Salmo trutta) populations. Biological Journal of the Linnean Society 72: 231–239.

Pfenning, D.W., M.A. Wund, E.C. Snell-Rood, T. Cruickshank, C.D. Schlichting & A.P. Moczek, 2010. Phenotypic plasticity's impact on diversification and speciation. Trends in Ecology and Evolution 25: 459–467.

Phillips, S.J., R.P. Anderson & R.E. Schapire, 2006. Maximum entropy modeling of species geographic distributions. Ecological Modelling 190: 231–259.

Piñeros, V.J., O. Rios-Cardenas, C. Gutiérrez-Rodríguez & L. Mendoza-Cuenca, 2015. Morphological differentiation in the damselfish Abudefduf saxatilis along Mexican Atlantic coast is associated with environmental factors and high connectivity. Evolutionary Biology 42: 235–249.

Pons, O. & R.J. Petit, 1996. Measuring and testing genetic differentiation with ordered versus unordered alleles. Genetics 144: 1237–1245.

Porretta, D., D. Canestrelli, S. Urbanelli, R. Bellini, F. Schaffner, D. Petric, et al., 2011. Southern crossroads of the Western Palearctic during the Late Pleistocene and their imprints on current patterns of genetic diversity: insights from the mosquito Aedes caspius. Journal of Biogeography 38: 20–30.

Rambaut, A. & A. Drummond, 2009. Tracer version 1.5. Retrieved September 6, 2017, from http://tree.bio.ed.ac.uk/software/tracer/

Ramos-Fregonezi, A.M.C., L.R. Malabarba & J.R. Fragundes, 2017. Population genetic structure of Cnesterodon decemmaculatus (Poeciliidae): a freswater look at the Pampa biome in Southern South America. Frontiers in Genetics 8: 214.

Regan, C.T. 1907. Diagnoses of new Central American freshwater fishes of the families Cyprinodontidae and Mugilidae. Annals and Magazine of Natural History, 7th series 19: 64-66.

Rice, W.R., 1989. Analyzing Tables of Statistical Tests. Evolution 43: 223–225.

Rohlf, F.J., 2005. tpsDig, digitize landmarks and outlines, version 2.05. Department of Ecology and Evolution, State University of New York at Stony Brook.

Rohlf, F.J., 2016. tpsPLS, Partial least-squares analysis for shapes. Retrieved from http://life.bio.sunysb.edu/morph/soft-tps.html

Rosen, D.E., 1960. Florida State Museum. Bulletin of the Florida State Museum 5: 59–229.

Rosenthal, G.G., X.F. De La Rosa Reyna, S. Kazianis, M.J. Stephens, D.C. Morizot, M.J. Ryan & F.J. García de León, 2003. Dissolution of sexual signal complexes in a hybrid zone between the swordtails Xiphophorus birchmanni and Xiphophorus malinche (Poeciliidae). Copeia 2: 299–307.

Ruzzante, D.E., S.J. Walde, J.C. Gosse, V.E. Cussac, E. Habit, T.S. Zemlak & E.D. Adams, 2008. Climate control on ancestral population dynamics: insight from Patagonian fish phylogeography. Molecular Ecology 17: 2234-2244.

Ruzzante, D.E., S.J. Walde, P.J. Macchi & M. Alonso, 2011. Phylogeography and phenotypic diversification in the Patagonian fish Perchichthys trucha: the roles of Quaternary glacial cycles and natural selection. Biological Journal of the Linnean Society 103: 514-529.

Santorum, J.M., D. Darriba, G.L. Taboada & D. Posada, 2014. Jmodeltest.org: Selection of nucleotide substitution models on the cloud. Bioinformatics 30: 1310–1311.

Schlanger, S., 2014. Package Morpho. Retrieved from http://cran.r-project.org/web/packages/Morpho/Morpho.pdf

Schories, S., M.K. Meyer & M.Schartl, 2009. Description of Poecilia (Acanthophacelus) obscura n. sp., (Teleostei: Poeciliidae), a new guppy species from western trinidad, with remarks on P. wingei and the status of the "Endler's guppy." Zootaxa 50: 35–50.

Sfakianakis, D.G., I. Leris, A. Laggis & M. Kentouri, 2011. The effect of rearing temperature on body shape and meristic characters in zebrafish (Danio rerio) juveniles. Environmental Biology of Fishes 92: 197–205.

Sheets, D.H., 2014a. MakeFan8, Tool for drawing fans or guidelines for digitizing semi-landmarks. Retrieved from http://www3.canisius.edu/~sheets/morphsoft.html

Sheets, D.H., 2014b. Coordgen8, Coordinate Generation program for calculating shape coordinates. Retrieved from http://www3.canisius.edu/~sheets/morphsoft.html

Sheets, D.H., 2014c. PCAGen8, Principal Components Generation Utility. Retrieved from http://www3.canisius.edu/~sheets/morphsoft.html

Slatkin, M. & R.R. Hudson, 1991. Pairwise comparisons of mitochondrial DNA sequences in stable and exponentially growing populations. Genetics 129: 555–562.

Stelkens, R.B., G. Jaffuel, M. Escher & C. Wedekind, 2012. Genetic and phenotypic population divergence on a microgeographic scale in brown trout. Molecular Ecology 21: 2896–2915.

Tatarenkov, A., C.I.M. Healey & J.C. Avise, 2010. Microgeographic population structure of green swordail fish: Genetic differentiation despite abundant migration. Molecular Ecology, 19: 257–268.

Toews, D.P.L. & A. Breslford, 2012. The biogeography of mictochondial and nuclear discordance in animals. Molecular Ecology 21: 3907–3930.

Tyers, M. 2017. riverdist: river Network Distance Computation and Applications. Retrieved from https://cran.r-project.org/web/packages/riverdist/index.html

Unmack, P.J., A.P. Bennin, E.M. Habit, P.F. Victoriano & J.B. Johnson, 2009. Impact of ocean barriers, topography, and glaciation on the phylogeography of the catfish Trichomycterus areolatus (Teleostei: Trichomycteridae) in Chile. Biological Journal of the Linnean Society 97: 876–892.

Unmack, P.J., M.P. Hammer, M. Adams, J.B. Johnson, T.E. Dowling, 2013. The role of continental shelf width in determining freshwater phylogeographic patterns in south-eastern Australian pygmy perches (Teleostei: Percichthyidae). Molecular Ecology 22: 1683–1699.

USGS. 2001. U.S Geological Survey. Retrieved September 8, 2017, from https://www.usgs.gov/

Valtierra-Vega, M.T. & J.J. Schmitter-Soto, 2000. Hábitos alimentarios de las mojarras (Perciformes: Cichlidae) de la laguna Caobas, Quintana Roo, México. Revista de Biología Tropical 48: 503–508.

Vogiatzi, E., E. Kalogianni, B. Zimmerman, S. Giakoumi, R. Barbieri, P. Paschou, A. Magoulas, D. Tsaparis, N. Poulakakis & C. Tsigenopoulos, 2014. Reduced genetic variation and strong genetic population structure in the freshwater killifish Valencia letourneuxi (Valenciidae) based on nuclear and mitochondrial markers. Biological Journal of the Linnean Society 111: 334-349.

Wimberger, P.H., 1992. Plasticity of fish body shape. The effects of diet, development, family and age in two species of Geophagus (Pisces; Cichlidae). Biological Journal of Linnean Society 45: 197-218.

Wong, B.B.M. & G.G. Rosenthal, 2006. Female disdain for swords in a swordtail fish. American Naturalist 167: 136–140.

Zelditch, M.L., D.L. Swiderski, D.H. Sheets & W.L. Fink, 2004. Geometric Morphometrics for Biologists: A Primer. Elsevier Academic Press, San Diego.

Zúñiga-Vega, J.J, S.J. Ingley, P.J. Unmack & J.B. Johnson, 2014. Do freshwater ecoregions and continental shelf width predict patterns of historical gene flow in the freshwater fish Poecilia butleri? Biological Journal of the Linnean Society 112: 399-416.
Acknowledgements
We would like to thank Armando Hernández and Denisse Maldonado Sánchez for their help in the field and in the laboratory. Collecting permits were granted by the Comisión Nacional de Acuacultura y Pesca (CONAPESCA).
Funding
This work was supported by research funds from the Red de Biología Evolutiva, Instituto de Ecología, A.C. (20012-11-080 to C.G.-R.), and the Consejo Nacional de Ciencia y Tecnología (CONACyT) provided a scholarship (584238 to J.A.R.-M.).
Ethics declarations
Conflict of interest
The authors declare that they do not have conflict of interest.
Ethical approval
This article does not contain any studies with human participant or animals performed by any of the authors. The Mexican government provided collection permit DGOPA.10854.061210.5440.
Additional information
Publisher's Note
Springer Nature remains neutral with regard to jurisdictional claims in published maps and institutional affiliations.
Handling editor: Christian Sturmbauer
Supplementary Information
Below is the link to the electronic supplementary material.
About this article
Cite this article
Rocamontes-Morales, J.A., Gutiérrez-Rodríguez, C., Rios-Cardenas, O. et al. Genetic and morphological differentiation in the green swordtail fish, Xiphophorus hellerii: the influence of geographic and environmental factors. Hydrobiologia 848, 4599–4622 (2021). https://doi.org/10.1007/s10750-021-04664-0
Received:

Revised:

Accepted:

Published:

Issue Date:
Keywords
Phylogeography

Mitochondrial DNA

Geometric morphometrics

Ecological niche modeling