Abstract
Four freshwater eel species (Anguilla spp.) occur in southern African rivers that are increasingly anthropogenically modified. Information on movements, habitat use and overlap by African eels is needed for their conservation. We carried out a preliminary investigation of the spatial ecology of three eel species in the Thukela River, South Africa, using radio-telemetry. Nineteen yellow-stage eels were surgically implanted with radio-tags, comprising A. mossambica (n = 2), A. bengalensis (n = 9) and A. marmorata (n = 8), and tracked from October 2018 to August 2019. Tagged eels exhibited high individual variability in space use. We recorded very small home ranges in winter for all species. A lack of apparent territoriality at inter- and intra-specific levels was observed. Eel species tended to use similar mesohabitats, especially glides, but habitat preference changed across seasons, and between species, suggesting fine-scale spatial and temporal niche partitioning. Given the breadth of flow typologies used by Thukela eels across the seasons, conservation of these long-lived species indicates that management of river flows needs to be sensitive to their habitat requirements all year round, but in many water-stressed South African rivers, this may be unlikely. Maintaining good habitat connectivity for these migrant species must be prioritised.
Access options
Buy single article
Instant access to the full article PDF.
USD 39.95
Price excludes VAT (USA)
Tax calculation will be finalised during checkout.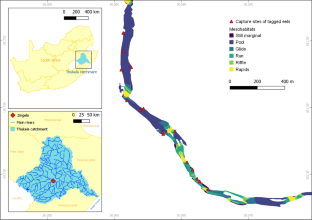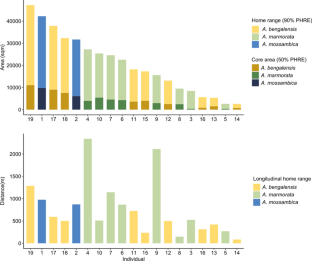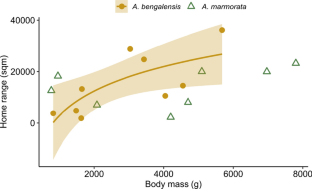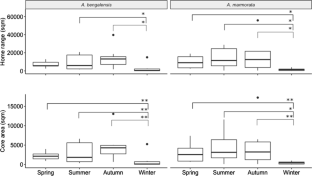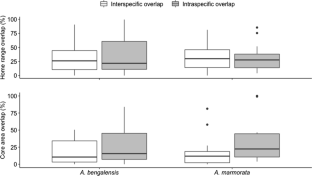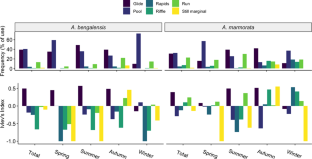 References
Arai, T. & N. Chino, 2012. Diverse migration strategy between freshwater and seawater habitats in the freshwater eel genus Anguilla. Journal of Fish Biology 81: 442–455.

Barry, J., M. Newton, J. A. Dodd, O. E. Hooker, P. Boylan, M. C. Lucas & C. E. Adams, 2016. Foraging specialisms influence space use and movement patterns of the European eel Anguilla anguilla. Hydrobiologia 766: 333–348.

Béguer-Pon, M., M. Castonguay, J. Benchetrit, D. Hatin, M. Legault, G. Verreault, Y. Mailhot, V. Tremblay & J. J. Dodson, 2015. Large-scale, seasonal habitat use and movements of yellow American eels in the St. Lawrence River revealed by acoustic telemetry. Ecology of Freshwater Fish 24: 99–111.

Béguer-Pon, M., J. J. Dodson, M. Castonguay, D. Jellyman, K. Aarestrup, & K. Tsukamoto, 2018. Tracking anguillid eels: five decades of telemetry-based research. Marine and Freshwater Research 69:199.

Burt, W. H., 1943. Territoriality and home range concepts as applied to mammals. Journal of Mammology 24: 346–352.

Burnett, M. J., G. C. O'Brien, F. J. Jacobs, F. Botha, G. Jewitt, & C. T. Downs, 2020. The southern African inland fish tracking programme (FISHTRAC): An evaluation of the approach for monitoring ecological consequences of multiple water resource stressors, remotely and in real-time. Ecological Indicators 111:106001.

Butler, J. R. A. & J. T. Du Toit, 1994. Diet and conservation status of Cape clawless otters in eastern Zimbabwe. South African Journal of Wildlife Research 24: 41–47.

Butler, J. R. A. & B. E. Marshall, 1996. Resource use within the crab-eating guild of the upper Kairezi River, Zimbabwe. Journal of Tropical Ecology 12:475-490.

Castonguay, M. & C. M. Durif, 2015. Understanding the decline in anguillid eels. ICES Journal of Marine Science: Journal du Conseil 73: 1–4.

Cooke, S. J., S. G. Hinch, M. C. Lucas & M. Lutcavage, 2012. Biotelemetry and biologging. In Zale, A. V., D. L. Parrish & T. M. Sutton (eds.), Fisheries Techniques, 3rd ed. American Fisheries Society, Bethesda: 819–860.

Daverat, F., K. E. Limburg, I. Thibault, J.-C. Shiao, J. J. Dodson, F. Caron, W.-N. Tzeng, Y. Iizuka & H. Wickstrom, 2006. Phenotypic plasticity of habitat use by three temperate eel species, Anguilla anguilla, A. japonica and A. rostrata. Marine Ecology Progress Series 308: 231–241.

Dekker, W., 2003. Worldwide decline of eel resources necessitates immediate action. Québec Declaration of Concern. Fisheries 28: 28–30.

DWAF, 2002. Thukela Water Management Area: Water Resources Situation Assessment - Main Report. DWAF Report N° P 07000/00/0101. Available at: http://www.dwa.gov.za/Documents/Other/WMA/Thukela%20WMA.pdf.

DWS, 2019. River Ecostatus Monitoring Programme State of Rivers Report 2017-2018, http://www.dwa.gov.za/iwqs/rhp/state_of_rivers/annual/State_of_Water_2017_2018_hydro_year_updated_FINAL_2019_10_11_web.pdf.

Hanzen, 2020. Slippery customers for conservation: Diversity, distribution and spatial ecology of freshwater eels (Anguilla spp.) in South Africa. PhD Thesis. 226 pp. University of KwaZulu-Natal, South Africa.

Hanzen, C., O. L. F. Weyl, M. C. Lucas, K. Brink, C. Downs, & G. O'Brien, 2019. Distribution, ecology and status of anguillid eels in East Africa and the Western Indian Ocean. In: Don, A., & Coulson, P. (eds), Eels: biology, monitoring, management, culture and exploitation. 5 M publishing: pp. 33–57.

Hanzen, C., M. C. Lucas, G. O'Brien, P. Calverley & C. T. Downs, 2020. Surgical implantation of radio tags in three eel species (Anguilla spp.) in South Africa. Journal of Fish Biology 96: 847–852.

Herrera, M., R. More-Valcárcel, R. De Miguel Rubio & C. Fernández-Delgado, 2019. From transient to sedentary? Changes in the home range size and environmental patterns of movements of European Eels (Anguilla anguilla) in a Mediterranean River. Fishes 4: 43.

Itakura, H., Y. Miyake, T. Kitagawa & S. Kimura, 2018. Site fidelity, diel and seasonal activities of yellow-phase Japanese eels (Anguilla japonica) in a freshwater habitat as inferred from acoustic telemetry. Ecology of Freshwater Fish 27: 737–751.

Ivlev, V. S., 1961. Experimental ecology of the feeding of fishes. University Microfilms International, Ann Arbor.

IWR Environmental, 2003. Thukela Water Project Decision Support Phase. Reserve Determination Study Ecological Reserve Category. Report No. PBV000-00-1030, prepared for the Department of Water Affairs and Forestry, South Africa, 191 pp.

Jacoby, D. M. P., J. M. Casselman, V. Crook, M.-B. DeLucia, H. Ahn, K. Kaifu, T. Kurwie, P. Sasal, A. M. C. Silfvergrip, K. G. Smith, K. Uchida, A. M. Walker & M. J. Gollock, 2015. Synergistic patterns of threat and the challenges facing global anguillid eel conservation. Global Ecology and Conservation 4: 321–333.

Jellyman, D. J. & B. L. Chisnall, 1999. Habitat preferences of shortfinned eels (Anguilla australis), in two New Zealand lowland lakes. New Zealand Journal of Marine and Freshwater Research 33: 233–248.

Jellyman, D. J. & J. R. E. Sykes, 2003. Diel and seasonal movements of radio-tagged freshwater eels, Anguilla spp., in two New Zealand streams. Environmental Biology of Fishes 66: 143–154.

Jubb, R. A., 1961. An illustrated guide to the freshwater fishes of the Zambezi River, Lake Kariba, Pungwe, Sabi, Lundi and Limpopo rivers. Stuart Manning, Bulawayo.

Kernohan, B. J., R. A. Gitzen & J. J. Millspaugh, 2001. Analysis of animal space use and movements. In Millspaugh, J. & J. Marzluff (eds.), Radio Tracking and Animal Populations. Academic Press, London: 125–166.

Kleynhans, C. J., C. Thirion, & J. Moolman, 2005. A Level 1 river Ecoregion classification System for South Africa, Lesotho and Swaziland. Department of Water Affairs and Forestry, Pretoria, South Africa. Issue Report no. N/0000/00/REQ0104. Resource Quality Services.

Lecomte-Finiger, R., 2003. The genus Anguilla Schrank, 1798: current state of knowledge and questions. Reviews in Fish Biology and Fisheries 13: 265–279.

Lin, Y.-J., B. M. Jessop, O. L. F. Weyl, Y. Iizuka, S.-H. Lin & W.-N. Tzeng, 2015. Migratory history of African longfinned eel Anguilla mossambica from Maningory River, Madagascar: discovery of a unique pattern in otolith Sr: Ca ratios. Environmental Biology of Fishes 98: 457–468.

Lucas, M. C. & E. Baras, 2000. Methods for studying the spatial behaviour of freshwater fishes in the natural environment. Fish and Fisheries 1: 238–316.

Mantel, S. K., N. Rivers-Moore & P. Ramulifho, 2017. Small dams need consideration in riverscape conservation assessments: small dams and riverscape conservation. Aquatic Conservation: Marine and Freshwater Ecosystems 27: 748–754.

McEwan, T. & A. Hecht, 1984. Age and growth of the longfin eel, Anguilla mossambica Peters, 1852 (Pisces: anguillidae) in Transkei rivers. African Zoology 19: 280–285.

Mulcahy, D. M., 2011. Antibiotic use during the intracoelomic implantation of electronic tags into fish. Reviews in Fish Biology and Fisheries 21: 83–96.

Nijman, V., 2015. CITES-listings, EU eel trade bans and the increase of export of tropical eels out of Indonesia. Marine Policy 58: 36–41.

O'Brien, G. C., C. Dickens, E. Hines, V. Wepener, R. Stassen, L. Quayle, K. Fouchy, J. MacKenzie, P. M. Graham & W. G. Landis, 2018. A regional-scale ecological risk framework for environmental flow evaluations. Hydrology and Earth System Sciences 22: 957–975.

O'Brien, G. C., M. Ross, C. Hanzen, V. Dlamini, R. Petersen, G. J. Diedericks & M. J. Burnett, 2019. River connectivity and fish migration considerations in the management of multiple stressors in South Africa. Marine and Freshwater Research 70: 1254.

Økland, F. & E. B. Thorstad, 2013. Recommendations on size and position of surgically and gastrically implanted electronic tags in European silver eel. Animal Biotelemetry 1: 6.

Okland, F., E. B. Thorstad, C. J. Hay, T. F. Naesje, & B. Chanda, 2005. Patterns of movement and habitat use by tigerfish (Hydrocynus vittatus) in the Upper Zambezi River (Namibia). Ecology of Freshwater Fish 14:79–86.

Ovidio, M., A. Seredynski, J.-C. Philippart & B. Nzau Matondo, 2013. A bit of quiet between the migrations: the resting life of the European eel during their freshwater growth phase in a small stream. Aquatic Ecology 47: 291–301.

Pike, C., Crook, V., Gollock, M. & Jacoby, D. 2019. Anguilla mossambica. The IUCN Red List of Threatened Species 2019: e.T183155A96229580. https://doi.org/10.2305/IUCN.UK.2019-3.RLTS.T183155A96229580.en. Downloaded on 12 October 2020.

R Core Team, 2019. R: A language and environment for statistical computing. R Foundation for Statistical Computing, Vienna, Austria. URL https://www.R-project.org/.

Rivers-Moore, N. A., P. S. Goodman & J. L. Nel, 2011. Scale-based freshwater conservation planning: towards protecting freshwater biodiversity in KwaZulu-Natal, South Africa. Freshwater Biology 56: 125–141.

Robinet, T., E. Feunteun, P. Keith, G. Marquet, J.-M. Olivier, E. Réveillac & P. Valade, 2007. Eel community structure, fluvial recruitment of Anguilla marmorata and indication for a weak local production of spawners from rivers of Réunion and Mauritius islands. Environmental Biology of Fishes 78: 93–105.

Rowe-Rowe, D. T., 1977. Food ecology of otters in Natal, South Africa. Oikos 1: 210–219.

Skelton, P. H., 2001. A complete guide to the freshwater fishes of southern Africa. Struik, Cape Town.

Tarjan, L. M. & M. T. Tinker, 2016. Permissible Home Range Estimation (PHRE) in restricted habitats: a new algorithm and an evaluation for sea otters. PLoS ONE 11:

Tesch, F.-W., 2003. The eel. Blackwell Science, Oxford.

Thibault, I., J. J. Dodson, F. Caron, W. Tzeng, Y. Iizuka & J. Shiao, 2007. Facultative catadromy in American eels: testing the conditional strategy hypothesis. Marine Ecology Progress Series 344: 219–229.

Tomie, J. P. N., D. K. Cairns, R. S. Hobbs, M. Desjardins, G. L. Fletcher & S. C. Courtenay, 2017. American eel (Anguilla rostrata) substrate selection for daytime refuge and winter thermal sanctuary. Marine and Freshwater Research 68: 95–105.

Valade, P., P. Hoarau, & A. Bonnefoy, 2018. Plan Directeur de Conservation en faveur des Anguillidae à l'île de La Réunion 2018-2027. DEAL Réunion (Direction de l'environnment, de l'aménagement et du logement: www.reunion.developpment-durable.gouv.fr): 206 pp.

Westerberg, H. & N. Sjöberg, 2015. Overwintering dormancy behaviour of the European eel (Anguilla anguilla L.) in a large lake. Ecology of Freshwater Fish 24: 532–543.
Acknowledgements
We are most grateful to Zingela Safari and River Company owners M. and L. Calverley and their staff for their support and hospitality during the study. We acknowledge the coding expertise offered by Dr M. Tarjan offered in applying the PHRE methodology. We acknowledge the dedication of two interns, S. Fetsch and T. von Seydlitz, as well as the advice offered by C. Dearden and B. Gijsbertsen. We are grateful to the reviewers for their constructive comments.
Funding
We thank Idea Wild (USA) for the donation equipment and the Ford Wildlife Foundation (ZA) for vehicle support. We thank the University of KwaZulu-Natal (ZA) and the National Research Foundation (ZA; Grant 98404) for funding.
Ethics declarations
Conflict of interest
The authors have no conflict of interests.
Additional information
Handling editor: Antti P. Eloranta
Publisher's Note
Springer Nature remains neutral with regard to jurisdictional claims in published maps and institutional affiliations.
Supplementary Information
Below is the link to the electronic supplementary material.
About this article
Cite this article
Hanzen, C., Lucas, M.C., O'Brien, G. et al. Spatial ecology of freshwater eels in South Africa: implications for conservation. Hydrobiologia 848, 2579–2593 (2021). https://doi.org/10.1007/s10750-021-04581-2
Received:

Revised:

Accepted:

Published:

Issue Date:

DOI: https://doi.org/10.1007/s10750-021-04581-2
Keywords