Abstract
Otter diet in reservoirs is known to experience seasonal changes. We selected a reservoir with a large population of exclusively wintering great cormorants and seasonal changes in stored water volume to test the relative influence of abiotic and biotic factors on otter foraging ecology. DNA metabarcoding of otter spraints revealed a dietary change from autumn to winter. Otters had a diet dominated by the exotic goldfish in autumn, but predated intensively on the native northern straight-mouth nase in winter. This change was likely caused by predation of cormorants on goldfish and to fish biology. Secondly, macroscopic analysis of spraints revealed that otters shifted from a diet dominated by fish (in terms of biomass) to a diet dominated by red swamp crayfish during spring–summer, when the latter became overabundant. As revealed by modelling, this second shift was most likely influenced by the sudden increase in stored water volume in spring, but also by the cumulative effect of cormorant predation on fish during autumn–winter. Macroscopic analyses of otter spraints collected in a second reservoir with no cormorants revealed a lack of seasonality. Hence, the combined influence of both biotic and abiotic factors explained otter diet seasonality in a lentic-water novel ecosystem.
Access options
Buy single article
Instant access to the full article PDF.
US$ 39.95
Tax calculation will be finalised during checkout.
Subscribe to journal
Immediate online access to all issues from 2019. Subscription will auto renew annually.
US$ 119
Tax calculation will be finalised during checkout.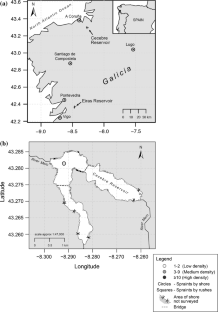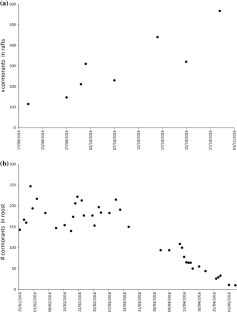 References
Altschul, S. F., W. Gish, W. Miller, E. W. Myers & D. J. Lipman, 1990. Basic local alignment search tool. Journal of Molecular Biology 215: 403–410.

Andreu-Soler, A., F. J. Oliva-Paterna & M. Torralva, 2006. A review of length–weight relationships of fish from the Segura River basin (SE Iberian Peninsula). Journal of Applied Ichthyology 22: 295–296.

Augas de Galicia, 2009. Asistencia técnica para la toma de datos del indicador biológico peces en las redes de monitorización de aguas superficiales en el ámbito de la demarcación hidrográfica Galicia-costa (Expte. OH.688.244.SV). Consellería de Medio Ambiente, Territorio e Infraestructuras, Xunta de Galicia.

Ayres, C. & P. García, 2009. Abandoned clay mines: an opportunity for Eurasian otters in NW Spain. IUCN Otter Specialist Group Bulletin 26: 67–72.

Bartram, J., E. Mountjoy, T. Brooks, J. Hancock, H. Williamson, G. Wright, J. Moppett, N. Goulden & M. Hubank, 2016. Accurate sample assignment in a multiplexed, ultrasensitive, high-throughput sequencing assay for minimal residual disease. Journal of Molecular Diagnostics 18: 494–506.

Basto, M. P., N. M. Pedroso, A. Mira & M. Santos-Reis, 2011. Use of small and medium-sized water dams by otters in a Mediterranean ecosystem. Animal Biology 61: 75–94.

Beja, P. R., 1996a. An analysis of otter Lutra lutra predation on introduced American crayfish Procambarus clarkii in Iberian streams. Journal of Applied Ecology 33: 1156–1170.

Beja, P. R., 1996b. Temporal and spatial patterns of rest-site use by four female otters Lutra lutra along the southwest coast of Portugal. Journal of Zoology 239: 741–753.

Berry, O., C. Bulman, M. Bunce, M. Coghlan, D. C. Murray & R. D. Ward, 2015. Comparison of morphological and DNA metabarcoding analyses of diets in exploited marine fishes. Marine Ecology Progress Series 540: 167–181.

Blanco-Garrido, F., J. Prenda & M. Narvaez, 2008. Eurasian otter (Lutra lutra) diet and prey selection in Mediterranean streams invaded by centrarchid fishes. Biological Invasions 10: 641–648.

Bokulich, N. A., S. Subramanian, J. J. Faith, D. Gevers, J. I. Gordon, R. Knight, D. A. Mills & J. G. Caporaso, 2013. Quality-filtering vastly improves diversity estimates from Illumina amplicon sequencing. Nature Methods 10: 57–59.

Bouroş, G. & D. Murariu, 2017. Comparative diet analysis of the Eurasian otter (Lutra lutra) in different habitats: Putna-Vrancea Natural Park and Lower Siret Valley, south-eastern Romania. North-Western Journal of Zoology 13: 311–319.

Britton, J. R., M. Berry, S. Sewell, C. Lees & P. Reading, 2017. Importance of small fishes and invasive crayfish in otter Lutra lutra diet in an English chalk stream. Knowledge and Management of Aquatic Ecosystems 418: 13.

Caporaso, J. G., J. Kuczynski, J. Stombaugh, K. Bittinger, F. D. Bushman, E. K. Costello, N. Fierer, A. Gonzalez Peña, J. K. Goodrich, J. I. Gordon, G. A. Huttley, S. T. Kelley, D. Knights, J. E. Koenig, R. E. Ley, C. A. Lozupone, D. McDonald, B. D. Muegge, M. Pirrung, J. Reeder, J. R. Sevinsky, P. J. Turnbaugh, W. A. Walters, J. Widmann, T. Yatsunenko, J. Zaneveld & R. Knight, 2010. QIIME allows analysis of high-throughput community sequencing data. Nature Methods 7: 335–336.

Carss, D. N. & S. G. Parkinson, 1996. Errors associated with otter Lutra lutra faecal analysis I. Assessing general diet from spraints. Journal of Zoology 238: 301–317.

Čech, M. & L. Vejřík, 2011. Winter diet of great cormorant (Phalacrocorax carbo) on the river Vltava: estimate of size and species composition and potential for fish stock losses. Folia Zoologica 60: 129–142.

Chanin, P., 2003. Ecology of the European Otter. Conserving Natura 2000 Rivers Ecology Series No. 10. English Nature, Peterborough.

Clavero, M., J. Prenda & M. Delibes, 2003. Trophic diversity of the otter (Lutra lutra L.) in temperate and Mediterranean freshwater habitats. Journal of Biogeography 20: 761–769.

De Barba, M., C. Miquel, F. Boyer, C. Mercier, D. Rioux, E. Coissac & P. Taberlet, 2014. DNA metabarcoding multiplexing and validation of data accuracy for diet assessment: application to omnivorous diet. Molecular Ecology Resources 14: 306–323.

De Lima, F. T., D. A. Reynalte-Tataje & E. Zaniboni-Filho, 2017. Effects of reservoirs water level variations on fish recruitment. Neotropical Ichthyology 15: e160084.

Delibes, M. (ed), 1990. La nutria (L. lutra) en España. ICONA Serie Técnica, Madrid.

Doadrio, I., S. Perea, P. Garzón-Heydt & J. L. González, 2011. Ictiofauna continental española. Bases para su seguimiento. DG Medio Natural y Política Forestal. MARM, Madrid.

Eckman, R. & F. Imbrock, 1996. Distribution and diel vertical migration of Eurasian perch (Perca fluviatilis) during winter. Annales Zoologici Fennici 33: 679–686.

Edgar, R. C., 2004a. MUSCLE: multiple sequence alignment with high accuracy and high throughput. Nucleic Acids Research 32: 1792–1797.

Edgar, R. C., 2004b. MUSCLE: a multiple sequence alignment method with reduced time and space complexity. BMC Bioinformatics 5: 113.

Edgar, R. C., B. J. Haas, J. C. Clemente, C. Quince & R. Knight, 2011. UCHIME improves sensitivity and speed of chimera detection. Bioinformatics 27: 2194–2200.

Esling, P., F. Lejzerowicz & J. Pawlowski, 2015. Accurate multiplexing and filtering for high-throughput amplicon-sequencing. Nucleic Acids Research 43: 2513–2524.

Fernandes, C. A., C. Ginja, I. Pereira, R. Tenreiro, M. W. Bruford & M. Santos-Reis, 2008. Species-specific mitochondrial DNA markers for identification of non-invasive samples from sympatric carnivores in the Iberian Peninsula. Conservation Genetics 9: 681–690.

Fernández-Álvarez, F. Á., A. Machordom, R. García-Jiménez, C. A. Salinas-Zavala & R. Villanueva, 2018. Predatory flying squids are detritivores during their early planktonic life. Scientific Reports 8: 3440.

Galán, P., 1997. Declive de poblaciones de anfibios en dos embalses de La Coruña (Noroeste de España) por introducción de especies exóticas. Boletín de la Asociación Herpetológica Española 8: 38–40.

Hobbs, R., 2018. Novel ecosystems: can't we just pretend they're not there? In Kareiva, P., M. Marvier & B. Silliman (eds), Effective conservation science: data not dogma. Oxford University Press, Oxford: 45–50.

Janzen, D. H., 1985. On ecological fitting. Oikos 45: 308–310.

Jiménez, J., 2005. Ecology of the otter in tributaries of the river Ebro subjected to strong fluctuations of resources. PhD Dissertation. University of Valencia, Spain.

Kean, E. F., C. T. Müller & E. A. Chadwick, 2011. Otter scent signals age, sex, and reproductive status. Chemical Senses 36: 555–564.

Klimaszyk, P. & P. Rzymski, 2016. The complexity of ecological impacts induced by great cormorants. Hydrobiologia 771: 13–30.

Krawczyk, A. J., M. Bogdziewicz, K. Majkowska & A. Glazaczow, 2016. Diet composition of the Eurasian otter Lutra lutra in different freshwater habitats of temperate Europe: a review and meta-analysis. Mammal Review 46: 106–113.

Kruuk, H., 2006. Otters: ecology, behavior and conservation. Oxford University Press, Oxford.

Kruuk, H. & A. Moorhouse, 1990. Seasonal and spatial differences in food selection by otters (Lutra lutra) in Shetland. Journal of Zoology 221: 621–637.

Kuczynski, L., M. Chevalier, P. Laffaille, M. Legrand & G. Grenouillet, 2017. Indirect effect of temperature on fish population abundances through phenological changes. PLoS ONE 12: e0175735.

Lanszki, J., I. Lehoczky, A. Kotze & M. J. Somers, 2016. Diet of otters (Lutra lutra) in various habitat types in the Pannonian biogeographical region compared to other regions of Europe. PeerJ 4: e2266.

López-Martín, J. M. & J. Jiménez (eds), 2009. La nutria en España, veinte años de seguimiento de un mamífero amenazado. SECEM, Málaga.

Lyach, R. & M. Čech, 2017. Do otters target the same fish species and sizes as anglers? A case study from a lowland trout stream (Czech Republic). Aquatic Living Resources 30: 11.

Magoc, T. & S. L. Salzberg, 2011. FLASH: fast length adjustment of short reads to improve genome assemblies. Bioinformatics 27: 2957–2963.

Martínez-Abraín, A. & J. Jiménez, 2016. Anthropogenic areas as incidental substitutes for original habitat. Conservation Biology 30: 593–598.

Mouriño, J., X. L. Otero, R. Salvadores, P. Alonso, F. Sierra-Abraín & F. Arcos, 2004. Los espacios naturales de Galicia. Edicións Nigra Trea S.L., Vigo.

Mumma, M. A., J. R. Adams, C. Zieminski, T. K. Fuller, S. P. Mahoney & L. P. Waits, 2016. A comparison of morphological and molecular diet analyses of predator scats. Journal of Mammalogy 97: 112–120.

Nichols, R. V., M. Åkesson & P. Kjellander, 2016. Diet assessment based on rumen contents: a comparison between DNA metabarcoding and macroscopy. PLoS ONE 11: e0157977.

Noordhuis, R., 2002. The river Otter (Lontra canadensis) in Clarcke County (Georgia, USA)—survey, food habits and environmental factors. IUCN Otter Specialist Group Bulletin 19: 75–86.

Oja, R., E. Soe, H. Valdmann & U. Saarma, 2017. Non-invasive genetics outperforms morphological methods in faecal dietary analysis, revealing wild boar as a considerable conservation concern for ground-nesting birds. PLoS ONE 12: e0179463.

Orta, J., E. F. J. Garcia, F. Jutglar, G. M. Kirwan & P. Boesman, 2018. Great Cormorant (Phalacrocorax carbo). In del Hoyo, J., A. Elliott, J. Sargatal, D. A. Christie & W. de Juana (eds), Handbook of the Birds of the World Alive. Lynx Edicions, Barcelona.

Palmeirim, A. F., C. A. Peres & F. C. W. Rosas, 2014. Giant otter population responses to habitat expansion and degradation by a mega hydroelectric dam. Biological Conservation 174: 30–38.

Pedroso, N. M. & M. Santos-Reis, 2006. Summer diet of Eurasian otters in large dams of South Portugal. Hystrix, the Italian Journal of Mammalogy 17: 117–128.

Pedroso, N. M., T. A. Marques & M. Santos-Reis, 2014. The response of otters to environmental changes imposed by the construction of large dams. Aquatic Conservation: Marine and Freshwater Ecosystems 24: 66–80.

Remonti, L., C. Prigioni, A. Balestrieri & G. Priore, 2008. Trophic flexibility of the otter (Lutra lutra) in southern Italy. Mammalian Biology 73: 293–302.

Roos, A., A. Loy, P. de Silva, P. Hajkova & B. Zemanová, 2015. Lutra lutra. The IUCN Red List of Threatened Species 2015: e.T12419A21935287.

Rozen, S. & H. J. Skaletsky, 2000. Primer3 on the WWW for general users and for biologist programmers. In Krawetz, S. & S. Misener (eds), Bioinformatics Methods and Protocols: Methods in Molecular Biology. Humana Press, Totowa, NJ: 365–386.

Ruiz-Olmo, J. & M. Delibes (eds), 1998. La nutria en España ante el horizonte del año 2.000. SECEM, Málaga.

Ruiz-Olmo, J. & S. Palazón, 1997. The diet of the otter (Lutra lutra) in Mediterranean freshwater habitats. Journal of Wildlife Research 2: 171–181.

Sales-Luis, T., N. M. Pedroso & M. Santos-Reis, 2007. Prey availability and diet of the Eurasian otter (Lutra lutra) on a large dam and associated tributaries. Canadian Journal of Zoology 85: 1125–1135.

Schäffer, S., F. E. Zachos & S. Koblmüller, 2017. Opening the treasure chest: a DNA-barcoding primer set for most higher taxa of Central European birds and mammals from museum collections. PLoS ONE 12: e0174449.

Taberlet, P., E. Coissac, R. Pompanon, C. Brochmann & E. Willerslev, 2012. Towards next-generation biodiversity assessment using DNA metabarcoding. Molecular Ecology 21: 2045–2050.

Thalinger, B., J. Oehm, H. Mayr, A. Obwexer, C. Zeisler & M. Traugott, 2016. Molecular prey identification in Central European piscivores. Molecular Ecology Resources 16: 123–137.

Vierna, J., J. Doña, A. Vizcaíno, D. Serrano & R. Jovani, 2017. PCR cycles above routine numbers do not compromise high-throughput DNA barcoding results. Genome 60: 868–873.

Weinberger, I. C., S. Muff, A. de Jongh, A. Kranz & F. Bontadina, 2016. Flexible habitat selection paves the way for a recovery of otter populations in the European Alps. Biological Conservation 199: 88–95.
Acknowledgements
Fish samples to be used as positive controls for molecular analysis were kindly provided by Carlos Antunes, except for O. mykiss and Atlantic salmon S. salar that were purchased at a local fish market. David Stanton generously provided us with four otter tissue samples used during DNA metabarcoding optimisation. EMALCSA kindly provided data on water-level variation and Xunta de Galicia (Consellería de Medio Ambiente e Ordenación do Territorio) allowed us to have a copy of an unpublished report with detailed information about the structure of the fish community at the study reservoir. The long-term time series on great cormorant counts at the study reservoir was supplied by Xunta de Galicia (Dirección de Patrimonio Natural). Pablo Sierra helped us during field work at Eiras reservoir. We are thankful to Ignacio Doadrio, Juan Jiménez, Daniel Oro, three editors, Martin Čech and two anonymous referees for their valuable comments and suggestions. This work received funding from Xunta de Galicia (Grants GRC2014/050 and ED431C 2018/57) and Universidade da Coruña. A Martínez-Abraín was supported by an Isidro Parga Pondal research contract by Xunta de Galicia during the period 2011–2016.
Additional information
Publisher's Note
Springer Nature remains neutral with regard to jurisdictional claims in published maps and institutional affiliations.
Handling editor: Begoña Santos
Electronic supplementary material
Below is the link to the electronic supplementary material.
About this article
Cite this article
Martínez-Abraín, A., Marí-Mena, N., Vizcaíno, A. et al. Determinants of Eurasian otter (Lutra lutra) diet in a seasonally changing reservoir. Hydrobiologia 847, 1803–1816 (2020). https://doi.org/10.1007/s10750-020-04208-y
Received:

Revised:

Accepted:

Published:

Issue Date:
Keywords
Diet shifts

Interspecific competition

Foraging plasticity

DNA metabarcoding

Changes in stored water volume