Abstract
The aim of present research is to study the patterns of phyto- and zooplankton fluctuations in endorheic soda lakes (Uldz Gol-Torey Basin, southeastern Transbaikalia, Russia) under arid conditions because studied area is becoming increasingly arid. Plankton samples were collected in summer during time intervals with different lake water levels using standard hydrobiological methods. We detected four patterns of change in plankton communities with changing environmental conditions (increasing total dissolved solid, pH and temperature, and decreasing depth). The first pattern is characterized by a predominance of green algae, charophytes, diatoms and euglenophytes; the species composition and dominant zooplankton assemblage are the same in different years. The second pattern is characterized by a loss of cryptophyte and chrysophyte algae, a dominance of green and blue-green algae, a decrease in zooplankton species diversity, and an increased abundance of zooplankton, the dominant species are consistent over time. The third pattern exhibits marked decreases in phytoplankton diversity and density, a dominance of green algae and diatoms, a further decrease in the species richness of zooplankton, and increased abundance and biomass of some species. The fourth pattern is a marked by a reduction in plankton species diversity to a monospecific community.
This is a preview of subscription content, log in to check access.
Access options
Buy single article
Instant access to the full article PDF.
US$ 39.95
Price includes VAT for USA
Subscribe to journal
Immediate online access to all issues from 2019. Subscription will auto renew annually.
US$ 199
This is the net price. Taxes to be calculated in checkout.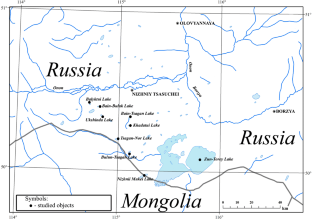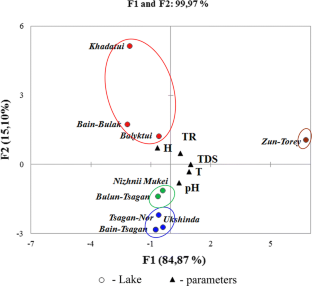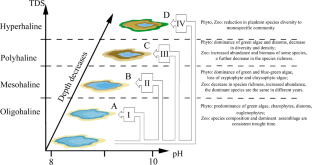 References
Afonina, E. Y. & N. A. Tashlykova, 2018. Plankton community and the relationship with the environment in saline lakes of Onon-Torey Plain, Northeastern Mongolia. Saudi Journal of Biological Sciences 25(2): 399–408.

Afonina, E. Yu. & N. A. Tashlykova, 2019. Influence of environmental factors on the structure of plankton communities in saline lakes at different water-fill phases. Moscow University Biological Sciences Bulletin 74(1): 1–6.

Balushkina, E. B. & G. G. Vinberg, 1979. The relationship between body weight and length in planktonic animals. In Vinberg, V. V. (ed.), General Principles of Study of Aquatic Ecosystems. Nauka, Leningrad: 169–172 (in Russian).

Bazarova, B. B., N. A. Tashlykova, E. Yu. Afonina, A. P. Kuklin, P. V. Matafonov, G. Ts. Tsybekmitova, E. P. Gorlacheva, M. Ts. Itigilova, A. V. Afonin & M. N. Butenko, 2019. Long-term fluctuations of the aquatic ecosystems in the Onon-Torey Plain (Russia). Acta Ecologica Sinica 39: 157–165.

Bazhenova, O. I., 2013. Modern dynamics of lake-fluvial systems of Onon-Torey High Plain (Southern Transbaikalia). Tomsk State University Bulletin 371: 171–177 (in Russian).

Boros, E. & M. Kolpakova, 2018. A review of the defining chemical properties of soda lakes and pans: an assessment on a large geographic scale of Eurasian inland saline surface waters. PLoS ONE 13(8): e0202205.

Boros, E., Z. Horváth, G. Wolfram & L. Vörös, 2014. Salinity and ionic composition of the shallow astatic soda pans in the Carpathian Basin. Annales de Limnologie: International Journal of Limnology 50: 59–69.

Comín, F. A., X. Rodó & P. Comín, 1992. Lake Gallocanta (Aragon, Ne. Spain), a paradigm of fluctuations at different scales of time. Limnetica 8: 79–86.

Comín, F. A., M. Cabrera & X. Rodó, 1999. Saline lakes: integrating ecology into their management future. Hydrobiologia 395(396): 241–251.

Dalgaard, P., 2008. Introductory Statistics with R. Springer, New York.

Dokulil, M., 2013. Impact of climate warming on European inland waters. Inland Waters 4: 27–40.

García, C. M. & F. X. Niell, 1993. Seasonal change in a saline temporary lake (Fuente de Piedra, southern Spain). Hydrobiologia 267: 211–223.

García, C. M., R. García-Ruiz, R. Manuel, F. X. Niell & J. Lucena, 1997. Hydrological cycle and interannual variability of the aquatic community in a temporary saline lake (Fuente de Piedra, Southern Spain). Hydrobiologia 345: 131–141.

Gasse, F., P. Barker, P. A. Gell, S. C. Fritz & F. Chalie, 1997. Diatom-inferred salinity in palaeolakes: an indirect tracer of climate change. Quaternary Science Reviews 16: 547–563.

Guiry, M. D. & G. M. Guiry, 2020. Algaebase. World-wide electronic publication © 1996–2020. National University of Ireland, Galway [available on internet at http://www.algaebase.org/]. Accessed 10 January 2020.

Hammer, U. T., 1986. Saline Lake Ecosystems of the World. Springer, Dordrecht.

Hammer, U. T., 1990. The effect of climate change of the salinity? Water levels and biota of Canadian prairie saline lakes. Internationale Vereinigung für Theoretische und Angewandte Limnologie 24: 321–326.

Hammer, M. L. & C. C. Appleton, 1991. Physical and chemical characteristics and phyllopod fauna of temporary pools in north-eastern Natal, RSA. Hydrobiologia 212: 95–104.

Hammer, U. T., J. Shamess & R. C. Haynes, 1983. The distribution and abundance of algae in saline lakes of Saskatchewan, Canada. Hydrobiologia 105: 1–26.

Harper, D. M., R. B. Childress, M. M. Harper, R. R. Boar, P. Hickley, S. C. Mills, N. Otieno, T. Drane, E. Vareschi, O. Nasirwa, W. E. Mwatha, J. P. E. C. Darlington & X. Escute-Gasulla, 2003. Aquatic biodiversity and saline lakes: Lake Bogoria National Reserve, Kenya. Hydrobiologia 500: 259–276.

Horváth, Z., C. F. Vad, A. Tóth, K. Zsuga, E. Boros, L. Vörös & R. Ptacnik, 2014. Opposing patterns of zooplankton diversity and functioning along a natural 4 stress gradient: when the going gets tough, the tough get going. Oikos 123(4): 461–471.

Horváth, Z., R. Ptacnik, C. F. Vad & J. M. Chase, 2019. Habitat loss over six decades accelerates regional and local biodiversity loss via changing landscape connectance. Ecology Letters 22: 1019–1027.

Ionescu, V., M. Nǎstǎsescu, L. Spiridon & V. C. Bulgǎreanu, 1998. The biota of Romanian saline lakes on rock salt bodies: a review. International Journal of Salt Lake Research 7: 45–80.

Ivanova, M. B. & T. I. Kazantseva, 2006. Effect of water pH and total dissolved solids on the species diversity of pelagic zooplankton in lakes: a statistical analysis. Russian Journal of Ecology 37(4): 264–270.

Jeppesen, E., S. Brucet, L. Naselli-Flores, E. Papastergiadou, K. Stefanidis, T. Nõges, P. Nõges, J. L. Attayde, T. Zohary, J. Coppens, T. Bucak, R. F. Menezes, F. R. S. Freitas, M. Kernan, M. Søndergaard & M. Beklioğlu, 2015. Ecological impacts of global warming and water abstraction on lakes and reservoirs due to changes in water level and related changes in salinity. Hydrobiologia 750: 201–227.

Kazanci, N., S. Girgin & M. Dügel, 2004. On the limnology of Salda Lake, a large and deep soda lake in southwestern Turkey: future management proposals. Aquatic Conservation: Marine and Freshwater Ecosystems 14: 151–162.

Kiselev, I. A., 1969. Plankton of the Sea and Continental Reservoirs. Nauka, Leningrad (in Russian).

Krienitz, L., P. K. Dadheech & K. Kotut, 2013. Mass developments of the cyanobacteria Anabaenopsis and Cyanospira (Nostocales) in the soda lakes of Kenya: ecological and systematic implications. Hydrobiologia 703: 79–93.

Kuklin, A. P., G. Ts. Tsybekmitova & E. P. Gorlacheva, 2013. State of lake ecosystems in Onon-Torei Plain in 1983–2011 (Eastern Transbaikalia). Arid Ecosystems 6(3): 122–130.

Leira, M. & M. Cantonati, 2008. Effects of water-level fluctuations on lakes: an annotated bibliography. Hydrobiologia 613: 171–184.

Leland, H. V. & W. R. Berkas, 1998. Temporal variation in plankton assemblages and physicochemistry of Devils Lake, North Dakota. Hydrobiologia 377: 57–71.

Lengyel, E., A. W. Kovács, J. Padisák & C. Stenger-Kovács, 2015. Photosynthetic characteristics of the benthic diatom species Nitzschia frustulum (Kützing) Grunow isolated from a soda pan along temperature-, sulfate- and chloride gradients. Aquatic Ecology 49: 401–416.

Lengyel, E., J. Padisák, E. Hajnal, B. Szabó, A. Pellinger & C. Stenger-Kovács, 2016. Application of benthic diatoms to assess efficiency of conservation management: a case study on the example of three reconstructed soda pans, Hungary. Hydrobiologia 777: 95–110.

Litvinenko, L. I., 2008. Plankton of hyperhalinic lakes in Western Siberia. Fish Farming 12: 95–102 (in Russian).

Litvinenko, L. I., A. I. Litvinenko, E. G. Boyko & K. V. Kutsanov, 2013. Effect of environmental factors on the structure and functioning of biocoenoses of hyperhaline water reservoirs in the South of Western Siberia. Contemporary Problems of Ecology 6(3): 252–261.

MacIntyre, S. & J. M. Melack, 1982. Meromixis in an equatorial African soda lake. Limnology and Oceanography 27: 595–609.

McCulloch, G. P., K. Irvine, F. D. Eckardt & R. Bryant, 2008. Hydrochemical fluctuations and crustacean community composition in an ephemeral saline lake (Sua Pan, Makgadikgadi Botswana). Hydrobiologia 596: 31–46.

Nédli, J., L. De Meester, Á. Major, K. Schwenk, I. Szivák & L. Forró, 2014. Salinity and depth as structuring factors of cryptic divergence in Moina brachiata (Crustacea: Cladocera). Fundamental and Applied Limnology 184(1): 69–85.

Nogrady, T., 1983. Succession of planktonic rotifer populations in some lakes of the Eastern Rift Valley, Kenya. Hydrobiologia 98: 45–54.

Obiazov, V. A., 2012. Change of climate and hydrological regime of the rivers and lakes in Dahurian ecoregion. In Kirilyuk, O. (ed.), Problems of Adaptation and Climate Change in the River Basins of Dahuria: Ecological and Hydroeconomic Aspects. Ekspress-izdatel'stvo, Chita: 24–45 (in Russian).

Ostroumov, S. A., 2003. Aquatic organisms as a factor of regulation of the flow of matter and migration of elements in aquatic ecosystems. Izvestia of Samara Scientific Center of the Russian Academy of Sciences 5(2): 249–255 (in Russian).

Padisák, J. & M. Dokulil, 1994. Meroplankton dynamics in a saline, turbulent, turbid shallow lake (Neusiedlersee, Austria and Hungary). Hydrobiologia 289: 23–42.

Pálffy, K., T. Felfo, A. Mentes, H. Horváth, K. Márialigeti, E. Boros, L. Vörös & B. Somogyi, 2014. Unique picoeukaryotic algal community under multiple environmental stress conditions in a shallow, alkaline pan. Extremophiles 18: 111–119.

Reati, G. J., M. Florin, G. J. Fernandez & C. Montes, 1997. The Laguna de Mar Chiquita (Córdoba, Argentina): a little known, secularly fluctuating, saline lake. International Journal of Salt Lake Research 5: 187–219.

Ruttner-Kolisko, A., 1977. Suggestions for biomass calculation of plankton rotifers. Archiv für Hydrobiologie Beihefte Ergebnisse der Limnologie 8: 71–76.

Sadchikov, A. P., 2003. The Study Methods of Freshwater Phytoplankton. Universitet I Shkola, Moscow (in Russian).

Schagerl, M. (ed.), 2016. Soda Lakes of East Africa. Springer, Cham.

Schagerl, M. & O. S. Oduor, 2008. Phytoplankton community relationship to environmental variables in three Kenyan Rift Valley saline-alkaline lakes. Marine and Freshwater Resources 59: 129–136.

Schagerl, M., A. Burian, M. Gruber-Dorninger, S. O. Oduor & M. N. Kaggwa, 2015. Algal communities of Kenyan soda lakes with a special focus on Arthrospira fusiformis. Fottea, Olomouc 15(2): 245–257.

Shadrin, N. V., 2012. Ecosystem dynamics and evolution: multiplicity of steady states and tipping points. Necessity of new understanding. Marine Ecological Journal 11(2): 85–95 (in Russian).

Shadrin, N. V., 2018. The alternative saline lake ecosystem states and adaptive environmental management. Journal of Oceanology and Limnology 36(6): 2010–2017.

Shadrin, N. V. & E. V. Anufriieva, 2013. Climate change impact on the marine lakes and their crustaceans: the case of marine hypersaline Lake Bakalskoye (Ukraine). Turkish Journal of Fisheries and Aquatic Sciences 13(3): 603–611.

Shadrin, N. V., N. G. Sergeeva, A. A. Latushkin, E. A. Kolesnikova, L. M. Kipriyanova, E. V. Anufriieva & A. A. Chepyzhenko, 2016. Transformation of Gulf Sivash (the Sea of Azov) in conditions of growing salinity: changes of meiobenthos and other ecosystem components (2013–2015). Journal of Siberian Federal University. Biology 4(9): 452–466.

Simon, S., J. Mádl-Szőnyi, I. Müller & G. Pogácsás, 2011. Conceptual model for surface salinization in an over pressured and a superimposed gravity-flow field, Lake Kelemenszék area, Hungary. Journal of Hydrogeology 19: 701–717.

Sklyarov, E. V., O. A. Sklyarova, U. V. Men'shagin & M. A. Danilova, 2011. Mineralized lake of Trans-Baikal and North-Eastern Mongolia: specific features of occurrence and ore-generating potential. Geography and Natural Resources 32(4): 323–332.

Tóth, A., Z. Horváth, C. F. Vad, K. Zsuga, S. A. Nagy & E. Boros, 2014. Zooplankton of the European soda pans: fauna and conservation of a unique habitat type. International Review of Hydrobiology 99: 1–22.

Tsybekmitova, G. Ts., 2018. Hydrochemistry of certain lakes of the On-Torean High Plain. International Journal of Applied and Fundamental Research 11: 144–148 (in Russian).

Tsybekmitova, G. Ts. & I. A. Belozertseva, 2014. Hydrochemistry of saline lakes of Onon-Borzinskoe interfluve (Zabaykalsky krai). Water: Chemistry and Ecology 2: 3–8 (in Russian).

Venice System, 1959. Final resolution. The Venice System for the classification of marine waters according to salinity. 8–14 April 1958 Venice, Italy. In D. Ancona (ed), Symposium on the Classification of Brackish Waters. Archives Oceanography and Limnology 11: 243–248.

Vignatti, A., G. Cabrera & S. Echaniz, 2012. Changes in the zooplankton and limnological variables of a temporary hypo-mesosaline wetland of the central region of Argentina during its drying. Pan-American Journal of Aquatic Sciences 7(2): 93–106.

Williams, W. D., 1991. Chinese and Mongolian saline lakes: a limnological overview. Hydrobiologia 210: 39–66.

Williams, W. D., 1998. Salinity as a determinant of the structure of biological communities in salt lakes. Hydrobiologia 381: 191–201.

Williams, W. D., 2002. Environmental threats to salts lakes and the likely status of inland saline ecosystems in 2025. Environmental Conservation 29(2): 154–167.

Williams, W. D., A. J. Boulton & R. G. Taaffe, 1990. Salinity as a determinant of salt lake fauna: a question of scale. Hydrobiologia 197: 257–266.

Zagorodnyaya, Yu. A., E. A. Batogova & N. V. Shadrin, 2008. Long-term transformation of zooplankton in the hypersaline lake Bakalskoe (Crimea) under salinity fluctuations. Marine Ecological Journal VII(4): 41–50 (in Russian).

Zamana, L. V. & S. V. Borzenko, 2010. Hydrochemical regime of saline lakes in the Southeastern Transbaikalia. Geography and Natural Resources 31(4): 370–376 (in Russian).

Zamana, L. V. & I. L. Vakhnina, 2014. Hydrochemistry of saline lakes of the southeastern Transbaikalia under climate aridization in the beginning of 20th century. International Journal of Applied and Fundamental Research 11(4): 608–612 (in Russian).

Zhao, W. & Z. He, 1999. Biological and ecological features of inland saline waters in North Hebei, China. International Journal of Salt Lake Resources 8: 267–285.

Zhao, W., M. Zheng, X. Xu, X. Liu, G. Guo & Z. He, 2005. Biological and ecological features of saline lakes in northern Tibet, China. Hydrobiologia 541: 189–203.
Acknowledgements
This study was supported by the Program for Basic Research of the Siberian Branch of the Russian Academy of Sciences, Project No. IX.137.1.1.
Additional information
Publisher's Note
Springer Nature remains neutral with regard to jurisdictional claims in published maps and institutional affiliations.
Handling editor: Judit Padisák
About this article
Cite this article
Afonina, E.Y., Tashlykova, N.A. Fluctuations in plankton community structure of endorheic soda lakes of southeastern Transbaikalia (Russia). Hydrobiologia 847, 1383–1398 (2020). https://doi.org/10.1007/s10750-020-04207-z
Received:

Revised:

Accepted:

Published:

Issue Date:
Keywords
Phytoplankton

Zooplankton

Fluctuations

Soda lakes

Uldz Gol-Torey Basin

Transbaikalia (Russia)