Abstract
Though many studies have demonstrated top-down control by macroconsumers on benthic communities and ecosystem processes in tropical streams, few have simultaneously addressed such effects across a gradient of riparian vegetation loss. Here, we investigated if potential top-down effects induced by macroconsumers interact with native vegetation changes of tropical karst streams in Brazil. We experimentally excluded macroconsumers (e.g., fish and shrimp) from benthic habitats of seven streams with a range of forest cover from 20% to 100% and examined the effects on benthic invertebrate and periphyton communities. Across sites, the absence of macroconsumers had no effects on mean chlorophyll-a concentrations, total dry mass or abundance of benthic invertebrates. However, the periphyton community significantly differed between control and treatment replicates. Overall, experimental exclusion of macroconsumers resulted in weak or negligible effect on benthic communities, which contrasts a significant proportion of related literature conducted elsewhere. Such top-down effects have been poorly studied in tropical karstic streams to date.
This is a preview of subscription content, log in to check access.
Access options
Buy single article
Instant access to the full article PDF.
US$ 39.95
Price includes VAT for USA
Subscribe to journal
Immediate online access to all issues from 2019. Subscription will auto renew annually.
US$ 199
This is the net price. Taxes to be calculated in checkout.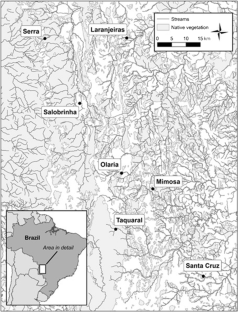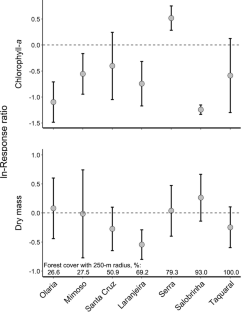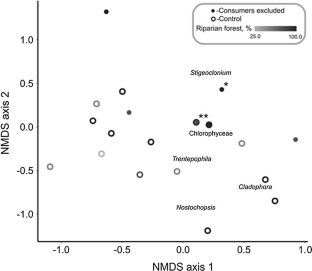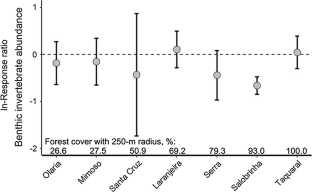 References
Allan, J. D., 2004. Landscapes and riverscapes: the influence of land use on stream ecosystems. Annual Review of Ecology, Evolution, and Systematics 35: 257–284.

Andrade, C. M., V. Neres-Lima & T. P. Moulton, 2017. Differentiating the roles of shrimp and aquatic insects in leaf processing in a Neotropical stream. Marine and Freshwater Research 68: 1695–1703.

APHA, 1998. Standard methods for the examination of water and wastewater. American Public Health Association, New York.

Baker, K., M. A. Chadwick, R. A. Wahab & R. Kahar, 2017. Benthic community structure and ecosystem functions in above- and below-waterfall pools in Borneo. Hydrobiologia 787: 307–322.

Baptista-Maria, V. R., R. R. Rodrigues, G. Damasceno-Junior, F. S. Maria & V. C. Souza, 2009. Composição florística de florestas estacionais ribeirinhas no estado de Mato Grosso do Sul, Brasil. Acta Botanica Brasilica 23: 535–548.

Bicudo, C. E. M. & M. Menezes, 2005. Gêneros de algas de águas continentais do Brasil: chave para identificação e descrições. Rima, Brasil.

Borba, C. S., R. Fugi, A. A. Agostinho & G. C. Novakowski, 2008. Dieta de Astyanax asuncionensis (Characiformes, Characidae), em riachos da bacia do rio Cuiabá, Estado do Mato Grosso. Acta Scientiarum Biological Sciences 30: 39–45.

Brasil, 2012. Ministério do Meio Ambiente. Conselho Nacional do Meio Ambiente. In Resolução 357. Brasília, IBAMA.

Britski, H. A., K. Z. S. Silimon & B. S. Lopes, 2007. Peixes do Pantanal: manual de identificação, 2nd ed. EMBRAPA, Brasil.

Cáceres, M. D., 2013. How to use the indicspecies package. http://cran.r-project.org/packages=indicspecies.

Casatti, L., R. M. Romero, F. B. Teresa, J. Sabino & F. Langeani, 2010. Fish community structure along a conservation gradient in Bodoquena Plateau streams, Central West of Brazil. Acta Limnologica Brasiliensia 22: 50–59.

Castro, R. M. C., L. Casatti, H. F. Santos, A. L. A. Melo, L. S. F. Martins, K. M. Ferreira, F. Z. Gibran, R. C. Benine, M. Carvalho, A. C. Ribeiro, T. X. Abreu, F. A. Bockmann, G. Z. Pelição, R. Stopiglia & F. Langeani, 2004. Estrutura e composição da ictiofauna de riachos da bacia do Rio Grande no estado de São Paulo, sudeste do Brasil. Biota Neotropica 4: 01–39.

Cordeiro, L. M., R. Borghezan & E. Trajano, 2014. Subterranean biodiversity in the Serra da Bodoquena karst area, Paraguay River basin, Mato Grosso do Sul, Southwestern Brazil. Biota Neotropica 14: 1–28.

Corman, J. R., E. K. Moody & J. J. Elser, 2016. Calcium carbonate deposition drives nutrient cycling in a calcareous headwater stream. Ecological Monographs 86: 448–461.

Correa, S. B. & K. Winemiller, 2018. Terrestrial–aquatic trophic linkages support fish production in a tropical oligotrophic river. Oecologia 189: 1069–1078.

Corrêa, E. C., F. O. Roque, R. M. Utz, J. S. Correa, F. L. Souza & A. P. Covich, 2018. Effects of macroconsumers on benthic communities: rapid increases in dry-season accrual of calcium in a tropical karst stream. PLoS ONE 13: e0209102.

Domínguez, E. & H. Fernández, 2009. Macroinvertebrados bentónicos sudamericanos, sistemática y biología. Tucumán, Argentina.

Drysdale, R. N., 1999. The sedimentological significance of hydropsychid caddis-fly larvae (Order: Trichoptera) in a travertine-depositing stream: Louie Creek, Northwest Queensland, Australia. Journal of Sedimentary Research 69: 145–150.

Dudgeon, D., A. H. Arthington, M. O. Gessner, Z. Kawabata, D. J. Knowler, C. Lévêque, R. J. Naiman, A. Prieur-Richard, D. Soto, M. L. J. Stiassny & C. A. Sullivan, 2006. Freshwater biodiversity: importance, threats, status and conservation challenges. Biological Reviews 81: 163–182.

Dufrêne, M. & P. Legendre, 1997. Species assemblages and indicator species: the need for a flexible asymmetrical approach. Ecological Monographs 67: 345–366.

Estes, J. A., J. Terborgh, J. S. Brashares, M. E. Power, J. Berger, W. J. Bond, S. R. Carpenter, T. E. Essington, R. D. Holt, J. B. C. Jackson, R. J. Marquis, L. Oksanen, T. Oksanen, R. T. Paine, E. K. Pikitch, W. J. Ripple, S. A. Sandin, M. Scheffer, T. W. Schoener, J. B. Shurin, A. R. E. Sinclair, M. E. Soulé, R. Virtanen & D. A. Wardle, 2011. Trophic downgrading of planet Earth. Science 333: 301–306.

Fairchild, M. P. & J. R. Holomuzki, 2005. Multiple predator effects on microdistributions, survival, and drift of stream hydropsychid caddisflies. Journal of the North American Benthological Society 24: 101–112.

Flecker, A. S., 1992. Fish predation and the evolution of invertebrate drift periodicity: evidence from Neotropical streams. Ecology 2: 438–448.

Flecker, A. S., 1996. Ecosystem engineering by a dominant detritivore in a diverse tropical stream. Ecology 77: 1845–1854.

Flecker, A. S. & J. D. Allan, 1984. The importance of predation, substrate and spatial refugia in determining lotic insect distributions. Oecologia 64: 306–313.

Flecker, A. S. & B. Feifarek, 1994. Disturbance and the temporal variability of invertebrate assemblages in two Andean streams. Freshwater Biology 31: 131–142.

Flecker, A. S., B. W. Taylor, E. S. Bernhardt, J. M. Hood, W. K. Cornwell, S. R. Cassatt, M. J. Vanni & N. S. Altman, 2002. Interactions between herbivorous fishes and limiting nutrients in a tropical stream ecosystem. Ecology 83: 1831–1844.

Foley, J. A., N. Ramankutty, K. A. Brauman, E. S. Cassidy, J. S. Gerber, M. Johnston, N. D. Mueller, C. O'Connell, D. K. Ray, P. C. West, C. Balzer, E. M. Bennett, S. R. Carpenter, J. Hill, C. Monfreda, S. Polasky, J. Rockström, J. Sheehan, S. Siebert, D. Tilman & D. P. M. Zaks, 2011. Solutions for a cultivated planet. Nature 478: 337–342.

Garcia, E. A., S. A. Townsend & M. M. Douglas, 2015. Context dependency of top-down and bottom-up effects in a Northern Australian tropical river. Freshwater Science 34: 679–690.

Graciolli, G., M. A. Azevedo & F. A. G. Melo, 2010. Comparative study of the diet of Glandulocaudinae and Tetragonopterinae (Ostariophysi: Characidae) in a small stream in Southern Brazil. Studies on Neotropical Fauna and Environment 38: 95–103.

Haddad, N. M., L. A. Brudvig, J. Clobert, K. F. Davies, A. Gonzalez, R. D. Holt, T. E. Lovejoy, J. O. Sexton, M. P. Austin, C. D. Collins, W. M. Cook, E. I. Damschen, R. M. Ewers, B. L. Foster, C. N. Jenkins, A. J. King, W. F. Laurance, D. J. Levey, C. R. Margules, B. A. Melbourne, A. O. Nicholls, J. L. Orrock, D. X. Song & J. R. Townshend, 2015. Habitat fragmentation and its lasting impact on Earth's ecosystems. Science Advances 1: e1500052.

Hagen, M., W. D. Kissling, C. Rasmussen, M. A. M. De Aguiar, L. E. Brown, D. W. Carstensen, I. A. Dos Santos, Y. L. Dupont, F. K. Edwards, J. Genini, P. R. Guimarães Jr., G. B. Jenkins, P. Jordano, C. N. Kaiser-Bunbury, M. E. Ledger, K. P. Maia, F. M. D. Marquitti, Ó. Mclaughlin, L. P. C. Morellato, E. J. O'Gorman, K. Trøjelsgaard, J. M. Tylianakis, M. M. Vidal, G. Woodward & J. M. Olesen, 2012. Biodiversity, species interactions and ecological networks in a fragmented world. Advances in Ecological Research 46: 89–210.

Hamada, N., J. L. Nessimian & R. B. Querino, 2014. Insetos aquáticos na Amazônia brazileira: taxonomia, biologia ecologia. INPA, Manaus.

Henley, W. F., M. A. Patterson, R. J. Neves & A. D. Lemly, 2000. Effects of sedimentation and turbidity on lotic food webs: a concise review for natural resource managers. Reviews in Fisheries Science 8: 125–139.

Hillebrand, H. & M. Kahlert, 2001. Effect of grazing and nutrient supply on periphyton biomass and nutrient stoichiometry in habitats of different productivity. Limnology and Oceanography 46: 1881–1898.

Ho, B. S. K. & D. Dudgeon, 2015. Are high densities of fishes and shrimp associated with top-down control of tropical benthic communities? A test in three Hong Kong streams. Freshwater Biology 61: 57–68.

Kresic, N., 2013. Water in karst: management, vulnerability, and restoration. McGraw-Hill, New York.

Kutznetsova, A., P. B. Brockhoff & R. H. Bojesen, 2018. Tests in linear mixed effects models (package lmerTest). https://cran.r-project.org/web/packages/lmerTest/index.html.

Landeiro, V. L., N. Hamada & A. S. Melo, 2008. Responses of aquatic invertebrate assemblages and leaf breakdown to macroconsumer exclusion in Amazonian "terra firme" streams. Fundamental and Applied Limnology/Archiv Für Hydrobiologie 172: 49–58.

Laurance, W. F., J. Sayer & K. G. Cassman, 2014. Agricultural expansion and its impacts on tropical nature. Trends in Ecology & Evolution 29: 107–116.

Leibold, M. A., 1989. Resource edibility and the effects of predators and productivity on the outcome of trophic interactions. The American Naturalist 134: 922–949.

Lourenço-Amorim, C., V. Neres-Lima, T. P. Moulton, C. Y. Sasada-Sato, P. Oliveira-Cunha & E. Zandonà, 2014. Control of periphyton standing crop in an Atlantic Forest stream: the relative roles of nutrients, grazers and predators. Freshwater Biology 59: 2365–2373.

Mantel, S. K. & D. Dudgeon, 2004. Growth and production of a tropical predatory shrimp, Macrobrachium hainanense (Palaemonidae), in two Hong Kong streams. Freshwater Biology 49: 1320–1336.

March, J. G., J. P. Benstead, C. M. Pringle & M. W. Ruebel, 2001. Linking shrimp assemblages with rates of detrital processing along an elevational gradient in a tropical stream. Canadian Journal of Fisheries and Aquatic Sciences 58: 470–478.

Marshall, M. C., A. J. Binderup, E. Zandonà, S. Goutte, R. D. Bassar, R. W. El-Sabaawi, S. A. Thomas, A. S. Flecker, S. S. Kilham, D. N. Reznick & C. M. Pringle, 2012. Effects of consumer interactions on benthic resources and ecosystem processes in a Neotropical stream. PLOS ONE 7: e45230.

McIntosh, A. R. & C. R. Townsend, 1995. Impacts of an introduced predatory fish on mayfly grazing in New Zealand streams. Limnology and Oceanography 40: 1508–1512.

McIntosh, A. R. & C. R. Townsend, 1996. Interactions between fish, grazing invertebrates and algae in a New Zealand stream: a trophic cascade mediated by fish-induced changes to grazer behaviour? Oecologia 108: 174–181.

Moulton, T. P., M. L. Souza, R. M. L. Silveira & F. A. M. Krsulović, 2004. Effects of ephemeropterans and shrimps on periphyton and sediments in a coastal stream (Atlantic forest, Rio de Janeiro, Brazil). Journal of the North American Benthological Society 23: 868–881.

Moulton, T. P., S. A. P. Magalhães-Fraga, E. F. Brito & F. A. Barbosa, 2010. Macroconsumers are more important than specialist macroinvertebrate shredders in leaf processing in urban forest streams of Rio de Janeiro, Brazil. Hydrobiologia 638: 55–66.

Myers, N., R. A. Mittermeier, C. G. Mittermeier, G. A. B. Fonseca & J. Kent, 2000. Biodiversity hotspots for conservation priorities. Nature 403: 853–858.

Nessimian, J. L., E. M. Venticinque, J. Zuanon, P. D. Marco, M. Gordo, L. Fidelis, J. D. Batista & L. Juen, 2008. Land use, habitat integrity, and aquatic insect assemblages in Central Amazonian streams. Hydrobiologia 614: 117.

Nusch, E. A., 1980. Comparison of different methods for chlorophyll and pheopigment determination. Archives of Hydrobiology Bulletin (Ergebnisse der Limnologie) 14: 14–36.

Oksanen, J., F. G. Blanchet, M. Friendly, R. Kindt, P. Legendre, D. McGlinn, P. R. Minchin, R. B. O'Hara, G. L. Simpson, P. Solymos, M. H. H. Stevens, E. Szoecs & H. Wagner, 2017. Community ecology package. https://cran.r-project.org, https://github.com/vegandevs/vegan.

Omernik, J. M. & R. G. Bailey, 1997. Distinguishing between watersheds and ecoregions. Journal of the American Water Resources Association 33: 935–949.

Pace, M. L., J. J. Cole, S. R. Carpenter & J. F. Kitchell, 1999. Trophic cascades revealed in diverse ecosystems. Trends in Ecology & Evolution 14: 483–488.

Paine, R. T., 1980. Food webs: linkage, interaction strength and community infrastructure. Journal of Animal Ecology 49: 667–685.

Paprocki, H., R. W. Holzenthal & C. Cressa, 2003. A new species of Smicridea McLachlan (Trichoptera: Hydropsychidae) from Venezuela and its role in travertine biogenesis. Journal of the North American Benthological Society 22: 401–409.

Paul, M. J. & J. L. Meyer, 2001. Streams in the urban landscape. Annual Review of Ecology and Systematics 32: 333–365.

Peckarsky, B. L., A. R. McIntosh, M. Alvarez & J. M. Moslemi, 2013. Nutrient limitation controls the strength of behavioral trophic cascades in high elevation streams. Ecosphere 4: 110.

Petersen, R. C., 1992. The RCE: a Riparian, channel, and environmental inventory for small streams in the agricultural landscape. Freshwater Biology 27: 295–306.

Polis, G. A. & D. R. Strong, 1996. Food web complexity and community dynamics. The American Naturalist 147: 813–846.

Power, M. E., 1992. Top-down and bottom-up forces in food webs: do plants have primacy. Ecology 73: 733–746.

Power, M. E., W. J. Matthews & A. J. Stewart, 1985. Grazing minnows, piscivorous bass, and stream algae: dynamics of a strong interaction. Ecology 66: 1448–1456.

Power, M. E., M. S. Parker & W. E. Dietrich, 2008. Seasonal reassembly of a river foods, droughts, and impacts of fish. Ecological Monographs 78: 263–282.

Pringle, C. M. & G. A. Blake, 1994. Quantitative effects of Aytid shrimp (Decapoda: Atyidae) on the depositional environment in a tropical stream: Use of electricity for experimental exclusion. Canadian Journal of Fisheries and Aquatic Sciences 51: 1443–1450.

Pringle, C. M. & T. Hamazaki, 1998. The role of omnivory in a Neotropical stream: separating diurnal and nocturnal effects. Ecology 79: 269–280.

R Core Team, 2015. R: a language and environment for statistical computing. R foundation for statistical computing, Vienna.

Reys, P., J. Sabino & M. Galetti, 2009. Frugivory by the fish Brycon hilarii (Characidae) in western Brazil. Acta Oecologica 35: 136–141.

Reznick, D., M. J. Butler, I. V. H. Rodd & A. E. D. Schluter, 2001. Life-history evolution in guppies. VII. The comparative ecology of high- and low-predation environments. The American Naturalist 157: 126–140.

Rodrigues, M. E., F. O. Roque, J. M. O. Quintero, J. C. C. Pena, D. C. Sousa & P. M. Junior, 2016. Nonlinear responses in damselfly community along a gradient of habitat loss in a Savanna landscape. Biological Conservation 194: 113–120.

Roque, F. O., J. Ochoa-Quintero, D. B. Ribeiro, L. S. M. Sugai, R. Costa-Pereira, R. Lourival & G. Bino, 2016. Upland habitat loss as a threat to Pantanal wetlands. Conservation Biology 30: 1131–1134.

Roque, F. O., E. C. Corrêa, F. Valente-Neto, G. Stefan, G. Schulz, P. R. B. Souza, C. M. Motta, L. L. O. Bavutti, E. Colzani, M. F. Demétrio, S. C. Escarpinati, R. Silvestre, F. Z. Vaz-de-Mello, T. Siqueira & J. M. O. Quintero, 2017. Idiosyncratic responses of aquatic and terrestrial insects to different levels of environmental integrity in riparian zones in a karst tropical dry forest region. Austral Entomology 56: 459–465.

Rosemond, A. D., C. M. Pringle & A. Ramírez, 1998. Macroconsumer effects on insect detritivores and detritus processing in a tropical stream. Freshwater Biology 39: 515–523.

Rosenfeld, J., 2000. Effects of fish predation in erosional and depositional habitats in a temperate stream. Canadian Journal of Fisheries and Aquatic Sciences 57: 1369–1379.

Sabino, J. & E. Trajano, 1997. A new species of blind armoured catfish, genus Ancistrus, from caves of Bodoquena region, Mato Grosso do Sul, southwestern Brazil. Revue Française d'Aquariologie 24: 73–78.

Sallun Filho, W. & I. Karmann, 2007. Geomorphological map of the Serra da Bodoquena karst, west-central Brazil. Journal of Maps 3: 282–295.

Schneider, J., S. Worischka, C. Hellmann, J. Benndorf & C. Winkelmann, 2014. Flexibility in feeding periodicity of a grazing mayfly in response to different concentrations of benthivorous fish. Limnologica: Ecology and Management of Inland Waters 45: 24–32.

Schofield, K. A., C. M. Pringle & J. L. Meyer, 2004. Effects of increased bedload on algal and detrital-based stream food webs: experimental manipulation of sediment and macroconsumers. Limnology and Oceanography 49: 900–909.

Schofield, K. A., C. M. Pringle, J. L. Meyer & E. Rosi-Marshall, 2008. Functional redundancy of stream macroconsumers despite differences in catchment land use. Freshwater Biology 53: 2587–2599.

Souza, M. L., T. P. Moulton, R. M. L. Silveira, F. A. M. Krsulovic & E. F. Brito, 2007. Responses of Chironomidae (Diptera; Insecta) to the exclusion of shrimps and Ephemeroptera in a coastal forest stream, Rio de Janeiro, Brazil. Brazilian Journal of Biology 67: 47–51.

Sutherland, A. B., J. L. Meyer & E. P. Gardiner, 2002. Effects of land cover on sediment regime and fish assemblage structure in four southern Appalachian streams. Freshwater Biology 47: 1791–1805.

Utz, R. M., M. R. Fitzgerald, K. J. Goodman, S. M. Parker, H. Powell & C. L. Roehm, 2013. The national ecological observatory network: an observatory poised to expand spatiotemporal scales of inquiry in aquatic and fisheries science. Fisheries 38: 26–35.

Utz, R. M., S. D. Cooper, K. B. Gido & J. R. Stewart, 2017. Exclusion of fish and invertebrates from benthic patches of artificial aquatic environments across water conductivity levels using high-frequency (10 Hz) pulses and adjustable electrical settings. Freshwater Science 36: 151–161.

Valente-Neto, F., F. O. Roque, M. E. Rodrigues, L. Juen & C. M. Swan, 2016. Toward a practical use of Neotropical odonates as bioindicators: testing congruence across taxonomic resolution and life stages. Ecological Indicators 61: 952–959.

Valente-Neto, F., M. E. Rodrigues & F. O. Roque, 2018. Selecting indicators based on biodiversity surrogacy and environmental response in a riverine network: bringing operationality to biomonitoring. Ecological Indicators 94: 198–206.

Van Beynen, P. & K. Townsend, 2005. A disturbance index for karst environments. Environmental Management 36: 101–116.

Vörösmarty, C. J., P. B. McIntyre, M. O. Gessner, D. Dudgeon, A. Prusevich, P. Green, S. Glidden, S. E. Bunn, C. A. Sullivan, C. R. Liermann & P. M. Davies, 2010. Global threats to human water security and river biodiversity. Nature 467: 555–561.

Walser, C. A. & H. L. Bart, 1999. Influence of agriculture on in-stream habitat and fish community structure in Piedmont watersheds of the Chattahoochee River System. Ecology Freshwater Fish 8: 237–246.

Walsh, C. J., A. H. Roy, J. W. Feminella, P. D. Cottingham, P. M. Groffman & R. P. Morgan, 2005. The urban stream syndrome: current knowledge and the search for a cure. Journal of the North American Benthological Society 24: 706–723.

Wellnitz, T. A. & J. V. Ward, 1998. Does light intensity modify the effect mayfly grazers have on periphyton? Freshwater Biology 39: 135–149.

Williams, L. R., C. M. Taylor & M. L. Warren, 2003. Influence of fish predation on assemblage structure of macroinvertebrates in an intermittent stream. Transactions of the American Fisheries Society 132: 120–130.

Wilson, M. C., X. Y. Chen, R. T. Corlett, R. K. Didham, P. Ding, R. D. Holt, M. Holyoak, G. Hu, A. C. Hughes, L. Jiang, W. F. Laurance, J. Liu, S. L. Pimm, S. K. Robinson, S. E. Russo, X. Si, D. S. Wilcove, J. Wu & M. Yu, 2016. Habitat fragmentation and biodiversity conservation: key findings and future challenges. Landscape Ecology 31: 219–227.

Winemiller, K. O., A. A. Agostinho & P. Caramaschi, 2008. Fish ecology in tropical streams. Academic Press, London.

Yang, G. Y., T. Tang & D. Dudgeon, 2009. Spatial and seasonal variations in benthic algal assemblages in streams in monsoonal Hong Kong. Hydrobiologia 632: 189–200.
Acknowledgements
We thank Waldeir Dias, Bruno Martínez, Guilherme Dalponti, Jonas Corrêa, Debora Moreira, and Emanuele Moura for their generous help in the field and laboratory. We are indebted to the Universidade Federal do Mato Grosso do Sul (Campus de Bonito), Instituto Chico Mendes de Conservação da Biodiversidade (ICMBio) for the logistic support. Dr. Timothy Moulton and Dr. Walter Dodds provided insightful comments on earlier drafts of the manuscript. The research was supported by Planalto da Bodoquena: redes de interações em longo Prazo (PELD) and Coordenação de Aperfeiçoamento de Pessoal de Nível Superior (CAPES) by a doctoral scholarship and CAPES, FUNDECT/PAPOS (processo 23/200.638/2014). Finally, Chatham University and Kansas State University generously provided logistic supports for visiting scholarship.
Additional information
Publisher's Note
Springer Nature remains neutral with regard to jurisdictional claims in published maps and institutional affiliations.
Handling editor: Marcelo S. Moretti
Electronic supplementary material
Below is the link to the electronic supplementary material.
About this article
Cite this article
Corrêa, E.C., de Oliveira Roque, F., Utz, R.M. et al. Effects of macroconsumers on benthic communities across a gradient of vegetation loss in tropical karst streams. Hydrobiologia 836, 21–34 (2019). https://doi.org/10.1007/s10750-019-3917-8
Received:

Revised:

Accepted:

Published:

Issue Date:
Keywords
Electric exclusion experiment

Consumer exclusion

Riparian vegetation

Macroinvertebrates

Top-down control

Periphyton